Cute! You both look really good! Do you always wear a safety vest?
Quote:
Cute! You both look really good! Do you always wear a safety vest?
Thank you
No, just with babies and when I briefly tacked her up a couple of days ago I didn't bother as I'm starting to treat her as my other horses, but my friend Tiff got on after me and so nearly came off at a spook I decided to be cautious a while longer. Other than that I just wear a BP for XC and jumping (when I remember).
You're doing a great job with her - she's coming along really well. Looks like a lovely willing responsive youngster
She is very willing
She is very similar to Hattie in the way she doesn't have a light soft mouth and being responsive is obviously something she has to learn rather than reacting to the bit, but she learns fast in the same way. She is also wider than Hattie and holds herself in a much better way at this early stage than Hattie did - she is more "up" although she easily goes behind the vertical which is something I need to watch out for (she was going a bit over bent in the video).
I don't worry so much about over bent when its not caused by a horse being forced into a frame or afraid of the bit - she looks more like she has a lot of flexibility which should be an asset
On Sunday we went our for our first mini hack in company
She was amazing, she hesitated at some of the pony eating mud puddles and the monster shaped logs, but with a little encouragement she went past them all (through the water and mud) and that was when leading the way where she was happiest
She also stomped along the flinty stones which delighted me as the other barefoot horses were being far more cautious on them.
A couple of pics.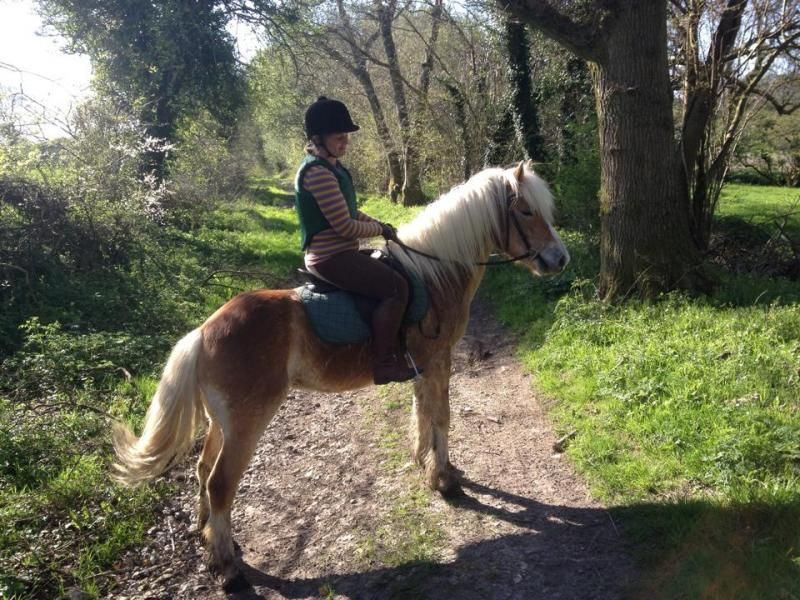 I don't know why but I'm not seeing any pics?
She sounds like she deals with life outside of your yard really well
Quote:
I don't know why but I'm not seeing any pics?
She sounds like she deals with life outside of your yard really well
Must be the privacy setting on the photobucket links, I'll check it
No - but it could just be me because I'm having trouble 'liking' posts as well