The Life of Henny
---
Soooo after not updating my last journal since November, I decided to start a new one LOL. I'll be sure to update this one more often(at least I hope :P)
Last Saturday he got to go on a trip to the vet clinic again. I swear it feels like I haul him somewhere every weekend. He went in for his second session of acupuncture with Dr. M. We're hoping the acupuncture helps loosen up his tense neck. Since his accident in November, he's always tilted his head to the left. Since his acupuncture, he's slowly getting a more "normal" head carriage. Although it's said that he may never have a completely normal head carriage, I'd like to make him as comfortable as possible. You can feel the tense tendons running from behind his left ear down into his shoulder. Here's a little video of his session. You may not want to watch if you don't like moving needles.
And yesterday he got a visit from the farrier again. His hooves are in pretty cruddy shape so we're working in getting his hooves corrected. His feet grow FAST. @.@ At 4 weeks we were pushing it, so the farrier came out yesterday after having just come out 2 weeks ago. Henny's gotten very good about standing for the farrier, which I'm glad for. I can't say the same for the other gelding who got his feet trimmed yesterday LOL.
Annnd cause he's just so cute, here's some pictures I took over the past couple weeks. :)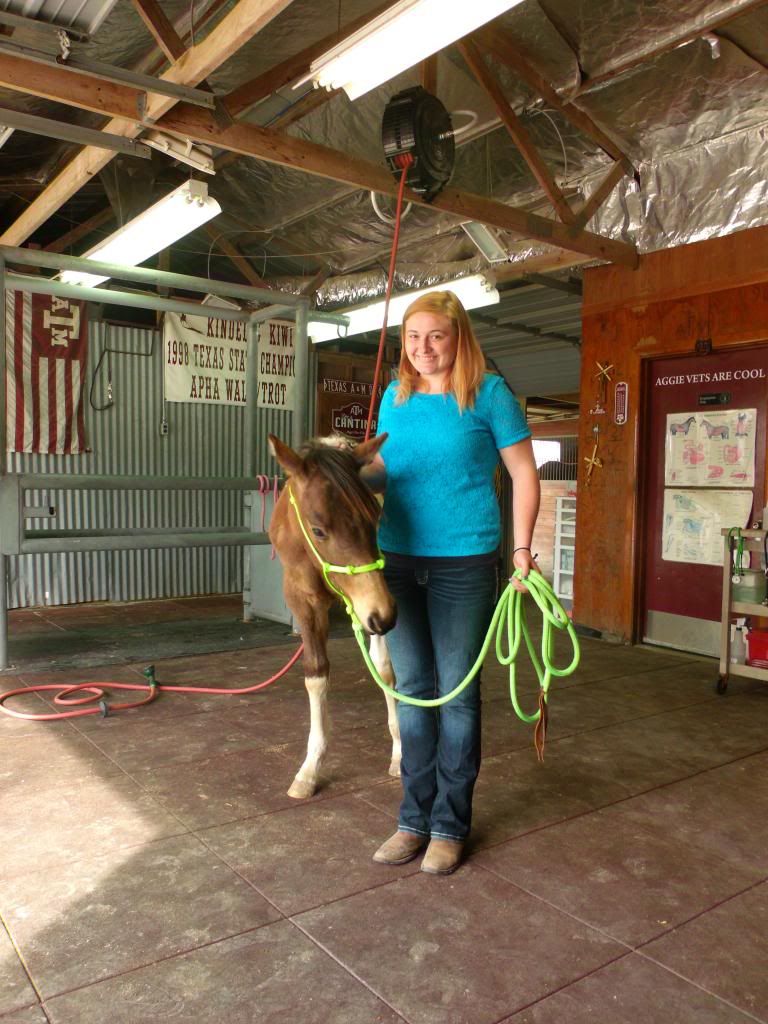 After his acupuncture last weekend
After his bath a couple weeks ago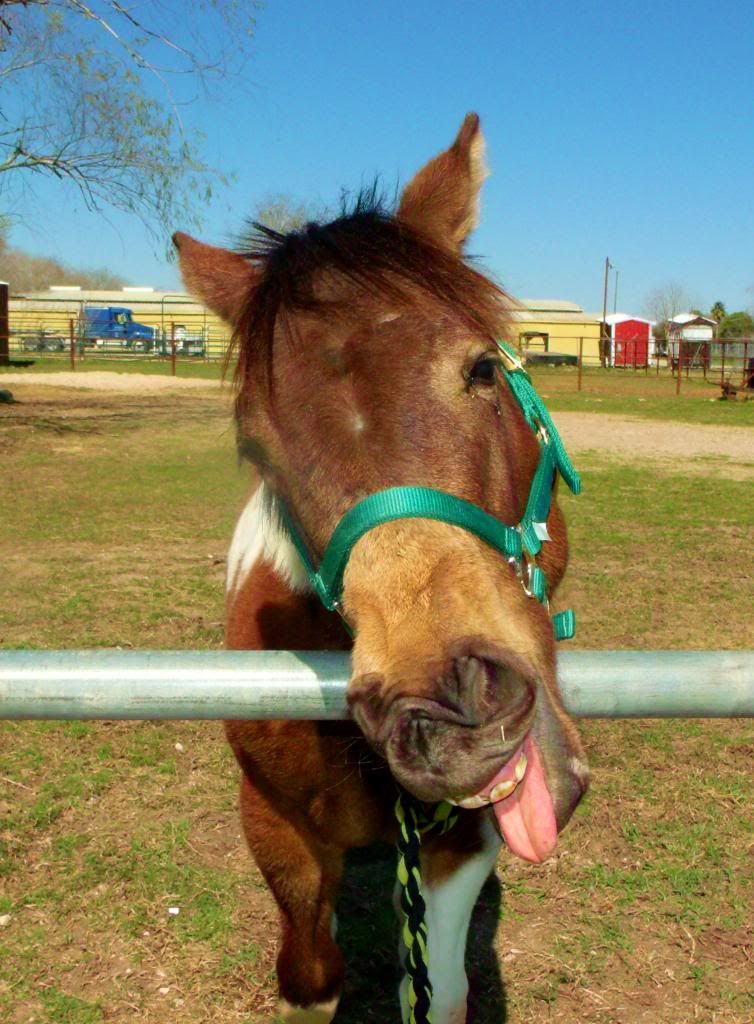 What he thought of said bath
"Gettin' reeeeaaaal tired of standing here, mom"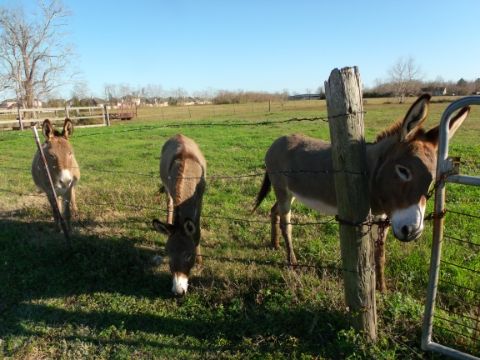 The friendly donkeys in the pasture across from my neighborhood. I think the one on the far left is pwegnant :)
Practicing his mare glare. He's getting good at it!
You can also see in this pic how his top lip is now pulled permanently to the right as a result of his accident. Cutie!
---
There on the tips of fair fresh flowers feedeth he; How joyous his neigh,
there in the midst of sacred pollen hidden, all hidden he; how joyous his neigh
March 11, 2013
---
So this weekend my friend and I went to the Houston Rodeo!! It's the largest rodeo in the country and it was my second home for 4 years when I was in FFA showing my livestock projects. We went just to go shopping and eat food.
We ate:
Pizza
Gator(I LOVE IT SO MUCH)
Fried Cookie dough
Fried Brownie
It was crazy crowded, I guess because of Spring Break. I have honestly never seen it that crowded before. I wanted to punch quite a few people.
All I bought was a new purse, a new wallet(mine was literally ripping apart), and a sign for Heenie Weenie. :) Said sign is hanging up in my room cause it is just too cute to hang in a dusty barn. I think I'll order another one from Custom Stall Signs on FB for his stall sign at the barn. The guy at the booth asked me, "Is this for you or for a business?" "Oh, it's for my horse" "...Oh" LOL. Guess he doesn't get those that often. When I went to go pick the sign up he told me he hoped my horse enjoyed the sign haha.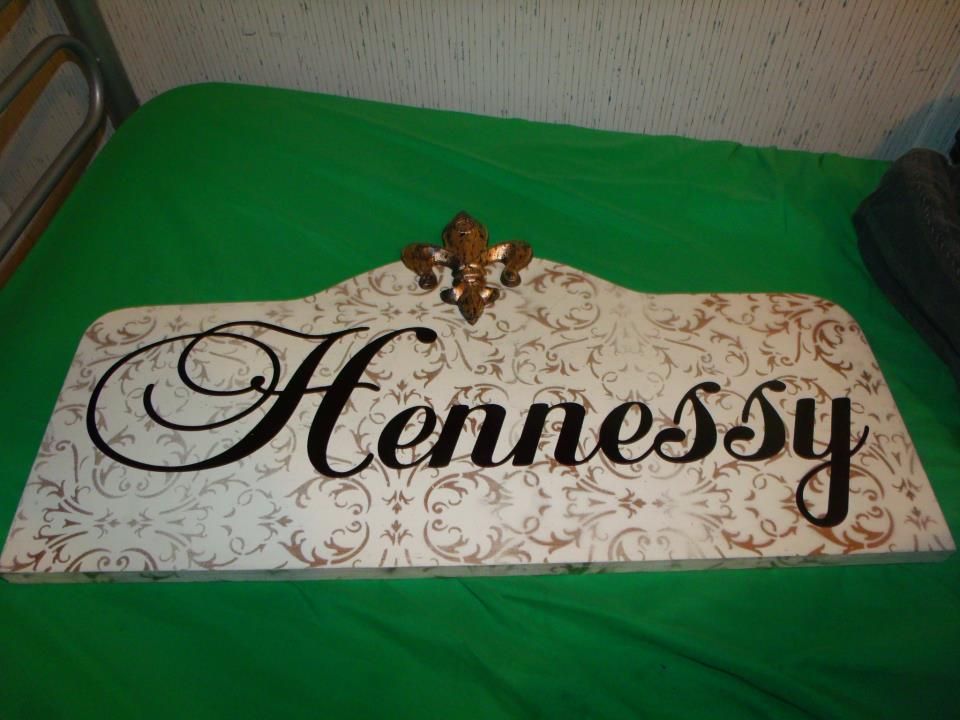 We took the park & ride bus there and back. On the way back, our driver had no idea where she was going. After asking us which exit to take, we were nearly launched out of our seats a few times from her hitting the brakes. Then, when we got back, she missed the road to turn down to get back to the station. So instead of making a U-turn at the nearest overpass, she BACKS UP ON THE HIGHWAY. We all sat there with a deer in the headlights look and thanked baby Jesus when we got off the bus.
On another note, we took Henny for a walk yesterday. When he was gelded, I walked him down the strip of land that runs between the pasture and the large drainage ditch on the right. The grass is GREEN and lush. Henny pigged out on it for a minute or two before we went on to finish our walk. He'd gorge himself on the grass if he had his way.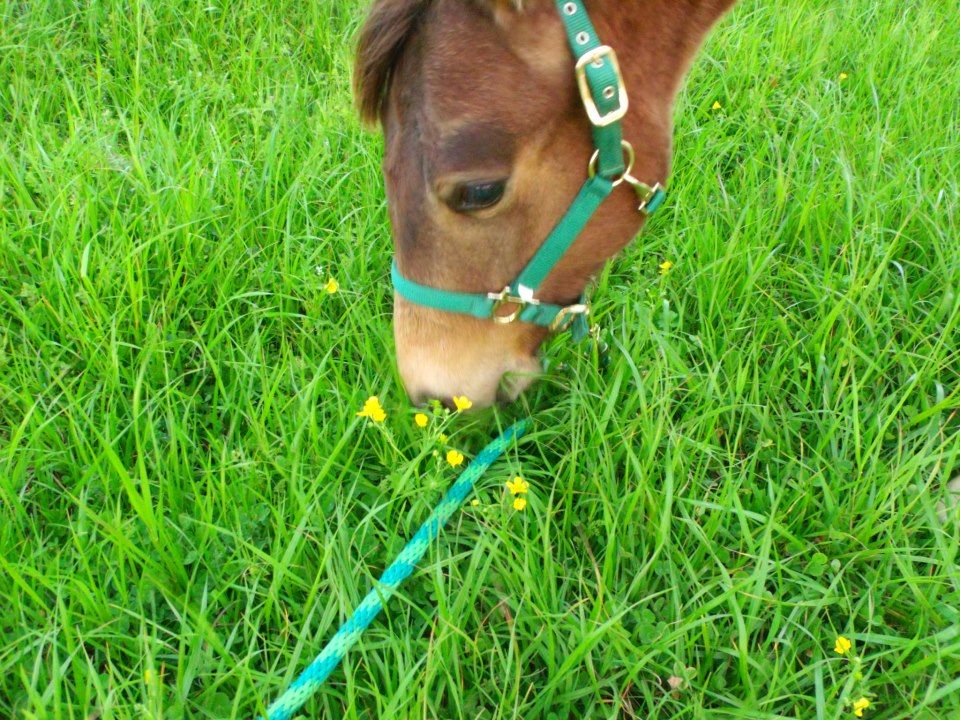 (This picture isn't edited. The grass really is that green. Gotta love Texas ;) )
Annnd we took a million random pictures when we got back after he finished his dinner. He munched away on his hay while we acted like idiots bahaha.
About to go out in his paddock and eat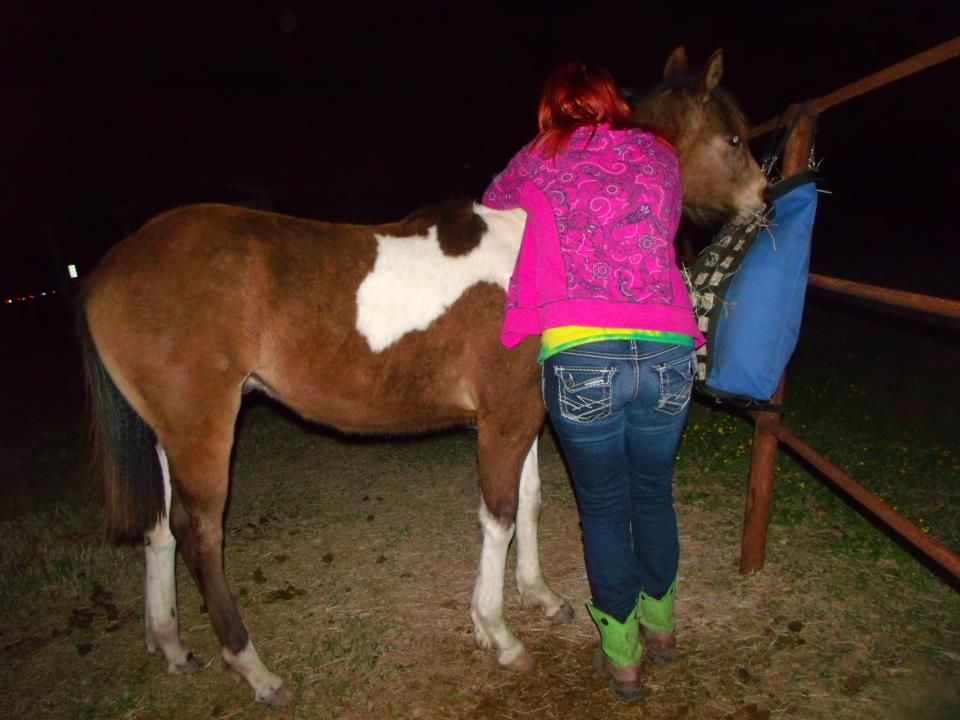 Getting Henny hugs
Acting like idiots. Henny wanted no part in our shenanigans.
Just a random thought. So far, I've caught 3 different families coming up to pet/feed Henny since his paddock is right next to the drive way. I don't really mind it as long as they don't overload him with treats. I've seen kids running up to him behind the fence and he never so much as flinches. A couple boys were disappointed that he wouldn't take their apples. He doesn't like them, but he loves his apple flavored Likit treat bar. He's a special horse, that's for sure. Henny loves the attention and the kids love it too. I would just be worried about them feeding him too many treats or him choking on them. Maybe I should put a sign up? I dunno, just something to think about.
---
There on the tips of fair fresh flowers feedeth he; How joyous his neigh,
there in the midst of sacred pollen hidden, all hidden he; how joyous his neigh
horse jernals
---
hiya kayella many thanks for shareing your gernal of henny.
he seems a great horse and i enjoyed reading your updates on him may i wish him well on his acupunture and i can see how much you love him indeed.
henny and kayella many thanks and henny get well soon.
michael tricky and quincy.
I'm just going to throw in a couple pictures of our pony Bubba. :) He's a 16~ year old Welsh pony who we rescued almost a decade ago. He's still a skittish little thing, so he's living out his life as a lazy pasture puff.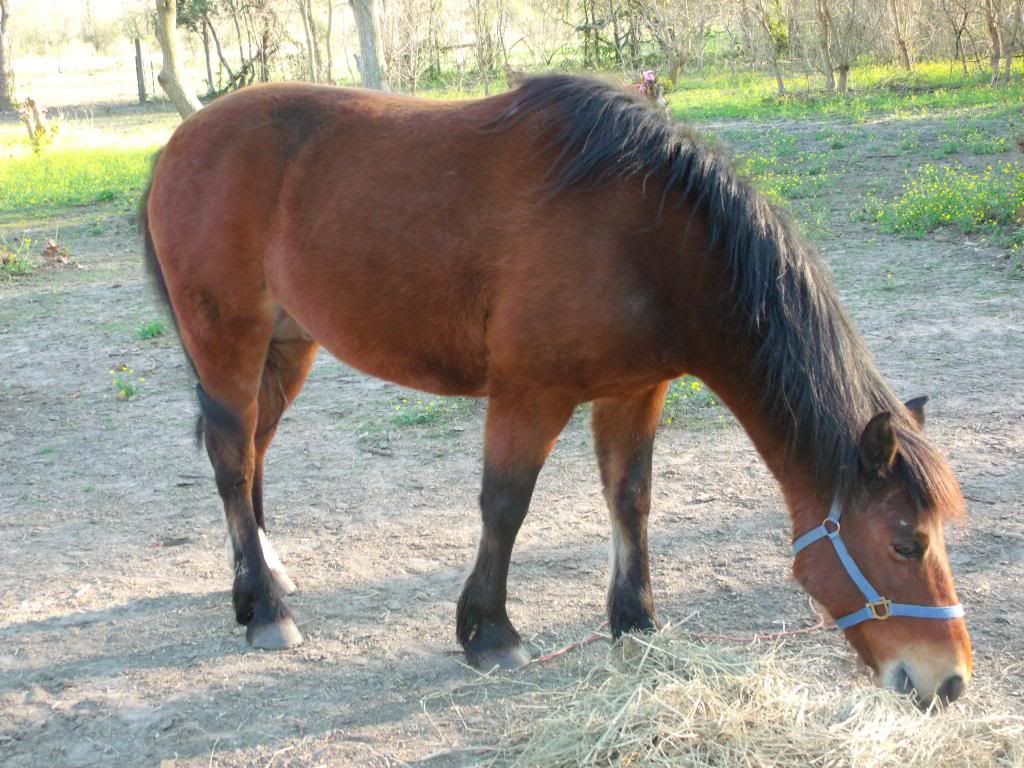 The mares there ate his hair >8(
Annnd in the life of Henny, he gets to wear his fly mask for the first time. His eyes are apparently very sensitive to the flies as he came in with red weepy eyes today. Sooo he gets his fancy fly mask on overnight for the first time! :)
Nomnom
Chunky
His mane doesn't want to stay on one side. :/
Dat booty
Thanks for looking!
---
There on the tips of fair fresh flowers feedeth he; How joyous his neigh,
there in the midst of sacred pollen hidden, all hidden he; how joyous his neigh
He's such a cute little guy. I'm glad you are starting his journal! Henny will be a fun journal for me to follow. Love watching Henny grow! Oh, I happen to have the same pink jacket as you, haha!
Haha thank you! I love showing him off, so now I have a thread where all I do is show him off.
It is a great jacket.
---
There on the tips of fair fresh flowers feedeth he; How joyous his neigh,
there in the midst of sacred pollen hidden, all hidden he; how joyous his neigh
Welp, I've got Heenie Weenie scheduled for another vet visit tomorrow at 3:30. A week early on his acupuncture, but I'm also taking him in because of his feet. Been stressing over that for the past 3 months. The farrier has trimmed him 4 times the past 3 months. You'd think his feet would be getting better but I feel like they're getting worse. So we'll see what the vet says tomorrow.
He's been off on his left hind(I thiiink, might be his right) since last Tuesday. He was trimmed last Saturday so I wasn't sure if it was delayed soreness or something. It's not a severe limp, seriously barely noticeable, but I'm taking all precautions. Didn't have a ride last weekend since our truck is dead, so I'm rushing him in tomorrow as my vet will be out this weekend. Thank god my dad is getting enough income tax back to FIX HIS TRUCK ENGINE.
Seriously one less thing I need to worry about when I need to haul Henny somewhere.
Aaaanyways, here's a little video I took last Thursday of how Henny's walking. Not the best video, but I think you can see what I'm seeing. Excuse the barn cat. She and Henny have a secret love relationship going on I think. I caught her walking around under him a couple days ago and he didn't even flick an ear. He seriously loves her. Always has to tilt his head to check her out. :)
(Click on the pictuuure to watch!)
---
There on the tips of fair fresh flowers feedeth he; How joyous his neigh,
there in the midst of sacred pollen hidden, all hidden he; how joyous his neigh
More pictures! I got my package in from HorseLoverz. Just in time cause I'll be using some of it tomorrow!
His new hair-do? Kinda looks like he's going through his angsty teenager phase. "Gawsh mom, you just wouldn't understand how deep my soul is!!"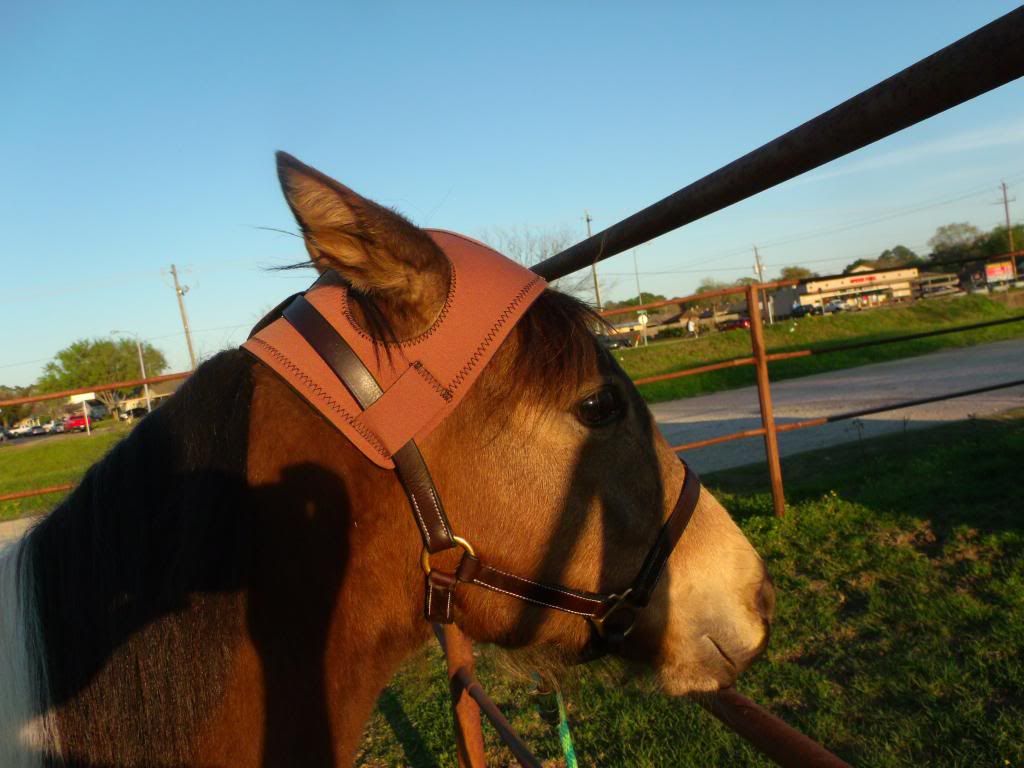 His new head bumper! It. Fits. PERFECTLY. Seriously, I love it. It even makes him look like a football player hehe. And also, he looks suave in his leather halter. :)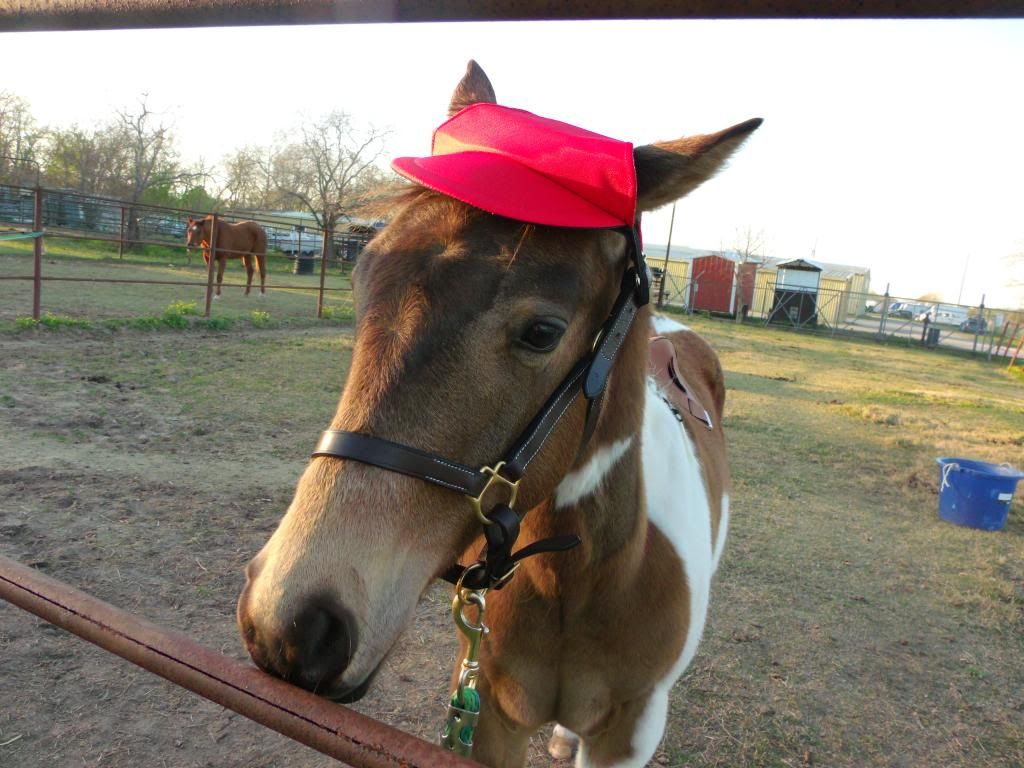 He also got a hat. Not as cute as his head bumper, but his pouty face makes up for it bahaha.
Kinda sorta conformation shot? Not the correct angle and he's not completely squared up, but omg he's proportional again!! No longer will I have to stuff him in a closet and hide him from public. He seriously looks niiice right now. <3
I sprayed from diluted conditioner in his mane and tail. I tied up his mane while it dried a bit so his neck would stay dry.
He's resting his left leg, but look at that muscley butt! I love it. :)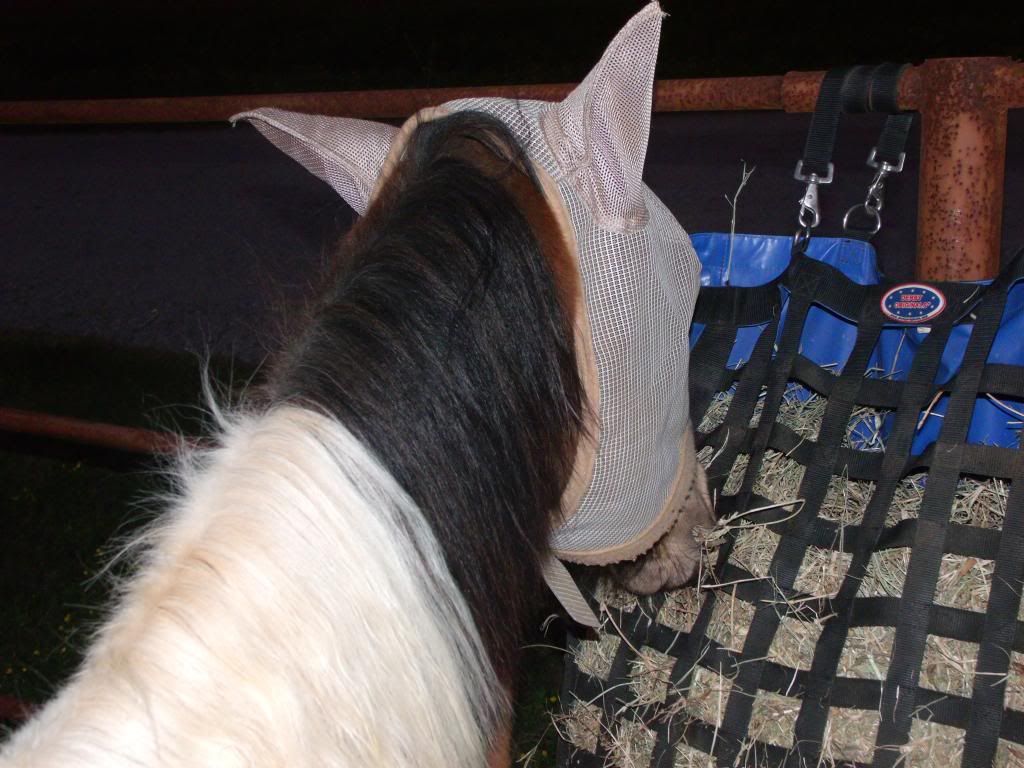 And one last one. I swear he looks like Yoda with his fly mask on.
I'll update again tomorrow after his vet visit. Thanks for looking!
---
There on the tips of fair fresh flowers feedeth he; How joyous his neigh,
there in the midst of sacred pollen hidden, all hidden he; how joyous his neigh
So Henny did great today at the vet's! :) We had an oopsies leaving Henny's. We didn't secure the trailer and it popped off in the parking lot. Thank God for chains and thank God for Henny not freaking out. We got him out, the trailer on correctly, and him back in without any hesitations in a matter of five minutes. So sorry Henny, but I am so proud of my Heenie Weenie for not freaking out and not being scared to get back in. And I am so glad it happened there and not on the road. Phew. Anyways, pictures!
Getting secured in the stocks
"Itch a little to the leeeeft. Right there!"
Being fawned over as usual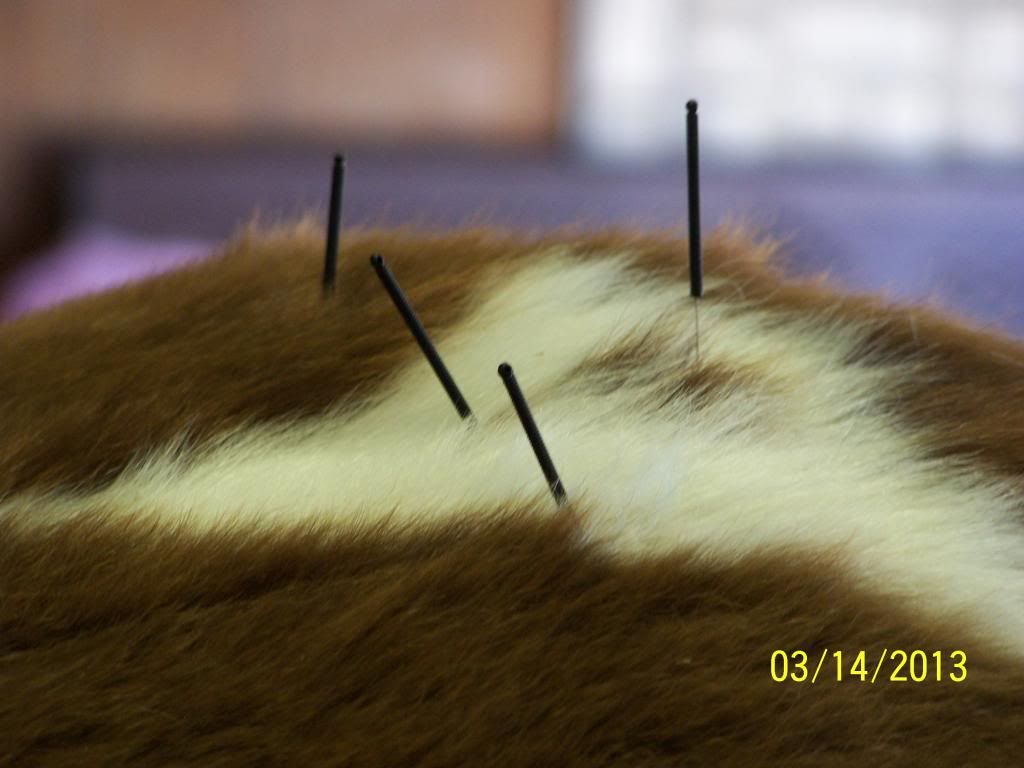 Needles in his butt arrowwww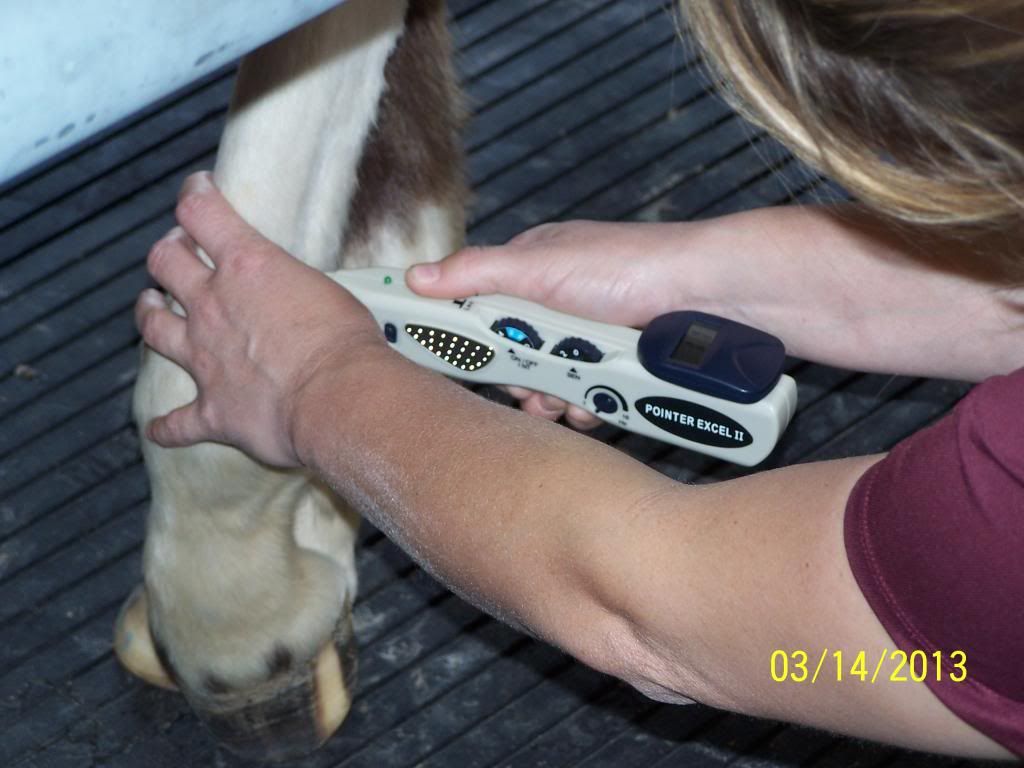 Getting some points on his legs with the hand gun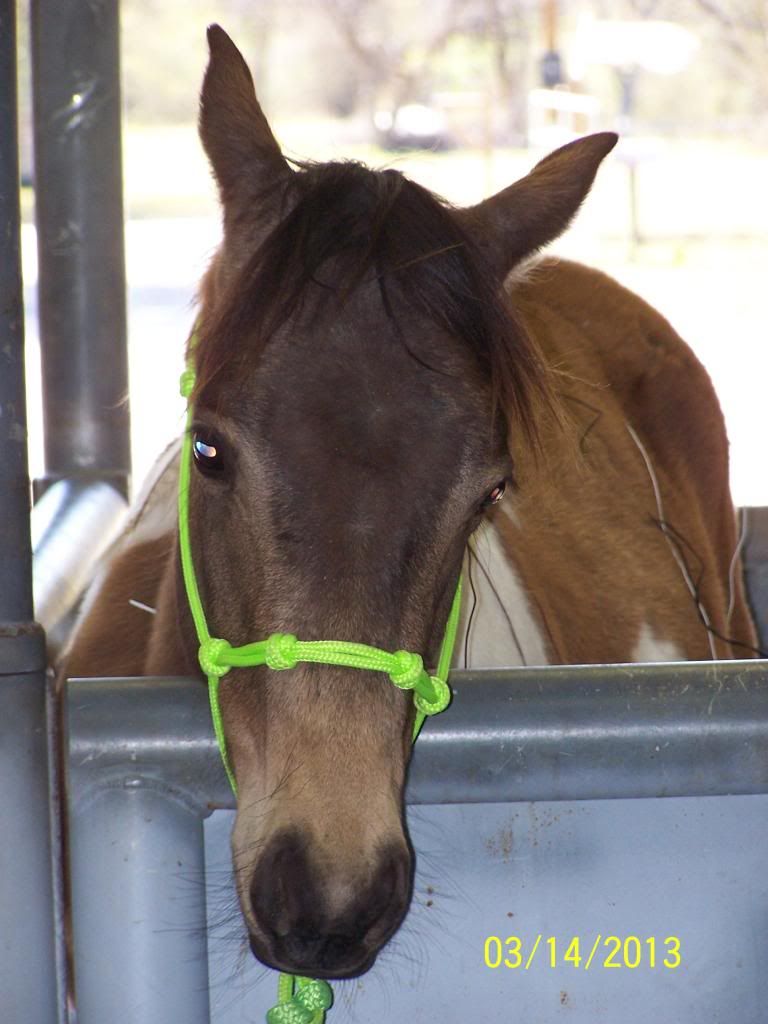 Just listing a little lazily to the left :)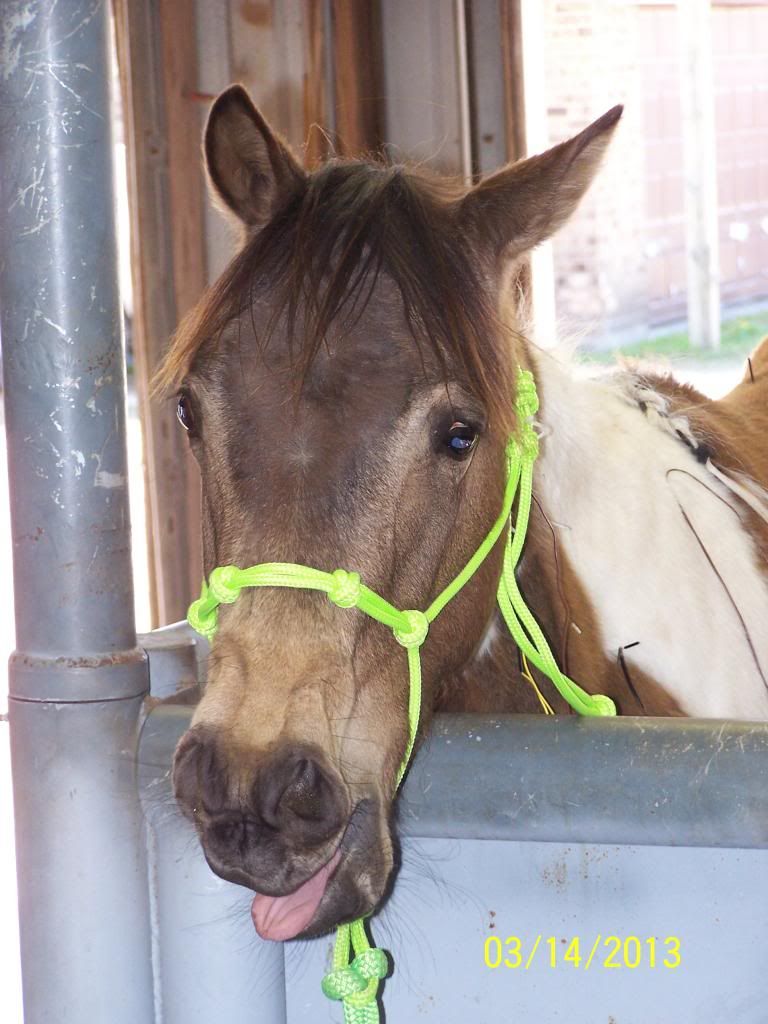 The acupuncture really relaxes him, obviously bahaha. He yawned for five minutes straight.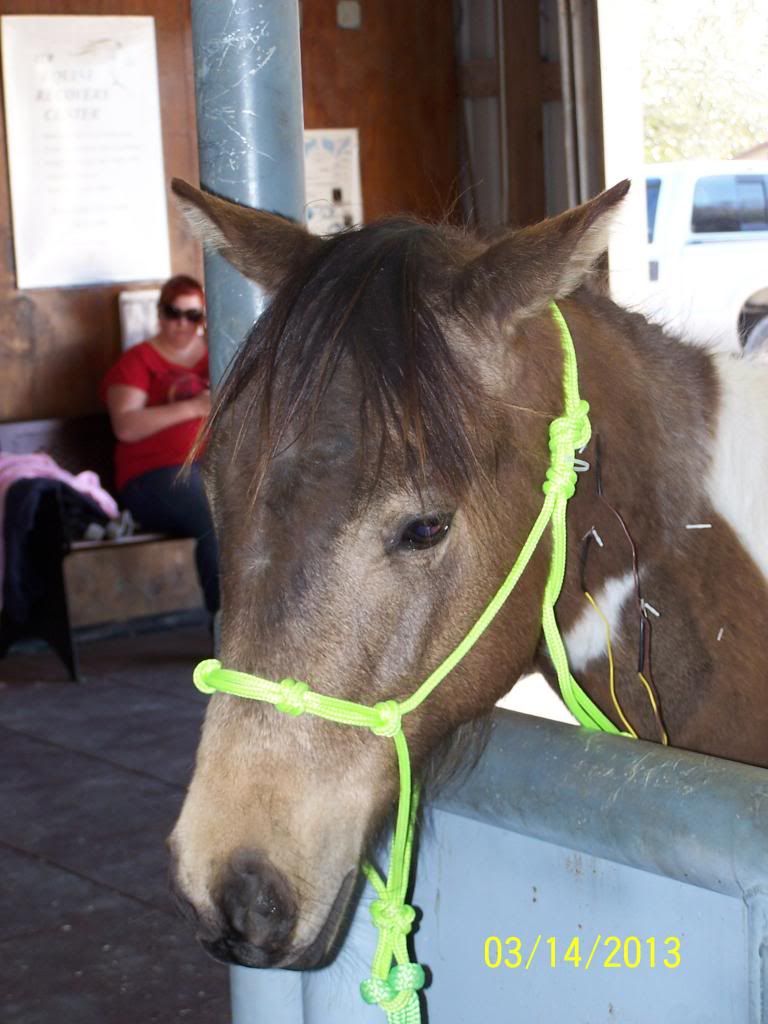 Sleepy pony. I took full playing abilities with his droopy lip
One of the needles where his neck ties into his shoulder. He has bent this needle all 3 sessions we've done, which means he really needed it.
Suckering the doc into giving him a(few) treat hahaha
Continued in next post!
---
There on the tips of fair fresh flowers feedeth he; How joyous his neigh,
there in the midst of sacred pollen hidden, all hidden he; how joyous his neigh
"Watchu lookin' at?"
Using the hoof testers on his feetsies. Luckily he didn't respond.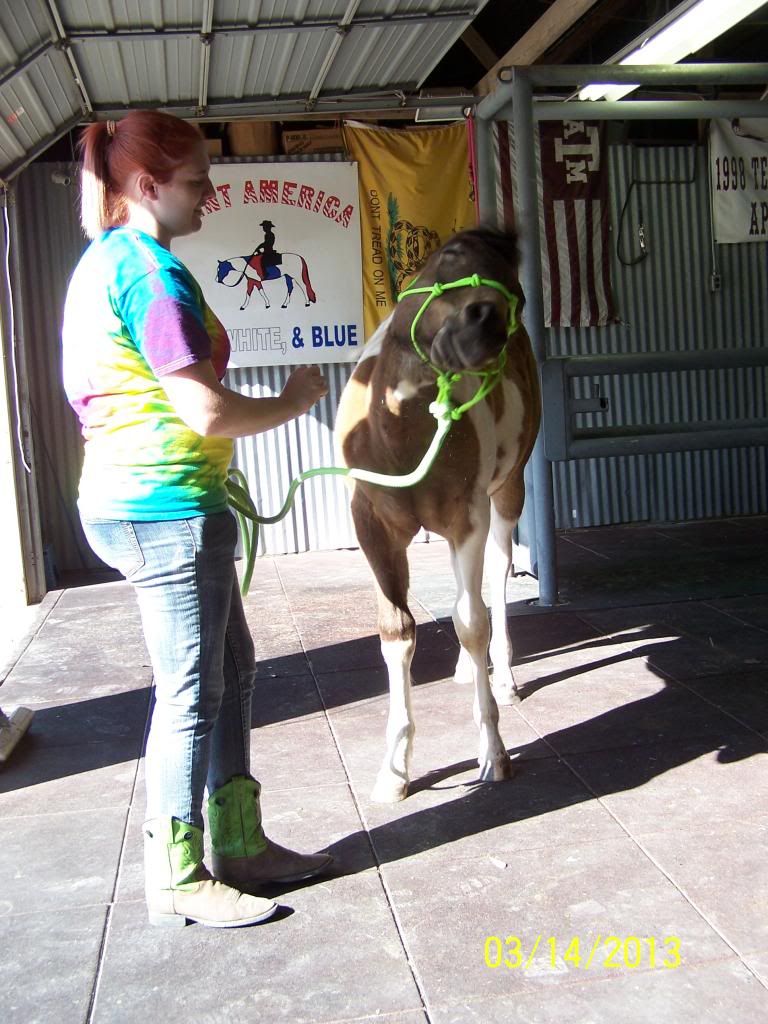 Derping it up mid headshake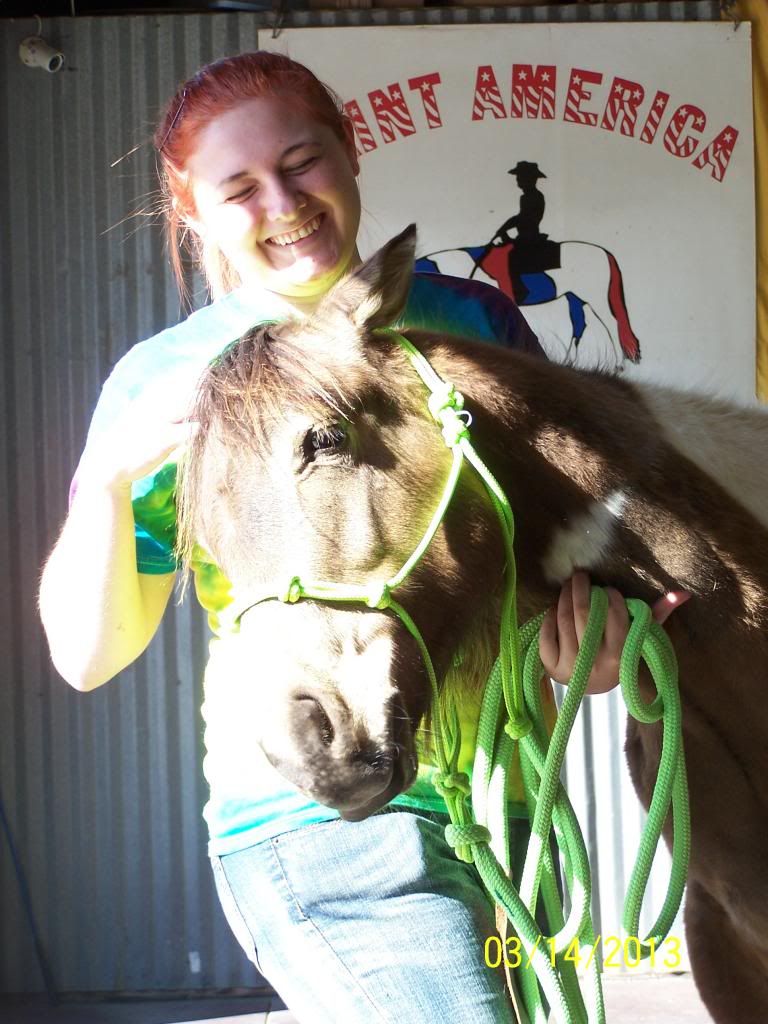 Rubbing his itchy head on me. Yes, I know, I am such a bad person for letting him do that. He's so itchy with the flies and shedding right now so anything is a scratching post to him.
Lookin' cute(me not so much bahaha)
Henny talking to the doctor. :) "Yes, this is a treat. They're in the jar shaped like a horse, Henny." I swear he knows how to sucker anyone into giving him a treat.
Getting kisses from the vet <3
Modeling his nifty head bumper. The staff there almost died of cuteness from him wearing it lol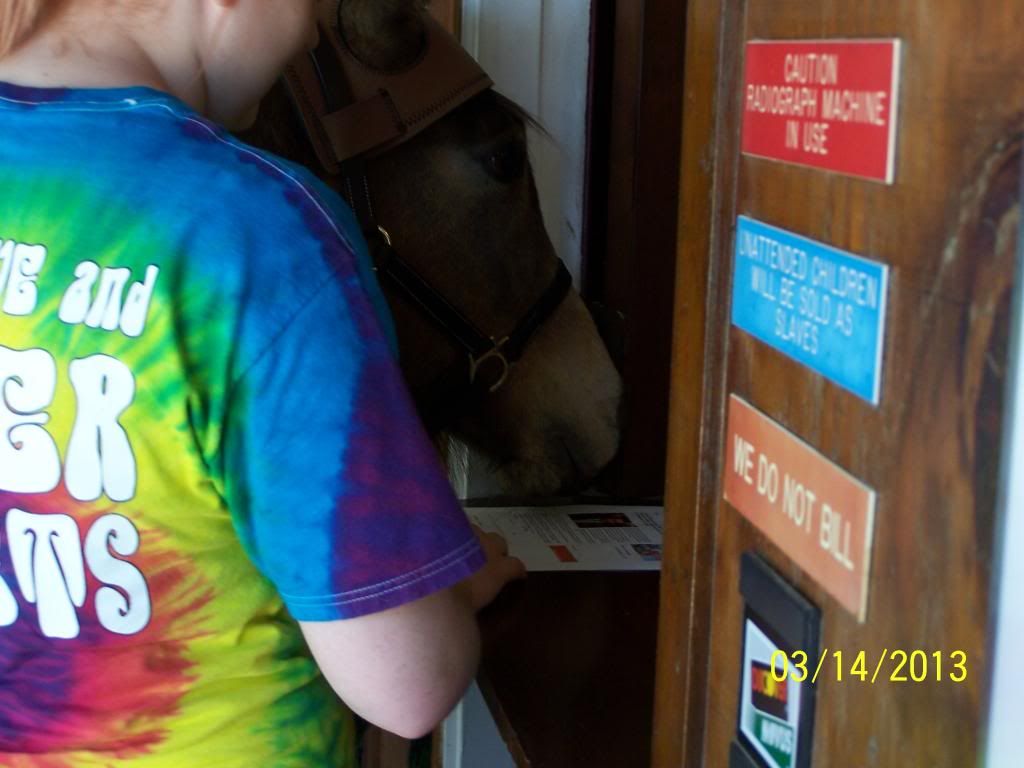 Henny: "Yes, I'd like to sign up for Treats Unlimited"
Henny meeting one of the dogs. Henny didn't much appreciate the dog licking his nose LOL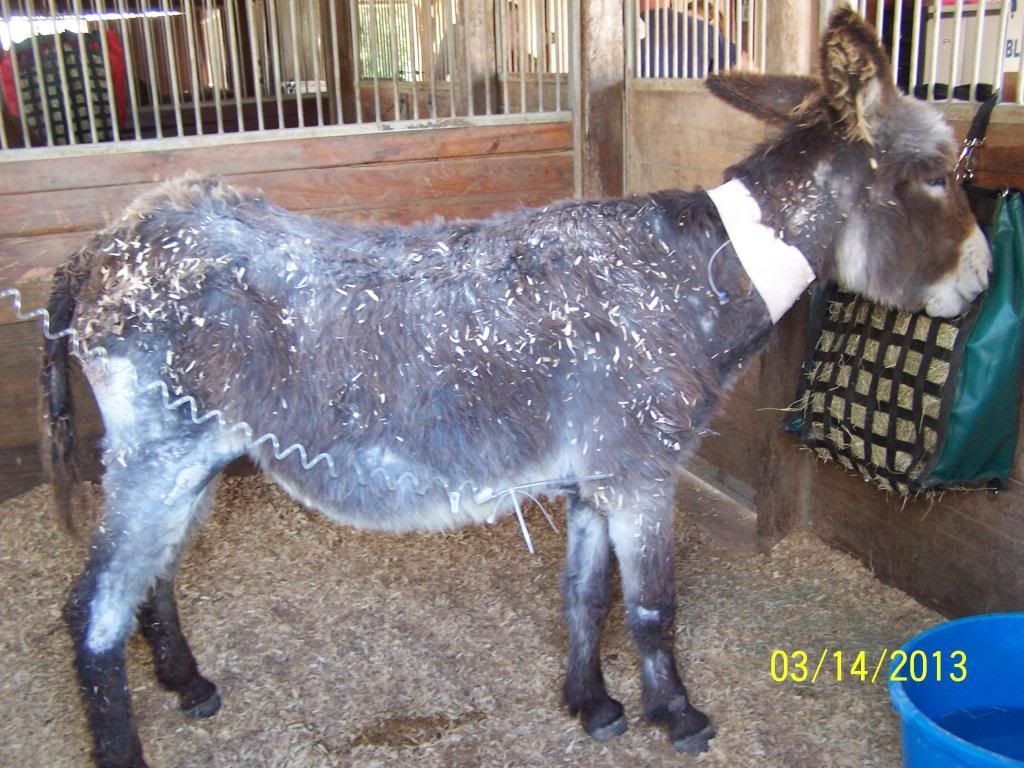 And this poor girl was there when we got there. What hasn't she gone through? She was obviously starved. She ended up breaking out of her pasture and getting hit by a car. Then as she was lying there after getting hit, she was attacked by dogs. When her owner didn't seek medical care, she was confiscated and a rescue took her here. Then she ended up going into labor and having her premature fetus delivered. Poor, poor girl. They say she is doing awesome now though. I just wanted to give her the biggest cuddles.
That's all for now! :)
---
There on the tips of fair fresh flowers feedeth he; How joyous his neigh,
there in the midst of sacred pollen hidden, all hidden he; how joyous his neigh