Another quick update before I go to my friend's house! Not much, though.
I got Henny started on a hoof supplement. I believe it's my vet's personal formula as it's called "Dr. J's Hoof Magic." Said Hoof Magic runs $45 a month.
-sigh- Whatever it takes to make Heenie Weenie comfortable. This stuff smells AMAZING. Like a spice rack at your grandma's house. Since it smelled so good, I decided to taste it. And it was absolutely.... DISGUSTING. God it tasted horrible. I had to steal a crumb of his apple likit to get the taste out of my mouth. Bleh. Henny has no objections to it, though. A plus when your horse isa vacuum cleaner.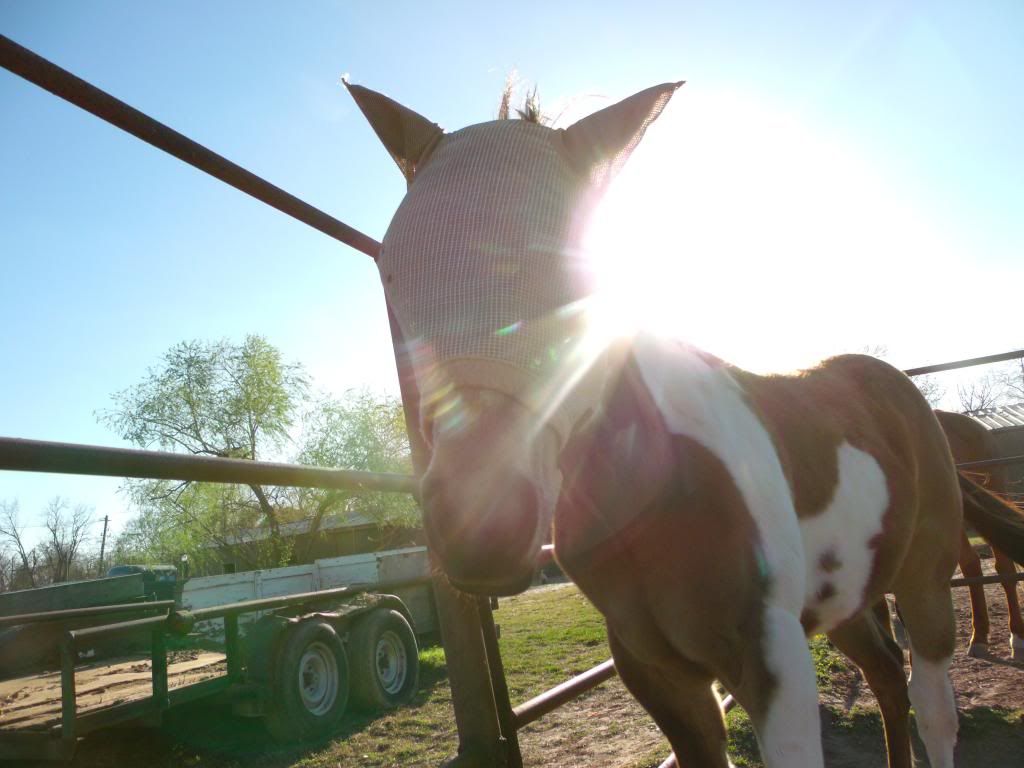 He looks like an alien haha
"Ohhh, wut's dis?"
"Nomnom"
He's always done the splits to graze. It's adorable.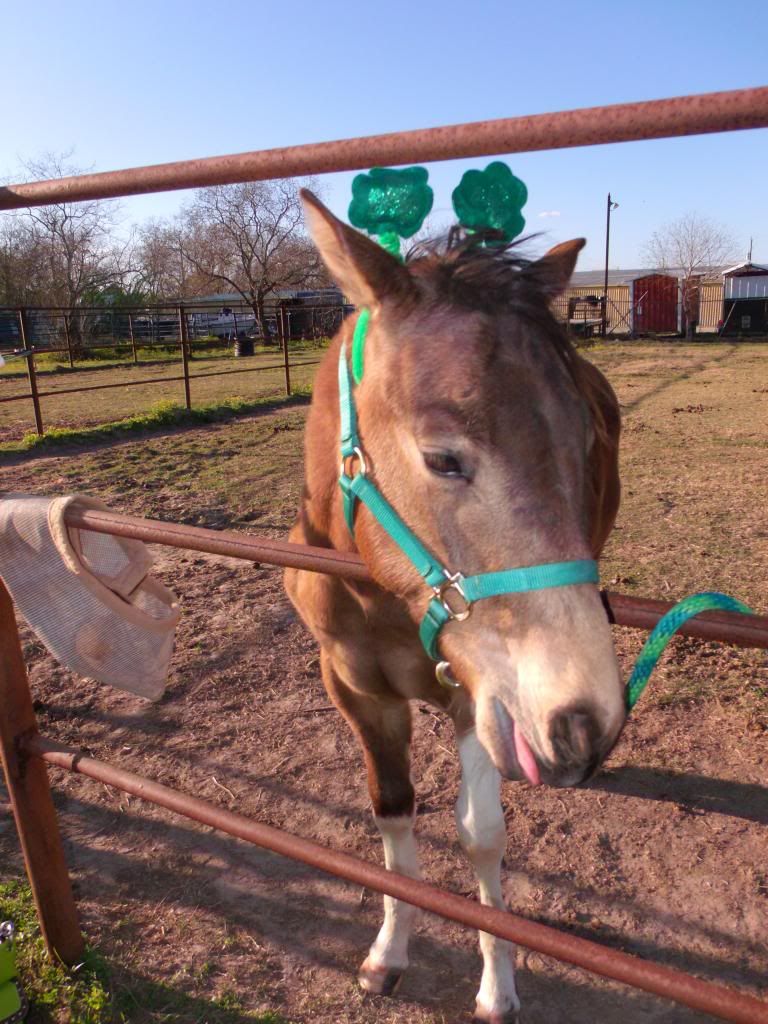 "I AM NOT PLEASED >8(" I got him a shamrock headband to celebrate St. Patrick's Day. Don't think he liked it.
"And I said, cats are pets for poor people!!"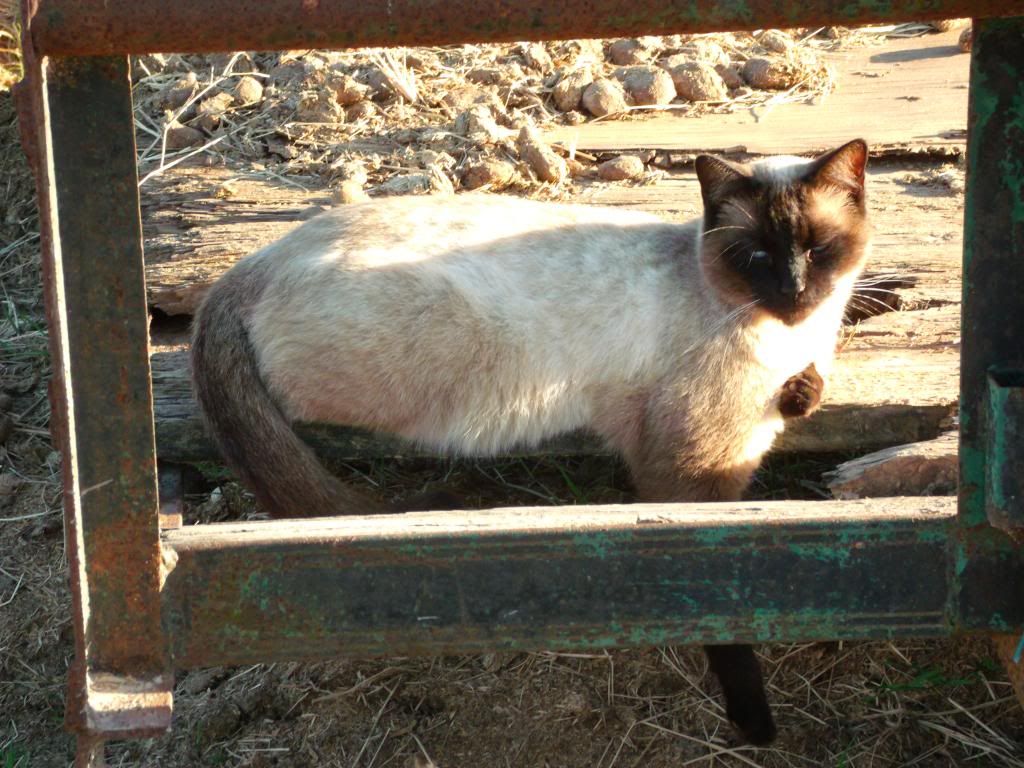 Sagua is not amused by the cat joke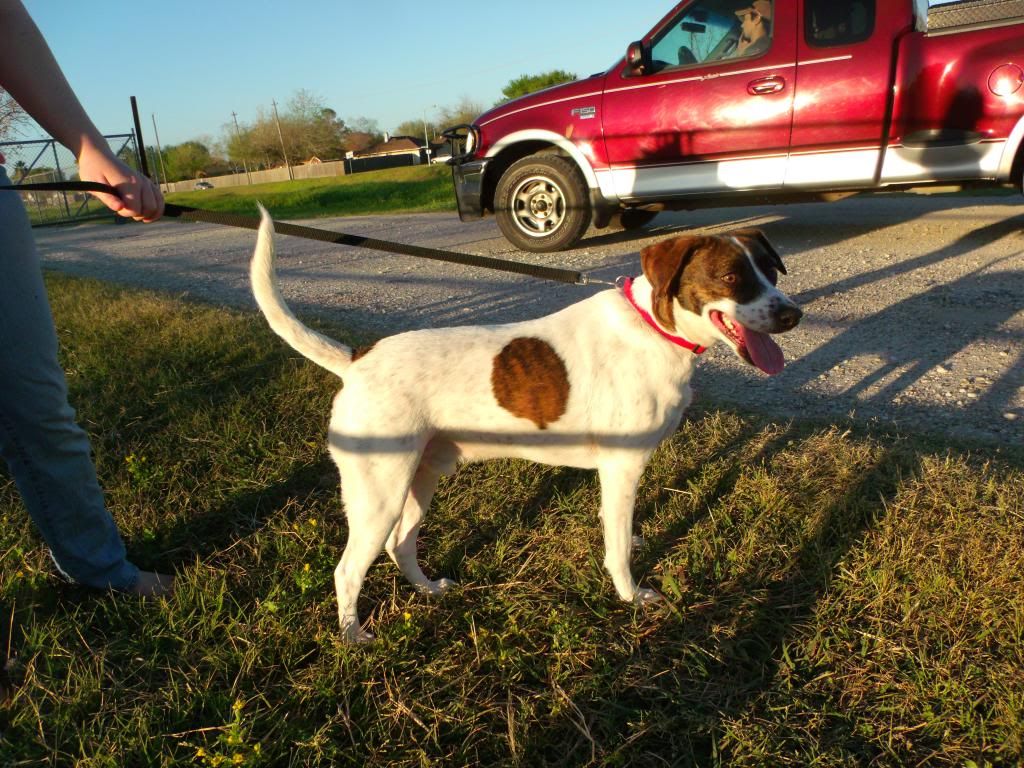 And a picture of my dog Sam. :) He's a pointer and loves going after the small critters. He likes Henny but Henny could care less about him LOL.
Annnd that's all for now!
---
There on the tips of fair fresh flowers feedeth he; How joyous his neigh,
there in the midst of sacred pollen hidden, all hidden he; how joyous his neigh
So I'll be posting pictures later tonight, just wanted to share a little tidbit for now. :)
I ordered Henny some SmartPaks on top of his hoof supplement he's getting. The flies are already up and rearing their heads(con about living in coastal Texas) and Henny gets red, watery eyes. I've got his fly mask on to keep them away from his eyes. The old lady at the barn touted to me yesterday, "Oh, fly masks are bad for horses if you leave them on every day. The trainer told me it hurts their eyes." I couldn't help but respond, "Actually, it's good for their eyes. Especially if they have uveitis and the fly mask has UV protection." Her response was a roll of the eyes and "Oh I dunno, he's been raising horses for 60 years." Doesn't mean he's right.
Anyways, I got organic garlic flakes to feed him. He's never been a picky eater so he should gobble these up no problem. We'll see if the garlic helps keep the flies away. I know it won't 100%, but it could mean dousing him in less chemicals.
Garlic Flakes - Equine Respiratory Supplements from SmartPak Equine
Then I got him a coat supplement. He's always had soft fur, but he has dandruff in his mane. I got the Nu-Image supplement to help him out. Plus, it has biotin in it, so even more help with his feet! We'll see how this supplement turns out as well. Last summer, his buckskin spots shone gold in the light. The hairs had a metallic/bronze sheen to them and it was absolutely gorgeous. Plus, I'm hoping it may bring out some dapples. He's eating very healthy, so let's hope so! The only thing prettier than a buckskin paint is a dappled buckskin paint.
Nu-Image - Horse Skin & Coat Supplements from SmartPak Equine
---
There on the tips of fair fresh flowers feedeth he; How joyous his neigh,
there in the midst of sacred pollen hidden, all hidden he; how joyous his neigh
Teen Forum Moderator
Join Date: Dec 2010
Location: South East Texas
Posts: 7,157
• Horses:
2
LOL, started laughing when I read that you tasted his suppliment. That sounds so much like what I would do. I think I've tasted each of my horse's feeds at least once to 'check' for molasses. Let me tell you...they may call Equine Junior 'highly palatable' but those animals must have broken palates. That stuff is horrifyingly gritty and gross.
---
Everyone in your life is meant to
be in your journey, but not all of
them are meant to stay till the end.
Lol I've tasted a lot of the feed and supplements to see how they taste. You know, "Don't feed your horse something you wouldn't eat" but geez that supplement tasted disgusting. No wonder some horses are "picky eaters." Some stuff is just down right nasty! I do find myself stealing a lick or two off his salt lick
So unhygienic I know, but I come into contact with much dirtier things just walking through his paddock LOL.
Posted via Mobile Device
Haven't updated in a few days. Shame on me!
Henny got his feet trimmed today. Three weeks since his last trim and the farrier still can't believe how quick his feet grow. He loved the progress Henny has been making, though, especially with his head carriage. He also said that he didn't see any need for Henny to be on a hoof supplement as he didn't think his feet were soft. Who knooows, I have no problem spending the extra money as a "just in case." I've already bought a month supply anyways so it won't hurt to feed it to him for now. Annnyways, on to pics!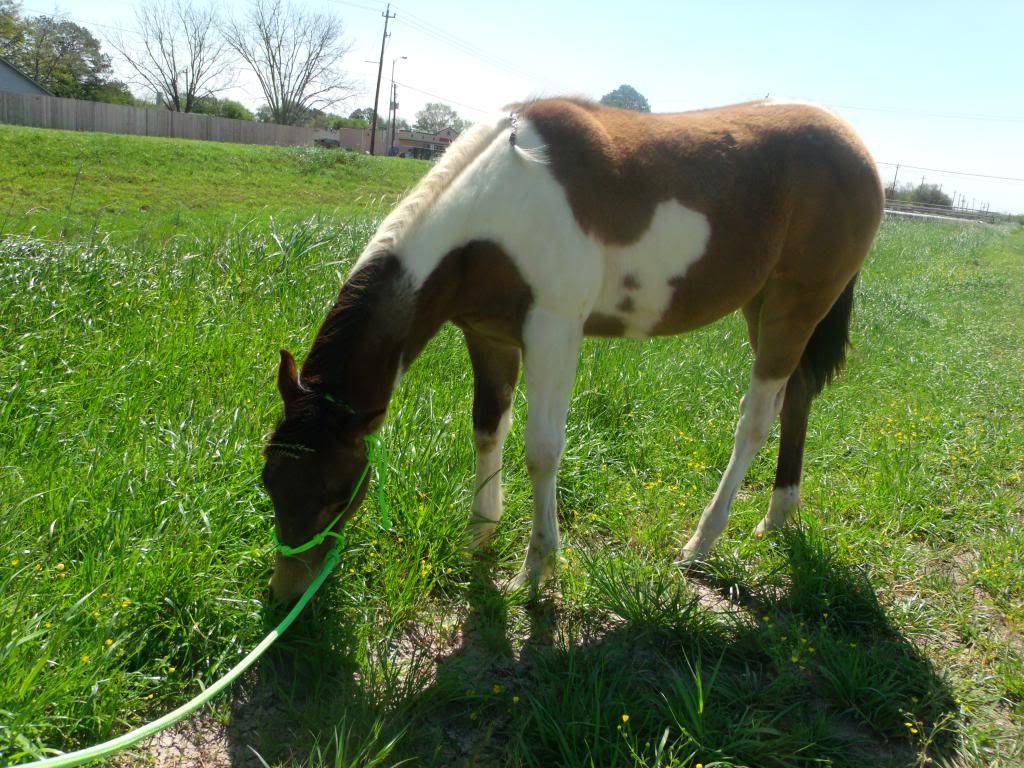 Henny was very well-behaved for his trim so I took him for a walk afterwards :)
On said walk, while it was very windy mind you, he had no problem walking past the "scary" billowing tarp or a piece of tin on the ground, but apparently a small tree was so utterly terrifying that he bolted a bit. He just launched past me and actually yielded his hindquarters to me on his own. Such a silly boy. And back to the barn we went.
<3 his droopy lip. "Are you climbing through the fence?"
"You need help climbing through the fence?"
Henny's girlfriend sauntering up
Pondering deep, deep thoughts about food. With some Fabio hair action definitely going on.
"Hey babygurl, how you doin'?"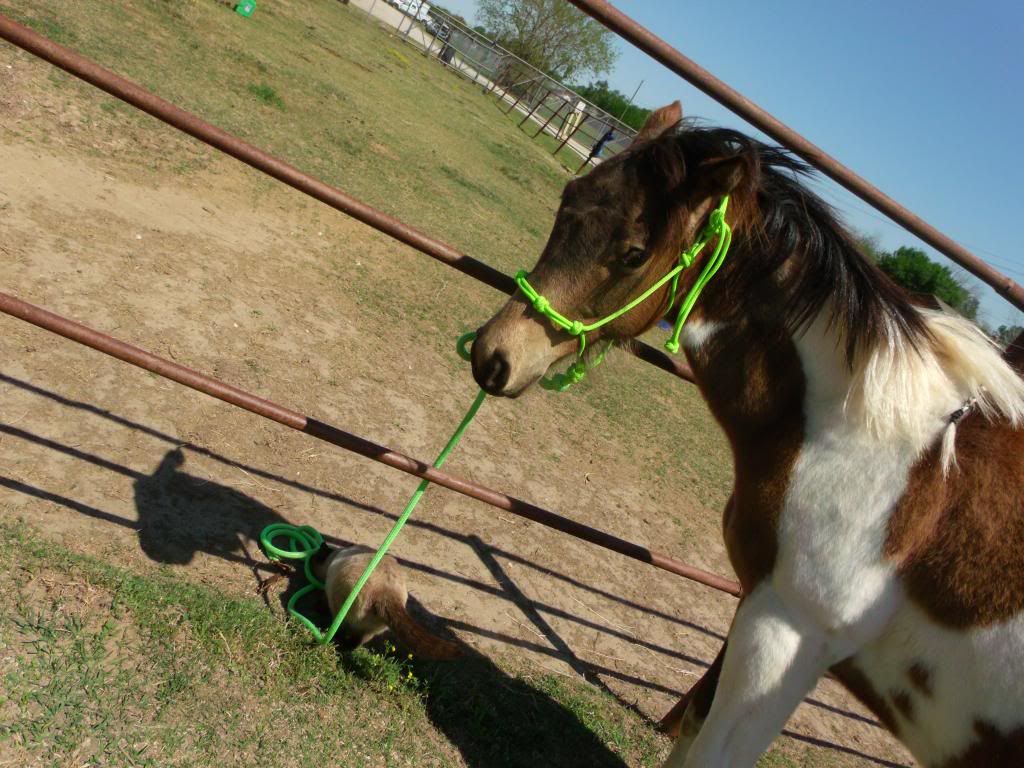 "Oh! I, uh. . . was just, y'know, being polite"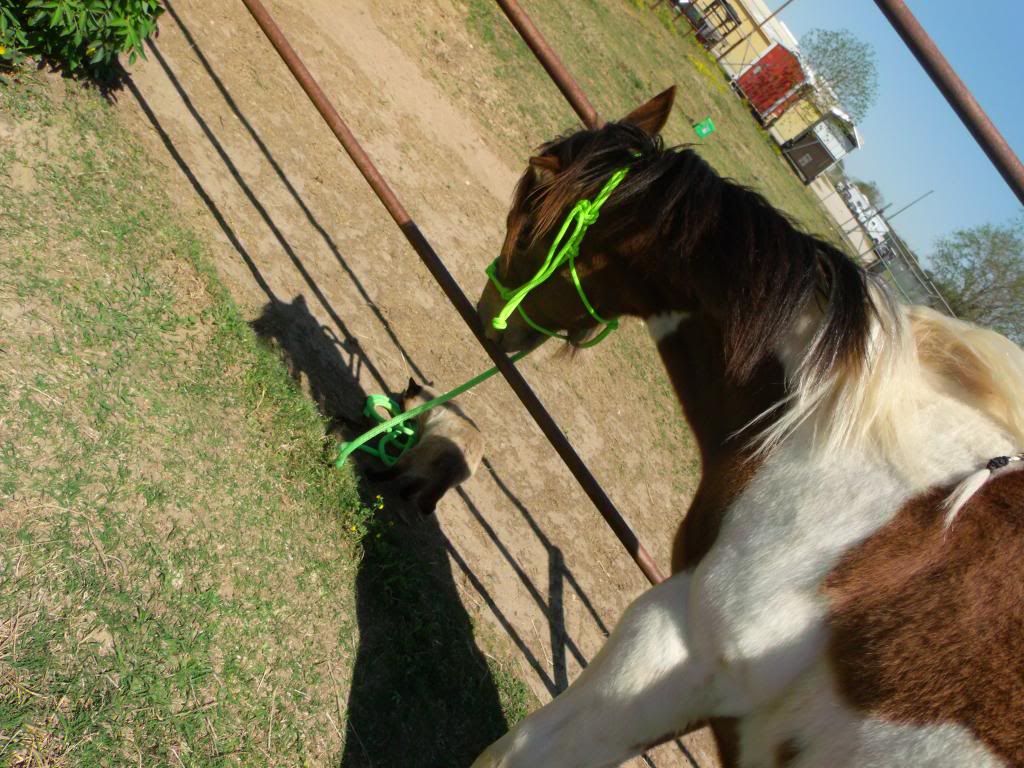 "You like this color on me? I bet you do"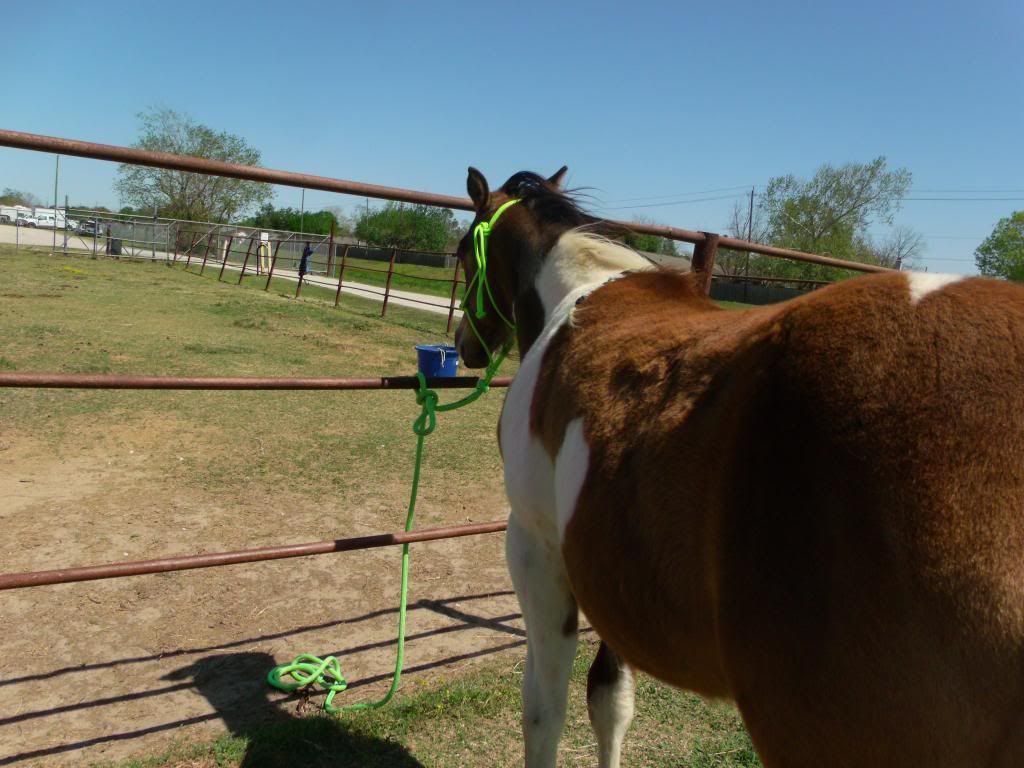 Fuzzy wuzzy
Meanwhile, back in his paddock!
"Any feed left in here?"
"That tasted NASTY"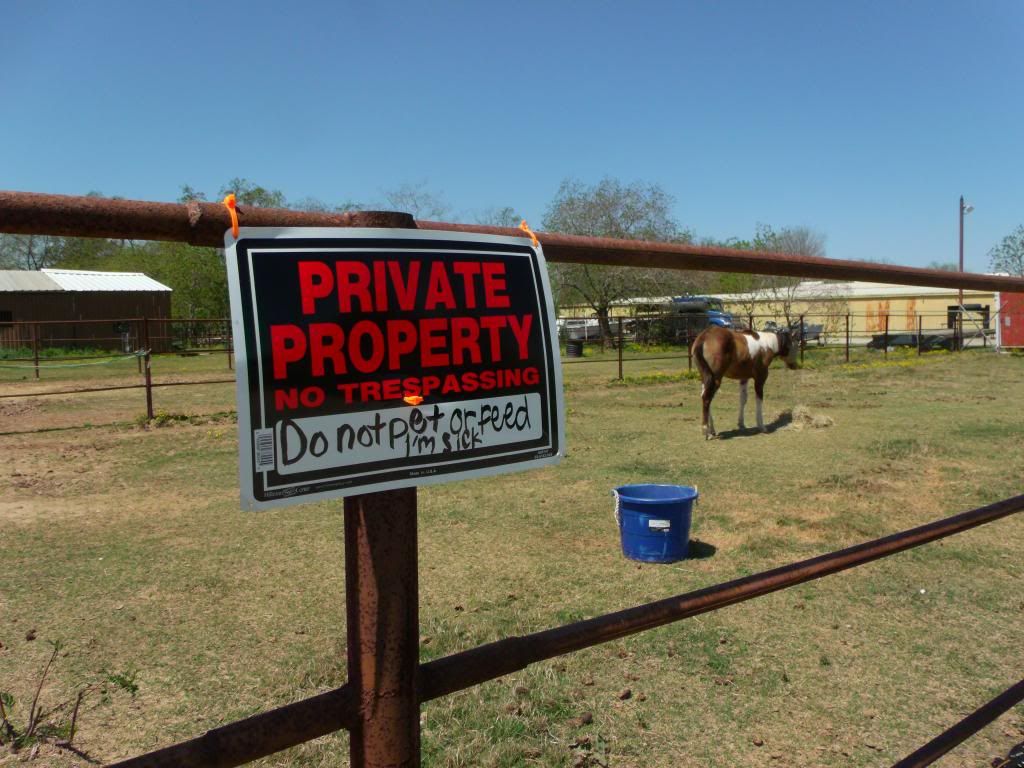 Sign numero uno
Sign numero dos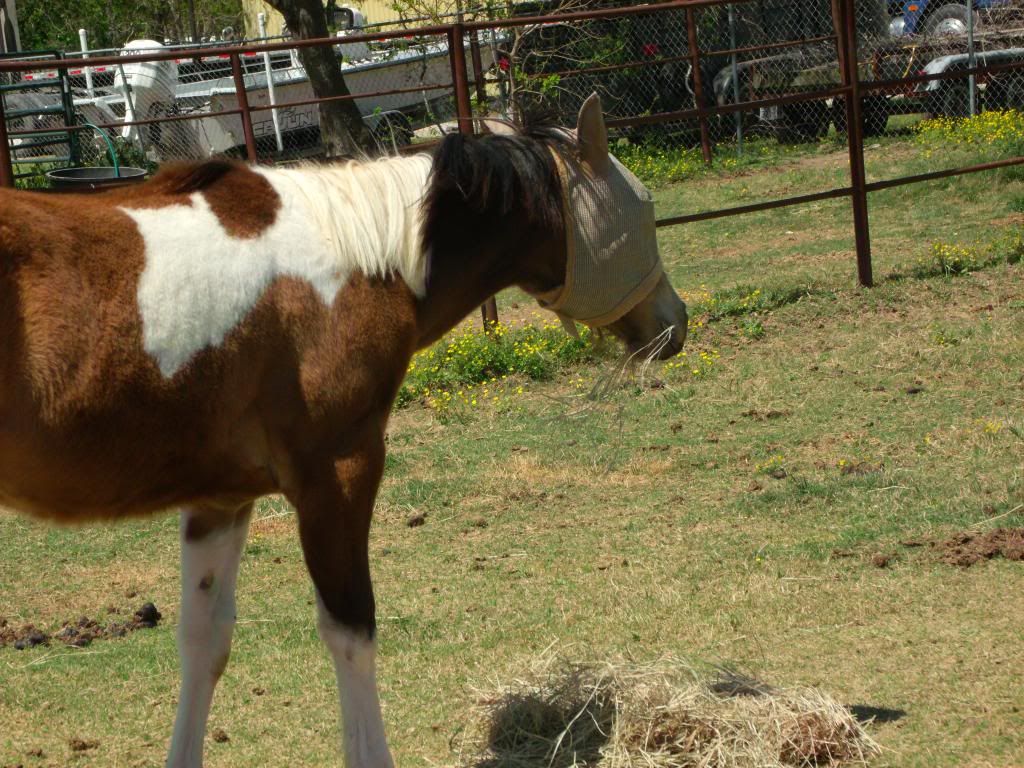 Nomming on his afternoon snack
And that's all for now!! I'm supposed to be getting a few packages in next week, so I'll be updating with pics and details. Thanks for looking!
---
There on the tips of fair fresh flowers feedeth he; How joyous his neigh,
there in the midst of sacred pollen hidden, all hidden he; how joyous his neigh
Henny <3 Long time no see, Jinx! How've you been?
Posted via Mobile Device
Quote:
Henny <3 Long time no see, Jinx! How've you been?
Posted via Mobile Device
Good!
Oh my god, the picture of Henny with the shamrock headband is to die for! Hehehe. Aww. <3
Showing
Join Date: Jun 2011
Location: Cariboo, British Columbia
Posts: 11,940
• Horses:
3
I tasted that Hoffman's Minerals, YUKKY! Bitter, salty flavor, horses don't seem to mind it.
Thanks Jinx :)
LOL Karen! I remember when you told me to try the horse treats. I about gagged they were so nasty.
The horses loved them, though!!
I got my SleekEZ in and my SmartPak supplements :) Totally forgot the SleekEZ at home, though. :/ Buuut I was able to try out Henny's new supplements tonight.
SmartPak sent me a free drawer to keep all my supps in, how nice! :) They send enough packs for a 28 day supply and I believe they automatically charge your card each month the same day and ship the new supps out to you.
They even have Henny's name on them! That will be really convenient if I ever put Bubba on any supplements, which I probably will.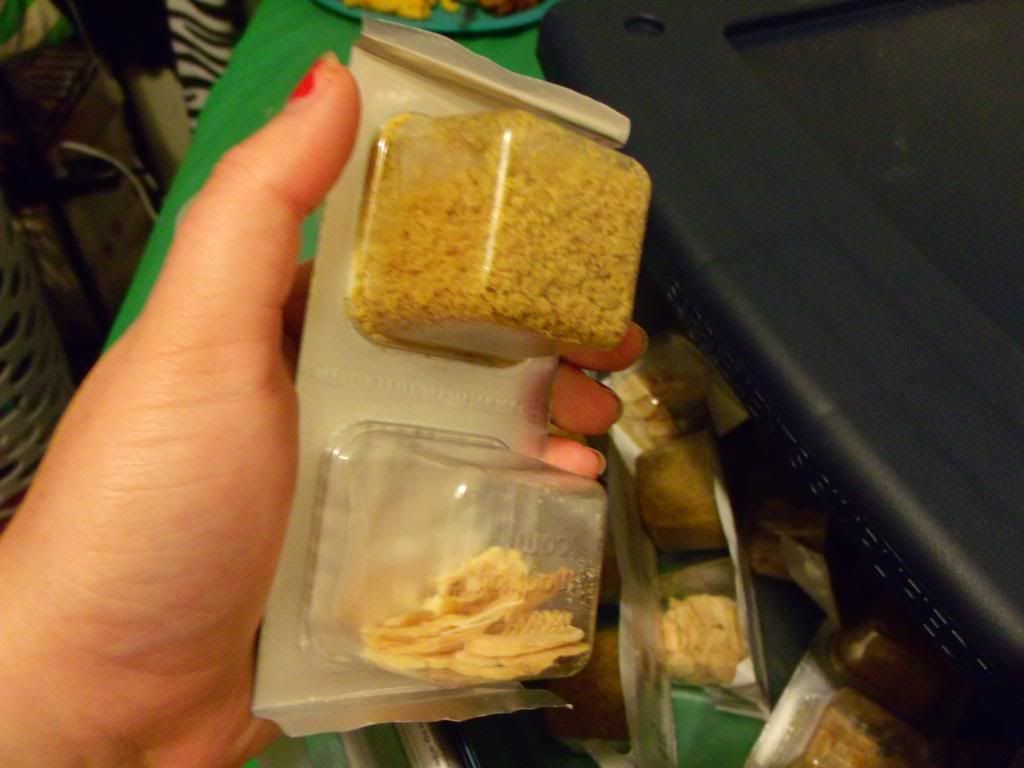 Showing the skin/coat supp on top and the garlic flakes on bottom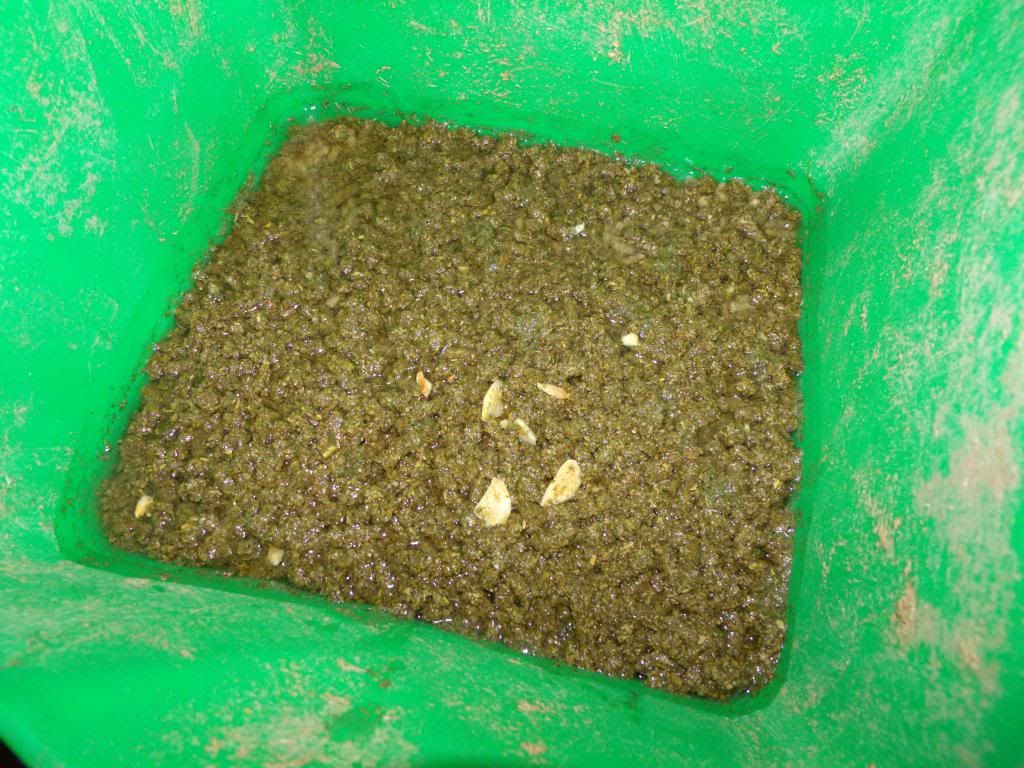 His feed soaking with all the supplements added. He did NOT like the garlic flakes. I tried letting him taste a flake before I put it in the feed and he didn't like it then. After soaking they were more squishy but I still wasn't convinced. I watched him eat for a bit and he was shaking his head and rubbing his nose on the edge of his feed tub.
He had no problem finishing all his feed though, little piggy. It will take him a while to get used to them, I suppose.
And a horrible blurry picture of Henny. <3 Someone wanted to be naughty and impatient at dinner time, so I backed him all the way from the barn to his paddock, about 150 feet.
He needs a reminder every once in a while that attitude at feed time is not okay.
That's all for now! Thanks for looking!
---
There on the tips of fair fresh flowers feedeth he; How joyous his neigh,
there in the midst of sacred pollen hidden, all hidden he; how joyous his neigh