I NEED THAT STALL SIGN. OMG.

And Henny's nice too... LOL.

<3 <3 <3
Isn't the stall sign amazing?!! I just love it so much, and will fit perfectly above my bed :)

Oh right, Henny is pretty **** cute too lol! He is now trotting in hand on command! Apparently something clicked over night hehe
Posted via Mobile Device
Darn** I meant darn! Dang auto correct :/
Posted via Mobile Device
October 4, 2012
So I haven't updated in a while. Silly me! :P Henny is doing great. He was wormed for the first time on Friday. He always has a lazy lower lip, so I played with it for a few seconds to desensitize him then stuck the tube in. He did NOT like the taste. He did the lip curl and everything!
He's such a little goof ball.
He tried on his helmet for the first time too. He was so intrigued with the plastic packaging; he had no idea what it is. I love how I can take his halter off anywhere and slip it right back on. The helmet makes him look like a nun. A very displeased nun. He just looked so ridiculously cute and pathetic I couldn't help but laugh my butt off. He also tried on a t-shirt! I got a 2XL(yes, 2XL. Fatty Fatty 2x4) t-shirt with the long arm pits that athletes like to wear. I cut the neck hole bigger, although a tad bit too big. We bunched up the shirt, put it on over his neck, then slipped his legs through one at a time. It was a lot like putting a shirt on a dog. A giant, hoofed dog. He did so amazingly well, and didn't fight me at all! I walked him a few yards in it after I recovered from laughing so hard I almost peed myself. He just tolerates so much. It's amazing. He's learning quickly how to square up and walk and trot in hand. So basically we just have to perfect a couple things and get him all cleaned up and we'll be ready!! How exciting. I am praying we can make it to the show next weekend. Having a non-running truck and a broken down trailer makes things really difficult.
Henny tried on a yearling size fly mask yesterday. I'm sure if I could've seen his eyes, they would have killed me with their death stare.
I brought it out for Bubba because the flies have been making his eyes water. The second I let him go, he took of trotting around the pasture freaking out. But then came back once he heard the mint wrapper LOL. Oh, and a farrier will be coming out tomorrow. Henny's feet grow super fast. It's only been 4 weeks and he's already due for another trim. It must be the supplement I'm feeding him.
---
There on the tips of fair fresh flowers feedeth he; How joyous his neigh,
there in the midst of sacred pollen hidden, all hidden he; how joyous his neigh
I am definitely subbing to this. He is adooorrable!
---
For without a horse, i could not fly.
Incredible changes! your baby has changed so much from one photo to the next. Definitely keeping an eye out on your journal. It should be fun.
Thanks guys! :) He's growing more and more by the day, it's amazing to see the changes when I look at the pictures. I don't have the energy to do a whole entry at the moment, but I do have a cute video. this is the boys running around the middle pasture like maniacs. Henny just makes me giggle every time I watch this video.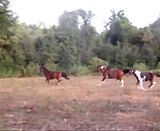 ---
There on the tips of fair fresh flowers feedeth he; How joyous his neigh,
there in the midst of sacred pollen hidden, all hidden he; how joyous his neigh
How is your boy doin? I havent been here in AGES and cant believe how much he has grown! Such a pretty guy. Cant wait to see MORE PICTURES! >hint, hint< =P
Haha he's doing great! I haven't updated this in forever, so here goes.

He did great at the show. He got last in both classes, but that was expected. Those halter horses are GINORMOUS!! He was so tiny compared to them. But he got to see a lot of new things, and everyone commented on how well behaved he was. He was just a doll. He got to see golf carts, the arena, a bunch of other horses, wind chimes, cattle chutes, so many things. The only thing he spooked at was the bottom bar going through the arena gate. He didn't much appreciate stepping over that the first couple times, but by the end of the day walked over it like a pro. I was so amazingly proud of him. I got so many compliments of how cute he was, how calm he was. It was a really good experience for both of us.

Annnd, a couple new horses joined the herd! We got a new boarder in after being the only boarders for about 5-6 years. It's a mom and filly, the filly being 16 months. They're gorgeous, but the filly has only been with mom her whole life. Needless to say, she's pushy, rude, and is still getting the hang on herd dynamics. I was able to get her lunging properly in about 15-20 minutes. She's a quick learner, but definitely needs to learn her place and respect the humans. Henny is getting fuzzy wuzzy! His winter coat is growing in pretty well actually. He's also gone through a growth spurt! Last time I measured he was 11.2 hhs. Now I'm thinking around 12 hands, but I've yet to tape him.
---
There on the tips of fair fresh flowers feedeth he; How joyous his neigh,
there in the midst of sacred pollen hidden, all hidden he; how joyous his neigh