Me and My Rage!
---
If ya haven't guessed by now Rage is my yearling. He is an August 2008 colt by Artax out of Donna's Hope. He has 3 big white socks and a good sized blaze. When we first got him he was almost untouchable because we had rescued him from Paragallo (
Paragallo charged with animal abuse in N.Y. - ESPN
). We've had him for a few months now and is a big mush man. He loves humans(and food) now. We could barely get a halter on him when we got him and now he will trot in hand over ground poles, flower boxes, and accepts a saddle on his back and doesn't care! He's also growing like a freaking bean stalk, he's atleast small horse at this point cause he's bigger then our biggest pony. This journal is gonna be about the growth of my baby Rage.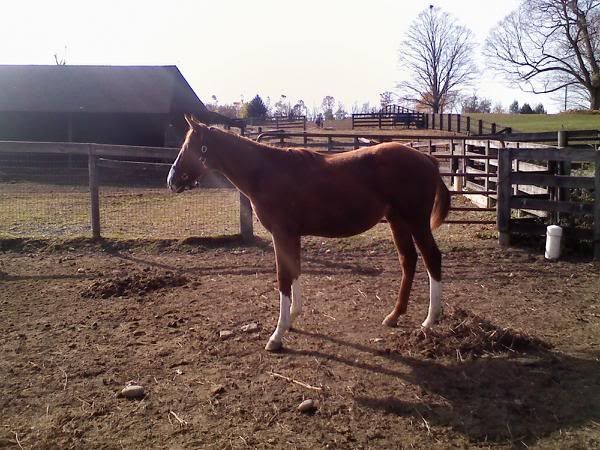 sunday november 1st(yesterday)
He finally eats treats outta peoples hands. i know its a bad thing but it seemed more of a trust issue i wanted to work on with him. He also was free lunged with his new yearling friend Norrie (1 year old mare,half draft half thoroughbred). They both look amazing when cantering and he gallops something fierce! He also likes to use some jet power
also his mom was at paraneck farm where we got him, she might have been adopted before we got there but if shes still there i wanna get her outta there.
wednesday november 5th 2009

ugh rage is starting to feel the kick of testosterone because he's nibbling at everyone and is biting the filly he goes out with like crazy and the farm im at, the owner breeds and says thats the first sign of dominance that a stallion shows. Rage is gettin is man hood takin by the end of the month, poor guy.