Feeling very sorry for my self right now, I work with stbs... And well I fell out of the cart today, my first fall but of all times to do it, my leg is killing me, have a training day this weekend, have a dressage day weekend after and an ode the weekend after that, not to mention 4 exams in between.
Can barely walk, limping everywhere, hurts soo much, I'm at the point now where I'm seriously thinking I might of done something... But no ones home, don't really want to drive anywhere myself as I have a manual and that hurts it as well....
So instead of studying I'm laying in bed, with my iPad, hoping my leg will stop hurting... And dreading getting up....
In all it's a very very sore leg, did still go and see Romeo today, who was an idiot to catch, kept running away from me so I'd limp after him
not impressed at all
Eventually caught him with the help of my friend, and just gave him a brush and some pampering, was in no shape to ride.
Not looking forward to tomorrow... That's for sure.
Well it's nothing major, no riding this week though, so couldn't go to the training day and more then likely won't be able to go to the dressage day :(

Kinda bummed but it thinking it might be a blessing in disguise, more time to study, lol if I can call that a blessing, trying to think positive.
No riding for the past 2 weeks
Got his saddle fitted on Thursday though, had to get my friend on him because I just couldn't get on.
But he was a gem, first time she rode him and he was perfect, only went for a little trot so the saddle fitter could asses the balance of the saddle
Going to take monthly photos of his back to monitor he's muscle development, I had started before, but just never kept up with it, so if anyone is reading this kick my arse if I don't post another photo in a month!!
And this is a comparison photo, first photo from jan-March time and second one from last Thursday when the saddle fitter was out.

Really happy with how he's looking, he's wither doesn't seem as big anymore and put some weight on :)
Rode the big boy today :)

He was an absolute gem, don't know what I was worried about, wtc, not a hoof wrong.

Inquiring about lessons again, just have to find an instructor who is willing to travel, think I may of already found one and may be getting a lesson on Tuesday :)

Knee hurt a little bit while doing trot work, but nothing to major
Had a lesson on Tuesday, to say the least Romeo does not get hot off work, the complete opposite.

It was horrible, so much leg, I'm just annoyed I had to stop for 3 weeks, I should of gotten a friend out to ride him or so,ethnographic during that time gahh we were going so well before I hurt my knee :(

Oh well, I'm going to have fortnightly lessons with this lady, she seemed alright.

Went for a little trial ride the other day with some of the other girls on the property as well, everytime I go exploring, I love this place even more :)
It's been a month already :)
So as promised here's some back photos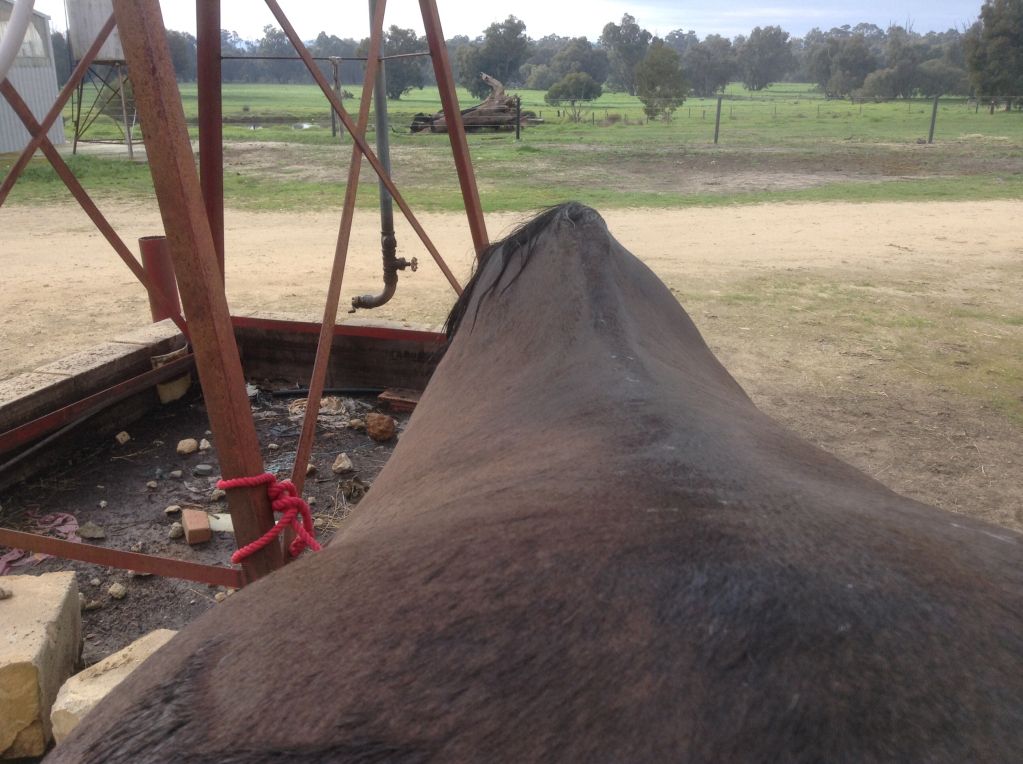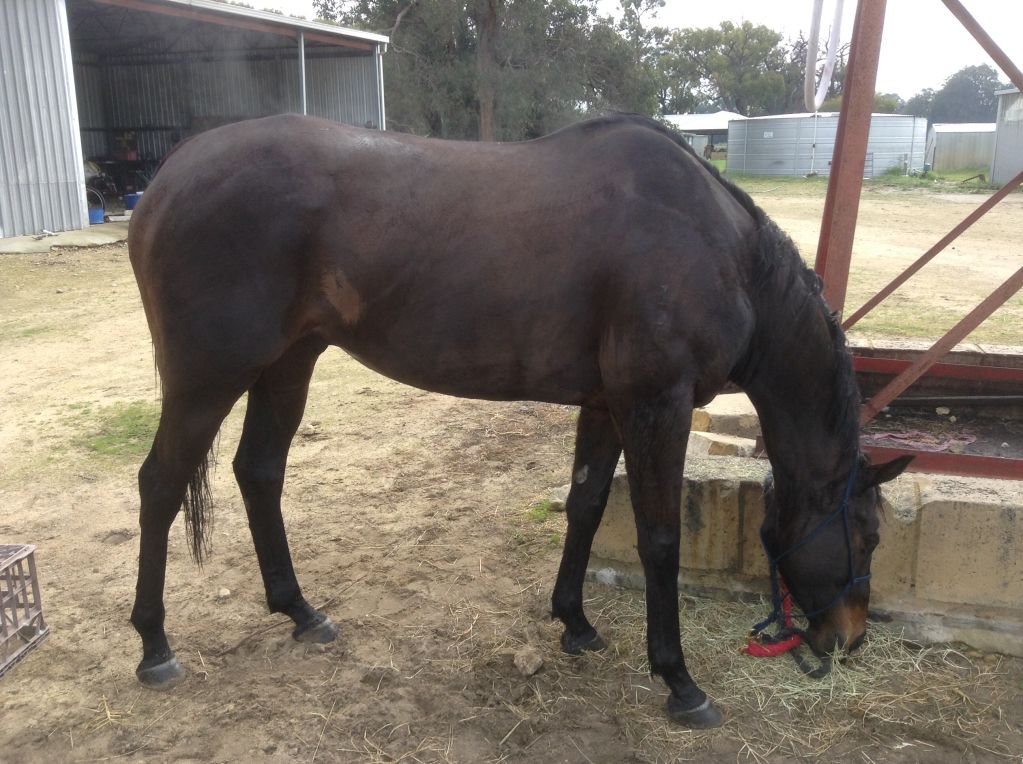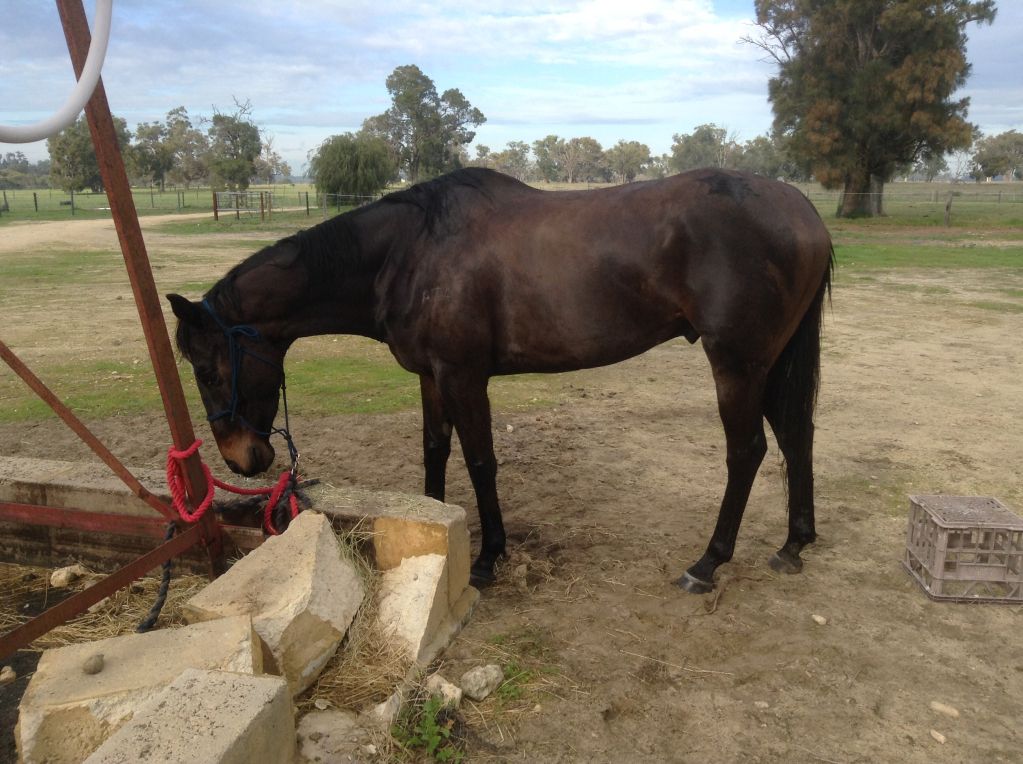 And he got his footsies trimmed on Wednesday as well have some photos of that as well, if any ones reading this and knows anything about feet, can you let me know what you think, this is his feet 6 months into being barefoot
He has a club hoof as well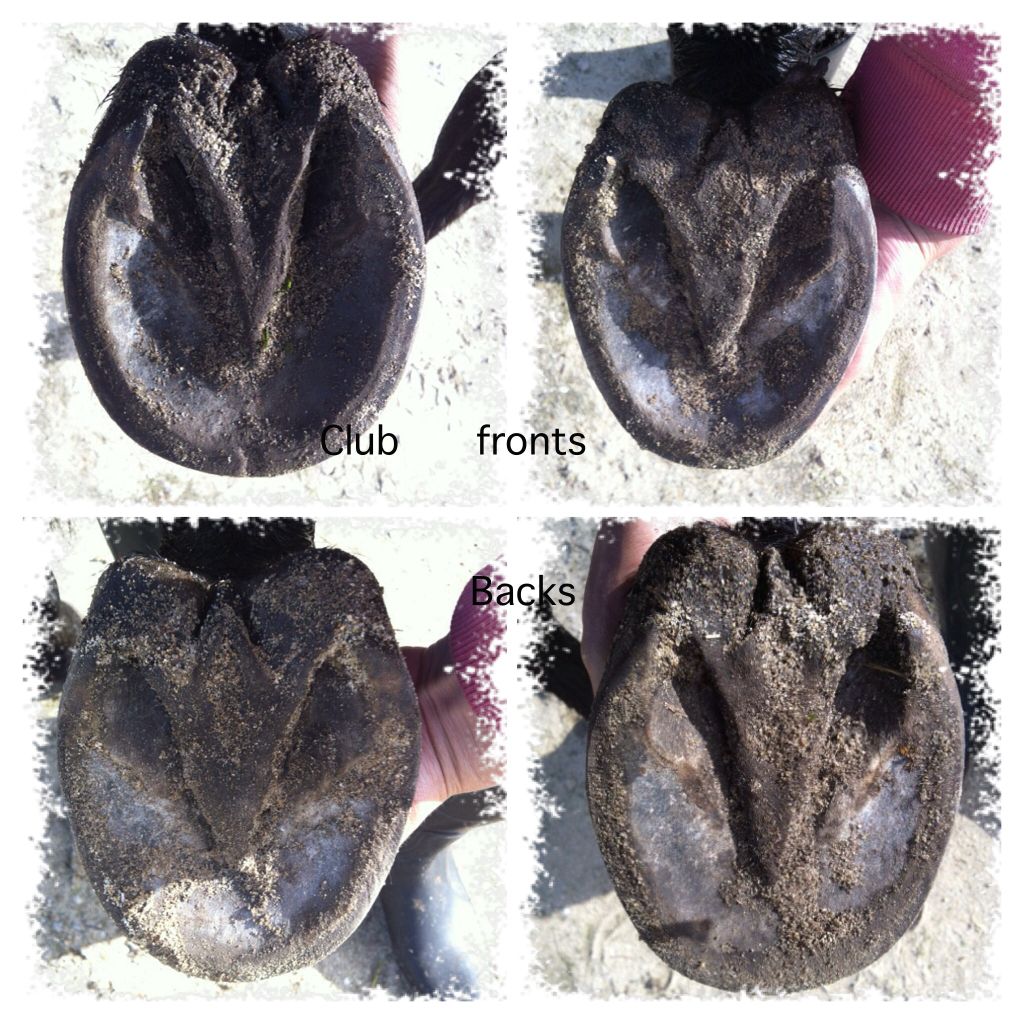 Ridden him a few times this week, wether was pretty miserable at the beginning of the week, bit it's cheered up again and nice and sunny for the second half.
I'm finally getting my butt into gear
Need to start looking up some shows again that I want to enter.
Jumped him for the first time in 2 months yesterday as well, really happy with how he went, thought for sure he was going to go back to he's old ways of bolting after a jump, he was quite happy to just jump them all and come back :)
Did have a few excitable moments but he just tossed his head and went to do something, but didn't actually do anything.
He's just a different horse now, I think he's calmed down and is just chilled out, like the other day when I rode him, was cantering and the farm dog bell, jumped in front of us, Romeo wanted to do something but everything was half arsed, lol he could of thrown in a massive buck, but insetead he did this thing that took minimal effort as possible, to which I nearly fell off from laughing at him.
Just love my little pony :)
Just realised my friend actually took some photos of me jumping :)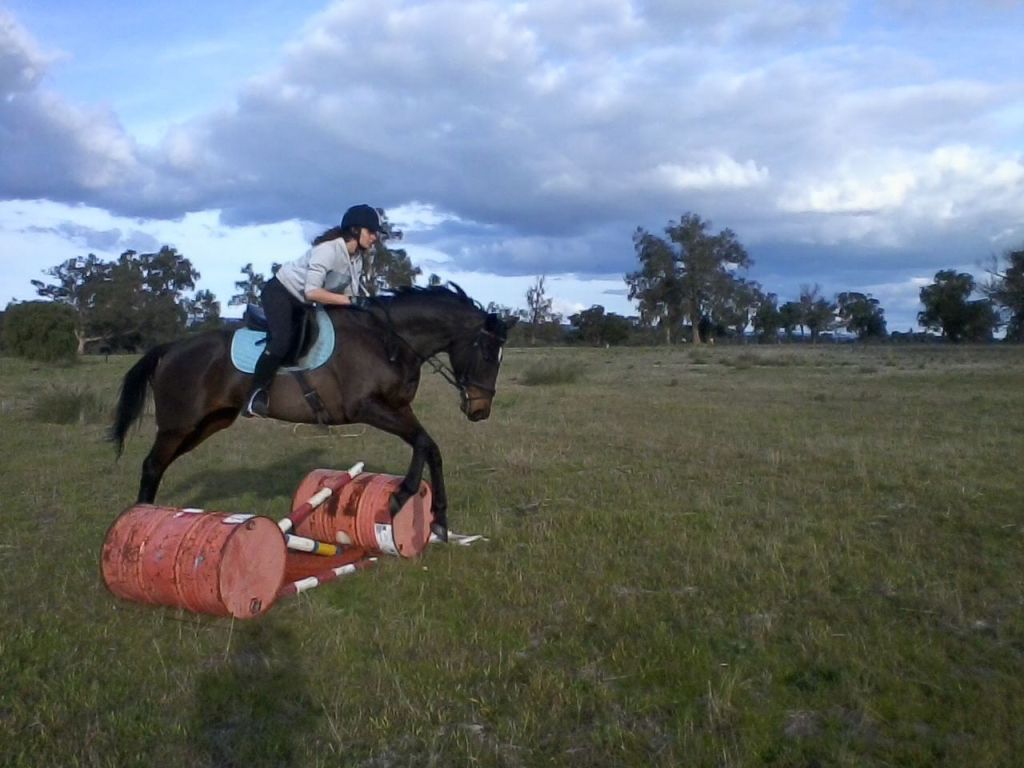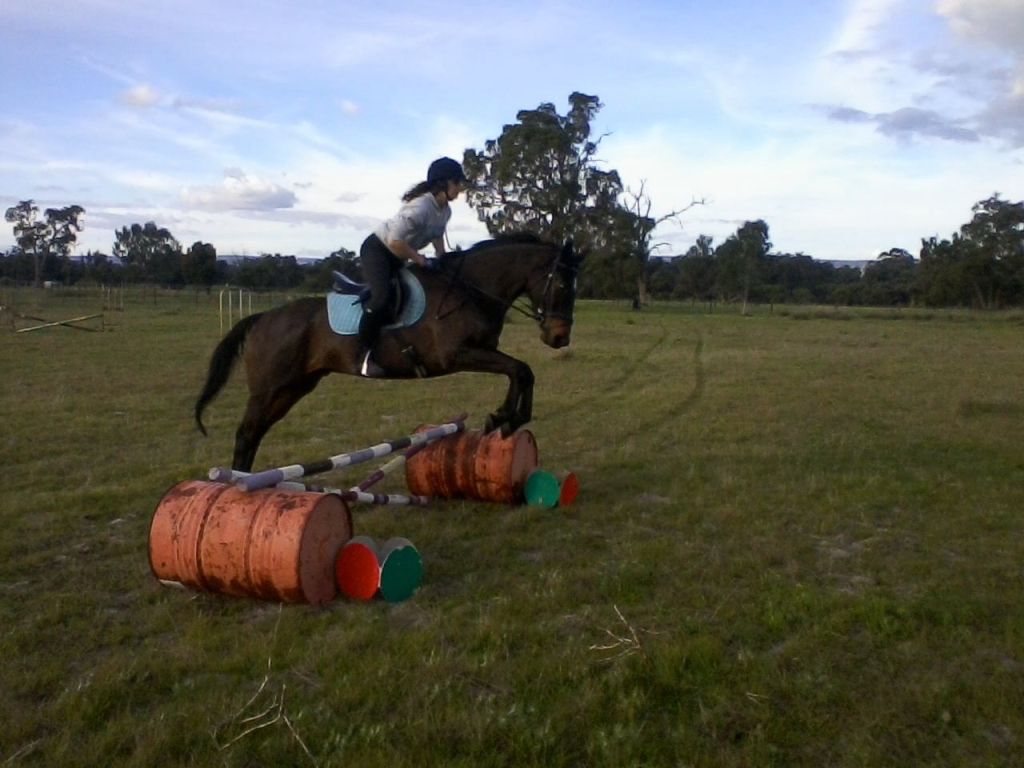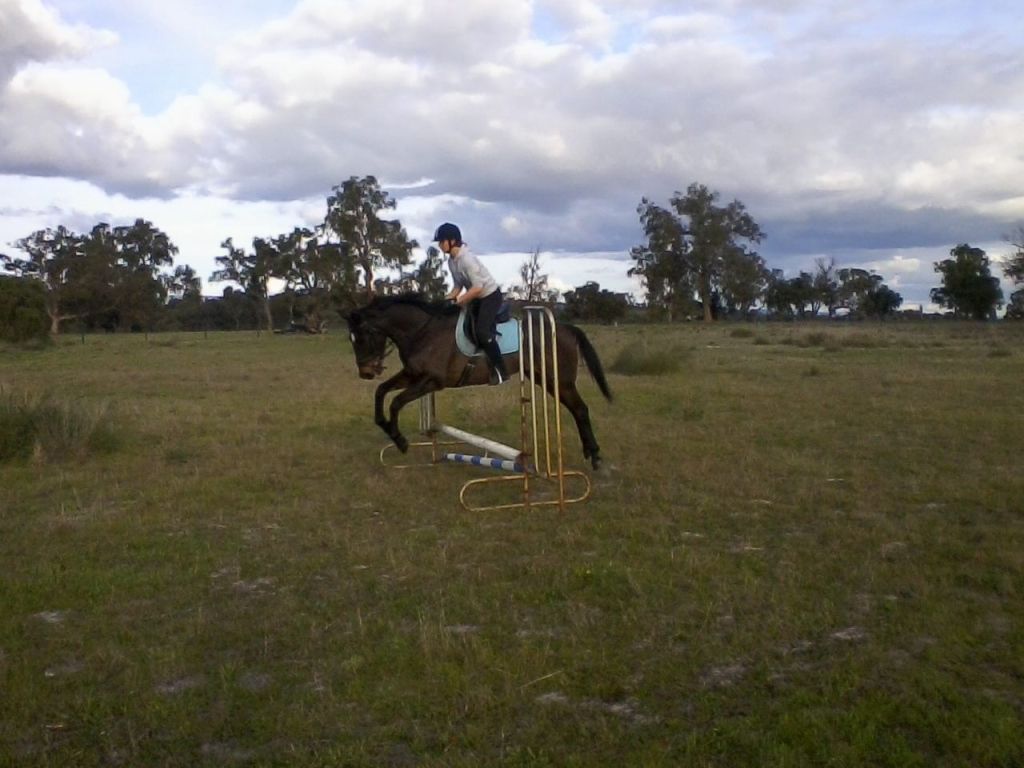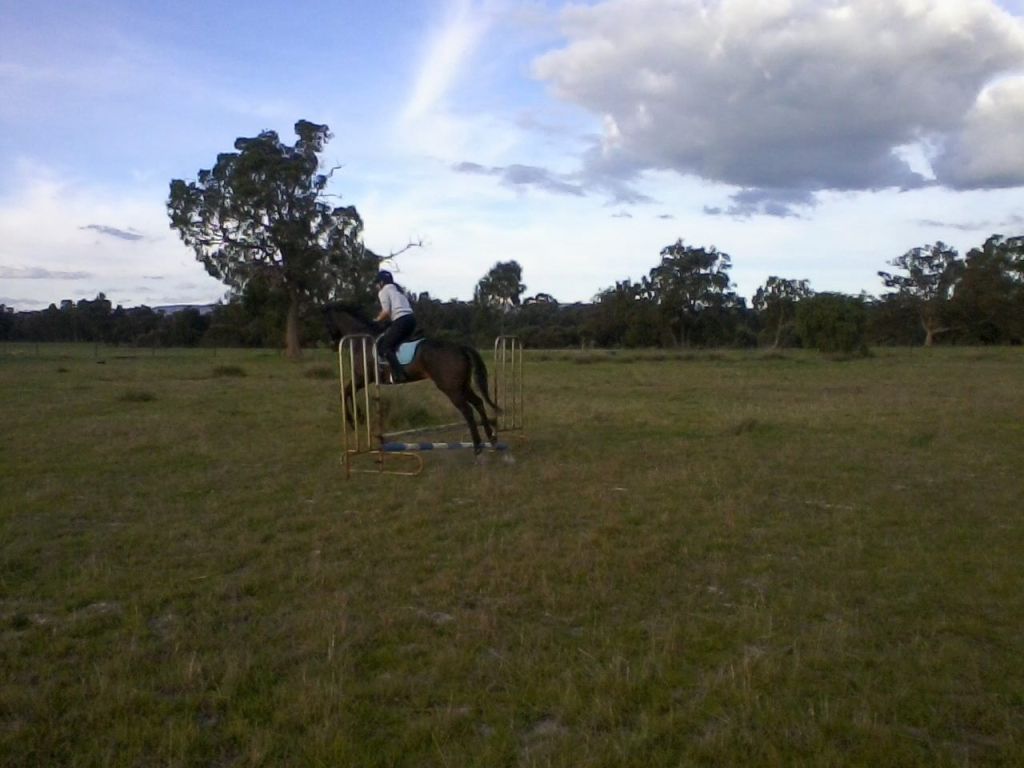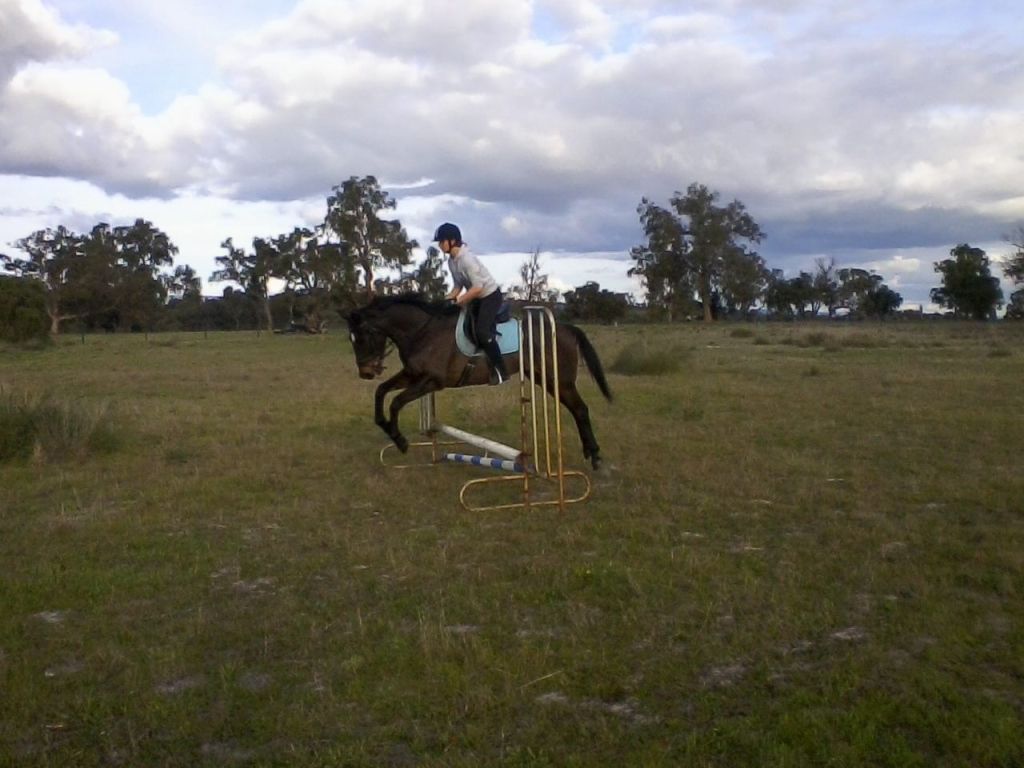 And here's a pic of my friend on the lovely Romeo himself :)
My friend has recently quit riding, she just wasn't enjoying it anymore, she is still involved with horses as she is working at a pacing stable, and has 2 race horses her self still, just lost the motivation to ride, she's the one the often takes photos of me, after I ride one day I was like come on you get on, to which she agreeded complete with her fluffy sleepers lol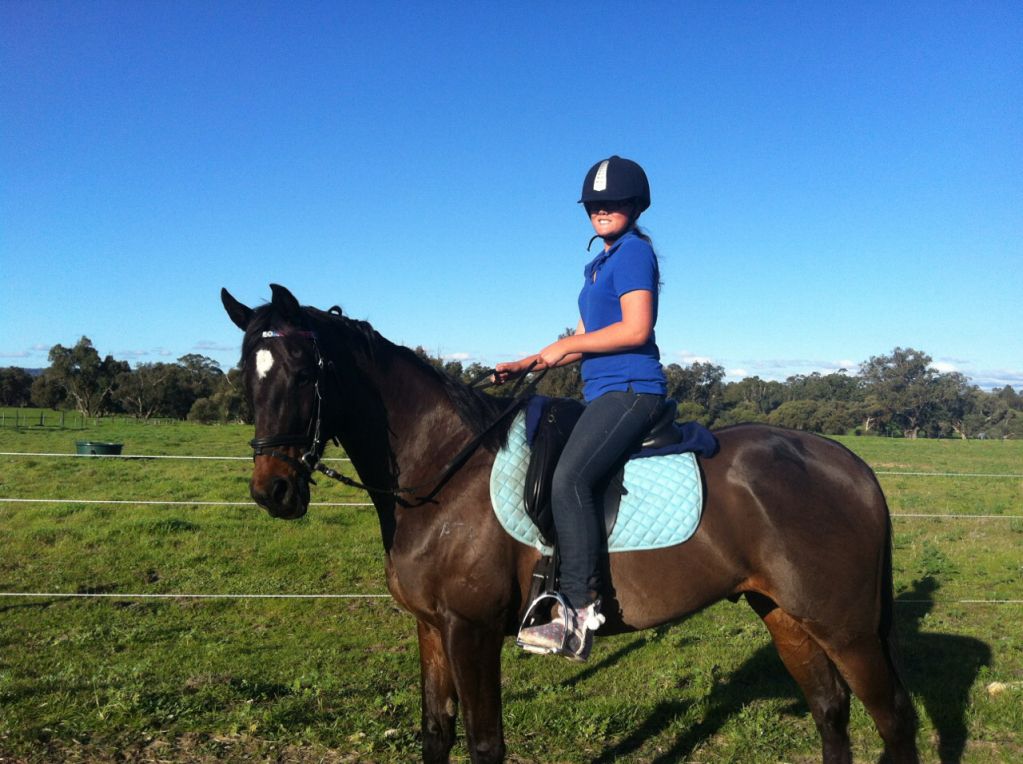 And this is Bella (bel) the farm dog
And here's my friend again, trying to teach Romeo how to bow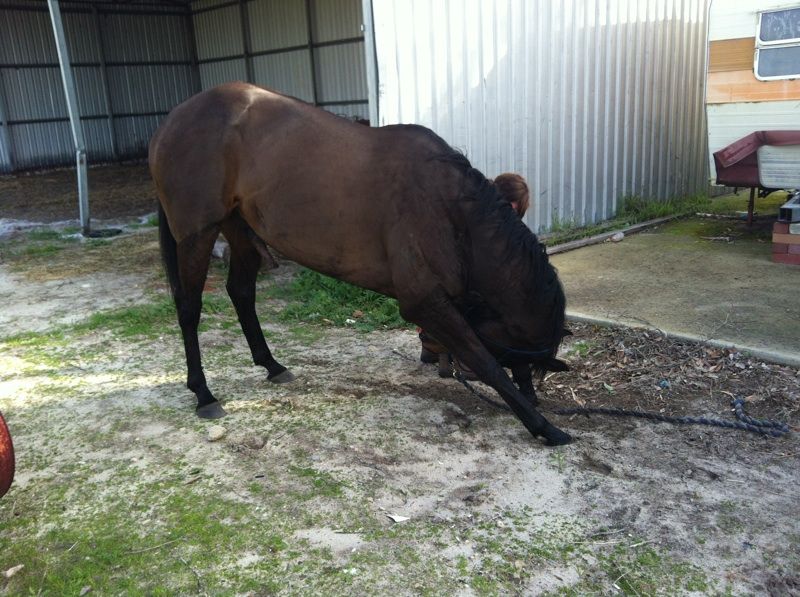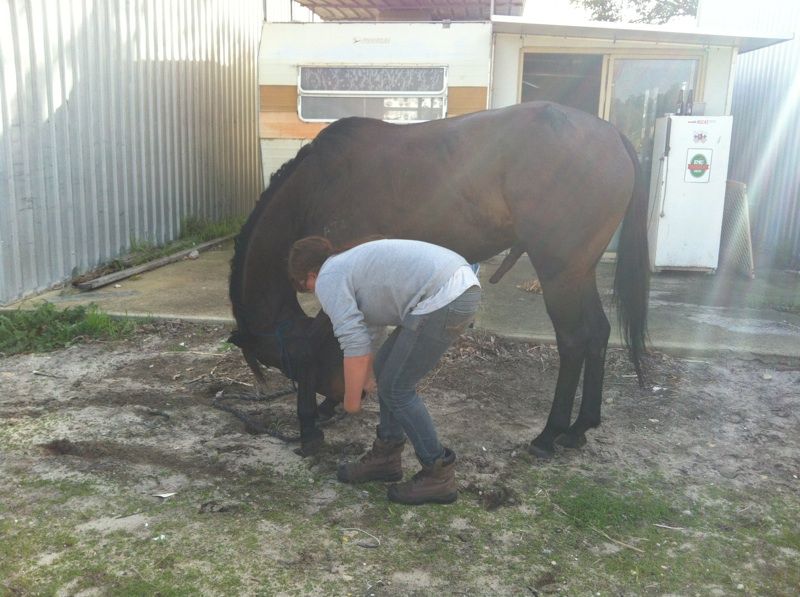 Wow what a hectic 6 months :)
My bestie who is in those photos moved down South :( not to far but still a lot futher then 15 mins away.
I broke up with my bf of 2 and a half years....
I pretty much went through a phase of depression where every thing just became too much, would burst out crying for no reason, yet I had a thousand reasons on my head... Went and seen a pysc...
All the while finishing the first year of my uni degree....
I'm in a lot better frame of mind know though :) the happiest I've been in a very long time so it's good, in a way, realised who my true friends are.
Anyway horse is going great guns :)
Successfully completed a 75cm round and came 4th the other day, have our first s grade event of the year lined up for the 29th March and one soon after on 11/12 April.
Have a sponser
which is very exciting, will get free photos if she's a photographer at the event I'm competing at
(she's a photographer) have also received a shirt, float magnet and am waiting on a saddle blanket which I will have to share :)
Am getting lessons again for dressage and we are improving immensely, just need to control my nerves when we actually do a test :)
I think that's it for now :)
Will try and update frequently, it is very good to be able to look back and see how dr we have come :)
Super Moderator
Join Date: May 2012
Location: CT USA an English transplant
Posts: 24,894
• Horses:
3
This journal has been closed due to prolonged lack of participation by the author. Journals that have no active participation by the author for a period of time greater than 18 months will be considered abandoned and will be closed until the author asks for them to be reopened.
---
Just winging it is not a plan