More pictures
---
Theses are from the day I had him moved to the temp barn where he will be gaining weight and relaxing for three more weeks with lots of flat work!
all ready to start back to work!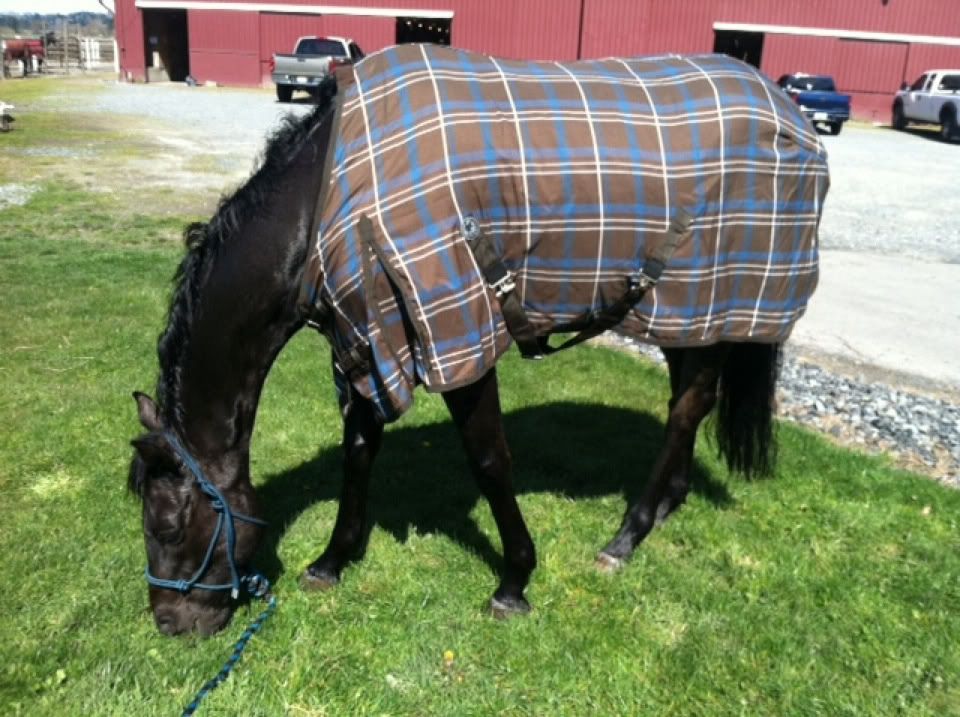 this was after his nice warm bath, nice day out so why not get all the winter nasties off my beautiful boy!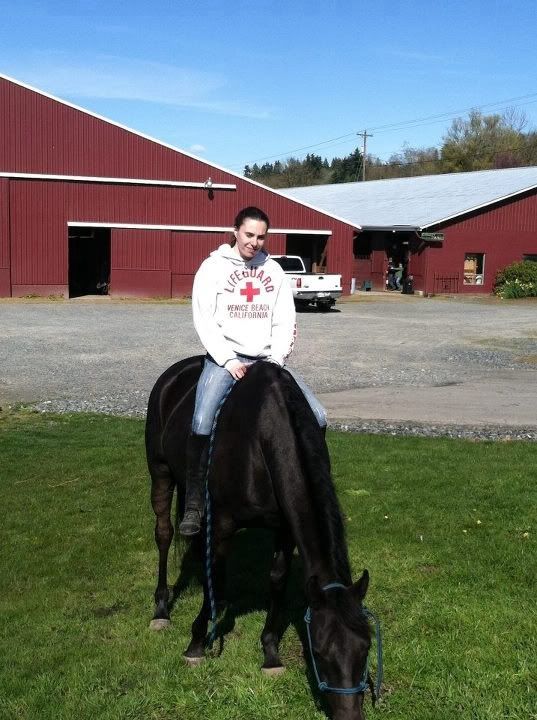 3rd time bareback, first time with just the halter, no better therapy then sitting on your horse on a sunny day and just relaxing!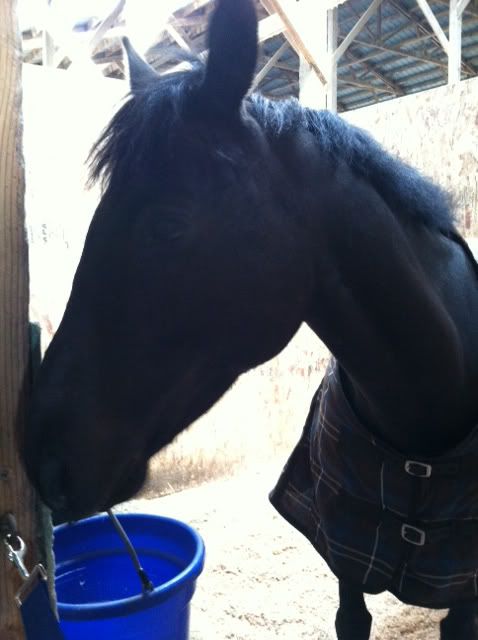 I don't know why but i love this picture, his face to me is just adorable! You can see how much his muscle in his neck has dropped just from the stress, loosing weight and less work in the last 5 weeks! Ugh have alot of work ahead of us to get that back!
Anyways hope you enjoyed!
I will be going out and riding tomorrow and spending all day with him :) I will try to get video of him working!
Also his new blanket I had made for him will be sent to me in the next week! You can be sure a fashion photo shoot will be happening! Haha!
Is it the 3rd yet!? I'm dying to get little man out to pasture turnout and see how well he does on it! Also been able to put Ina couple more rides and signed up for a easy low key fun show for the 12th of may! Doing two flat classes and a couple jumping classes. My family friend and I are doing costume with him, doing a bat man theme so her 3 1/2 year old son (who has been led around on Ollie before) can be lead around looking cool with a batman horse!! Alo doing lead line! So excited, all my horse friends haven't really met Ollie as I had him out north when all mybhorsie friends are on vashon island so the day he moves all my friends and old co workers are coming to meet the silly boy! I couldn't feel better about this discision to move him close to home and have him in training with my old trainer, really just offers so many other things to do with him with little pressure and stress! I'll be getting pictures of him and this weekend! He has now been on a good hay diet with little grain for his immune booster! Now just needing to gain muscle!

He's also been getting hand grazed by my friend when I am not out there :) oh did I me tion he isn't stall walking anymore!?.....hmm goes to show just how un happy he was at my trainers (ex trainer now) in snohomish! Funny how hors tell us so much if we just pay attention! Shows me I know more about my horse then anyone else!
small updates and pictures
---
Well tomorrow after working in the morning I will be headed out to Everett to haul the little man home :) Its not my home but close enough, he will be at family friends. Klassy was there for a while before I sold her. Im so looking forward to this move and really know its the right thing for both of us and my wallet
He will have turnout 24/7 a large paddock next to my friends red head mare who will be hauling out mid sumer to her new barn she building. (till then Ollie will have a girlfriend
)
he will have a large run in shed where he can choose to go in and out. There is a nice outdoor arena with umps, grass pasture turnout for when the grass is ready, hot/cold water, trail galore near by and close to the horse park down the road (about a 10 minute haul) Of course I will post pictures when he is all moved in!! This move will bring both our stress level donw so much you have no idea. he is so socail and there are a few horses here: Inkeke, a 8 year old Freisan mare who my family friend, she is like a older sister/aunt figure to me (helped raise me and teach me to ride) She has been training Inkeke (i migt be spelling that way wrong) Pernounced IN-A-KA..anywho she is going be doing her first show season on her, real shows not schooling schows and training and first level, ill be helping her and grooming like I did last year when I helped her get her bronze medal for USDF
Then there is her baby Duvessa, she is an Irish sport horse out of her TB mare Terra Bella (who she is is currently leasing out to our mutual friend) She just started Vessa this summer and its going wonderfully! I haveknown this mare since birth, now 5 years old? and HUGE! Stunning might I add!! Then there is her little retired Icelandic gelding, Austie :) Cutest thing ever! I will be sure to post pictures of these guys!
This summer will be so great, grooming at big shows again, really working on our dressage and maybe try out some eventing with Ollie! I hope to really get into some clinics with my "aunts" trainer who I have audited his clinics and groomed for his clinics before, wonderful man, might know or heard of him, Charlie Panniero? I forget how to spell his last name, but he is from Cali? Florida? LOL Been awhile!
Anywhoo Ill be a happy camper when my boy is all settled in his new home and I will be able to take a deep breathand relaxe. I will have way more time to see him as he will only be a short ferry ride away from my house in Seattle (vashon) I will be staying weekends to feed, clean and ride and coming tuesdays as well to clean and ride :)
here are some pictures i have already posted on HF but migt as well add them to the jurnal!
Ill be back adding pictures from our trip to our new home and weekend by saturday afternoon!!
STAY TUNED!
---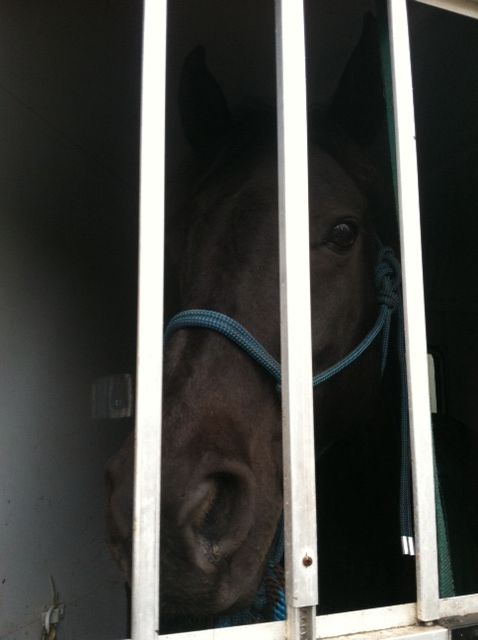 "on a trip!? Where is it we is going?!"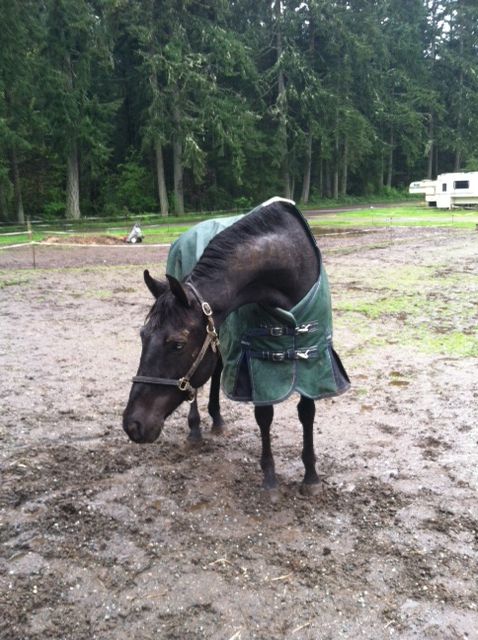 "umm what in then heck is that....."
"it's small..it's hairy...it keeps trying to eat my grain...what if it tries to eat me!? I'll stay out here..in the rain..."
So those where from the haul over, he settled in well the first night, tonight will be the second, he didn't run out of the shed when the goats came but was still very Leary... Lol I lunged and brushed him today, next to him is my friends mare Mya :) she is now in heat and Ollie being the dork he is has. O clue that he should even be interested in her or give to ****s cause he could care less! Lol he's very alert, having never been in a turn out pasture and just run in shed to live in, he is adjusting well.
Here are pictures from today when the sun came out for a bit, now it is back to pouring for the moment :( tomorrow I'll be taking him on his firstbtrail ride, my plan is to ride him but will have no problem getting off and hand walking if need be, I'll post pictures!
not ribby any more! Yay
" what? Who me!?"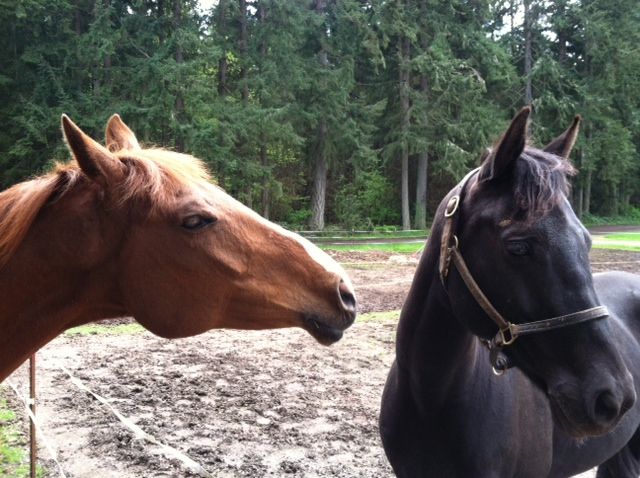 "why do you keep making these annoying girly sounds and showing me your butt?! I have on too and I dont see what sooo special about yours!"
Hope you enjoy the pictures!
Ollie is continue ping to settle in very well, I haven't noticed any weight loss with the move from Everett to vashon and we found out we have the same hay from the Everett barn so that really helps! The weather has been great since moving him so I'm sure he's just in pony heaven with room to run around and hangout in the sun! The barn owner who is close family sends me pictures of him sleeping in the field, playing around in the field and updates on the 3 days I am not there. It is so nice and I haunt had any worry since moving him! He's always out hanging with Mya when I come to the barn :) I have ridden him three times and lunged him the second day he was there to let him get used to the arena. My last ride on Friday was so good, kept it simple to a 25 minute hack w/t/c both ways, decided not to lunge him so I wouldn't tire him, it was warm out! He did so good! So relaxed and forward and much better with his hips and stepping under himself to balance better! Big improvement from Tuesday's ride that was 4 steps forward 2 steps back the whole ride lol

Just got a text from my "aunt" you cam say she's the barn owner and has watched me grow up and helped me grow up with my horses in my life...anyways she invited me to throw O into the trailer with her and her mare to trailer up to the horse park! I'm so excited! I was going to haul him up Saturday for the schooling show and let him sit there till the jumpers started and was going to enter in 2' and 2'6 but wound up not getting the raise at my job that I was told I was looking at getting so I couldn't enter! Boo! That's okay I was there to be there photographer and was relived I didnt take him up as there was just so so so many people I think it might have over whelmed him and don't want to push it with the good progress we are making.

So Tuesday late morning I'll be heading out to haul Ollie for his first park experaince! It should be nice and quite. Only. 10 minute haul from home so he will be glad to know he comes back! I can't wait to see how he does! I'll be sure to bet pictures and if a friend can make it there I will see if I can get pictures but I don't know for sure.

Yay so excited!
May 18th & 19th
---
This weekend Ollie was started in boot camp, really got to work and stuck to my guns on getting contact and flexion. It was very hard, Fu fussing work for the little man but by the end of today he really got it! Very happy with him.
Started out at the halt and flexed both ways for about 10 minutes
At the walk started really holding the contact and asking him to except it and move on in the walk. Lots of up down all around trot breaks and wiggles for the first bit.
Ater he settled, worked into it and was very good both ways I asked the same thing in the trot. Oh my trot! Ah all new! Lol this took awhile to convince him, lots of praise and reassurance for him got him to reall do well in the trot then he got annoyed cause he's now really being asked to work, hold himself together and hey why are we not jumping!? Lots of naughty behavior, worked through it. Didn't into any fights with him as soon as he would try to blow through my aids I'd sit deep make him halt and flex to the inside, walk on with the flexion and ease back into the trot keeping the flexion and contact. This really worked. Very fussy during some parts but pulled through in the end on a very good walk note!
Day before was a get off and lunge the crap out him as there is a large half wild half house cat that's decided to move in near us and walk up and down the driveway and hide in the trees across the driveway. There were jumps set up, lots of small children around too so it was alot for him! He started to stop moving forward and started to go up....with my recent head injury (safe for me to ride) but not to get hit again any time soon. I got off lunged him and holy cheese! My little guy can throw some of the biggest bucks I have ever seen unless I'm watching the rodeo on tv! Dannnngg son!
got back on he was calmer and I just slowed my body down, breathed, talked to him and he was way way way better....I was about to call for help if he wasn't calm after 15 minutes of letting him get all of that out! Ended on a great relaxed slow note.
He gets two days off before going back to work!! he wil start getting massages again with this harder work I'm asking of him.
Here a some cute pictures from this weekend!
Thanks for reading!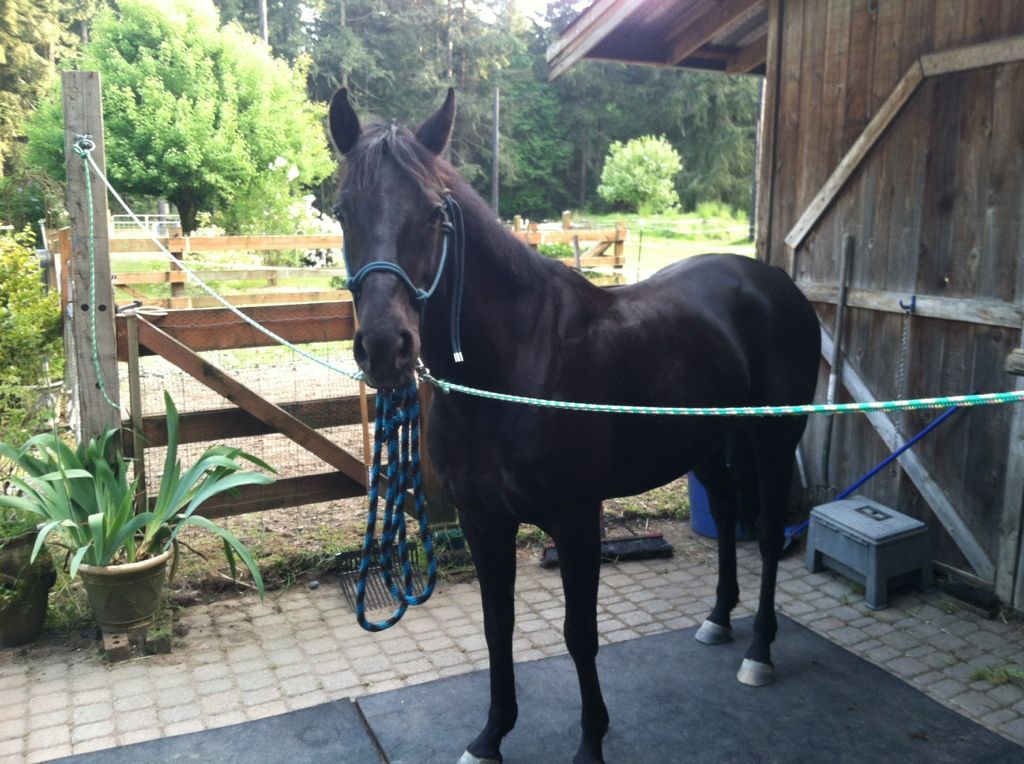 what are we doing today mom!?
Whew a break! That's tough stuff man!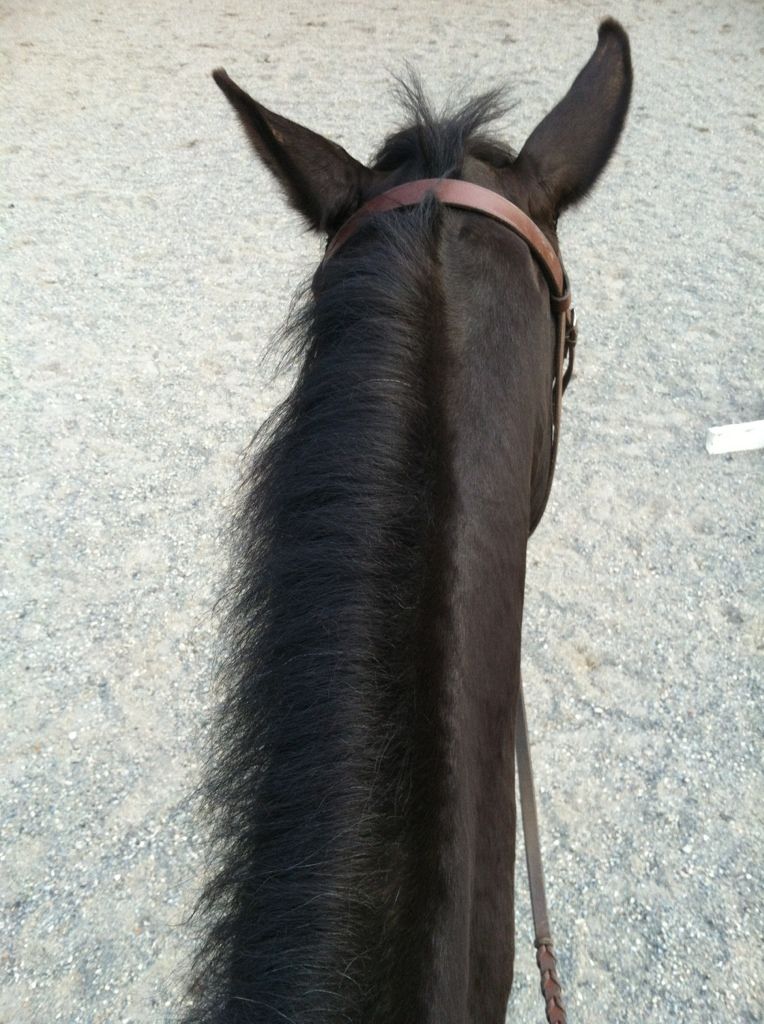 Walking walking...just keep walking
Ooo grass! Gimmie!!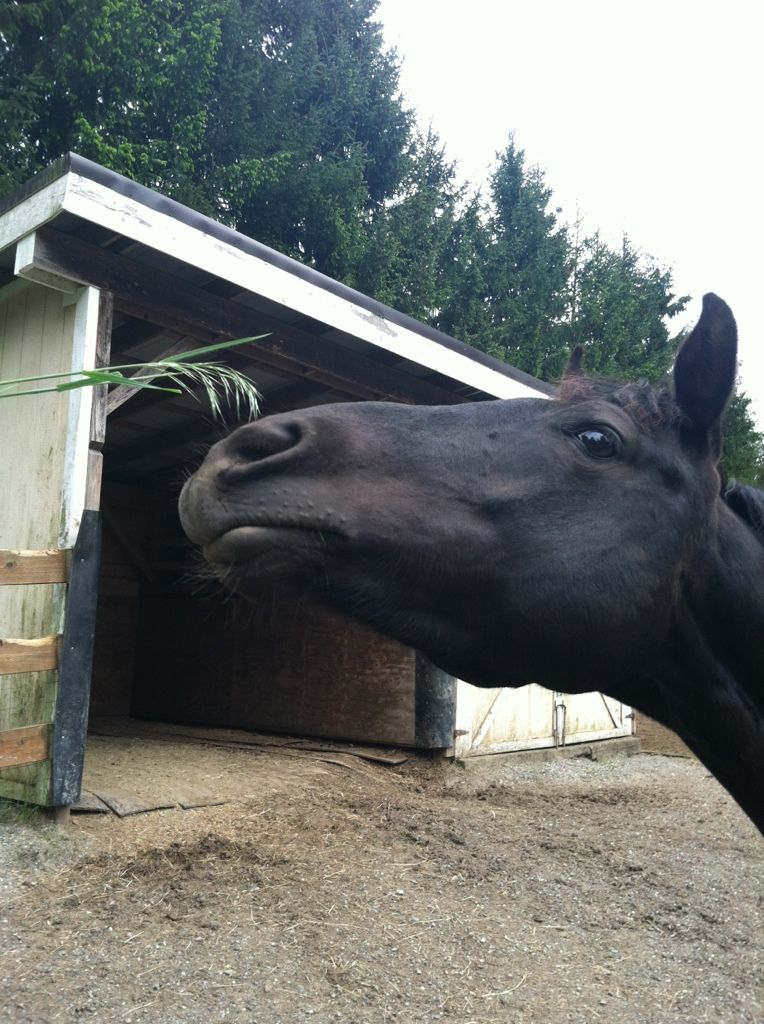 Hey I said give that to me....now!!!!
Just a gotta.... reach a little...more...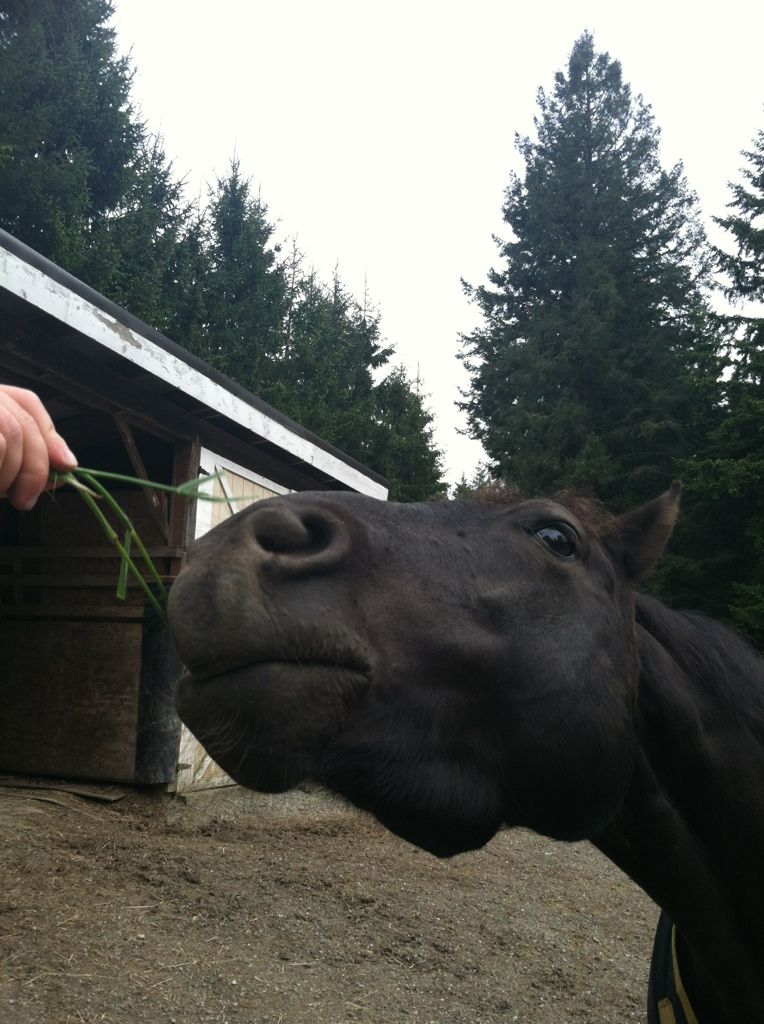 Gotcha! Ha! Yummy!
I love my silly goof!