Friday 28th May 2010
Did flatwork, was only planning to just walk and trot, he was being good so I asked for canter and of course as soon as I asked he started he started being hypo, so of course a little bit turned into a lot lol, but he was good by the end.
Once I finshed I did some stretches with him some neck ones with a carrot :)
Sunday 30th May 2010
Went for a trail ride, my second one, had so much fun.
Except the person I was riding with kept talking about her love life, it was the worst, I was like trot now? lol
I wish Buzz had a faster walk though, we always got left behind because her horse has a really fast walk. Buzz trot however makes up for it. :)
We went riding under a bridge, Buzz got afraid so I got off and had to walk him.
We also rode new a main road, Buzz's first time near a road and he was great. :)
We had to cross the road I nearly had a heart attack lol but Buzz was fine like whats the problem. How I love my horse sometimes.
I took some pics.
Lets cast our minds back to
Sunday 6th of June 2010
That was pony club, Buzz was an arse to load on. My dad usually stands behind him and gives him a push and he walks straight on, well not on Sunday, Buzz decieded he would jump forward with his back legs and keep his front feet firmly in place :roll:
We did get him on though after about half hour though and many circles.
Pony Club was good didn't have any falls :)
A saddle fitting lady came and gave us a demostration and I got her to check Buzz's saddle, she said it was fine.
She also said something else but for the life of me a cannot remember.
loaded Buzz on in the afternoon fine.
All throughout the week I rode nothing special
Sunday 13th of June 2010
Went for a 3 hour!! trail ride.
My longest trail ride ever, I also think Buzzs walk is getting faster when were out, which is good.
It was also the first time I rode Buzz in water, he was a bit hessitant to start off with, but then really enjoyed it.
The girl I went with though waas always go go go. It was okay I guess but I had Buzz doing a nice canter and she would just speed past me
and then I would have to go faster to catch up.
I was soo sore the next day though, I could barely move but it was worth it :)
Same as a above with riding through the week but I dont think I rode as much because of weather and in pain lol
Sunday 20th of June 2010
Went for another trail ride(we always seem to be going Sunday) Went with a bigish group of about 5 including me.
Buzz seemed to be really skitish about leaving today, even with all the horses. Some cars went past and everyone one went one side and I went the other. I'm not to sure why I did I think it looked safer on the side I went as there was more space.
3 cars went past, some idiot girl in he last car yelled something out the window and that was it Buzz had a spazz. I personally don't really know what happened, only that I was on him next thing winded on the ground. But one of the girls said Buzz reared up(I don't think it would of been high) pigrooted I fell off and he took off back to his paddock buddy.
We were literally not even 1km away from where we left from so I was kinda annoyed.
Anyway got back on and had a really good ride after all that.
We went to the water again and went riding in the water, the tide was really low so we were able to canter on sand through water
.
Buzz also figured out how to make the bigest splashes.
He would put his foot straight down (instead of the pawing motion) and went everyone around him even me lol.
Ok well its been kinda rainy for the last couple of weeks... so not much riding...

I have been lunging him more and he is soo much better :)
I can now canter him on both sides and not be pulled over. Hes so much more balanced now :).
I have also been trying to teach him turn on the forehand I hyad tried ages ago but I think I was rushing it. I am now taking it slowly and going from the fround with poles in a T shape. I then walk him up to it and face his hindquarters and put pressure there. I have also been using my whip tapping where I would tap him when riding. He is getting the idea I havnt tried it on him yet.

Saturday 24th July 2010

Today I rode for the first time in a couple of weeks. I was planning on taking it easy. Buzz had other plans yet again. He was fine we did walk trot canter on one side and was asking for canter on the other side he was getting really fast and went we went around the coner he just pigrooted and I come right over his head. I must say it was one of my best falls as i got stood up was like wtf and got back on. I worked him hard after that and he was very sweaty but I think learnt :)
What happened to the updates?! :)
haha I have been meaning to just keep getting distracted :)
Ok lets see after that week I was only really able to ride every Saturday before work aas I was reallly busy with school and we seemed to follow the same schedule ride walk trot fine, canter buck and I fall off. haha I know it wasnt his fault I should of been riding him more but just havn't had the time with weather and school :(
Wow I just relized that update was like 2 months ago, haha ok lets think if I have conquered anything amazing in that time...
I found some more thing about his past. :) My friends dads workmate apparently worked with Buzz when he raced. She said he was trained as a lead horse after his racing career, another thing added to the list lol.
She also said the owner before me abused him, well didnt give him the love he deserved and didn't treat him the best, I relized that would probably make sense as when I first got him he would back up really fast if something happened, he doesnt do that anymore :) The lady was really happy that Buzz now has a good home and is doing pony club and stuff, as thats what she always thought he would be good at.
Oh and last
Wednesday 26th of August 2010
I lunged Buzz and he was great, haha I didnt even need the whip he responded to my voice, he cantered on cue full laps on both sides :) I was soo amazed.
very proud of my boy.
Friday 27th August 2010
This was the day Buzz decided he pented up energy and run a few laps around me as soon as I got the halter out. I took pics :)
this was when I first went up to them I thought it looked like a cool photo so I took a pic didnt know what was to follow...
and then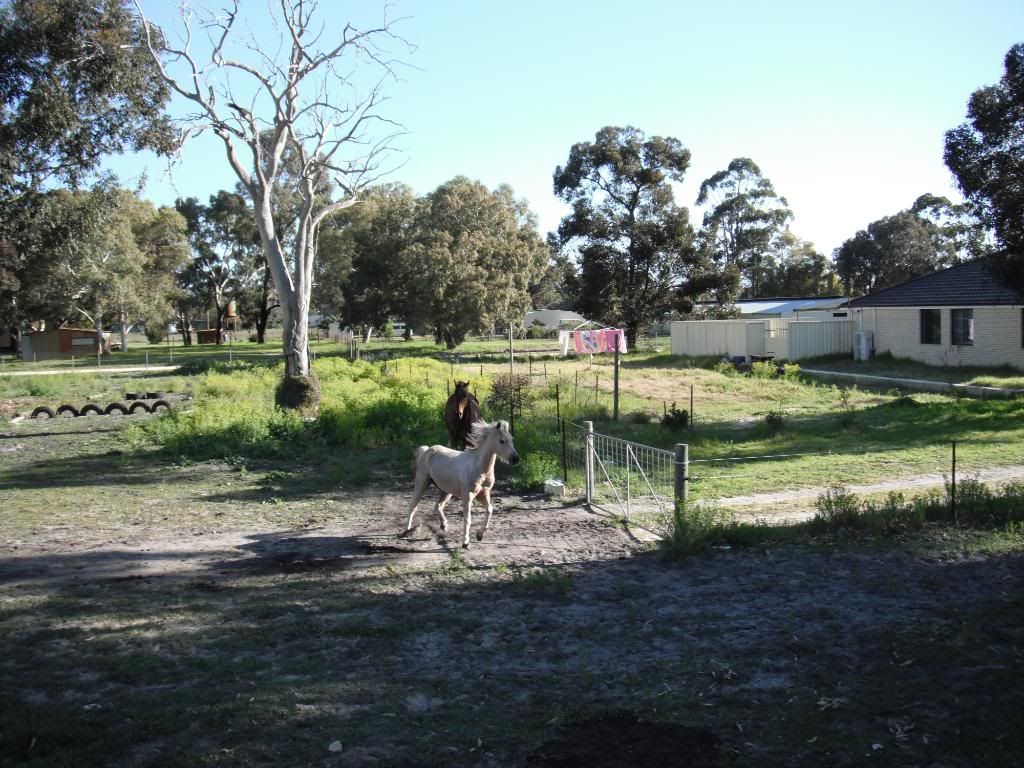 and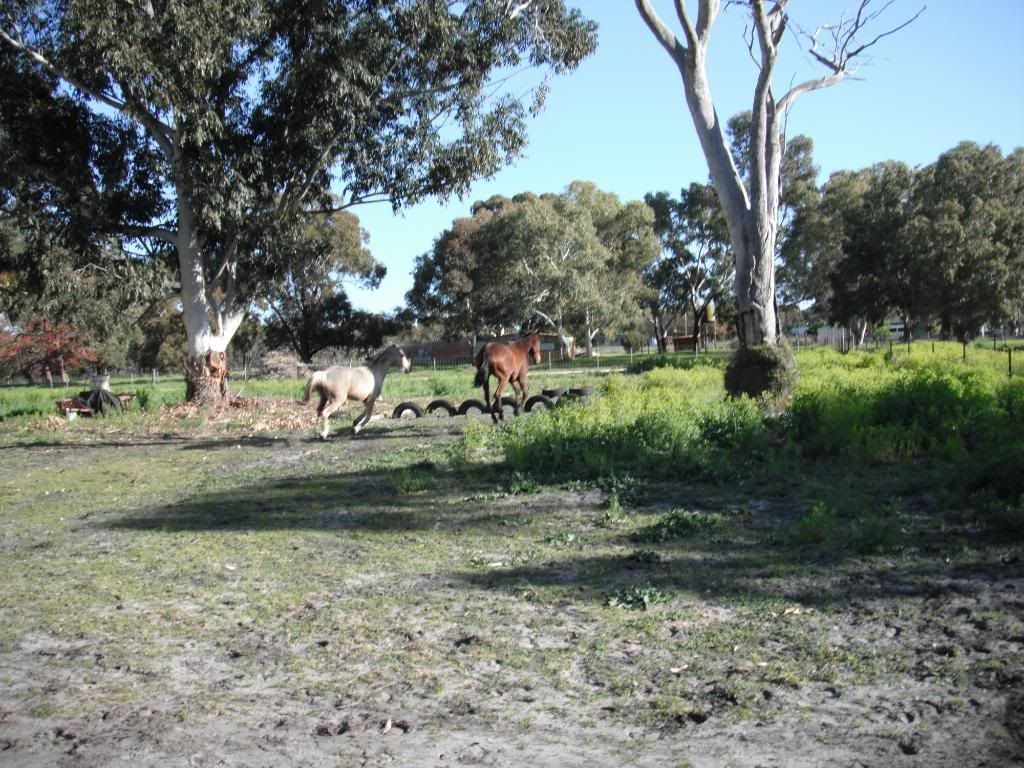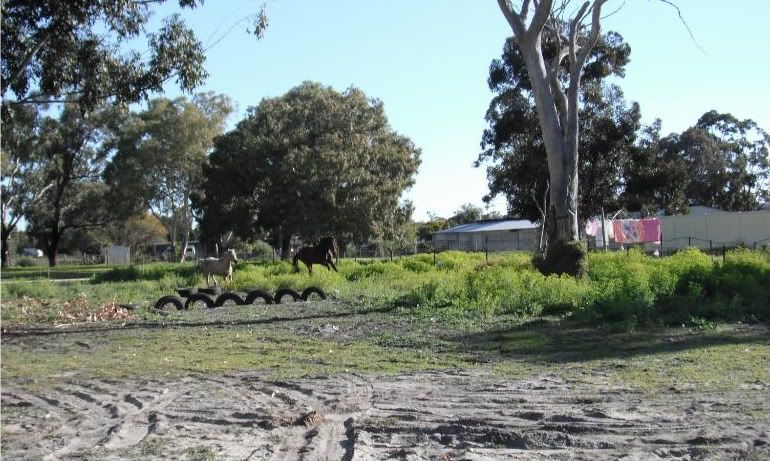 haha it was quite funny to watch, but eventually Buzz just stopped turned towards me walked up chewing lol, silly boy
that was a good ride nothing major happened
Sunday 29th August 2010 Pony Club
Woke up nice and and early expected Buzz to be a hassle to float, he wasn't, we were the first ones there. First time for everything lol
It was a good day, we did a jumping competion thing in jumping I finished the course in 1.04 seconds :) came first and got a ribbon, haha even though there was only two of us.
Flatwork was hell lol. we did no stirrup work and had to rise without stirrups, my legs are still sore now from it lol.
I found out I had been riding with my stirrups to short and they were taken down two holes it felt so werid.
went around to the cross country jumps wasnt game enough to jump any but went around and looked at them.
ended on a good note Buzz went straight on the float
well I think thats a pretty good update lol
Ohh I forgot the most important information I found Buzzs information
Judice - Details

Name: Judice
Country of Birth: Australia

Sex: Gelding Colour: Bay

Age: 15 Foal Date: 04/11/1995

Sire: Staroka

Dam: Bay Judge

Grandsire: The Judge

Registration Date: 24/11/1997
Registration Number: 370945
ASB Id: 603353
5 starts- no money. Last race ran 1999.


I'm going to celebrate his birthday this year :)
I just clicked on this thread, havnt had a chance to read it all but i just wanted to say we share the same birthday! 4/11. haha i thought it was cool lol
Monday 27th September 2010

Went for a nice relaxing trial ride. It was really great, was studing the whole morning, exams are coming up :S and just needed to get out rang my friend up and asked if she wanted to go out, haha of course she said yes :)
It was kinda scary because i had to leave where Buzz is by myself so I walked him till i got to my friends place which was like 15 minutes aways, it was a nice walk sortof, Buzz figured all hills were worth trotting up so there was a lot of stopping.
Got to her place and we sent off, we went to the river which Buzz for some reason wouldn't go in so I got off and walked him in... bad idea lol, my boots have holes in them haha needless to say my feet were nice and cool for the rest of the ride.
We mainly walked which is different to what I usually do with the other girl shes all go, but I think I prefer this extreme to the galloping one.
When we had had enough, we went our seperate ways, me forgeting how stupd Buzz can be :roll: starting playing up and because i didn't really feel like getting bucked off got off and walked him till we got to the main road, i rode him for a bit but when I had to cross it got off and walked him across.
Not brave enough to ride him over by myself yet.

Anyway it was a great ride Buzz was actually sweating quite a bit, which surprised me.
I thought I should put some pics of Buzz when he was on the skinny side and now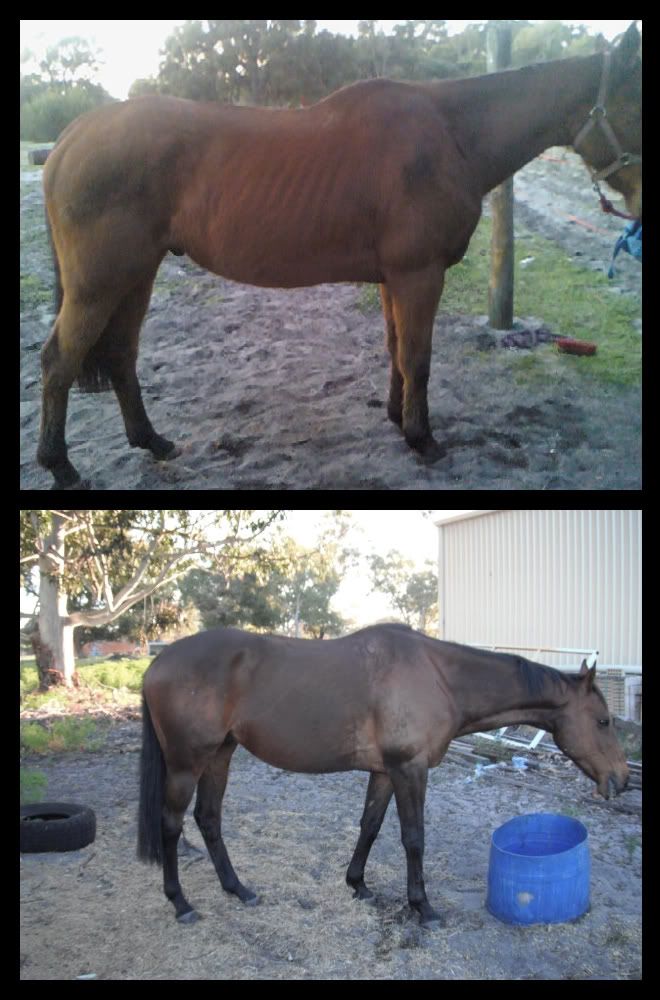 and then i will do another one when he has all his muscle back
Friday 1st October 2010
I am starting long and low exercises with Buzz to help build up his muscle.
I rode for about half hour, just doing circles, serpentines and keeping the contact.
I then washed him, for pony club on Sunday. He hadn't been washed in soo long because of the weather.
I then plaited his mane I got pics but there on my camera still and my brothers will have a sook :roll:
Then fed him and waited like half an hour for him to finish so I could worm him. Lets just say he wasn't to happy with me
okay yesterday was pony club :)
Sunday 3rd October 2010
I had set my alarm to 6, sortof slept in though haha, but Buzz was good.
He now goes on the float straight away. Some days before it took as half an hour to get him on :roll:
Pony club was really quiet, two of the coaches are in America for the some equestrian event, another one is in hospital
It was good in a way though, I was able to have a semi-private lesson, I went in with one of my friends.
We were working on trying to get Buzz collected, and get him to accept the contact, we are slowly getting there.
I think we may have gotten it at a walk and semi got it at a trot.
By the end of the lesson Buzz head was lower at the trot, very proud
Jumping was pretty much flatwork as well, a lot of hard work haha but I got the best compliment I could of ever wanted from the instructor.
She said that she saw a lot of potential in Buzz and me and that we could teach each other a lot
That was the best thing any one could say because lately I have been doubting my riding