Havn't really done much riding, sadly.
Had all my mock exams, failed more then I passed, not by much I was in the 40 for 2 then got 58 and 50 haha not the best overall mark.
Got my real exams in under 2 weeks freaking out.
and not to mention I gruduate on Tuesday next week ahhhh
this year has been the most intense ever, but it's been good because nearly everyday I go and see Buzz and relax :)

I rode him bareback for the first time. That was fun, he isn't actually as uncomfortable as I always thought.
Did a little bit of jumping, it felt soo werid haha but its quite enjoyable

Well since I am finishing school soon I will have more time to ride, so Buzz will have an awsome but in no time
Sunday 24th October 2010

Didn't do anything much, flies are really bad now *sigh* joys of summer.
I did ride only walk and trot, because he was doing a lot of head tossing, I didn't want to risk canter.
I have started trying to teach him to give me his leg, so it will make it easier when pulling his leg out so the girth doesn't pinch.. well it didn't go to well, very stuuborn horse sometimes.

I also did a refresher with him on turn on the forehand when riding, I think I need to do some more there, just been soo busy with school and everything.
He gets it one side but the other he walks backwards ?? I'm thinking I will do it again with me on the floor, have the lunge rope looped around his but and if he tries walking backward apply pressure to his butt, then I will try again on his back.
Sunday 31st October 2010
Buzz hurt his leg *sigh*
I did post about it but I have no clue how to link so I will a pic here
Hopefully it will get better and hair will grow over it...
I also got a pics of Buzz doing his fav thing, chillaxing with the trucks :)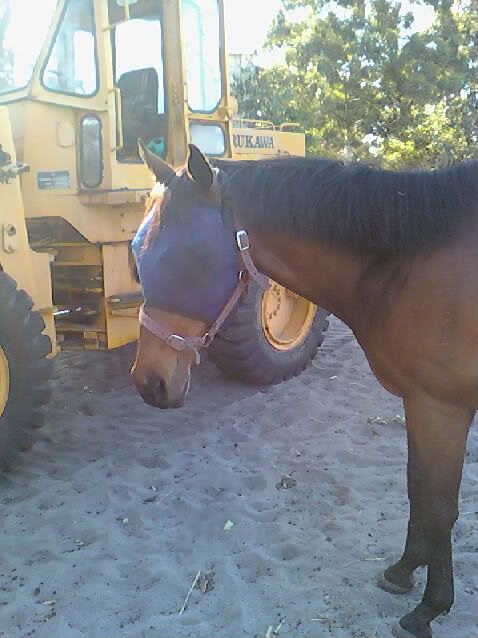 haha nothing else has happened havn't been riding, my exams start on Thursday this week
Sunday 14th November 2010
My exam are over
yay party haha
I also got a new saddle today
Its a Kincade all purpose and it seems to fit really well :)
I lunged Buzz today and he was really good, I did lots of transition and he is soo much better I did walk trot then trot canter transitions and he actually did pretty well.
It looked like he was starting to use his bum more when I got him to trot canter and trot, at half way points around the circle.
I am going to be more dedicated to my riding now, but I will have to get up really early to ride in the coolness of the day or go there latter to ride in the afternoon, it's just so hot now in the middle of the day.
I cleaned Buzz shealth today as well
Monday 15th Novemeber 2010

Well I woke up at 5:30 and was at the horses by 7. I rode my bike haha and I am buggered now.

But I rode, was riding in a figure 8, did lots of transitions walk trot walk, halt backup walk, trot canter trot.
He was getting a lot better by the end of it.
Wednesday 17th November 2010
Woke up early again and rode haha its nice and cool.
I didn't want to ride for that long because I was going out at 9 shopping so I only rode for half hour, sortof bummed me down I was planning on riding longer but I never know the time and I didn't want to be late.
Anyway only did little bit of canter only once each side.
When I was leaving my friends Dad because he lives with on my friends property, with her pony, asked me to put them away in the little paddock because he was getting some sand come in for a job or something (he does odd jobs here and now) so I put them both in the little paddock and he said he would let them out when he came back.
They do go together every now and then and they both usually come out unharmed.
Well not today Buzz now has many other scratches joing his one from the fence.
Very annoyed.
I will show some pics
these ones are on his shoulder on his left side
and close up of the lower one
close up of higer one
these are the ones on his bum on the right side
and then theres the one on his right leg
and heres recent pics of the one from the gate
Monday 22nd November 2010

Went for my first solo trial ride with Buzz.
Only walked it and Buzz was pretty good, he freaked out at a house but I got off and walked him past it.
His walk was soo energic, it was good. I think he may of invented his own gait lol half walk and half trot, quite werid to sit to and his head was bopping like crazy haha.

His wounds are looking good, I think, hopefully they will grow back :S I really hope they do.

I also cleaned his shealth again, it was already disgusting and dirty. I still can't believe how good he is with it, why was I so worried haha
Tuesday 23rd November 2010

Woke up early again and rode :)
Did figure 8's again, mainly because there is a section of the arena which is covered in massive weeds which scare me haha, I don't want Buzz to trip on them.
I did try pulling them out, it took me 10mins to pull out 3 because they hurt, they have like spikes on them.
I'm thinking I will spend a morning pulling them out with long sleeves on and pulling some out.

Back to my ride he was great, did canter transitions again, I think I need to work on our trot as he seem to be either really fast or really slow.
Wednesday 24th November 2010
I wasn't planning on riding then but one of my friends asked me if I wanted to come over with Buzz, I thought why not?
So I went on another trial ride by myself
He is so eager and alert on rides and so forward going which I am starting to think is a bad thing.
I got a pic before our ride :) and then my friend took some pics when I was over her place
and these were at her place
I went for a trot around her firebrake, which turned out into a canter...
him cantering and me trying to stop him
haha this pic would be soo much nicer if my mouth was closed but I think I was saying something to Buzz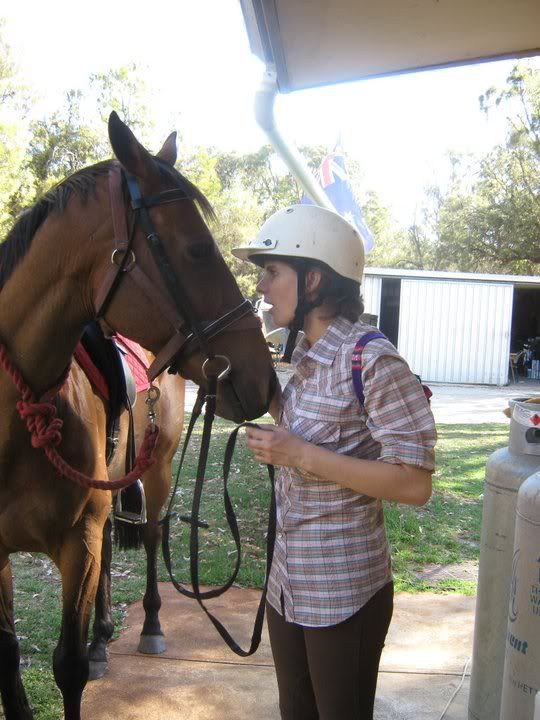 On the way back I had picked up my courage as I was sure he wasn't going to do anything and trotted.
He was good for about 10 steps then started wanting to canter, need to work on that.
I want to be able to have a steady trot and steady canter not what ever he was doing.
I think next time I will try using the one rein stop if he breaks gait, I have an irrational fear of them though.
Like if I do it at fast past I have this fear of us toppling over even though I have never seen or heard of it happening, I just get this vivid image in my head
---
Last edited by RedTree; 11-24-2010 at

09:41 PM

.
okay well since last time I have been on one more trial rides :) which I think was on the
26th of November 2010
not 100% sure on that but I think it's right.
I also have been to Bali from the
27th Of Novemeber
to the
5th Of December 2010
, so no riding in that week, although I did ride an elephant
so much funn
After that I was tired and I think I got Bali belly for the first 3 days I was back, I don't think I rode in that week at all, lunged Buzz a few times, jumped him did great.
On Wednesday
15th of December 2010
I passed out at work... not the best news but then I went home with a fever and felt sick untill like
20th of December 2010
so nearly another whole week without riding and not seeing Buzz.
After that coming up to Christmas it was raining, or it was too hot to ride.
But today I got christen my new riding boots :P
Tuesday 28th of December 2010
The day I christen my new riding boots :P and first time riding in ages as well.
Woke up nice and early actually early then I was planning, was up and about by 5:30 was planning on 6:30 but someone went to the toilet and it woke me up lol.
So I got up and rode my bike over to where Buzz lives, was there about 6:30 or something, tacked up and went for a ride.
Buzz doesn't usually get fresh as I told my friend the other day.... well he was today lol, tried bucking me off a few times when I asked for the canter, but soon stopped.
Did nothing special, lots of walk trot walk transitions, I think he is starting to use his bum more as he had the lipstick around his mouth, it wasn't white though more orange green because he must of finished his hay and I gave him a carrot before lol.
I took a video of our ride have to upload it later though as my brother will complain I am making the internet slow, so tomorrow probably.
It's the worst quality though haha so far away but I want people to critque me :P
I also think Buzz is losing his condition again :( I mean sometimes I look at him and he looks fat can't see any ribs, other times I can see ribs.
I am gonna change his diet next year... start him with canola oil as well, and lupins.