Redtree,

I am enjoying your journal. YOu are doing a great job with Buzz. I look forward to the video. Nice pictures. Buzz sure gets scraped up a lot!
thank you that means so much to me :)
okay well I took the video but it was crap, I did put it up on anther thread to see if anyone could get anything from it but nope so I want bother with it here :)
I will hopefully get another one tomorrow with my first arena work for the new year :)
I have only ridden once this year so far :O haha
But it was the best ride everr
Sunday 9th January 2011
was the day I went to the estuary and had a blast :)
My friend and I had organised it for ages and finally the day had come, I woke up early and was ready by 7:30 to leave the house, had packed everything the night before. Got to where Buzz lives and brought him out to be floated, opened the float and the cushioning fell down :@ One of my other 'friends' had used the float last and must of broke it... was not impressed, my dad got to fixing it with bailing twine lol
Anywho this delayed us a bit but we were off around about 8:30 made a pitstop at the servo for power drink lol and then was on our way to pick up my friend and her horse.
that all went smoothly, got to the estuary and had so much fun, bit pressed for time because I had to be home by 1:30 for mum :roll: lol
I will sahre some pics
Even though there is already another thread about them lol
trotting felt so werid in water it was like a gliding trot
me on Buzz and my friend on her horse Koola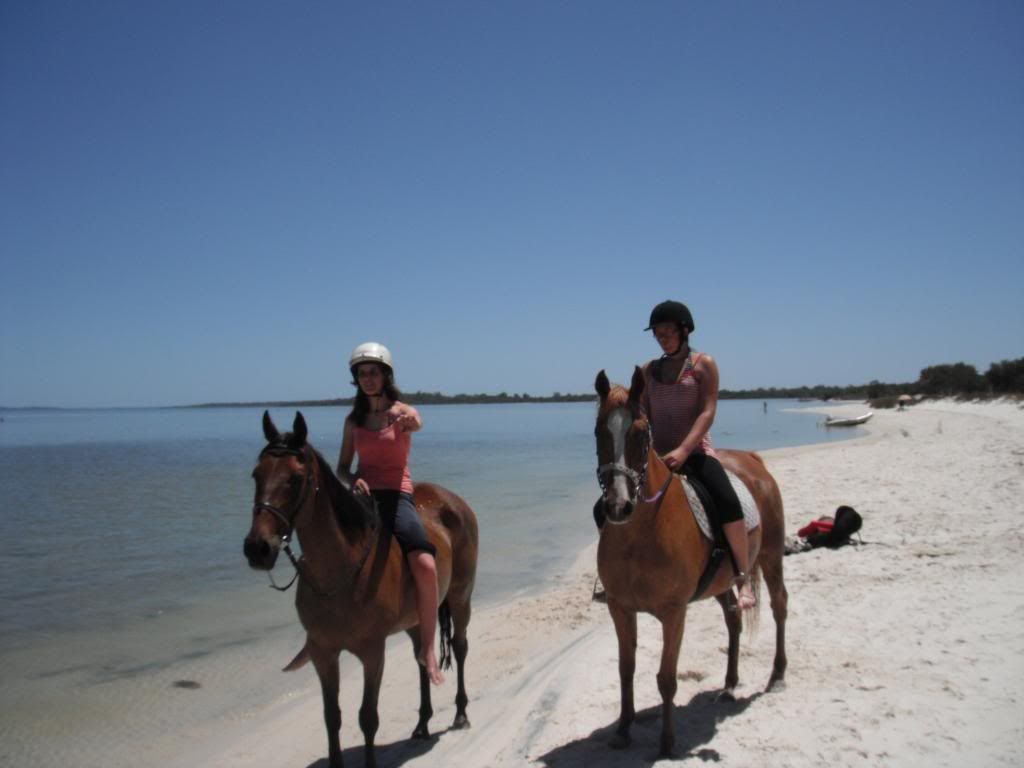 love this pic
and this one
I had to lead her horse because it had stepped on her toe when she was trying to get on bareback so she limped back while I rode lol
That looked like a tonne of fun! When I get a float, I am wanting to head to somewhere where I can bring Pumpkin for a swim. It sounds like you are doing an excellent job with Buzz, keep it up. :)
---
There is one principle that should never be abandoned, namely, that the rider must first learn to control himself before he can control his horse. This is the basic, most important principle to be preserved in equitation - Alois Podhajsky
Gosh I am horrible at this....
but it is good I like reading my progress :)
So after that time at the beach went back again a week later, on
Friday 14th January 2011
Had a blast cantered along the beach, with a saddle and bareback.
Have photo proof :P
canter with saddle
without
After that I have ridden pretty much every day or at least 4 times a week, he had started bucking me off heaps so I had the chiro and dentist come out on
1st Febraury 2011
The chiro came out in the morning and Buzz was sore nearly all along his back and neck... felt so bad since I didn't relize earlier, but he has been so much better since.
Dentist came out in arvo and that was scary, he was a natural dentist so no drugs and since I have never had Buzz's teeth done before I thought it would be okay.... it wasn't.
Buzz because he is a TB has a sensitive mouth, and was pulling away, nearly backed into a tree... scary scary stuff.
Dentist said next time I will have to book in with the vet and get him drugged so he can do a better job, he said his teeth weren't that bad and they could probably be done every 2 years or so after one good file ing.
Said to call back in 6 months to book one because the 'bit seat' needed more work.
I need to remember to call back in July sometime.
After that rode a lot have taken weekly progress shots of Buzz and I can happly say I think he is gaining muscle and weight :)
Wednesday 9th February 2011
Okay so this is the day I did groundwork with Buzz and he was awesome.
I had tied his leadrope around his neck and he was following me everywhere. I ran he trotted, I stopped he stopped (most of the time anyway sometimes I had to grab hold of the lead rope), I turned he turned, I was ldoing really sharp coners like making him turn in really small circles with me first going into his head (not actually touching it) then secondly him following me with his head, i then starting running which he followed at a trot then I sprinted and was encouraging him to go faster he cantered
I also sent him over a few small jumps it was just so much fun :), I can tell you I was tired after it though haha Buzz hadn't even broken in a sweat but I had.
Sunday 13th February 2011
-Murray XC, SJ training day
This was so much fun, first time I had ever done XC and it was a blast, so excited for this eventing year.
Buzz jumped all the jumps like a pro had a little troubles with the "Sunken Road" but after a few attempts and going through at a different point he was fine :)
We also had trouble aat the water jump, even though he has been in water before he plain out refused to go in, he did eventually, after seeing serval other horses go in.
SJ was good, he refused 1 jump which was because it was near the water on and people were having trouble getting there horses in so it was understandable, went over it fine after he had a look at it, rest of it was a clear round :)
Only did 45cm SJ and XC, have to start somewhere, but most of the next level up XC jumps didn't look much bigger so who knows maybe by the end of this year I will go up, but no rush :)
Tuesday 15th February 2011
Rode today and got a video :)
It was 7 mins long but turned out I filmed mainly a blank space so had to cut it all back so now theres only like 2 mins of riding in it.
He was good today, cantered a whole arena on one side went to do it on the ohter side and he had a bucking fit, glad to say I didn't fall off :)
And made him canter again.
His circles are horrible... like he falls in then falls out, horrible I need to read again what Kayty posted before on anther thread of mine (pretty sure it was Kayty anyway)
I think my circles would be better if I mark out where the circle is ment to be, I think I might do that tomorrow, grab the lunge whip and measure it out, or even better bring my dads measuring tape out.
heres the video I will put it up on critque as well
Wednesday 16th February 2011
Was my birthday
18 yay, haha got a XC vest which I already used for the training day and some money.
Didn't go riding, was going to but got there and was like nerrr I will just do ground work.
I put to poles about 80cm apart and then put a tarp inbetween it.
Did what I did the other day and tied Buzz lead rope around his neck, stated off at the top away from the obsticles and jumps to get him focussed on me.
He was rishing and trying to get ahead of me so it took a while but finally he was in tuned with me.
Went over to the tarp and pointed at it for Buzz, he avoided it the first time so I thought I should try going over it sideways.
he was a bit hesitant but walked over it :)
Then went to the top of it pointed him to wear he needed to go and walked next to him he went through it :)
This is all without me touching his leadrope.
I did this a few times then thought I should do a few jumps, he was great going over one, but the other one he was a hassle.
I had trotted him up to it and he slowed so I encouraged him to go on and then we came to the jump, he refused but stayed standing there, I was on the other side encouraging him to go over and he did in the end, but after it instead of coming back around to me, he bolted back to his little friend. I was very annoyed.
When I got there he was in the arena and trotted away from me when I came so I closed the arena up and made him work.
He was going around in circles around me, he then went large on to the arena and went around it still trotting.
I made him keep going for ages, gahhh P%$$ed me off so much.
After a while I turned my back to him, hoping he would walk up to me, well he stopped but didn't walk up to me so I walked up to him.
Then set about to do that jump again. Started walking and of course I thought I would be stupid and not un tie the lead rope so of course Buzz turned around and trotted off back next to his friend, so I made him work again, longer this time.
After a while I don't really know how long turned my back and he stopped again but didn't walk up to me so I walked up to him.
Got hold of his leadrope untied it and lead him back to that jump.
Made him jump it twice and then finished.
I probably shouldn't of done that but boy was he getting on my nerves.
Thursday 17th Febrruary 2011
Rode today.
Practiced my circles again, I marked out the circle yesterday and turned out the arena wasn't even 20m wide ony 17m.
So I marked out a 17m circle.
Read up my old thread on circles and wrote down what Kayty said and practiced that.
He was much better on left side then his right, but that is to be expected.
On his right side I can't seem to push him out, but I re read what Kayty wrote today and I think I will be able to do it tomorrow.
I wish I had someone out there on the gorund, grrr I need a job.
Lessons seem to be a long way off now :(
Any way back to my ride. I cantered Buzz both sides for a whole arena :)
I remeber what some one said posted ages ago and it has sort of stuck with me
Walk is for muscle, trot is for balance and canter is for stamia
That just came to me haha, it's always good to have it written down some where.
Okay tomorrow lesson is going to be circles again.
haha I am totally not with it right now jumped from one point to the next.
Well I relized i havn't really done an update about my life outside of horses yet, so here I go.
Last year was my last year at high school. Yay
Having a gap year this year, my orginal master plan was to go to tafe for 6 months for an animal course then work for the next 6 months with animals.
That fell through in Nov because I thought thats when the offers came out so I pushed tafe out of my mind and made a new master plan.
Which was to get a job and work for the full year earn lots of money for a moped, car and hopefully a new float.
That plan has completely flunked, applied for so many jobs and get no response or they say it's already taken.
So this year in Jan i got an application for tafe, which I had already put out of my mind because i thought it was in Nov. So naturally when I got this I was like nahh not doing that now as I am gonna work full time.
Wish I hadn't now.
Got my uni offer later in Jan which I said deffering to, wish i hadn't either.
I got into Conservation though
so that part of my plan will still pan out next year.
But so far this year I have done na da.
Working the odd days at my old work, asked if they were looking for a full time person, which there not :(
I have also told them to call me up if they ever need anyone.
Well my driving hasn't gone anywhere :(
I have gone for my test twice and failed twice. I will how ever get it by the end of this year :)
I am planning on getting a moped but as everything cost money that is not gonna happen for a few months yet :(
Hmm what else to update on....
Oh I might go to Africa next year
Thats gonna be a new part of my master plan :)
It's a volenteer thing and you get to help out with the injured animals rehibilate them then release back into the wild :)
I want to go about Sept time or later because thats baby animal season lol
The down side it doesn cost a bit, but hopefully I will get a job soon and so money want be a worry.
I think that is it :)
I will today with Buzz now, not that it was very exciting.
Friday 18th February 2011
I only lunged Buzz today, haha veery exciting news.
Can canter him whole circles now, no problems. Actually got him cantering without the use of the whip only my voice. Pretty happy with that :)
Actually didn't use the whip at all today, pretty impressive Buzz just seems to have more go lately which is good and bad in a way haha.
Oh Endurance ride this weekend
So theres gonna be photos from that also
Sunday 20th February 2011
I had an endurance ride
It was so much fun and I learnt a heck of a lot of stuff.
I went with my friend and we stayed at the oval the night, (we slept in the float lol) it was so much funn.
Buzz did get a little foot sore though :( as he is barefoot and the ground was all gravel.
We only did 10km walked most of it lol and managed to do it in 2 hours :)
I don't have any pics of me riding as I forgot to bring my camera on the ride so my friend has those pics which I havn't been able to get yet.
But I got a really nice one of Buzz :)
So I shall share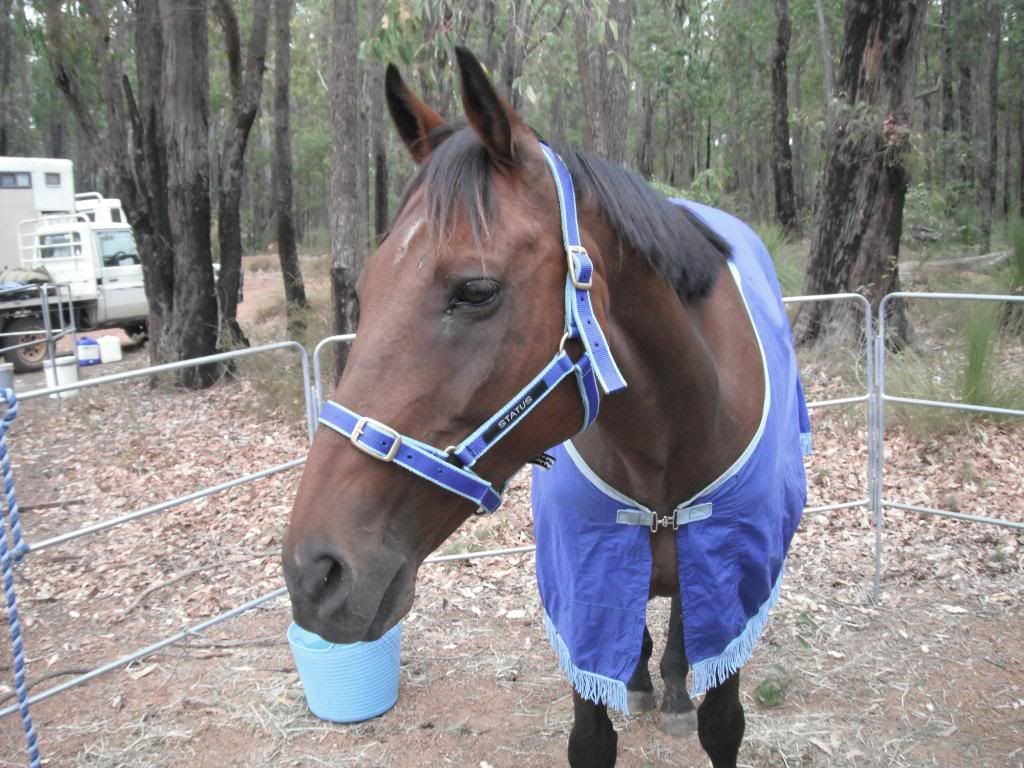 him and his brand new blue halter
Buzz then had Monday off, and Tuesday I just lunged him.
Wednesday 23rd February 2011
Rode today, practiced my dressage test for Saturday, I don't think me or Buzz are ready for it :(, but will make the most out of it.
we still fail at circles, miserably, they are semi better.
The ODE just came up so fast.
Oh well after this ODE I will still continue on practicing my cirlces
and
will
master them.
I washed Buzz mane and tail today he didn't seem to be to impressed with me :P
I then tried on his new skinny hood which i bought yesterday (birthday money
)
I think it may be to small :( but its an XL and like the last one they had there. So I will have to use it.
had to share this pic lol
just got to love Buzz sometimes :P puts up with so much of my crap lol
okay so I am really bad at this lol
I was going to do an updat ages ago wrote it all out the clicked the wrong buttom and lost it all :(
But I'm here now again lol after around 2 months
Heres a link to a photo update
Photo Update :P (overload lol)
And I will just write what happened this week :)
Monday 18th April 2011
Lunged Buzz today, second time in his new lunge roller and side reins I borrowed and are now mine lol because she is selling her horses :P, she was the crazy rider though so I am actually quite glad :)
Anyway back onto my lunging, only had it on the 3rd hole I think, so it was tight at the walk but as soon as he went into trot his head shot up again, it did lower through out the session though :)
I am just so amazed at how easily Buzz goes into canter now, all I have to do is lift the whip up and say canter and hes gone.
We did have a bit of a hiccup, I asked for canter and I swear Buzz went into a gallop and then relized he was going around in circles starting playing up, did a few bucks, then just stopped facing me, silly horse so I made him go again.
Nothing else really happened.
Couldn't ride Tuesday had work for the whole day :( which sucks but is good also just thinking about next weeks pay
Today, Wednesday 20th April 2011
Rode :)
Was planning on doing a heavy workout, plans changed when the neighbours dog insisted at barking at me, he had never done it before, neighbour came over and said he was going through a phase (as he is only a puppy) and that he just need to reasurre him it was alright.
After that I did some trotting but Buzz started coughing when we trotted for about a min, so I stopped, even though on Mon he was fine...
But then I decieded to do some walk work.
He was really strecthing down into the bit :)
Did some circles, 10m, half 10m, serpentines, lots of criss crossing :)
Was actually pretty happy with how it went
Now I am going to get lessons very soon
As I am getting more hours, there is a good inflow of money lol lets just hope it lasts, I was planning on calling up today, but with my great mind I sortof forgot lol, tomorrow or Friday