Pinto Pony Team Extreme, the trials and tribulations
---
For those who don't know me visit my webpage
www.pintopony.piczo.com
to learn more or just enjoy reading about my adventures in the equine world.
Today was the second time I have ridden since I have been back in Australia. Mother and my sister had been taking the boys on trail rides while I was away (3 months in the USA) so they aren't complete lazy overweight ponies...
Kai was fantastic! He warmed up so well, his canter is surprisingly balanced and correct leads both ways straight away
So we w/t/c to warm up then moved onto a few little jumps when he kinda went a little crazy but I still had the old man under control... Mother came out for pics after we warmed up so this is what she took...
Giving her a wave as we trot around nice and relaxed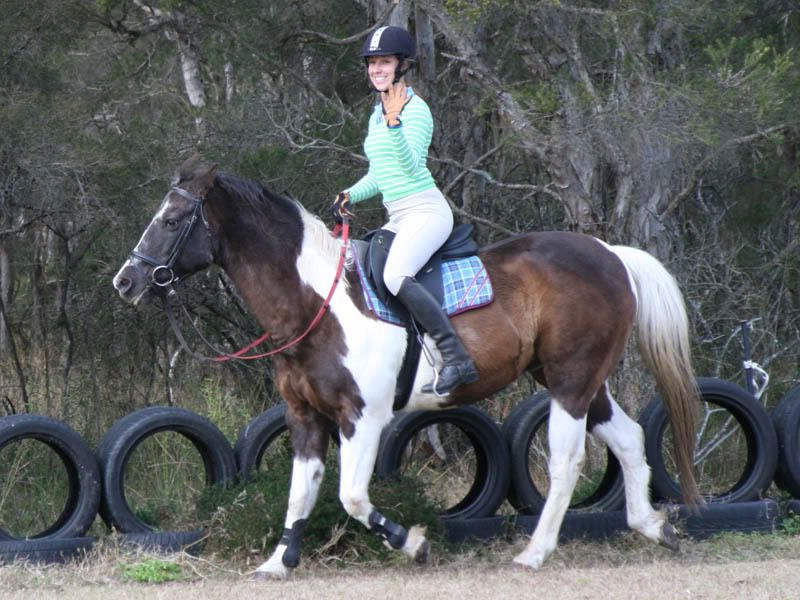 First jump, 60cm nice and calm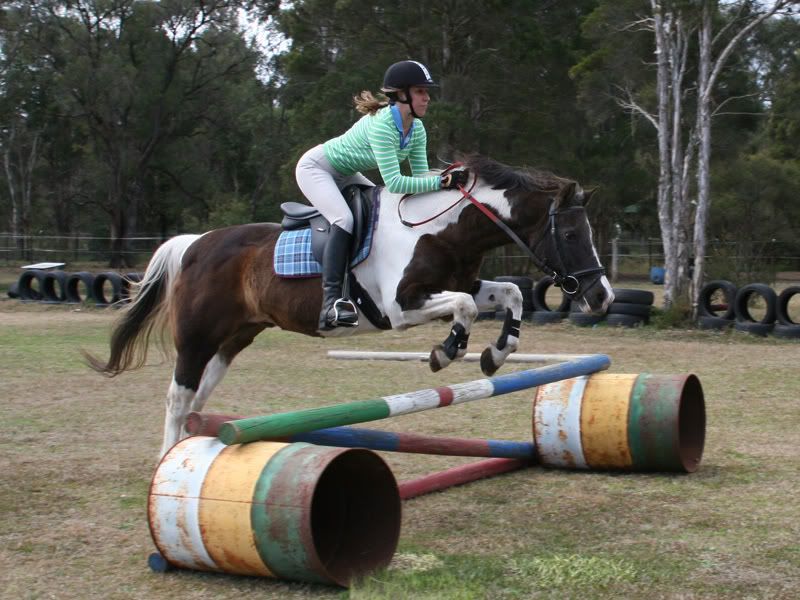 Then Angel got incredibly jealous when I started to jump Kai so mum snapped these of her kicking up her heels in envy...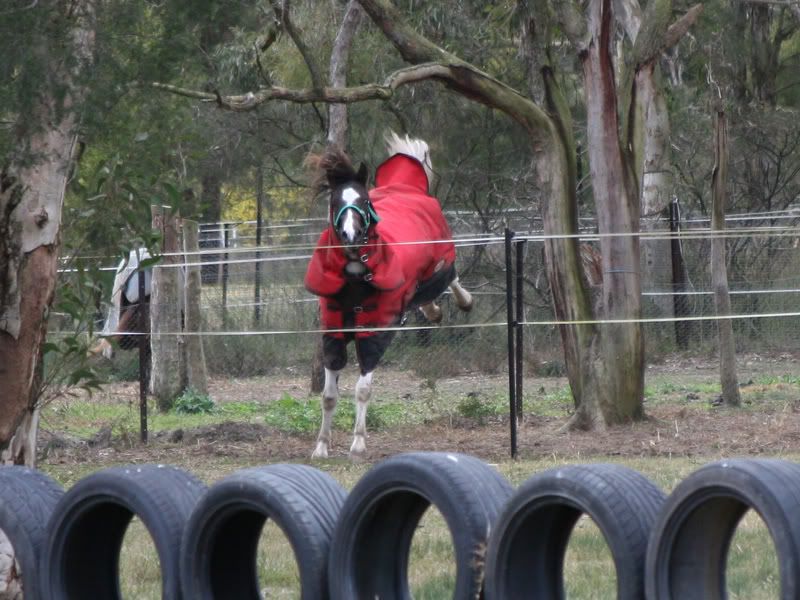 Second jump, 60cm just keeping it small today
Third jump for the day, 75cm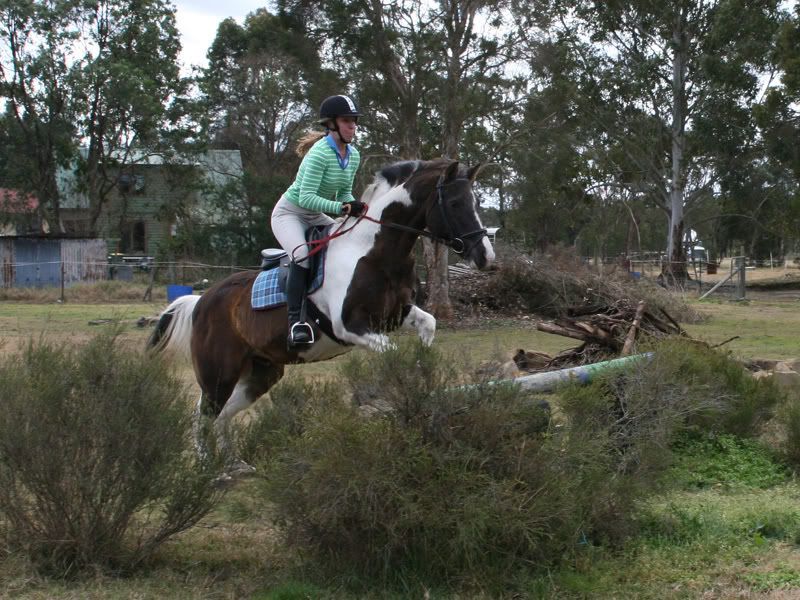 I got left behind, he was a little speedy at this one :S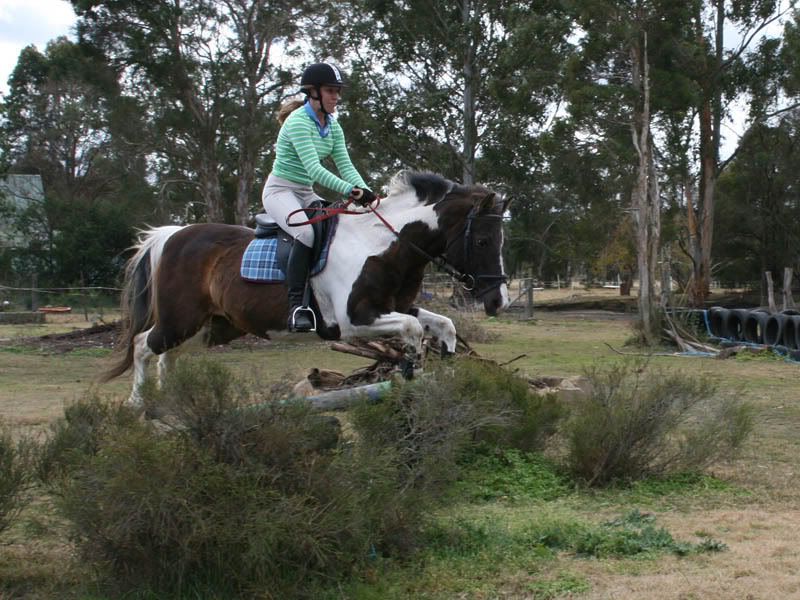 Last jump to make up for the left behindness...nice one of our butts
And a little pose afterwards.
I was very happy with him.
Then onto Comanche. Unfortunately mother and father had to go to the airport so no one was around to take photos.
I put the dressage saddle on Com and he was wonderful, a little lazy as in slow but he he popped straight into trot from walk and canter from trot, again hitting his leads spot on. He was just incredibly slow. I think he was trying to canter in slow motion, I wish I had a video of how slow it was hehe. Anyway I was pretty happy with him and now I know I have to start working on his forwardness.
Thats it for today.
Jaimie
Photos from todays ride 30th July 2008
Kai was great again. Warmed up with w/t/c, did about twice as much canter warm up from yesterday and he was great. I missed his canter so so so much! I set up a grid, some trot poles into a cross rail then one stride to a 60cm vertical. Kai kept trying to canter the trot poles, as expected but I took him over a few times and he got the idea to trot the poles. Then we moved onto a few other jumps and did them like a little course a few times.
Coming into the grid...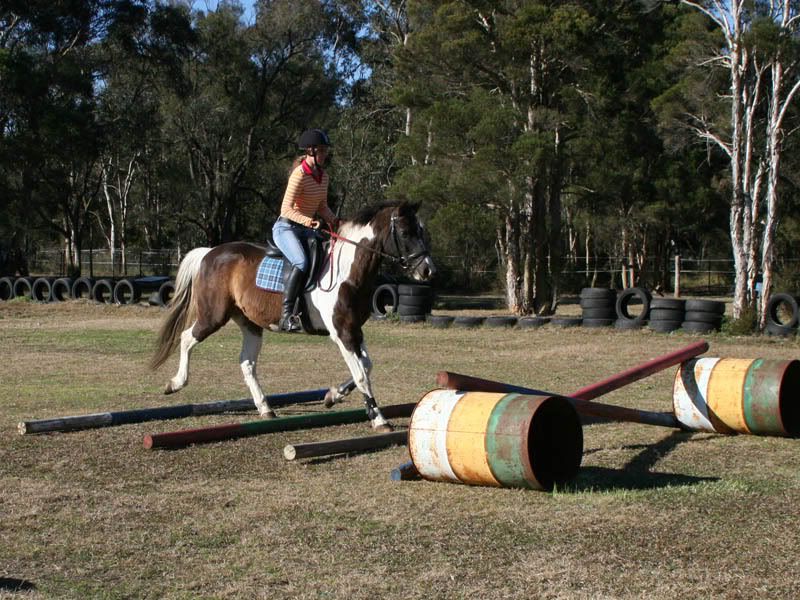 A few pics of us over the last element of the grid...
1st time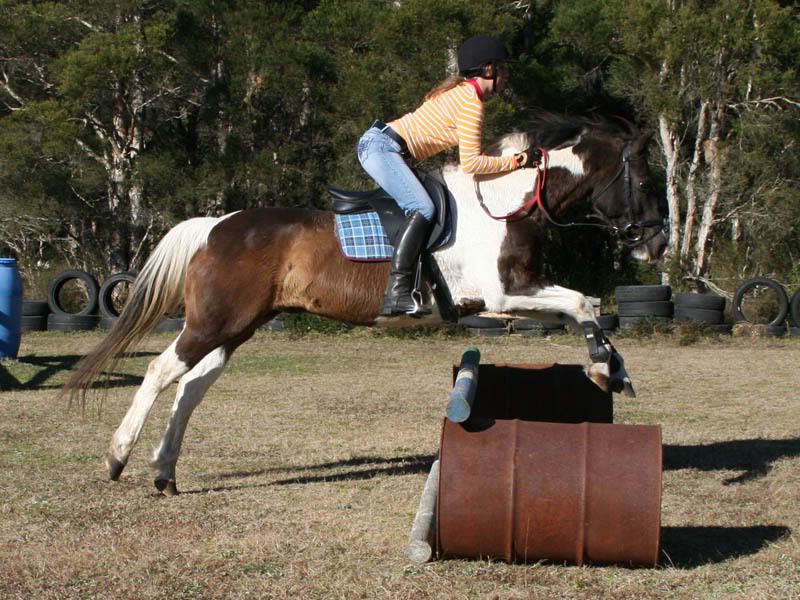 2nd time
3rd time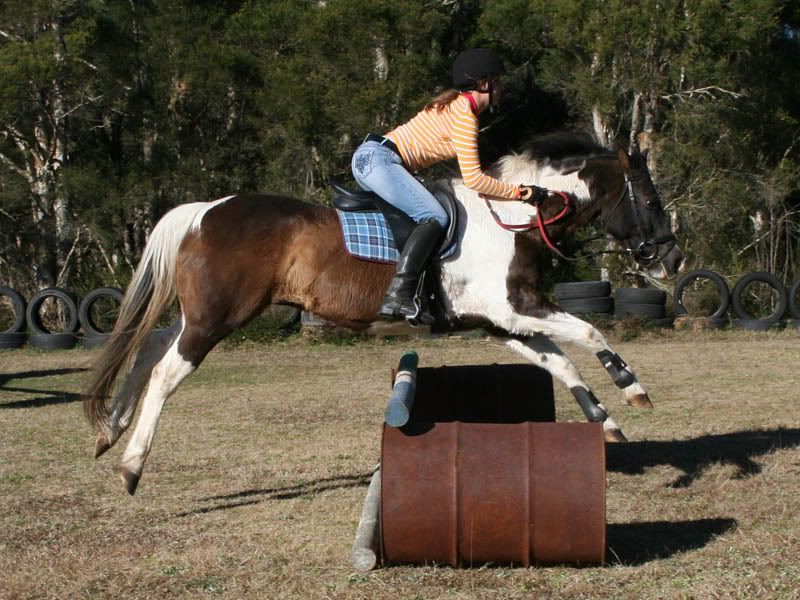 First time around mini course...
75cm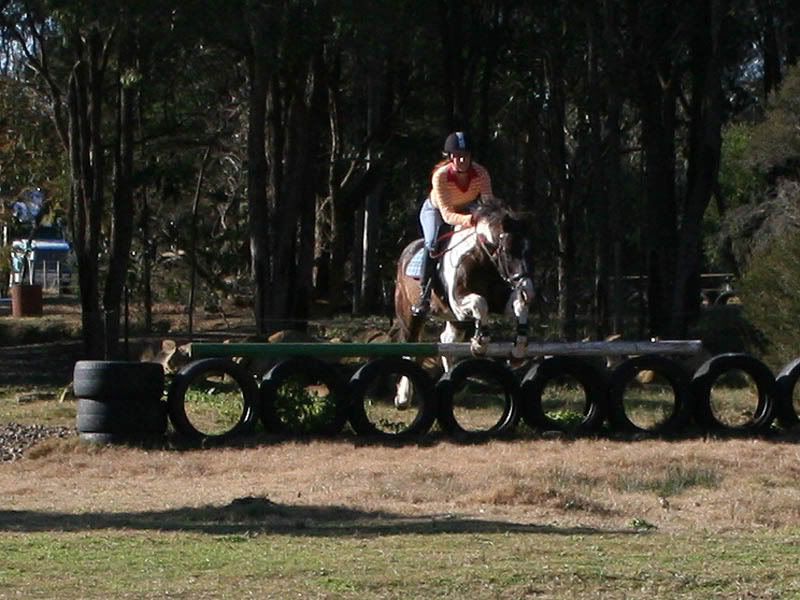 85cm Part 1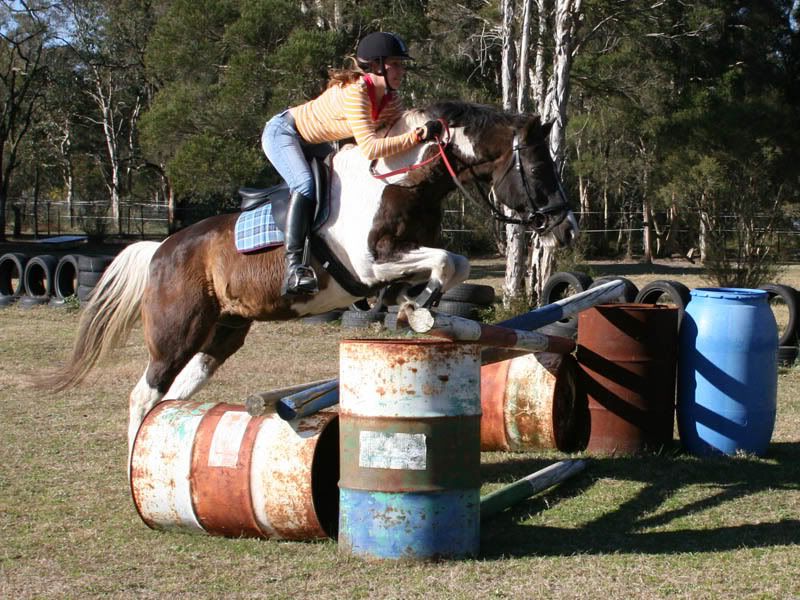 Part 2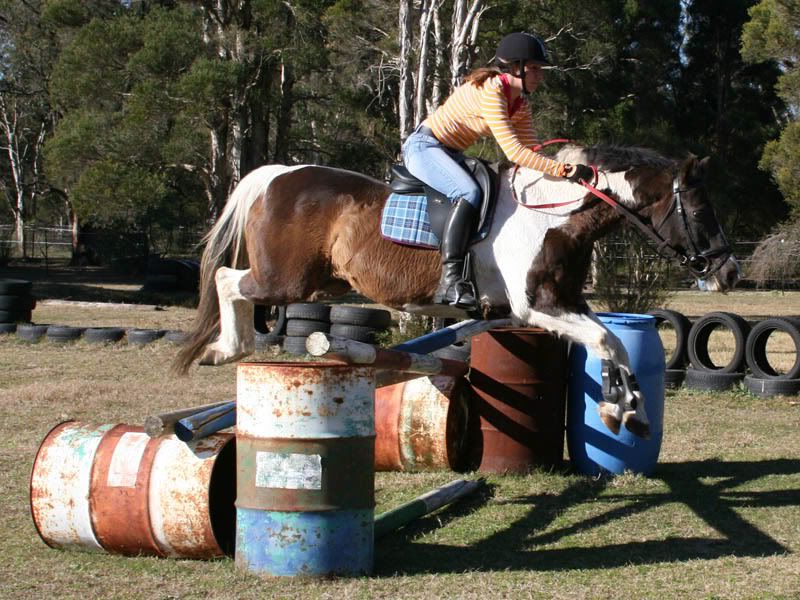 75cm
50cm (the tree branch broke, I need to find a new longer one again and prop it up to 75cm)
And we went around these two again...
75cm
85cm Part 1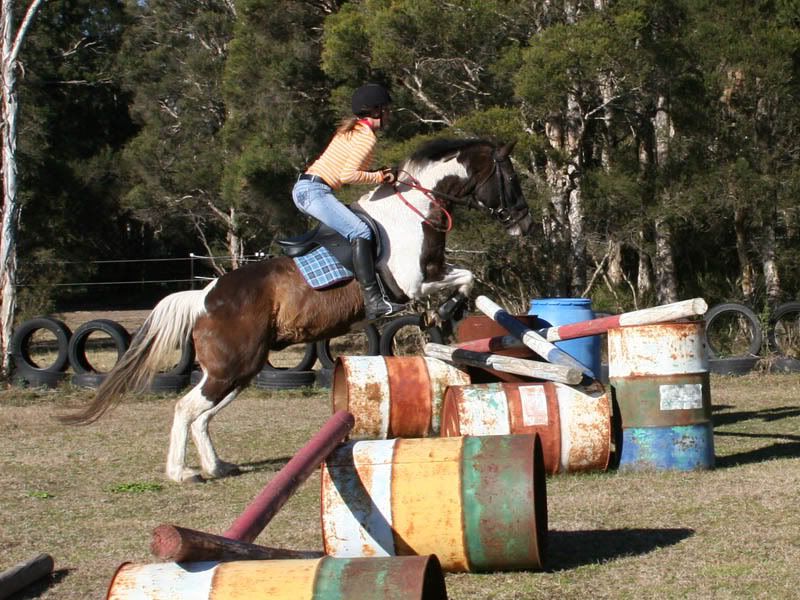 Part 2 (he was starting to get excited and kinda took me off guard)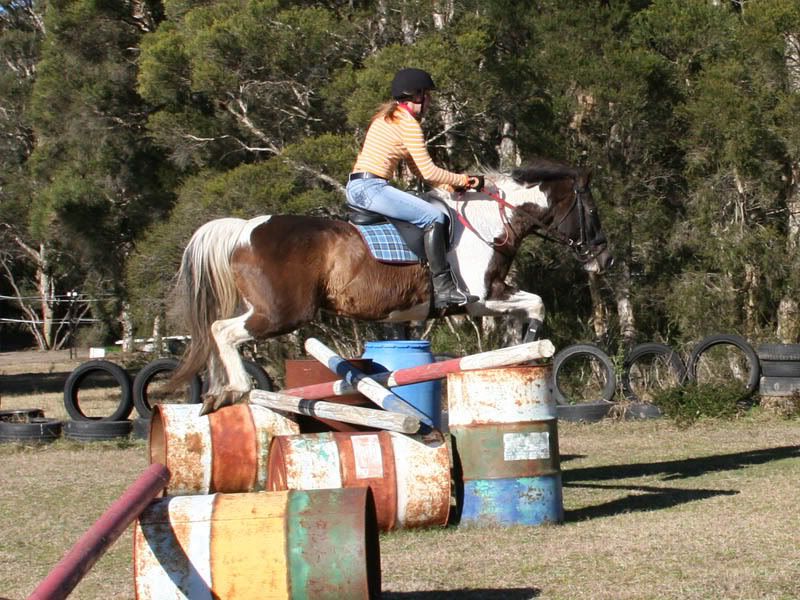 Now some poses cause I was sooooooooooooooo happy with him.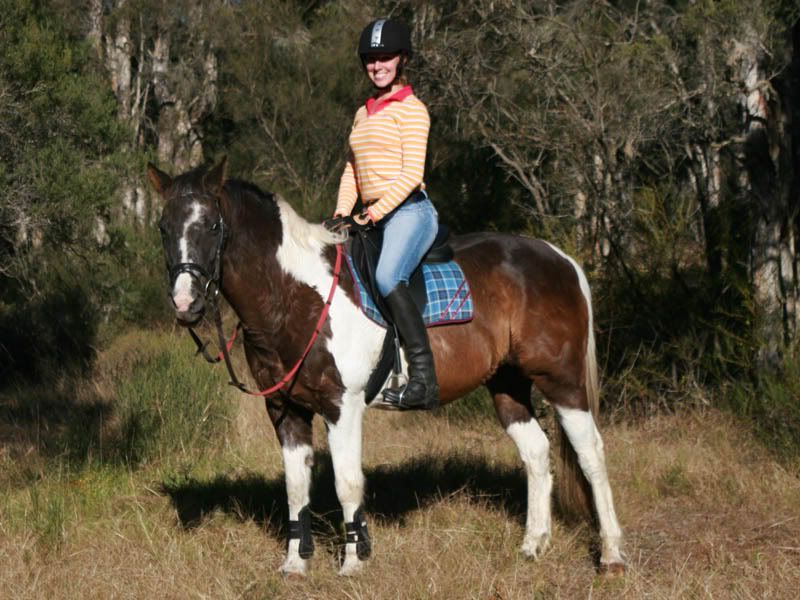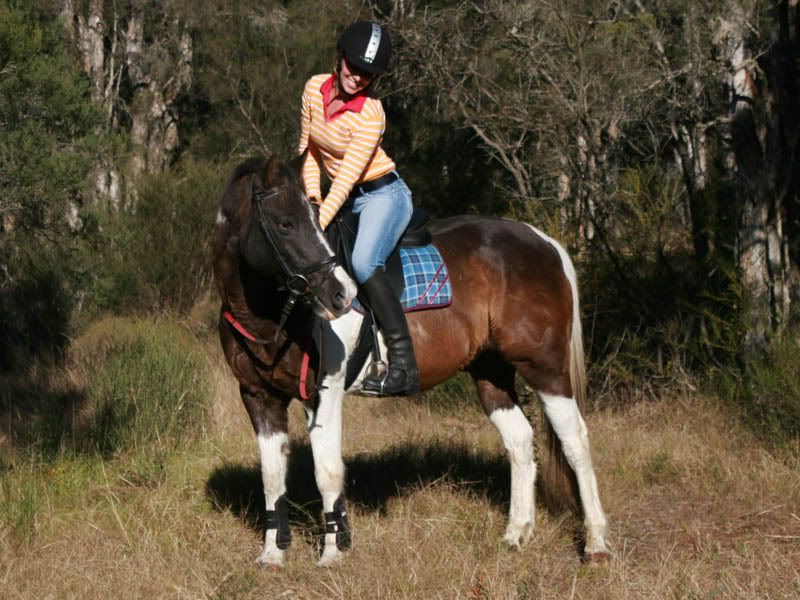 Any comments and constructive critiques welcome!
Jaimie
What a lovely horse, I have a thing for pintos and horses of color!
Wow, he looks amazing jumping, looks like alot of fun! :)
Thanks for sharing those great pictures!
---
It's been awhile, but I'm back & back in the saddle!
31st July 2008
Rode Com this morning. Kai can have a day off. Put the dressage saddle on him again. We worked on trying to get out trot a little more active, he is being so so so lazy, yesterday with his lesson he dragged his feet the entire time but with me on his back i had him going very nicely after 20 minutes of warming up. We did w/t/c then some walk to trot transitions and some good working trot.
Trotting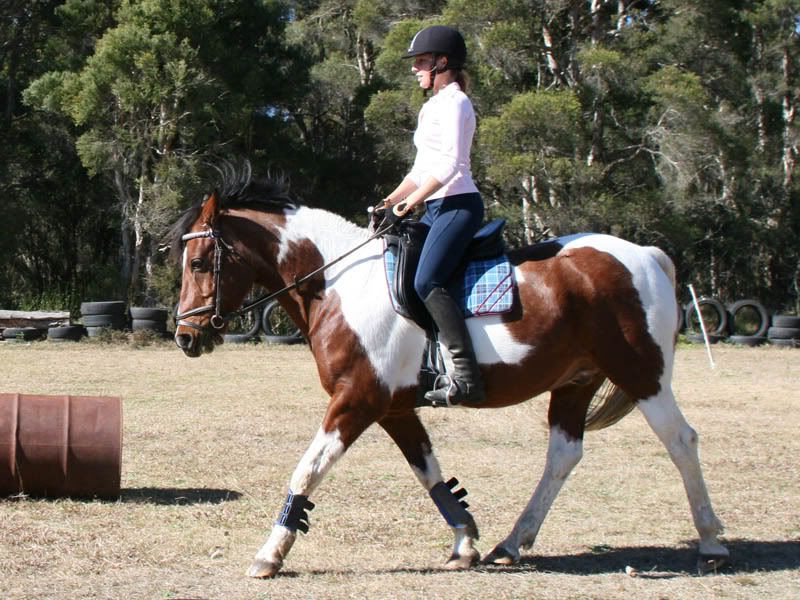 Canter right lead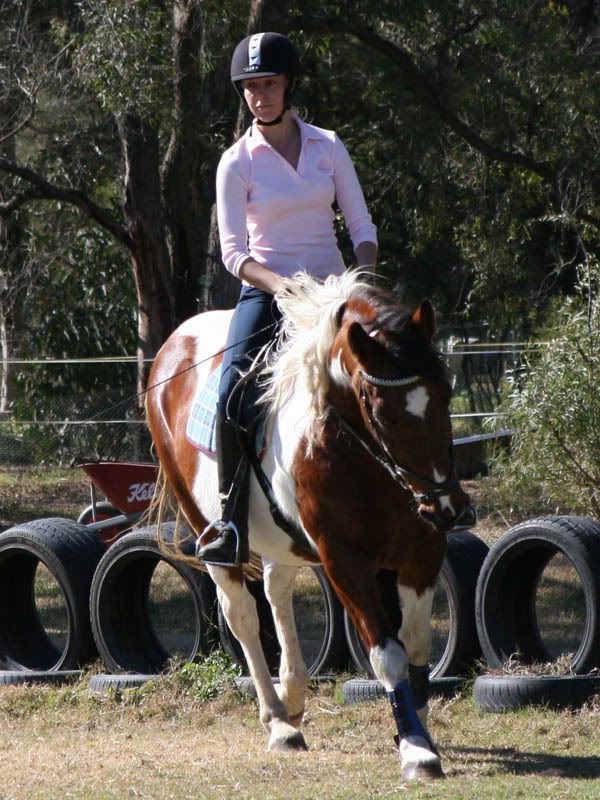 Two canter pics in sequence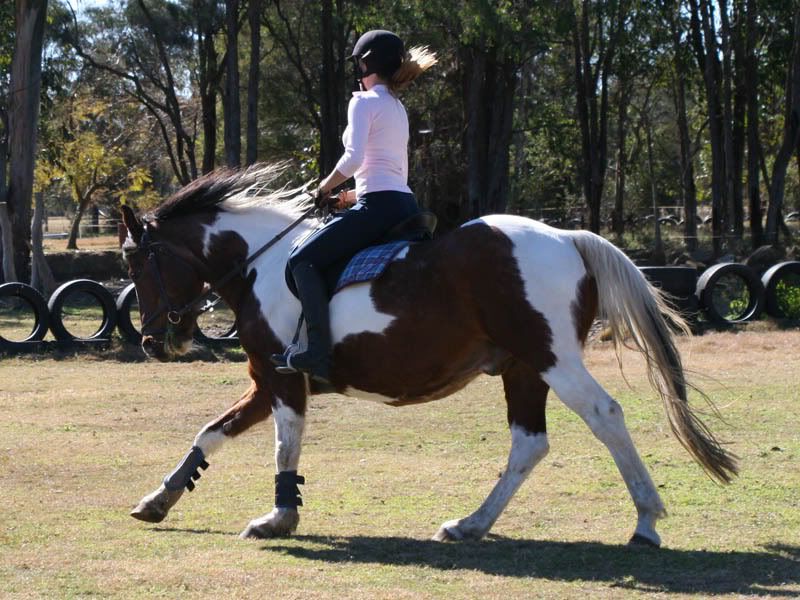 And two more in sequence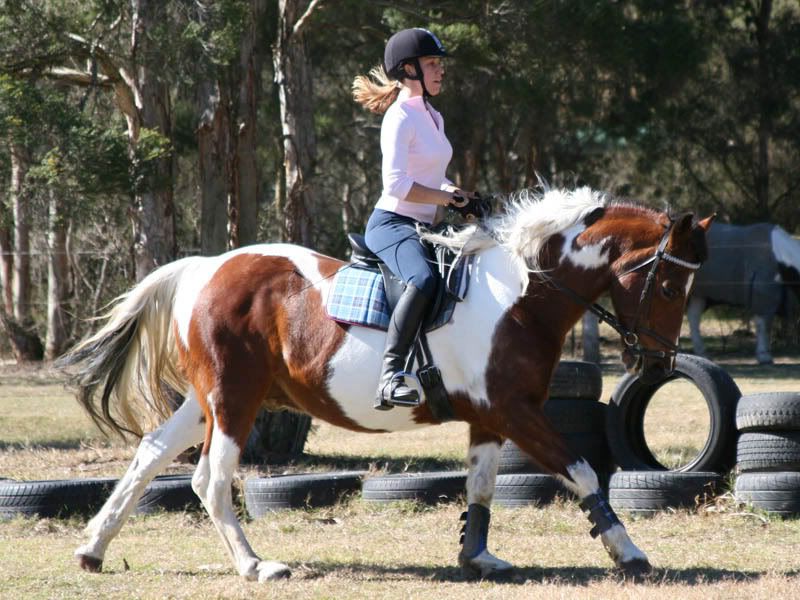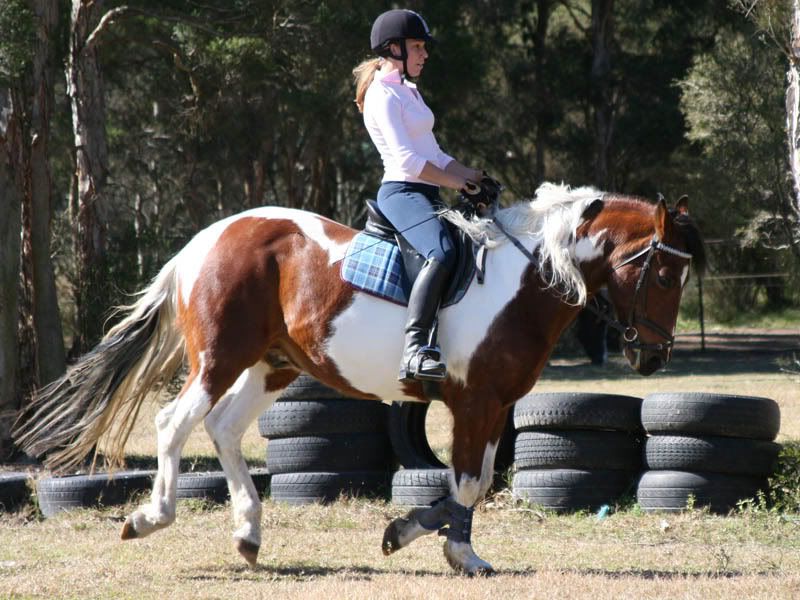 Back to trot
Canter left lead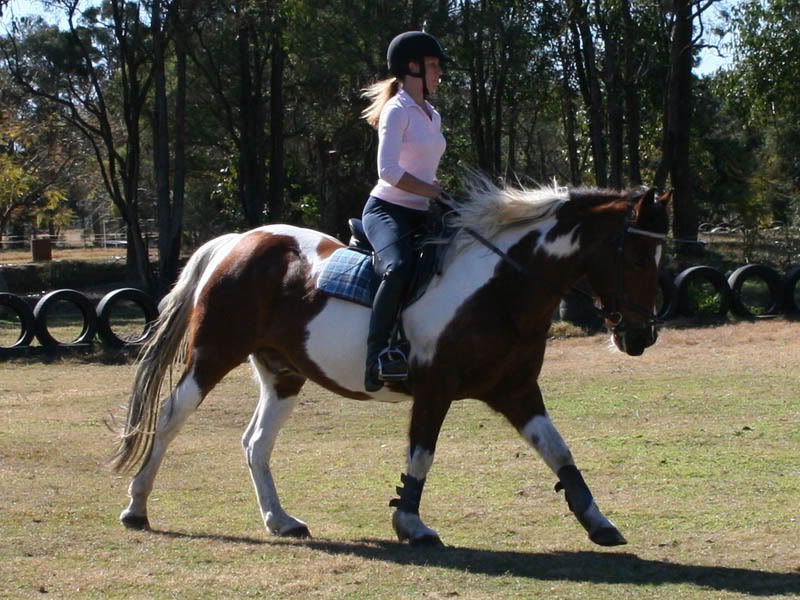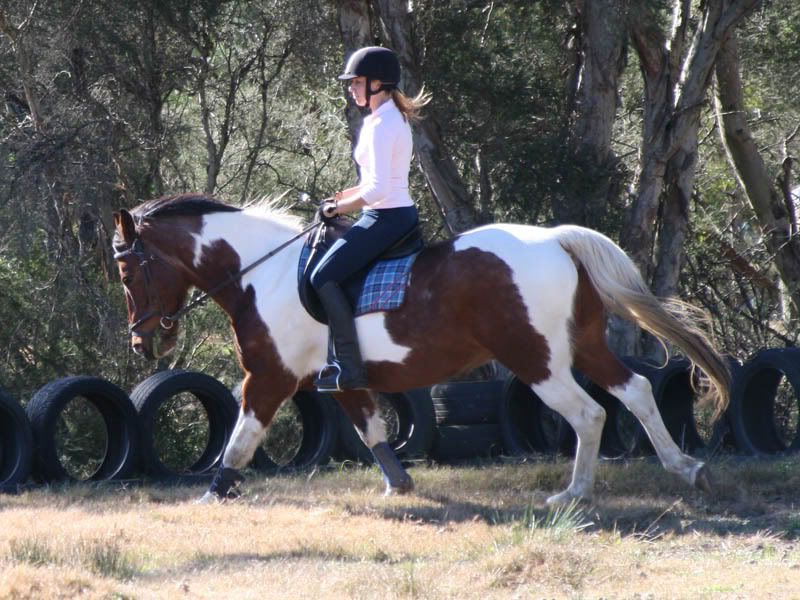 Back to trot
Trot poles to make him pick up his lazy feet!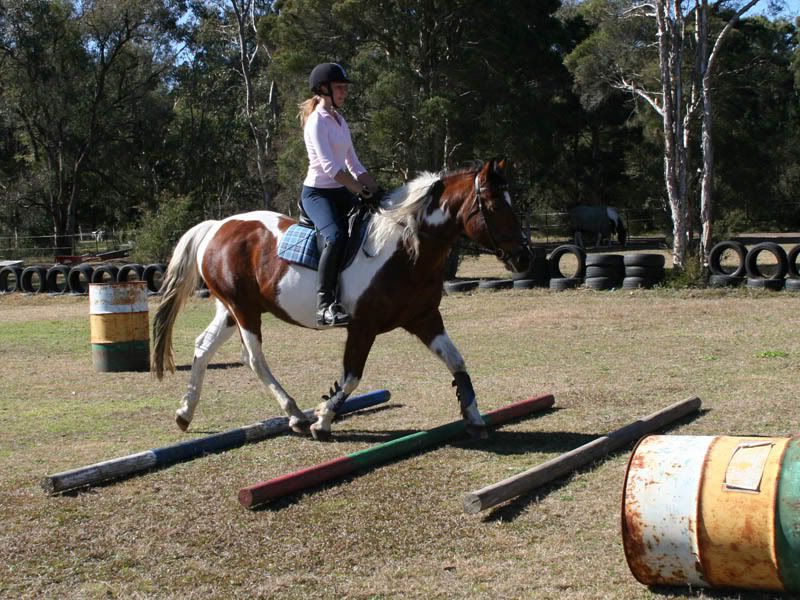 Two trot pics in sequence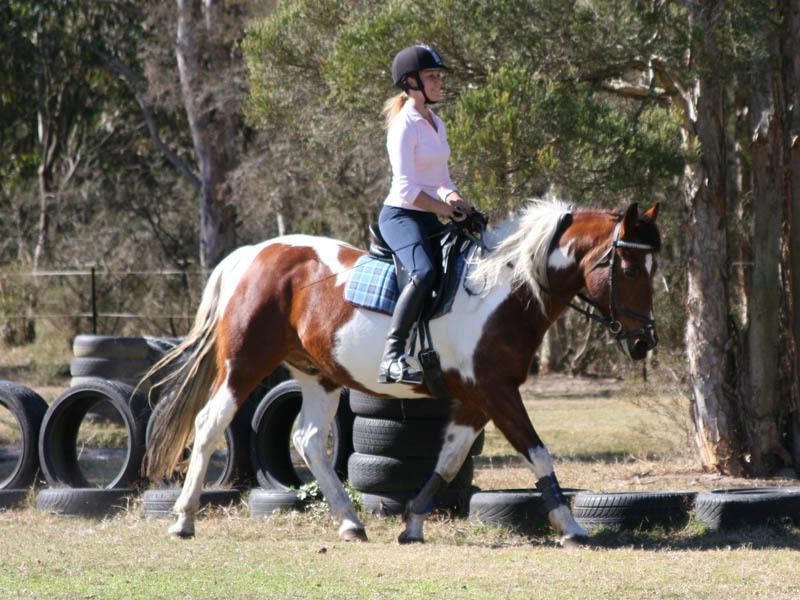 One more trotting and me smiling cause he was going rather nicely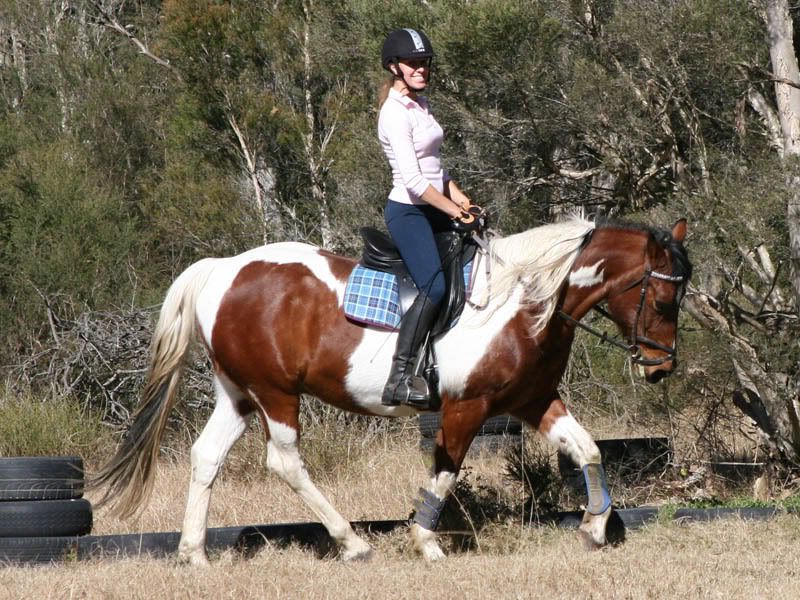 Strike a pose!
It took me about a minute to get him this square and he still isn't square!!!
Wonderful pictures!
The only thing that I will point out is that you tend to arch your lower back, making your pelvis rock backwards.. or perhaps vice-versa. I wish I could find an illustration, but to explain what I'm talking about... tsand up and push your bootay out, hollowing your lower back, this is the position I see in your pictures. Now quit laughing and bring your pelvis back under you, and in a neutral position - this is where you want to be.
To achieve this, make sure you concentrate on it every minute of every ride, until it's second nature - keep your pelvis neutral without pushing your bum out and hollowing your back.
I really hope I made sense..?
Anyways, your ponies (horses... I call them all "ponies!") are too cute, and you're well on your way, congrats!
---
The lovely images above provided by CVLC Photography cvlphotography.com
Thanks! I will think about that today when I ride, if it doesn't rain! Hopefully my mum and I can take the boys on a trail ride and I am probably going to pop on Angel for a little too.
And they are definitely ponies! Both under 15hh!
I have a thing for pinto ponies... just a little thing...
1st August 2008

Today was a crazy day outside. Really beautiful early morning but VERY windy, then it cooled down in the afternoon and rained so I didn't ride. Working all day tomorrow and Sunday but I hope it is a good morning on Sunday and I can sneak a ride in before work.

Jaimie
So the boys had both had two days off due to bad weather and work. So today (Sunday 3rd Aug) I rode Comanche at 8am before I worked 10am-4pm, and then rode Kai at 5pm.
Comanche was pretty good this morning, only had a problem with his left canter, took us 3 tries to get the ride lead. I tried sooooo hard to tuck my butt in as suggested by JDI, I must have rather weak muscles at the moment cause it was very uncomfortable and I don't even see a difference :S Anyway, if you a see a difference let me know...
Trotting...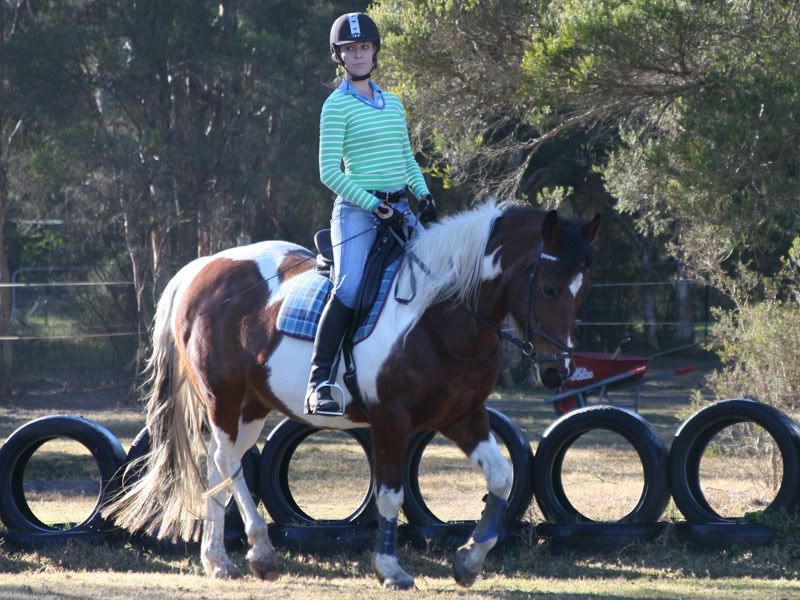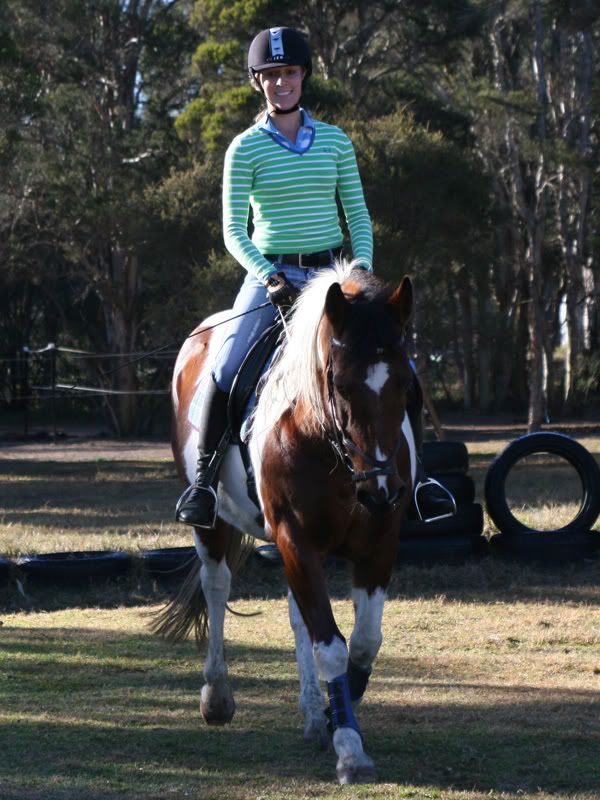 Canter, the good lead
Not sure what happened here but he might have slipped, there was a light frost this morning and the ground was rather wet and Com hates wet grass...
So back to canter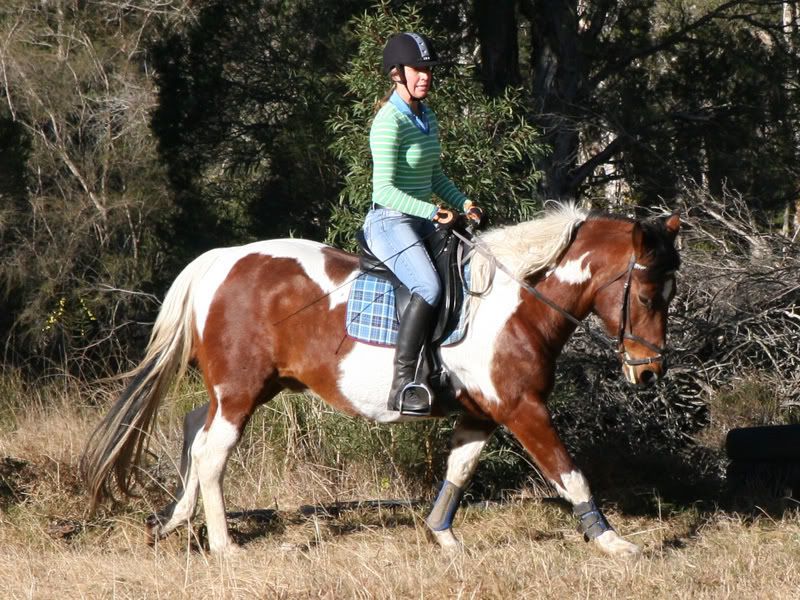 Canter other side (camera was suffering with the low sun rise, so not all the pics came out :( )
Some nice working trot to finish up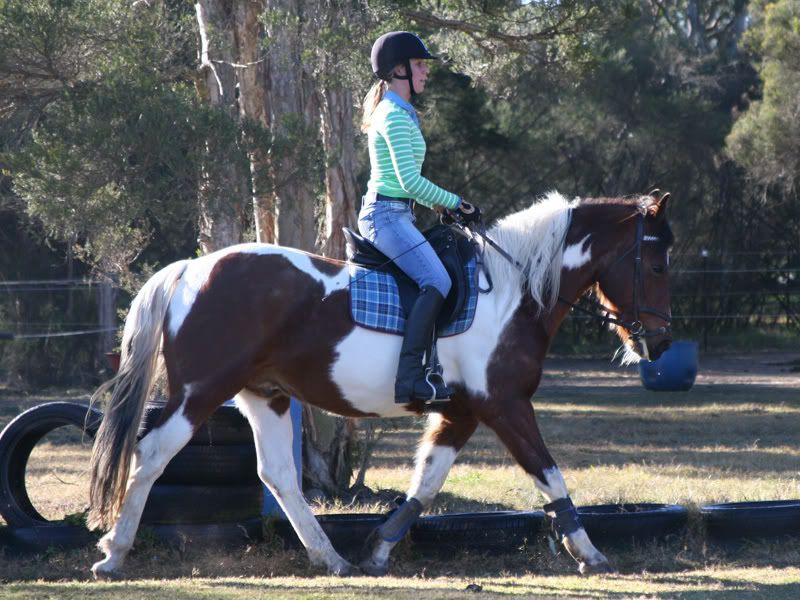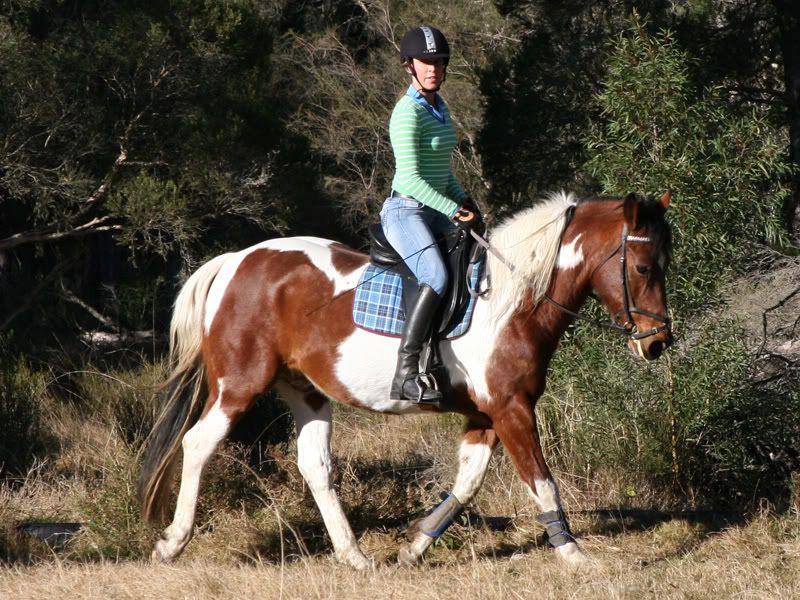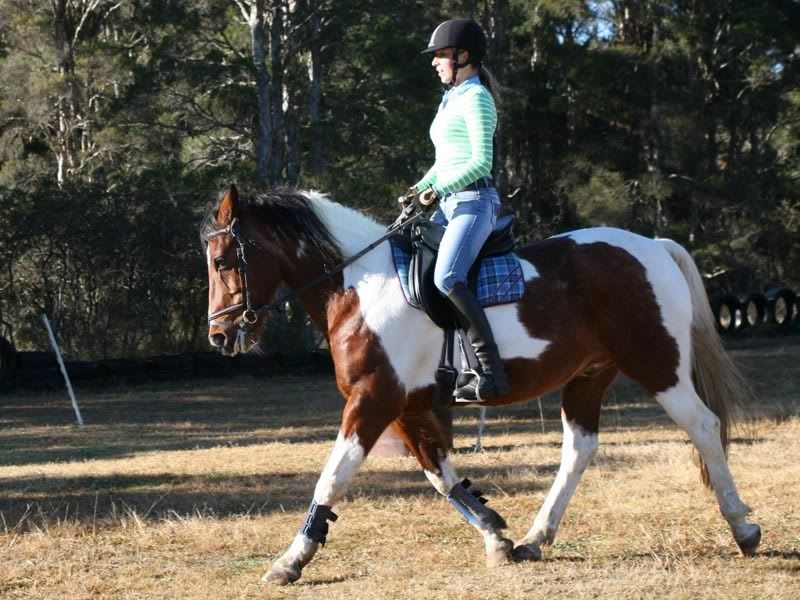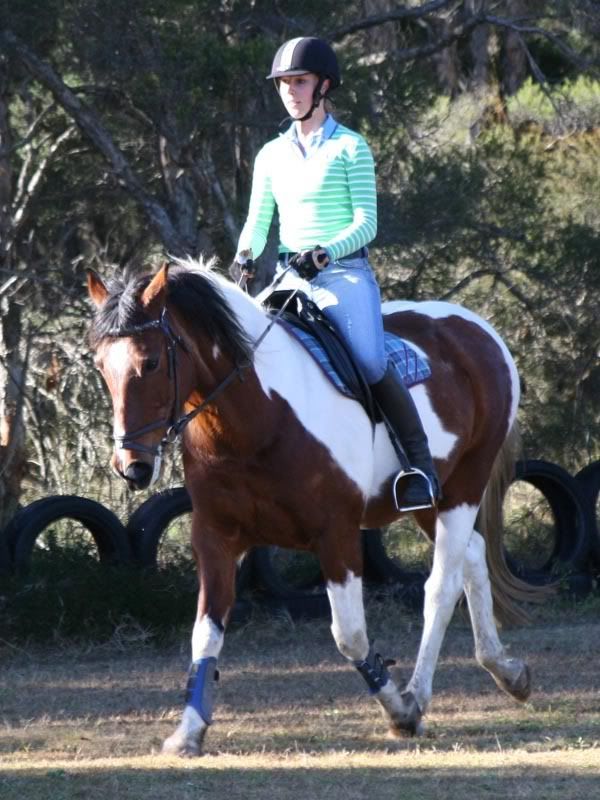 I believe this is a trot to walk transition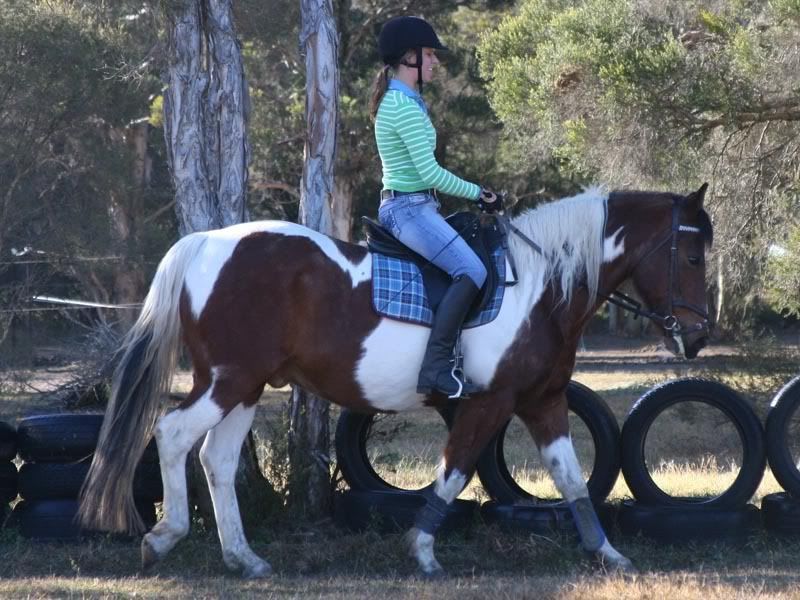 A rather terrible attempt at a square halt!
Does anyone have suggestions on a training a square halt?
Now onto the sunset ride with Kai... Again camera suffered because the sun was setting behind clouds... but I will post the few that turned out. Again I was trying sooooo hard to tuck my butt in, maybe my problem is I am trying too hard??
After we warmed up and getting ready to jump her went a little crazy! (Mum came out after out perfect warmup, of course to take pics!)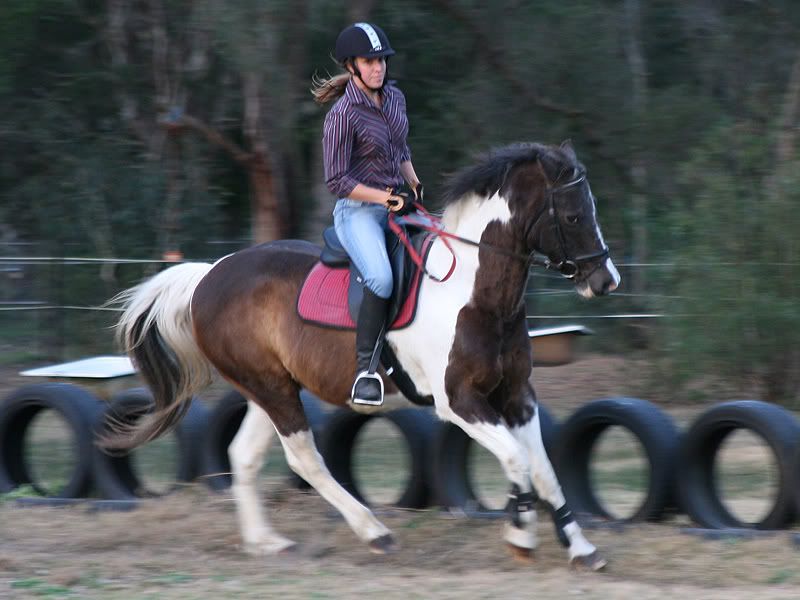 So we go back to a nice relaxed trot before we jump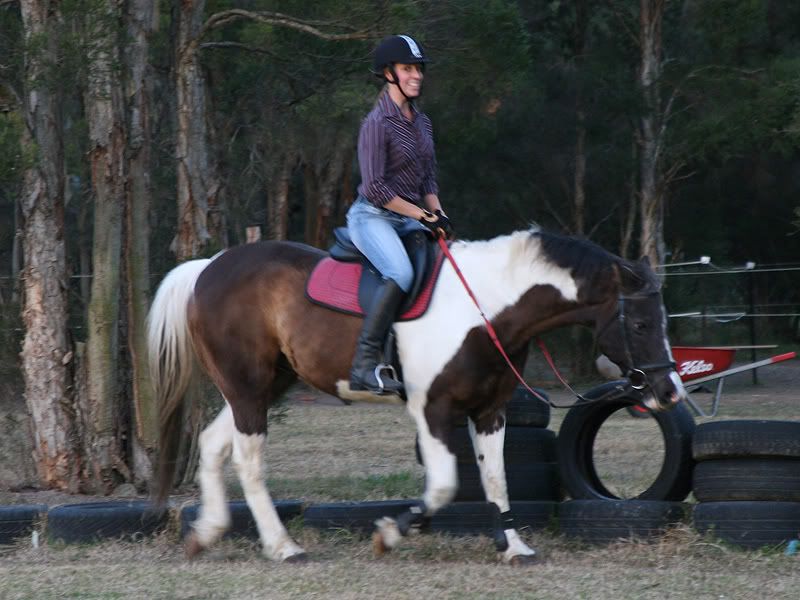 75cm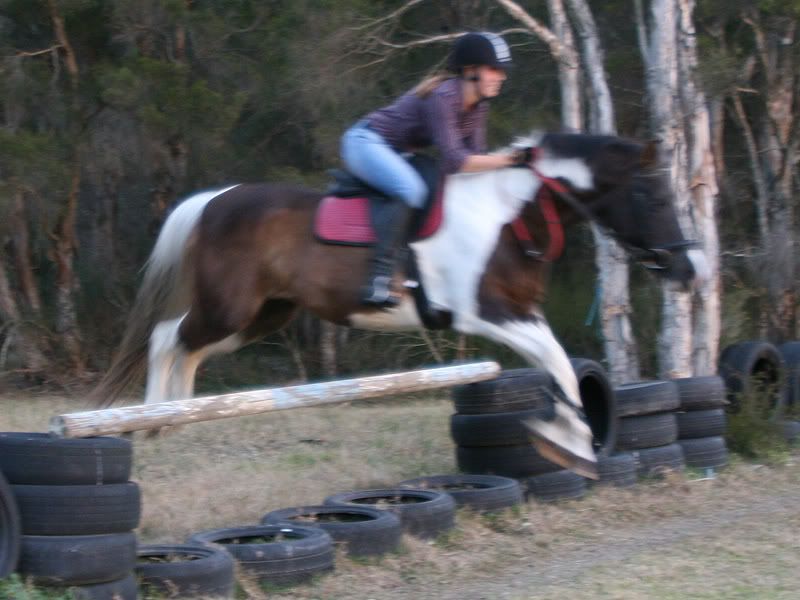 60cm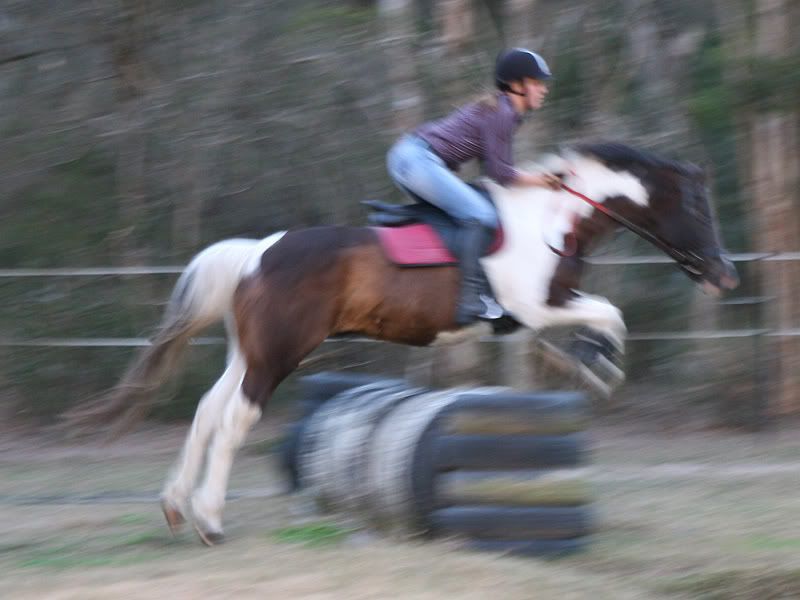 75cm again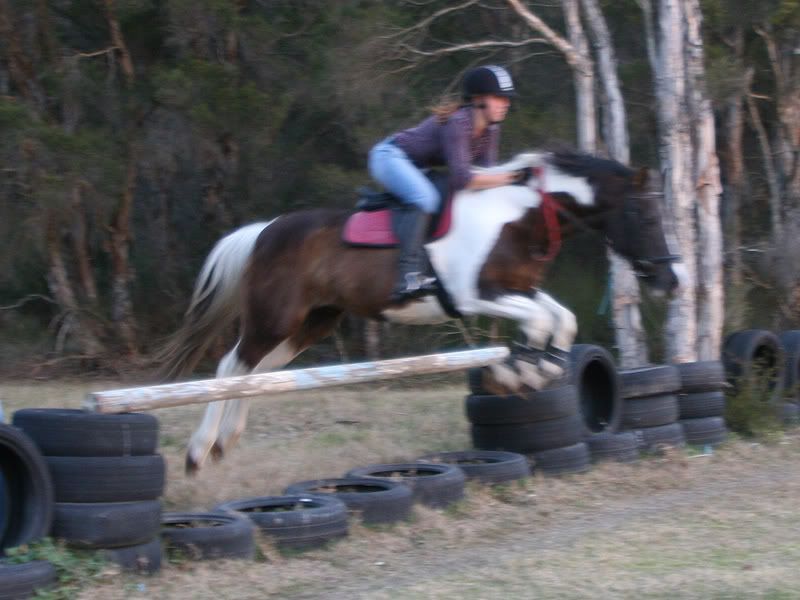 85cm Part 1 (he came in kinda wobbly but I pushed him over to avoid a refusal!)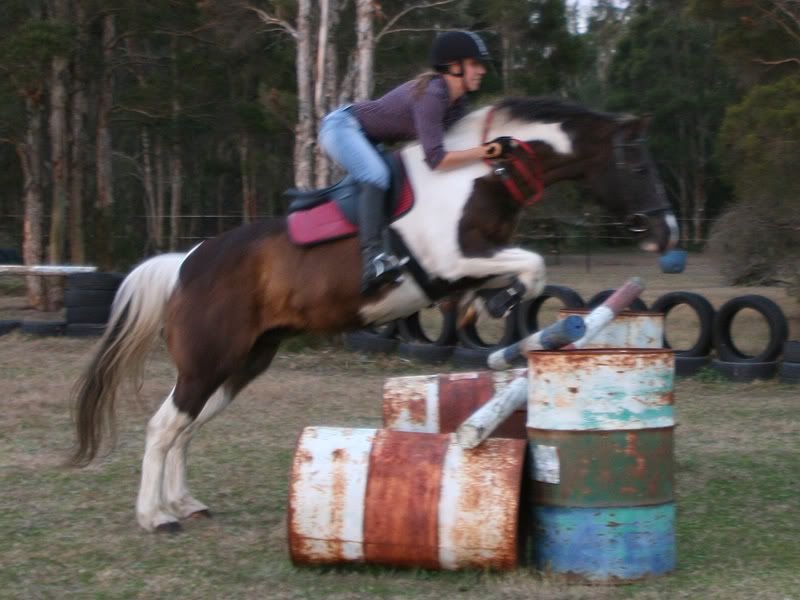 Part 2 (left behind with that wobbly start, ah well)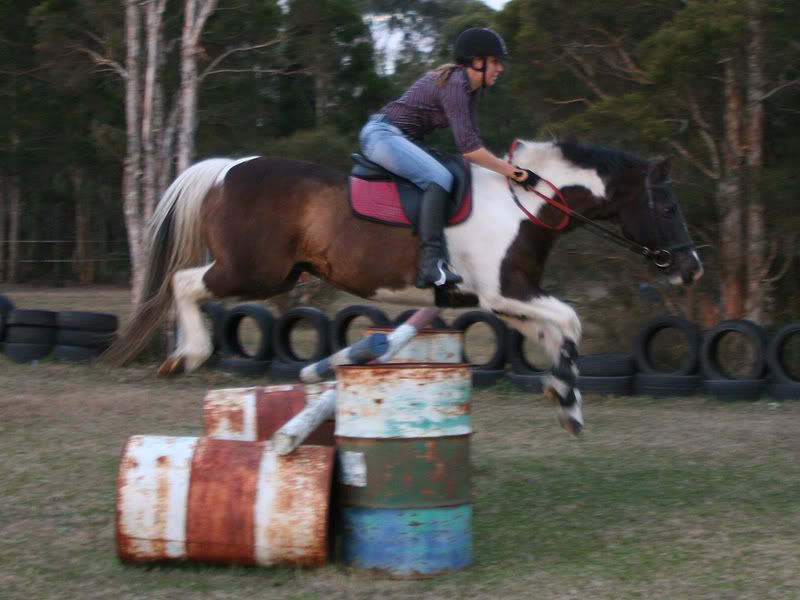 So to calm the crazy pony down I tried to do some trot poles...
But he thinks cantering them is more fun!
So we try again
But he still thinks cantering is more fun!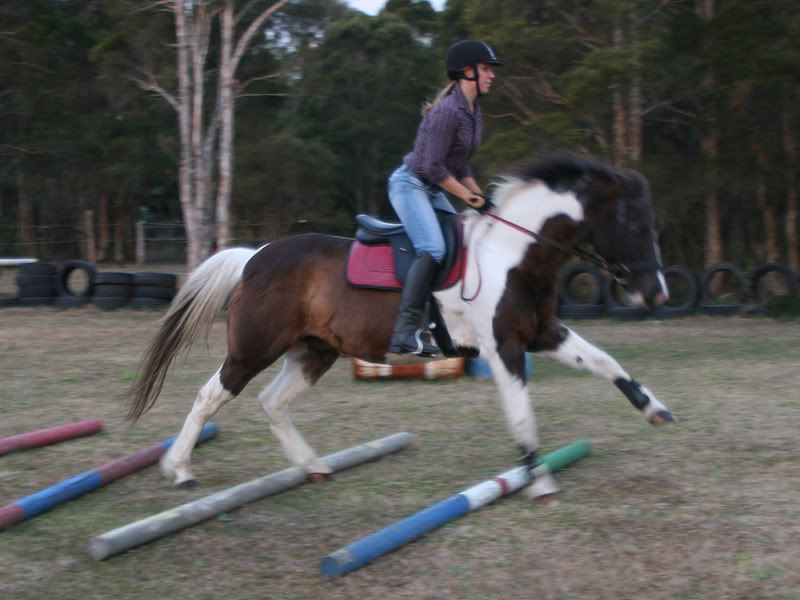 So one more time and yay, he trots them!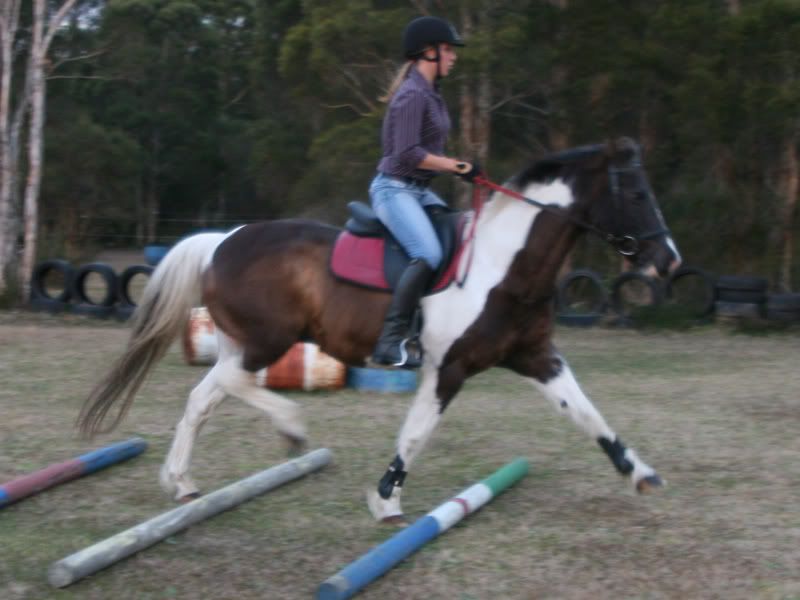 A pose in front of the 85cm jump!
And the sunsetting as we rode
Hope you enjoyed!
I am exhausted. Mother and I are planning to take the boys for a trail ride tomorrow so we can all relax and have some fun!
4th August 2008

Spent some time cleaning the paddock today, picking thistles out from under jumps and replacing old poles.

Saddled Comanche up in a jump saddle, he warmed up only ok. He was rather distracted by a kookaburra sitting at the edge of the arena. Once we started jumping he went soooooo well! I was so nervous but he was perfect. Just did a little 60cm vertical to start then a grid of a 60cm vertical, one stride, 60cm spread. Then I did a little course around the paddock and he just kept getting better!

My mum had a lesson so couldn't take pics but she took the kid on a trail and Com and I went with them for 1/2 an hour to cool out.

Kai's back feet were really long and my dad didn't get a chance to trim them until late in the afternoon so I didn't get a chance to ride him so tomorrow he will have a go!
Tuesday 5th August, morning...
Saddled up Kai this morning. He is starting to malt, yay! His fur is getting so long in his old age during winter, he is a real furball at the moment.
He warmed up wonderfully, a little go-ey but I put that to good use jumping! He was jumping so well, popping over everything so confidently, not that anything is a challenge. So after we did some arena jumps we went around some of the xc jumps. There were some tight lines there but he blitzed them. I love him! So we are working on building up his stamina, my "courses" tend to loop around the paddock lot so it is a good workout! Onto pics...
Some canter pics to start with, this one has cool timing...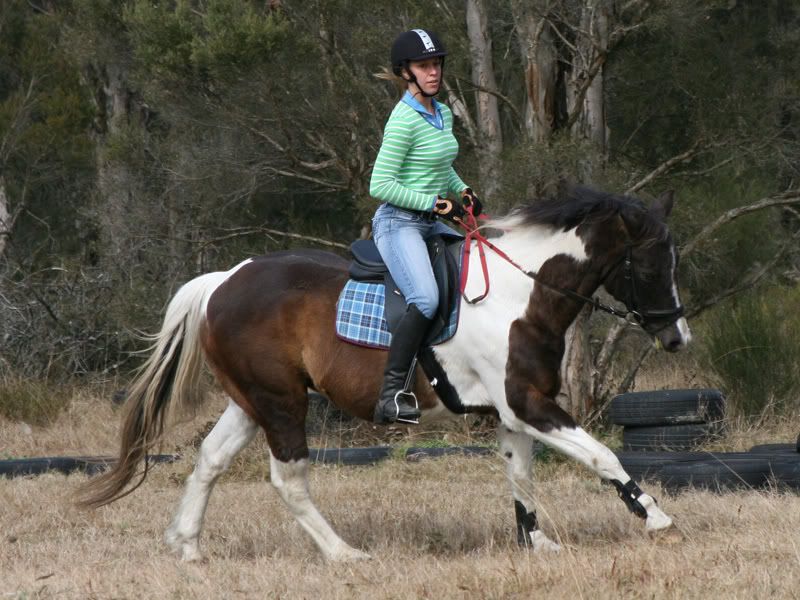 Otherway canter
Chilling at the trot after canter, he gets rather excited sometimes...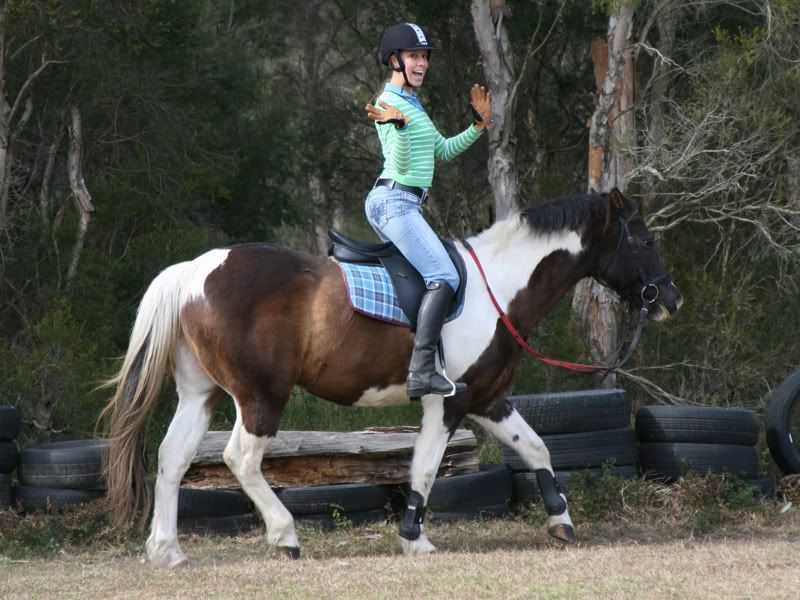 Little 60cm vertical to start...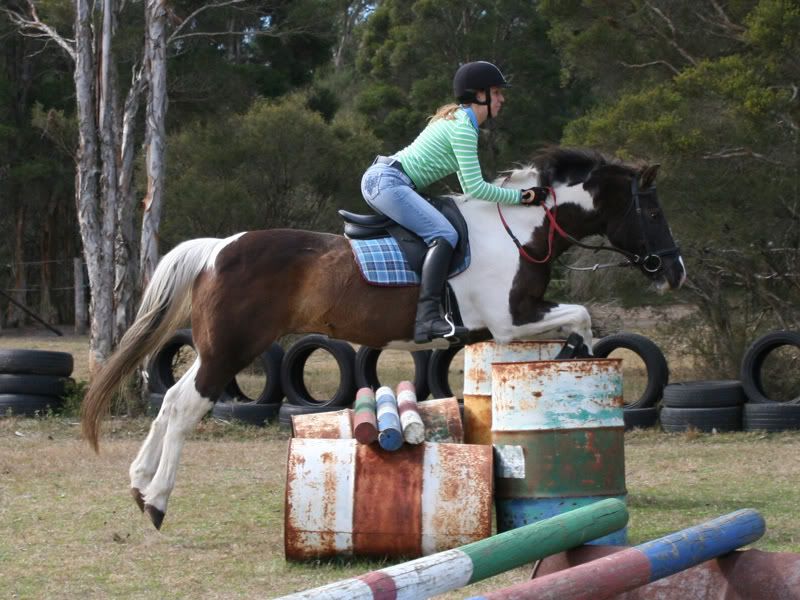 Then the grid I had set up for Com yesterday, a 60cm vertical...
and spread...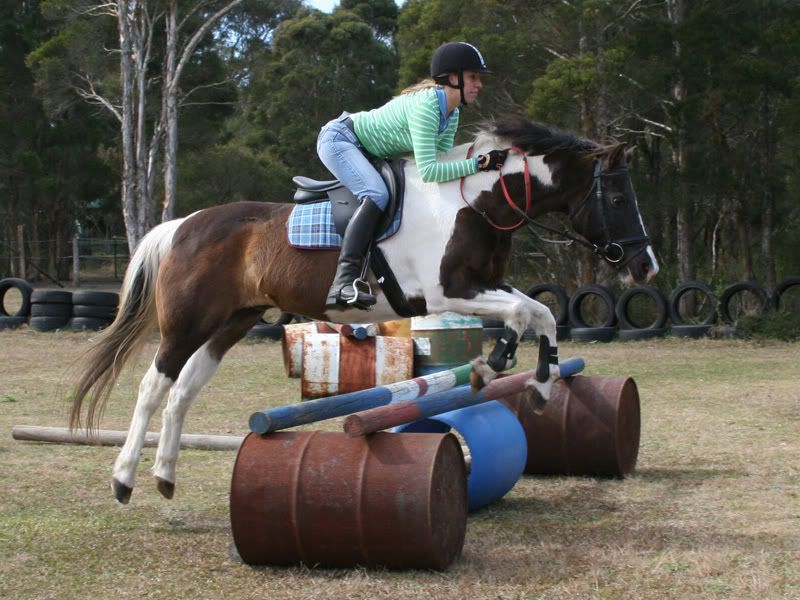 Mini course...75cm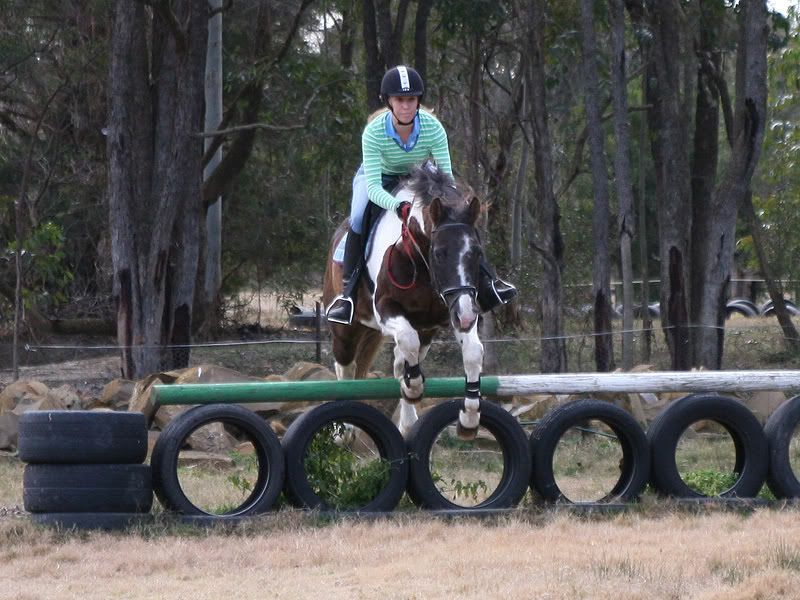 85cm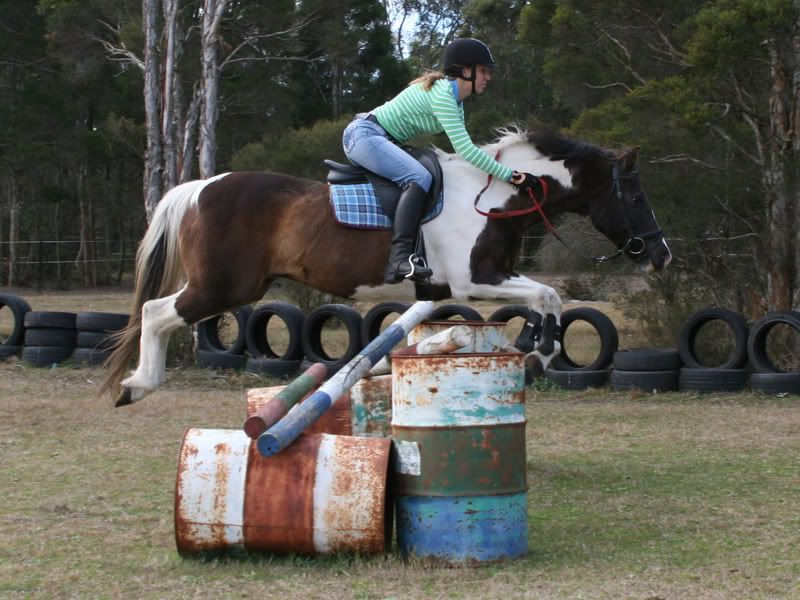 75cm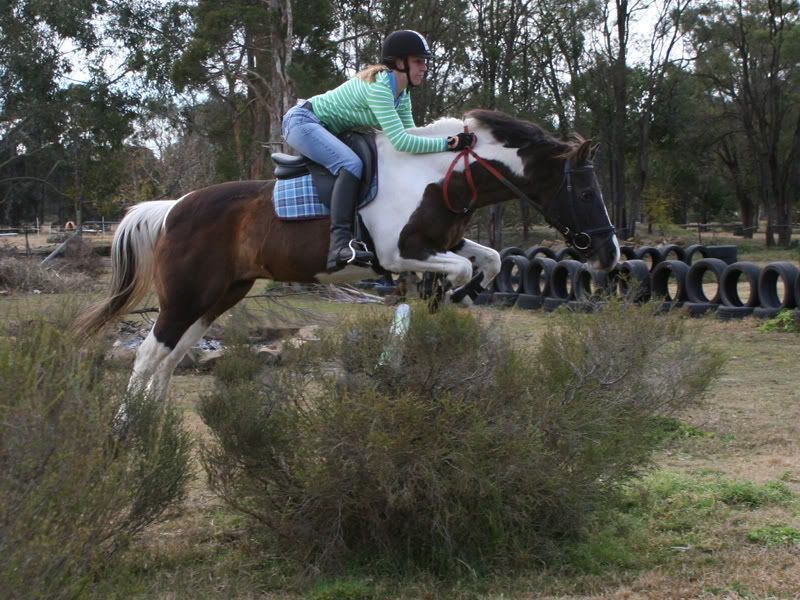 75cm (I found a new pole for this one!)
70cm tyres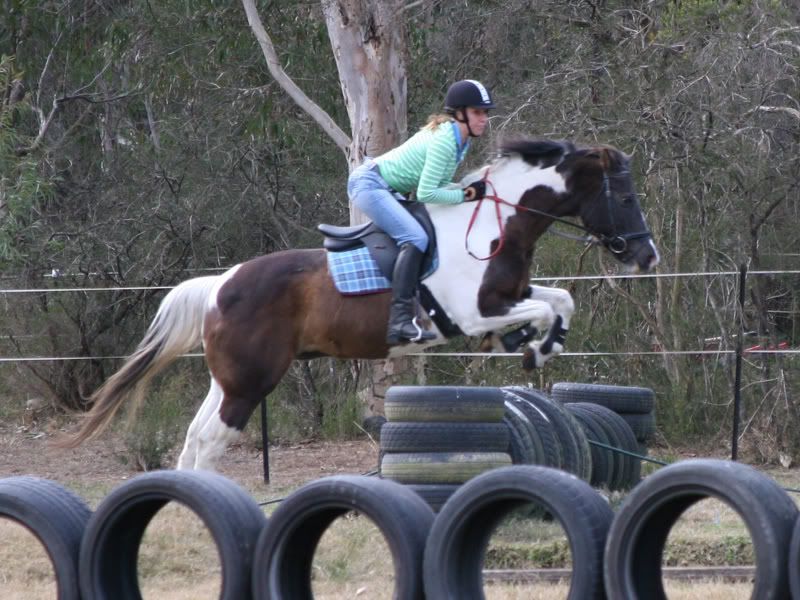 75cm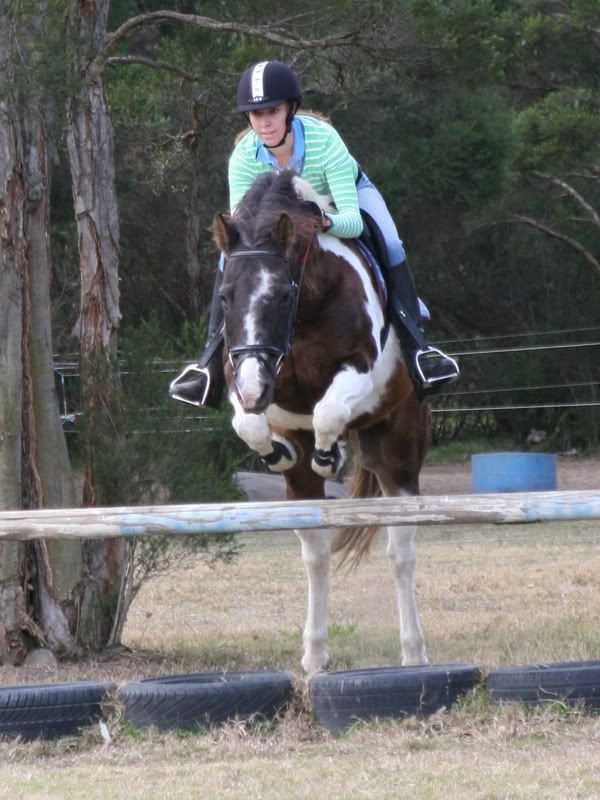 Now into the front paddock with the xc around the dam and round yard so tight lines...
75cm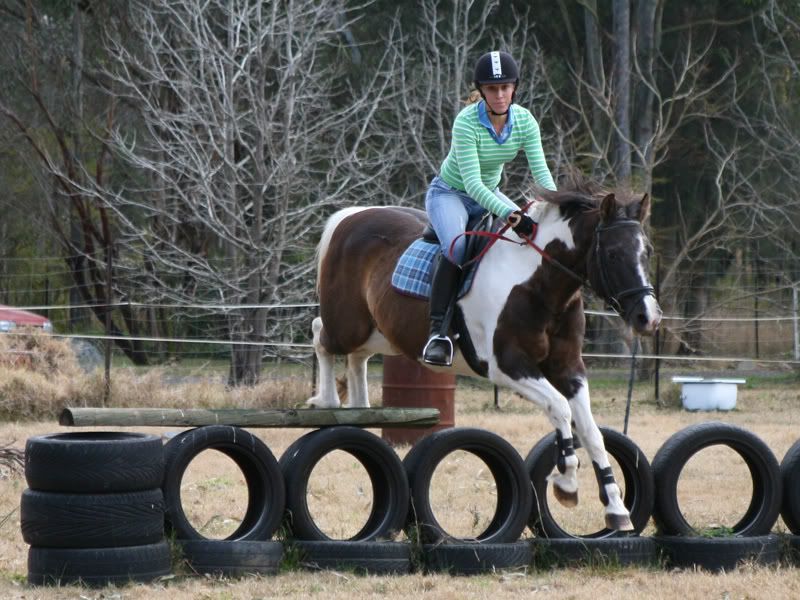 Out the other side 75cm
And again!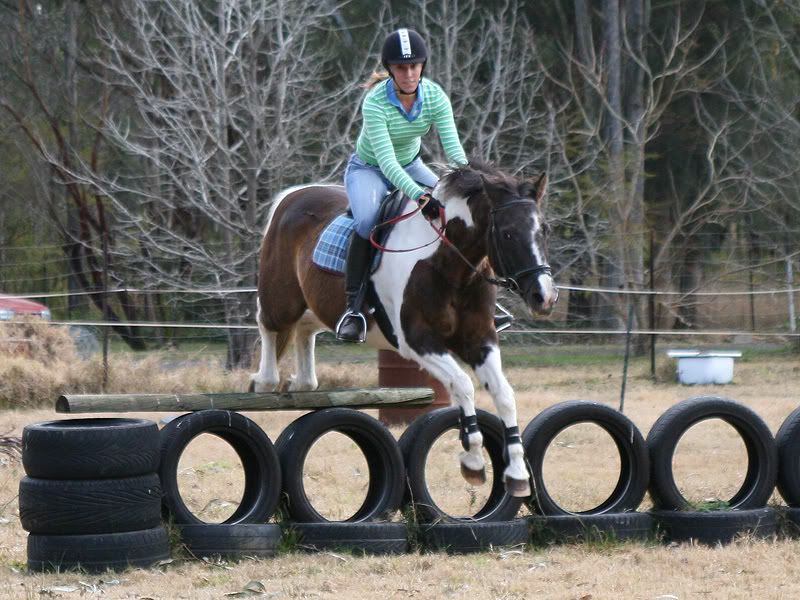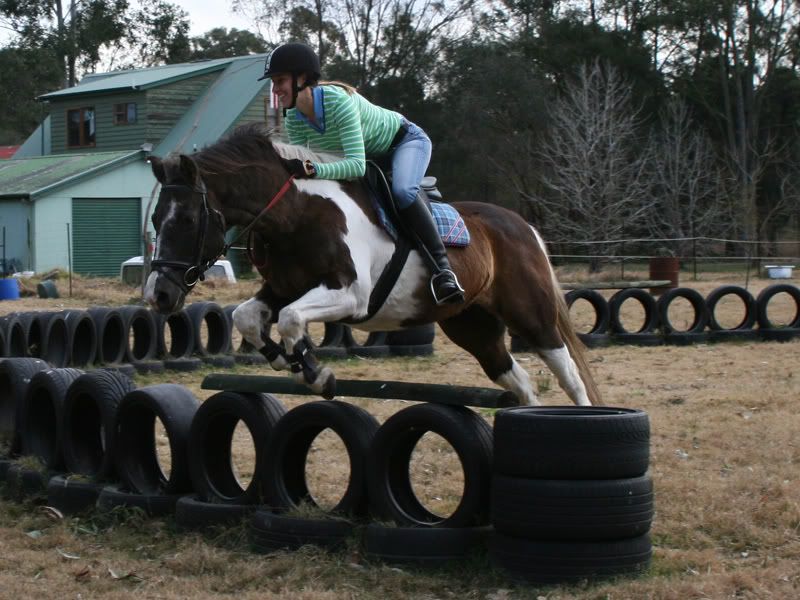 Mini course up side of dam and down again...
Teeny stairs...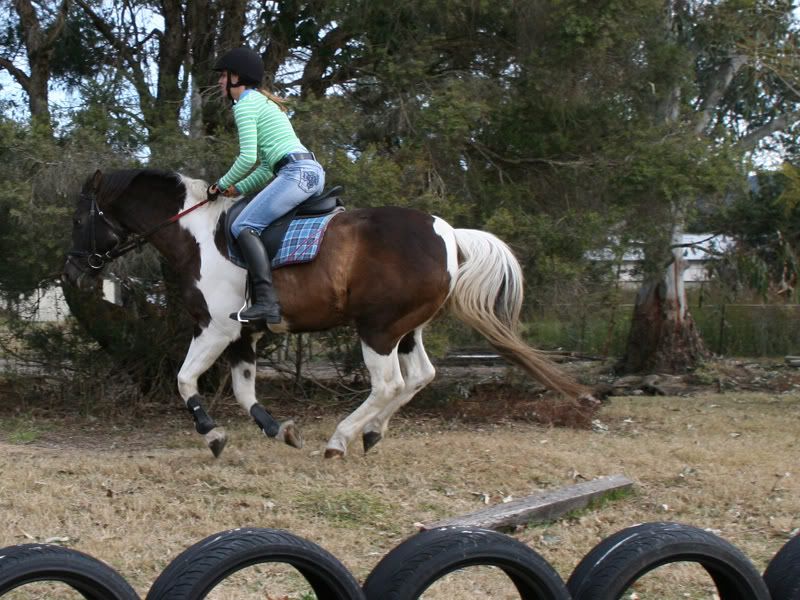 Down the back, 90cm drop
60cm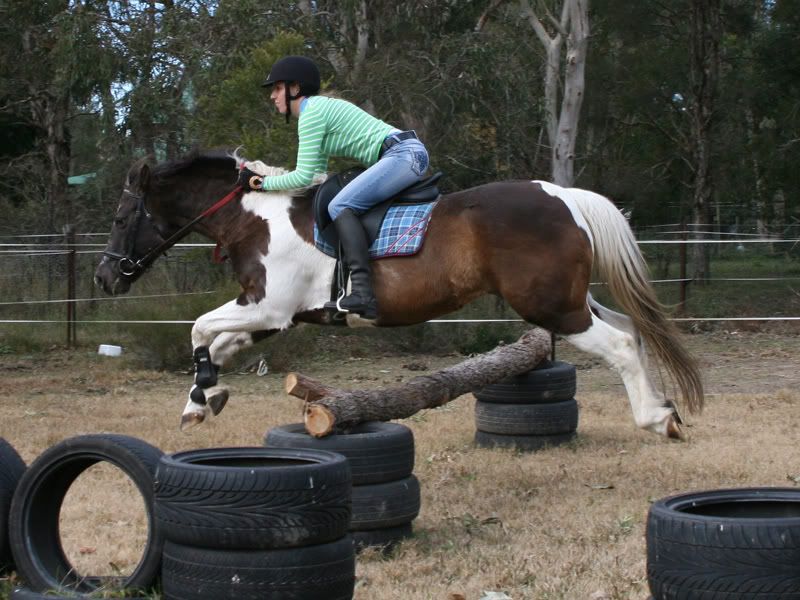 And we did it again...
decided to slide down this time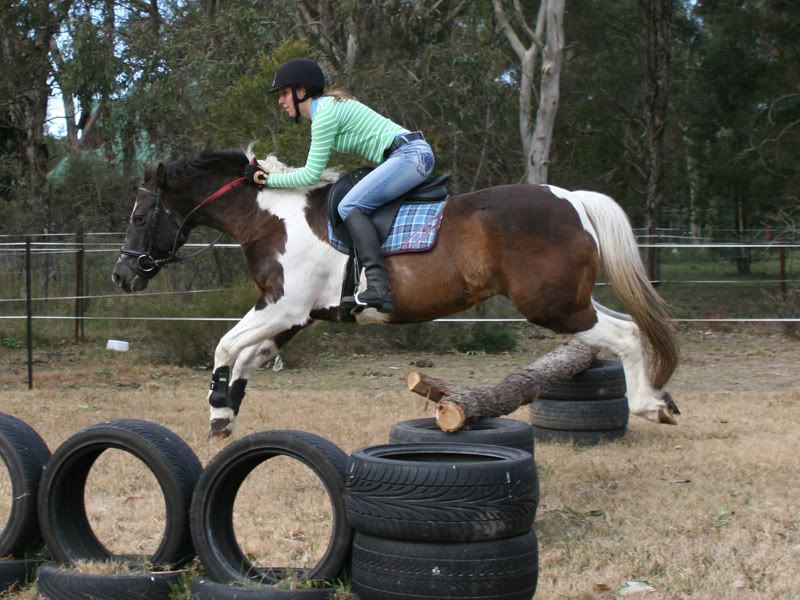 That was it for the morning, more for the afternoon to come!