Now jumping!
Just liked this cool action shot
I felt like I was going to fall off the saddle the whole time
I guess a crumby saddle should not be an excuse
Yeah this is one of the times I thought I was eating dirt
But I didn't
Weeeee
I know it is backwards but she was being a jerk and refusing so I tried the other way
And we finish on a high and I look ready to slide off the back
Then she had a break and Jon saddled her up in her western gear and I saddled up PJ and we went on a cool trail ride. No pics as we were being bums about the camera around our necks. But we went up and down these super steep hills, I was ready to poop my pants but PJ got me safely around, was so much fun and Jon looked so good on Sunday
9th September 2009
Ahh my legs! Just got back from LAH. Lucky I went today cause normally I don't but I was soooooo bored today. So I get there are the BM has a HUGE sigh of relief, she was 3 volunteers down, no calls to say they weren't coming, so she was in a bind, but I filled a place, she filled the other and then another lady who volunteers and came a couple hours early, thank god filled the last place, lucky kids! They were running two lessons simultaneously. So I side walked with a darling little boy named James, I don't thin kI had him before. He had a few issues, one was showing no emotions but today he kept perking up when the therapist sang to him, was so adorable
So after that I was handed Goldie to ride, yay! She went so well. All her w/t/c was lovely transitions down wobbly as usual but up they were nice, yay. So worked with all sorts of transitions up and down through the gaits. Then I saddled up Daisy. I am trying to work long and low with her. She is really getting it at the walk, lots of serpentine's and figure eights, her trot is a little spazzy on the 20m circle so we got nice and long on the sides but at a circle we just tried for an even tempo. Her canter was lovely, I only had to ask once and she sprung into action, apparently she has really been resisting canter lately but she seemed more than happy to please me at the canter which made me happy.
18th September 2009
Got my full drivers licence today, wooooooooo!
So to celebrate, trail riding! Janet and I went to Browns field where I took some pics and video and then we went to the Orchard and then jumped a stream to Boesch farm! Was the perfect day for it! Soooo....
Sunday and I getting ready!
Going along the road to get to the trail
Close up!
Weeeeee, loping up the field
At the top!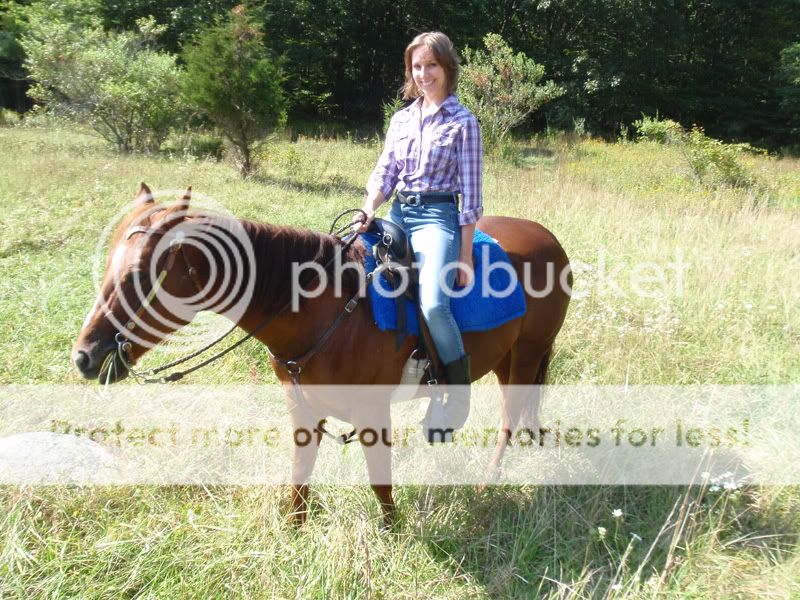 Looking back
Walking down
21st September 2009

Ahhh my legs! So I started with Goldie. We worked hard and it was good. Practiced walk/trot transitions and not falling into smaller circles at the canter. On a whole she is so pleasant to ride and so much fun, getting better each ride. Wish someone could take pics to show you but ah well.

Then Daisy. I jinxed myself when someone came in and saw me riding her without a crop, I declined the offer and then she turned into a huge brat. I swear that pony knows English. But there was a old dressage whip on the wall so I grabbed that and got her working nicely again. Worked on long and low at the trot using serpentine's and spirals. Kinda worked, as soon as someone walks past the door or comes within 10 metres of the arena her attention is taken, gah. But in the end I got some nice canter out of her and even some nice forward collected trot, yay!

Now my legs are like jelly from riding a huge fat Haflinger to a skinny runty appy. When I got on Daisy took me ages not not feel like I was about to slide off her head haha.
22nd September 2009

First day of Fall and I have a great day with Janet. First up we jump! Gene made us two picket fence jumps to put under our poles. Sunday was not impressed. I needed PJ and Janet to be a lead to get her over it finally but once she jumped it she was over it and happily jumped. We jumped about 70cm high today. Practicing getting our take off at the right spot. Sunday is real sneaky and takes advantage of me, the moment I come forward too early she does the dirty and stops, but if I sit back and really drive her forward she doesn't refuse a thing. Had me on my toes, haven't jumped much since May!!!

Then we went for a short trail ride to Boesch Farm, perfect day for it too. Some of the leaves are turning yellow already, I hope it is going to be an awesome Fall!
23rd September 2009

Looooooong day. I volunteered at Horse Know the Way Home. Was great to see behind the scenes and hopefully be some help!

Then out to LAH. I was a pony leader for an hour with Goldie. She bit me and was a brat whenever she had to stand, hmmf, but I made her practice after the kids for a little and she gave in and stood still. Then I put her away to have her dinner and watched and set up jumps for my friend riding Daisy. Daisy is such a cute little jumper. I took some vids which I might upload later. Then I saddled up Goldie in my jump saddle which fit her quite well and I popped her over a little x-rail and a 1 foot straight bar. She was such a brat trying to duck out but then giving up last minute and jumping. She also did 5 one tempi changes while ducking side to side to avoid the x-rail which she jumped in the end. Me and the other two girls riding with me where in stitches at her! Imagine a fat little haflinger mare doing one tempi changes as she approaches a jump!!!! Shame no videos of me as we where all riding at the time, would have been hilarious to get that! Then I helped another girl with jumping, gave her some pointers cause she was a little lost and had her pony jumping quite nicely in the end. Was a lot of fun, and then trail tomorrow, as long as it doesn't rain, feels like the sky in going to open any minute tonight!
28th September 2009

Went to LAH, saddled up Goldie. She was so good for me to groom and tack up, usually she can be a bit of a pain, pretending to nip and swing her head, I was suspicious haha. Then we had a brilliant ride. Warmed up, then I set trot poles out, just a tad longer than her short choppy stride and she didn't pole, so worked on getting an even rhythm after the trot poles. Kind of worked. Then I set them up as canter poles. First time she hit the second pole, just had two for the canter. Then she got the stride every time. Again I had set it slightly longer to make her stretch for it, so maybe next time I will use three or four canter poles. Then I set then up with opposite ends on boxes so a teeny jump, which she perfectly cantered over, got those feet up some more. She is just getting better and better each ride. Everyone else who rides there, not many others but, they all tell me how they just take her out and gallop her around so I feel like I am making something of her, not just bushwhacking, which can be fun and I hope to take her to the field to gallop soon but I feel that she is enjoying the challenges in the arena too.
3rd November 2009
Last Friday Jonathan and I went trail riding. Wooo! We did a little loops at Boesch farm with lots of big hills for the ponies to bound up. Was so much fun...
First up Jonathan and Sunday
She was ready to run
But we took it easy
Then PJ and I after wards
Then the ponies got schmexy new red rugs for hunting season
Then today I stopped by my friends place but no one was home. So I check to see if the ponies where in the stable, empty and my friends jump saddle was gone so I grabbed Sunday's english bridle and walked up the road to where the ponies graze. Was lovely. Caught Sunday, tacked her up and rode. She was real crazy and would not walk so we did lots of stopping and backing up. Eventually I drove her mad and she starte to behave. Then we did trot and canter. We finished with some simple changes which she did wonderfully. Then as I was cooling her out my friend drove up and she took the horses back and I drove her car back for her. Her husband is really sick in hospital :(
12th November 2009
Been so so busy with work and other things, not much riding time. But I volunteered last night and got a little 20 min on Goldie. She was great considering she knew her grain was in her stall. But sometimes all the barn drama there and lame people telling me how it is drives me crazy. Ahhh....
**Edit**
Stopped by my friends place this afternoon and decided I was in a jumping mood. Saddled up Sunday, warmed her up in the ring and then we jumped. She is just so darn cute. She was a little trail pony and now I am making her a little jumper pony and she is really coming along so well considering I barely get out there once a week and then I usually just trail ride with her. So the camera for the video I set up on one of the standards so you can only see one of the two jumps, but you can see her cute little jump pretty well. Also for some reason she HATES cross rails, so the fact she did it here first try, no refusal is amazing, normally I cannot get her over a cross rail but a straight bar she pops right over.


And yes some geese fly overhead making a racket for a bit...