Tuesday 5th August 2008, afternoon.
Saddle both boys up and Mother I went on a trail ride. We did a good 1.5 hours all over the place. Not sure of the distance but it is all flat where we live. So here are some pics...
Before we left we put Spider and Angel in the front...
Quick pose at the front gate...
Spider got mad once we started to leave and ran about...
Here we had to make our own trail because a fence for the quarries cuts us off!
Kai and I on the fire trail...
This track reminded me of Rhode Island with all the rocks...
Why would council bother to put a sign here in the middle of nowhere?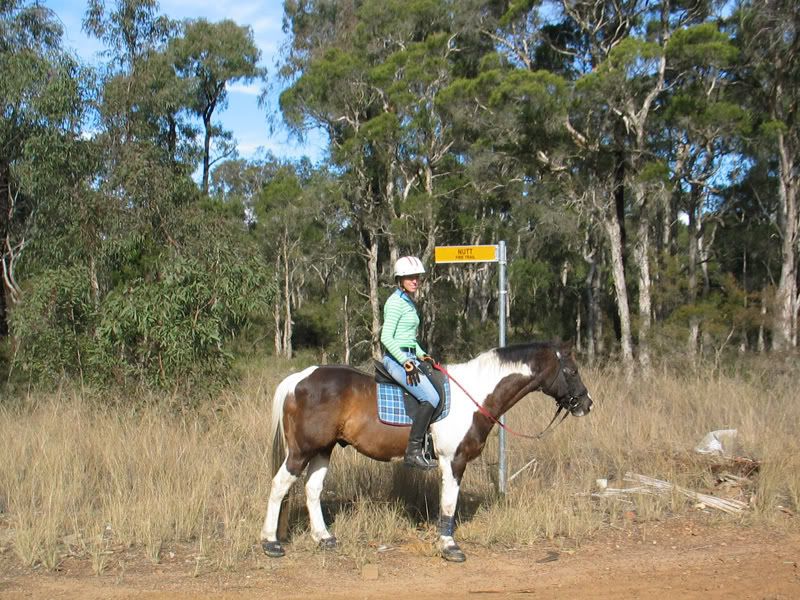 See the mountains through the trees? Thats the Great Dividing Range aka Blue Mountains.
Com was a good boy for mother...
A cool tree that bent over and spread out...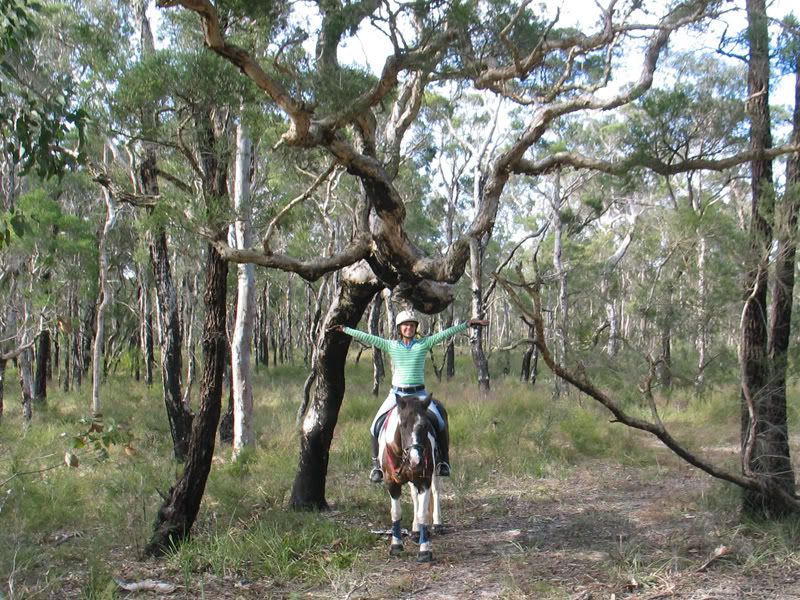 See the 'roo?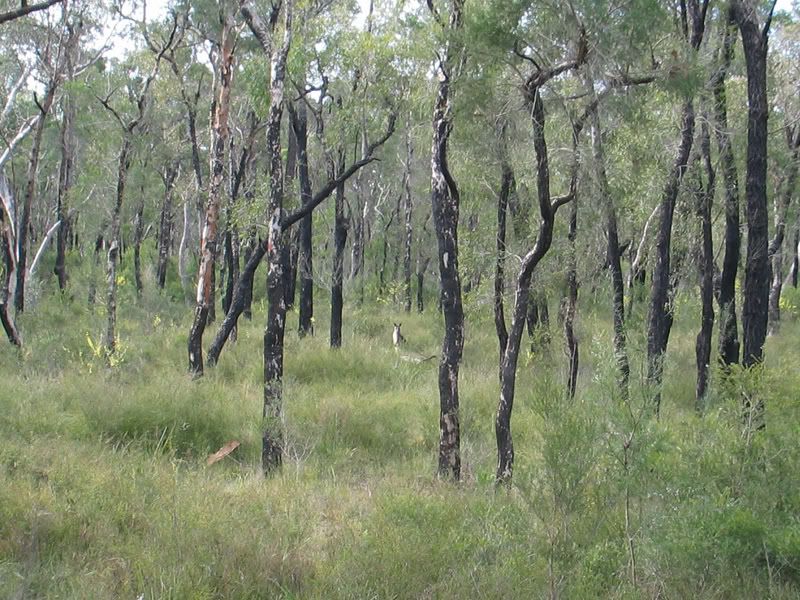 The bush is so pretty with all the wattle about...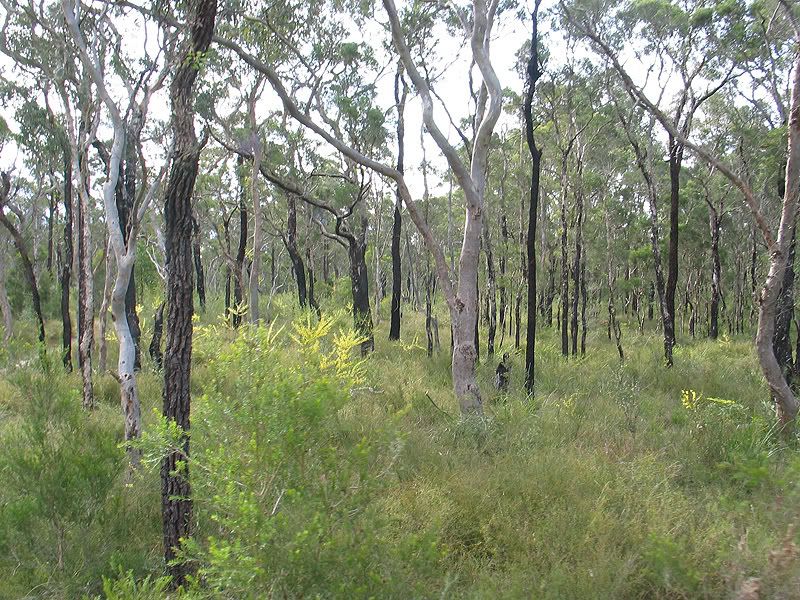 Almost home and resting my legs hehe...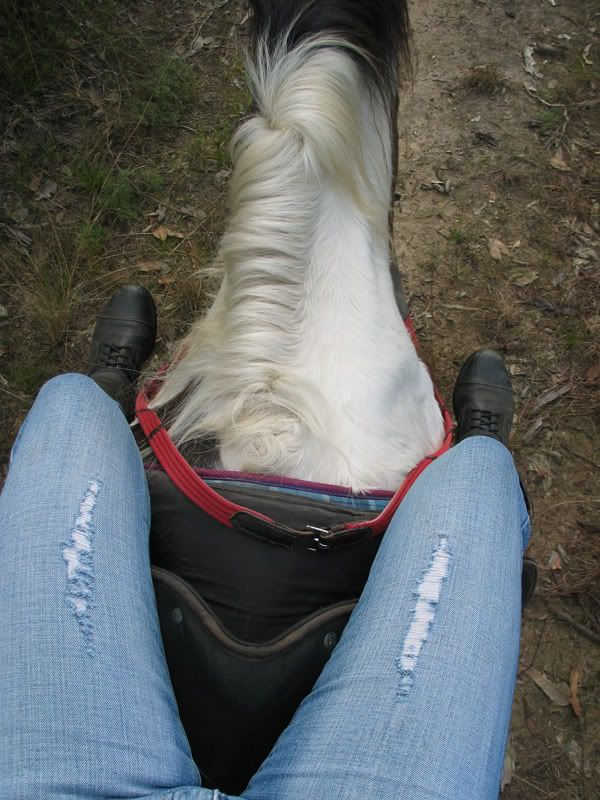 Say "Hi" to mother!
Me having fun!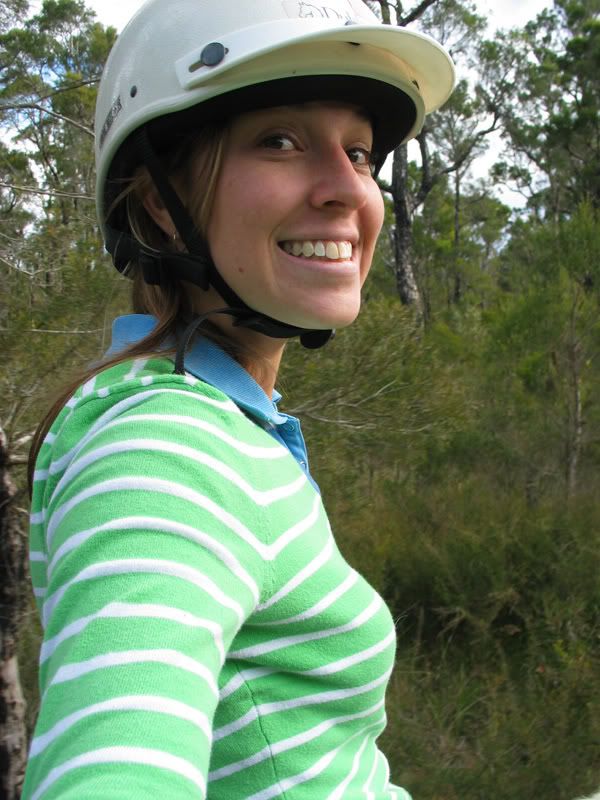 Nearly home!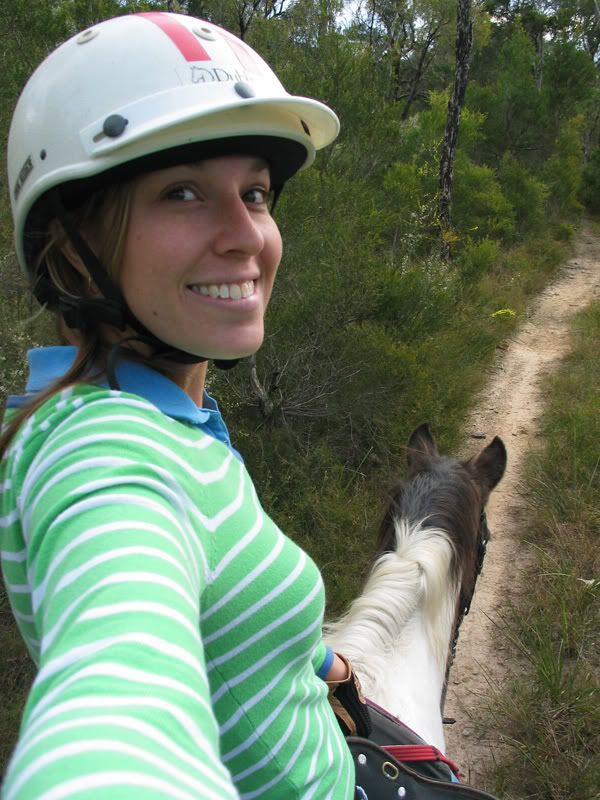 Hot choccy after we get the horses settled, I was freezing cold!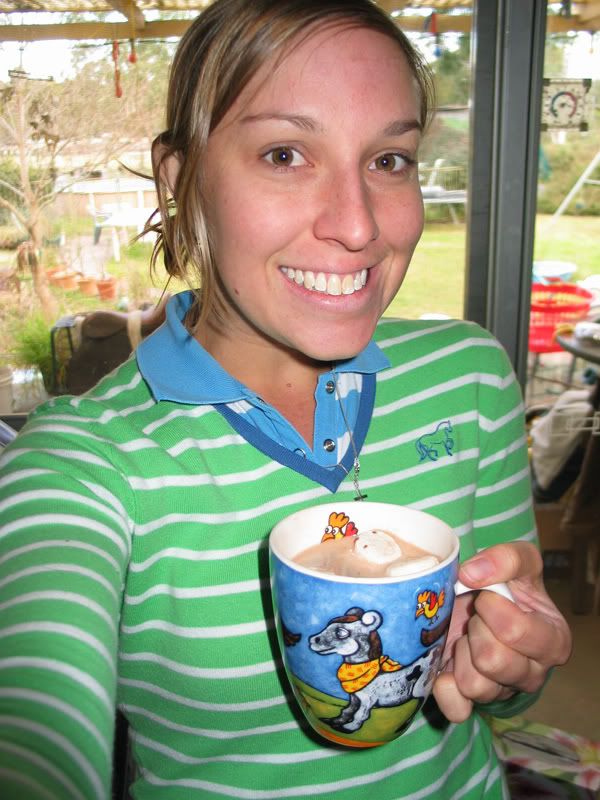 Hope you enjoyed the trail pics!
Your two ponies are very nice looking! How tall are they? They only look about 14.2 and the one, im guessing his name is Kai; he is a phenominal jumper. You look great yourself. Your position is very nice. Keep up the great work with the both of them! You should think about entering them in some hunter shows!
Thanks Chelsss, Kai is 14.1hh and Comanche is 14.2 (just scrapes through in pony dressage hehe)

In Australia I don't think I have ever seen a hunter show. Kai and I are jumpers, we tend to be rather fast, to put it lightly. He is going to be 19 years this October but he acts like an uneducated 5 year old when we are in public :S I once took Comanche in an equitation over fences show and we he was in a foul mood that day and slopped over everything. We have an optimum time event on the 24th, taking Com because Kai and I usually come in waaaaaay under time, Com is a little more steady.

So while I am typing here I will list the shows that I have coming this month...

14th- Twilight jumping at SIEC, taking Kai in 70cm AM7 and 80cm AM7 classes.
17th- Sydney Jump Club Comp day, taking Kai in 70cm AM7 and 80cm AM7
21st- Twilight jumping at SIEC, taking Kai hopefully in 80cm AM7 and 90cm AM7, see how he goes at the other events
23rd- KRC Dressage, taking Com in Prelim and Novice test (can't remember the numbers at the moment hehe.
24th- Hoofbeats open Jumping, taking Com in Optimum time not sure what height yet.
6th August 2008
I rode Kai today, saddled him up for jumping. He was in a really bad mood and I decided to just ride him out of it. Warm up was a disaster, he wouldn't listen and we were all over the place. Once I had him calm at the trot and listening, we started to jump. We did a little course around the paddock twice. He settled down a bit but some of our distances where rather off and mum's timing was a little off so not the greatest timing for pics hehe, shows different faults of mine. So onto the jumping pics...
75cm
First part of 60cm grid...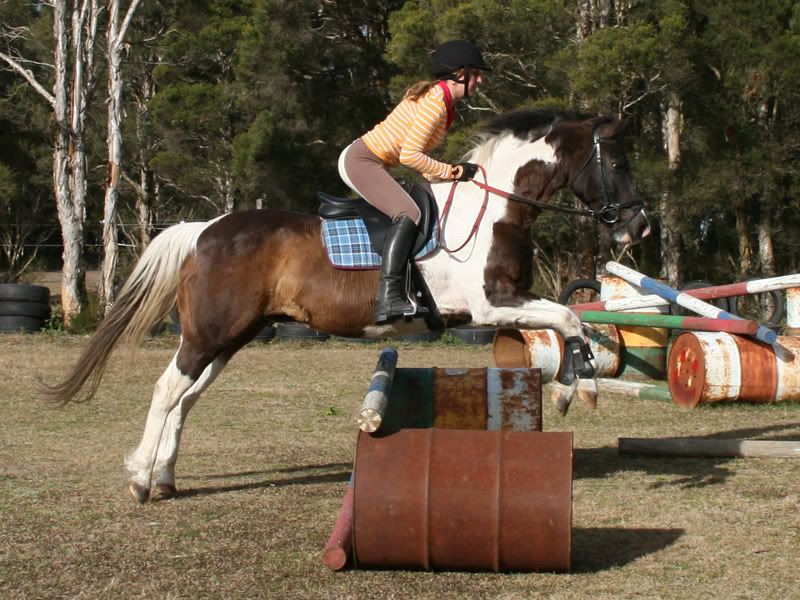 Second part...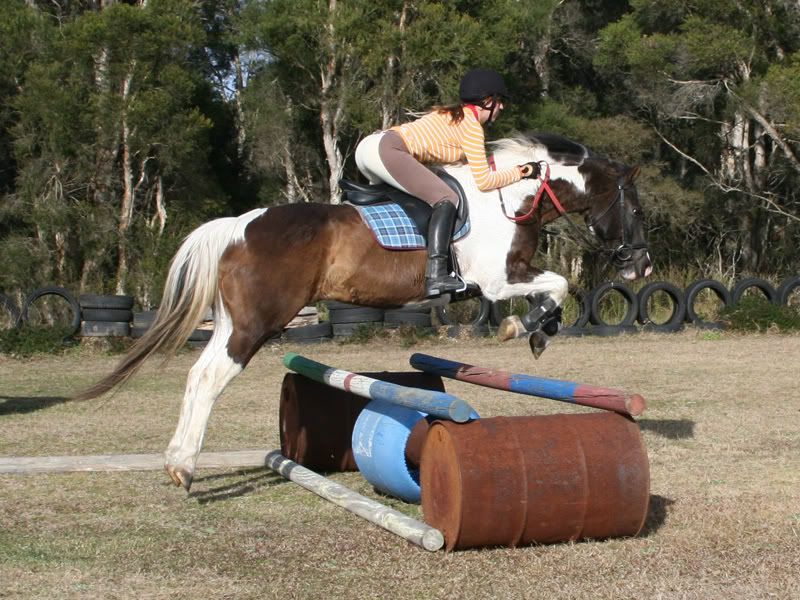 75cm...
Mum missed our 85cm, so a landing...
75cm, Kai is so cute
Looooong spot on 75cm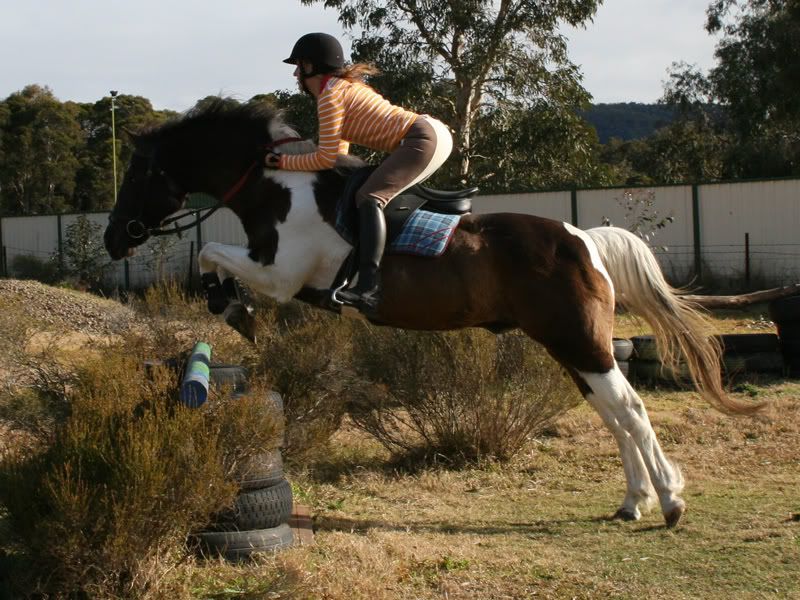 Weee so cute over this one again
1.05m, I look so bleh! I was so nervous...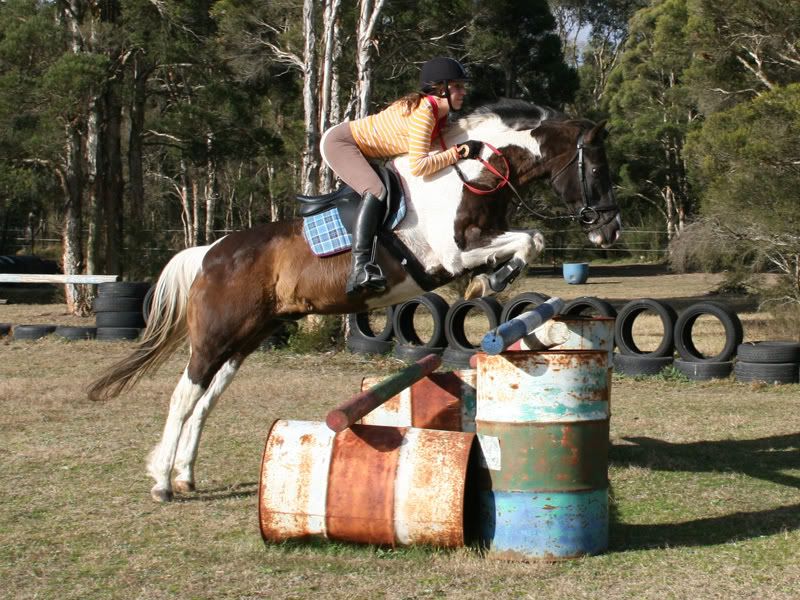 And one last jump, the 75cm again
I was really happy with his jumping, he was so bold and didn;t refuse a thing as usual, I was really proud how he just popped over the 1.05m without so much as a blink of an eye
Then afterwards I had my student who I give lessons on Comanche. She did really well and had him cantering beautifully. I also popped the grid down and she canter through that at itty cross rails very nicely too.
Woke up at 7:30, ran out, fed Com, ate my brekkie, got dressed then saddled Com up! Put a jump saddle on, warmed him up, w/t/c. He was pretty good with warm up, no spooking, yay!
So when we started jumping mother bundled up and came out to play photographer as usual! So now some pics...
First jump of the day and classic Com style. He canters beautifully up to the jump, pauses, then jumps :S
The second jump and the best one of the day!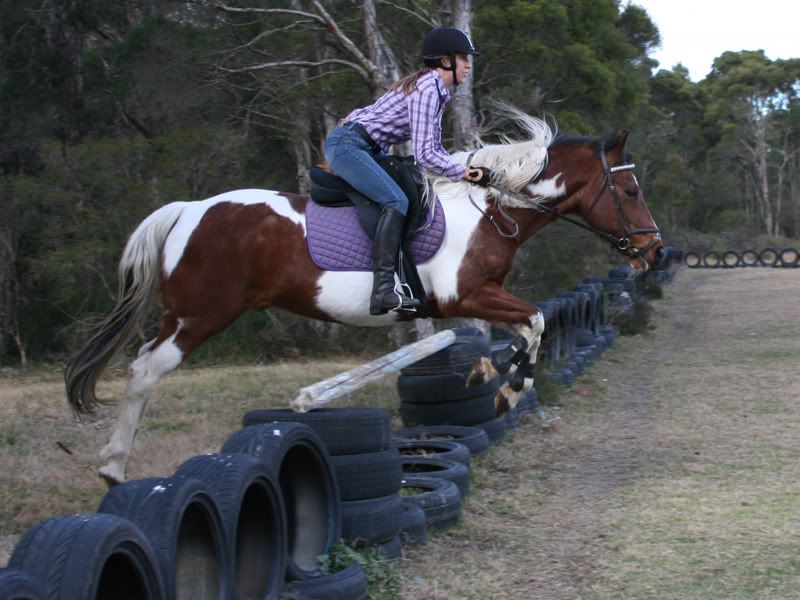 First part of grid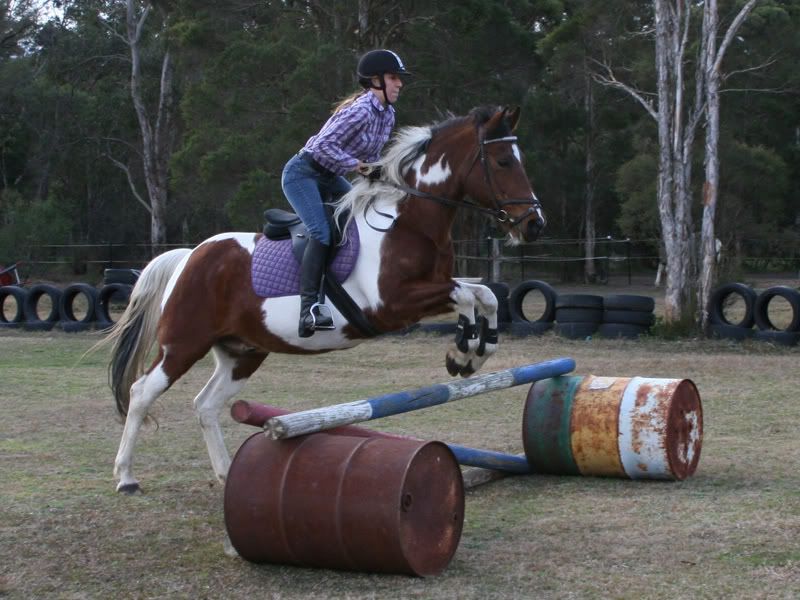 Second part
Ducked out on first attempt at this one!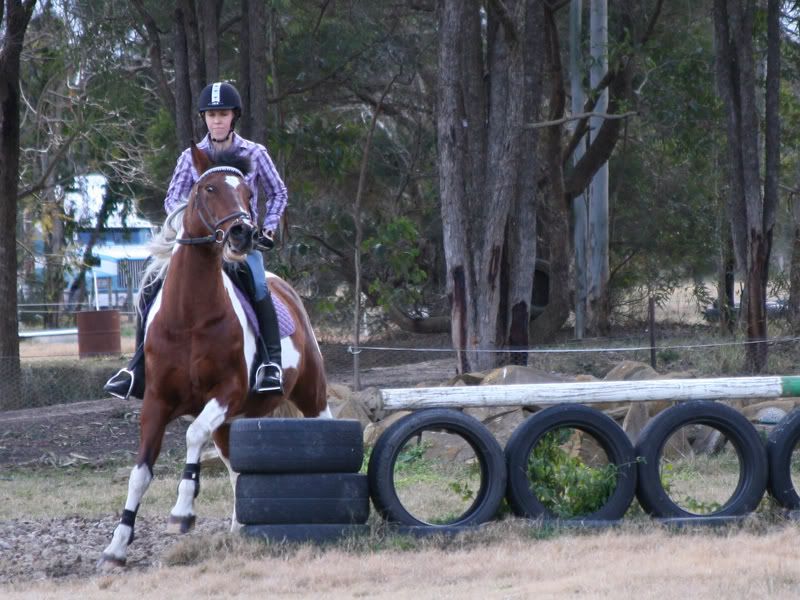 Got him over no problems second attempt, just dug my leg into him.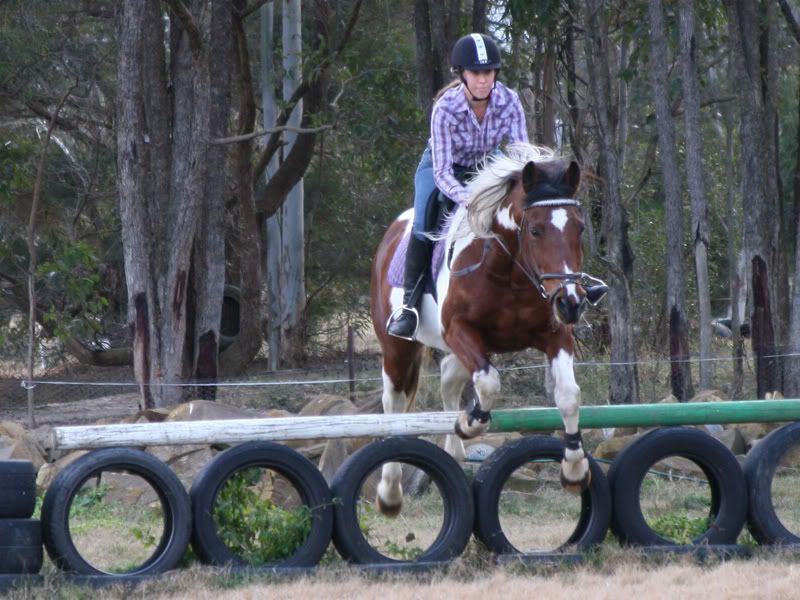 Biggest jump of the day, 85cm,
Because of him ducking out I took him over this combo again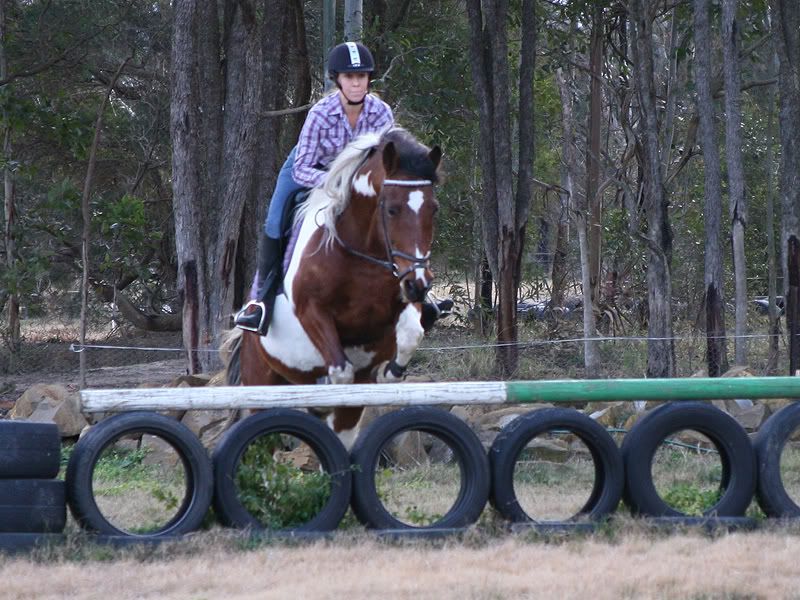 Me getting left when he paused then jumped
Cool pic after we landed
How I stayed on, I don't know. He stopped at this one then jumped!
So cute
Going down the bank
Cross country jumo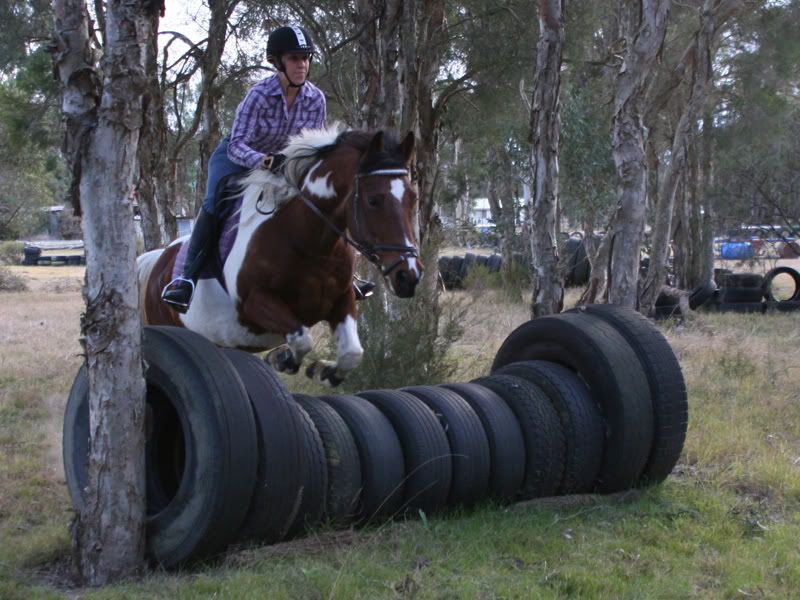 I don't know what I am doing but funny pic of me sticking my tongue out
Pose quickly before I cool him out and go to work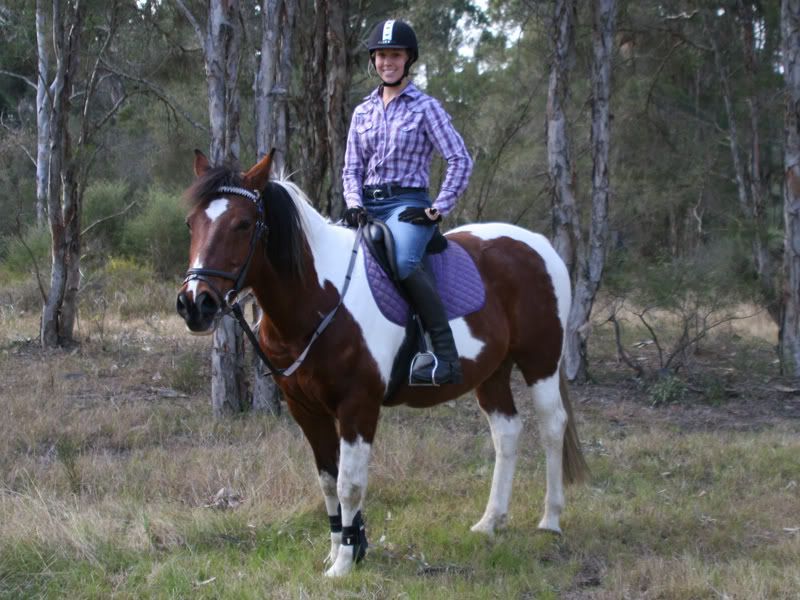 10th August 2008
Kai has had three days off because of my work commitments and weather, but it is good for him I think to have a nice break. So today I saddled him up and we had a great ride. His walk was rather disagreeable but he trotted nicely and his canter was rocking horse smooth. Then we jumped, so onto pics...
First up, Dad trimmed Com's feet for me...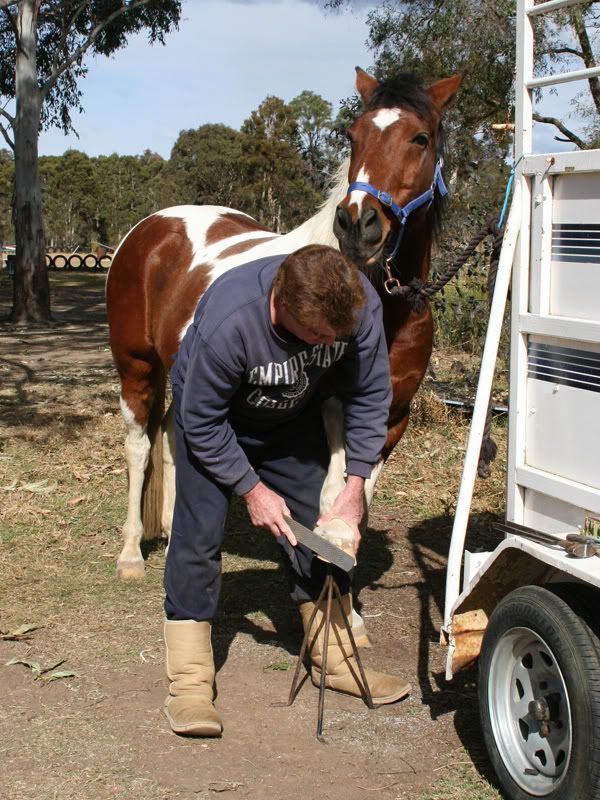 Canter
Relaxing trot before we jump
Itty cross rail with a barrel in front to start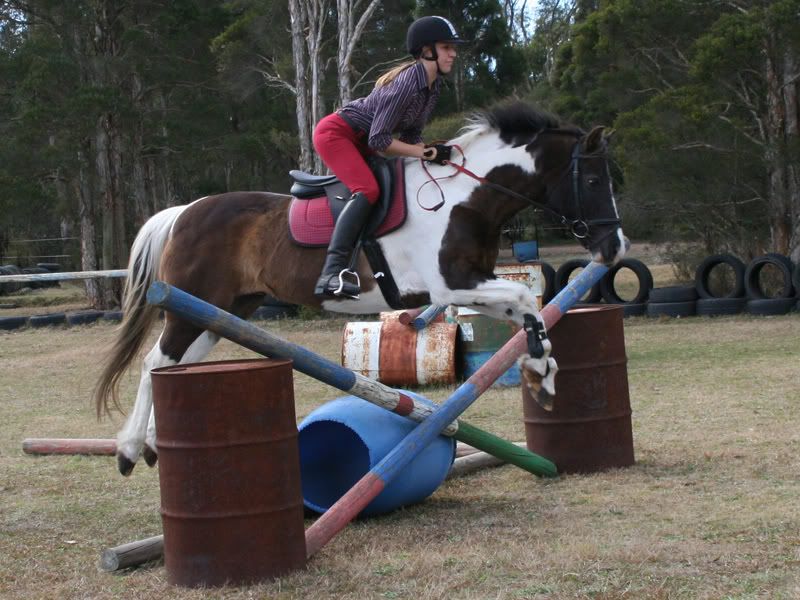 75cm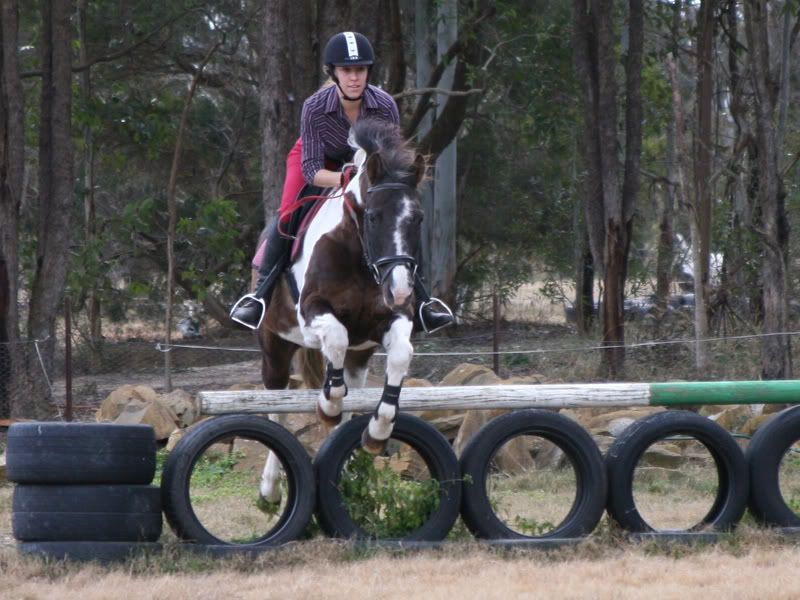 85cm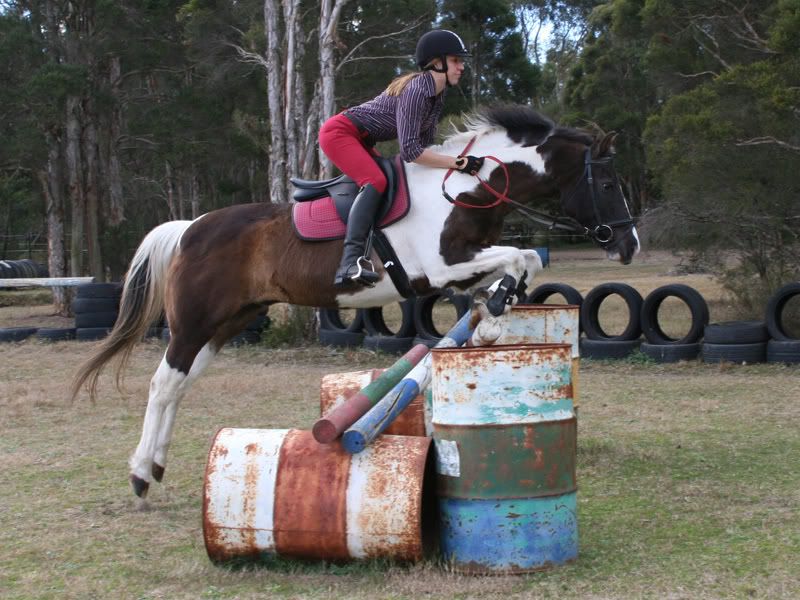 70cm
75cm
85cm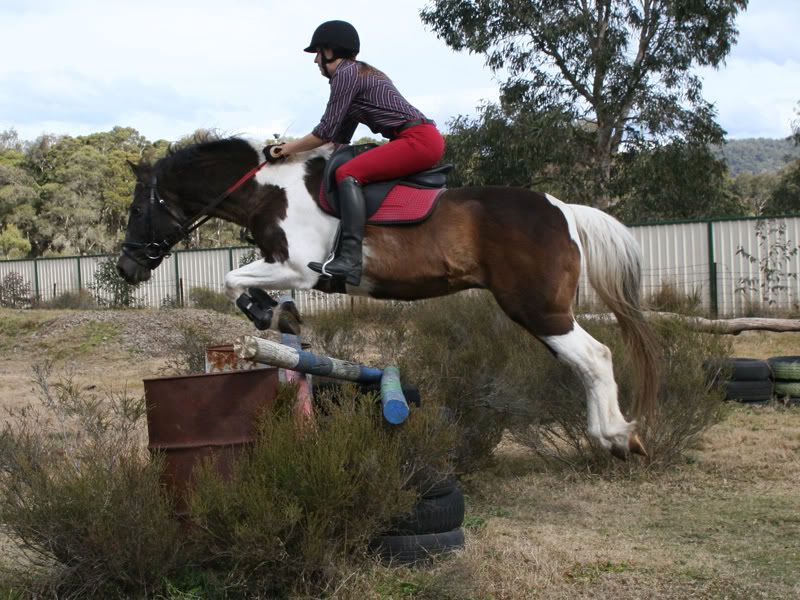 75cm
75cm again (I was taking him around to simulate a course)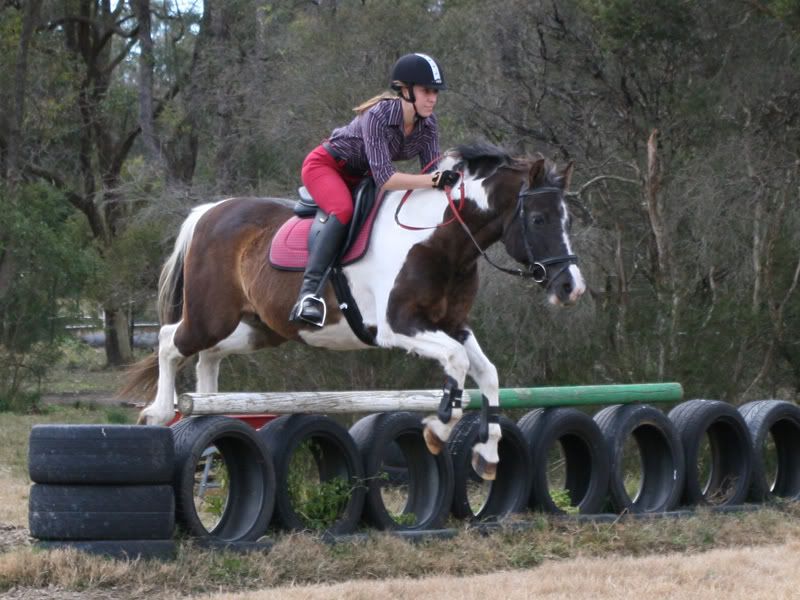 Big red butt over the 85cm again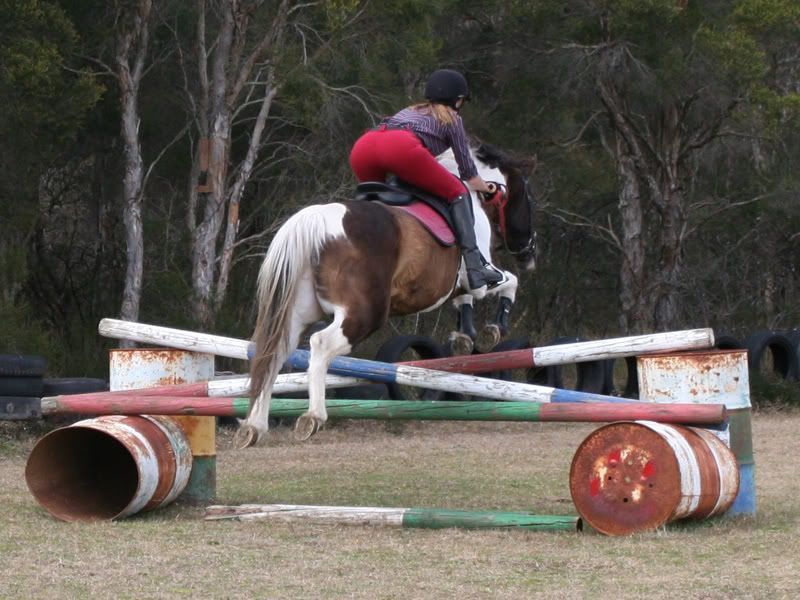 Part 1 1.05m
Part 2 1.05m
Last jump 75cm
Me so happy that he did the 1.05m with no problem!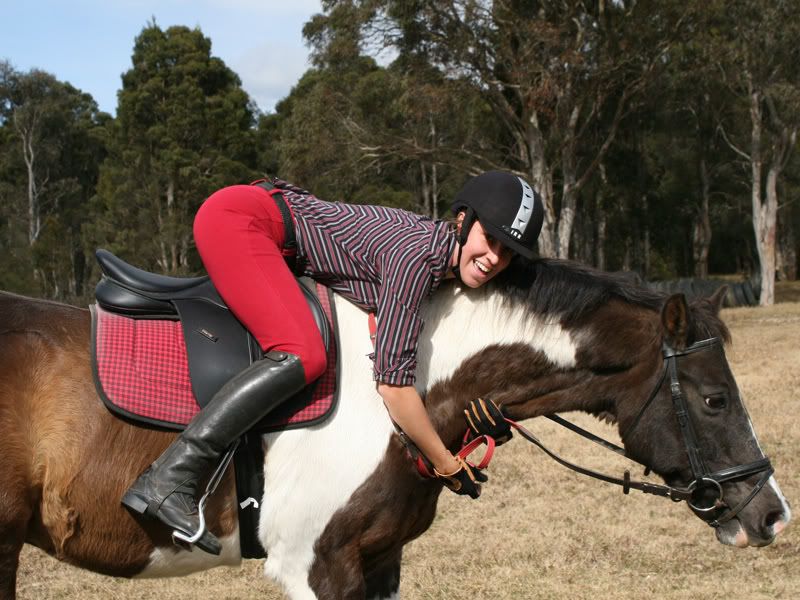 A pose in front of it
Com pics coming...
Now Com's turn, but a strong wind was blowing and the clouds where dark...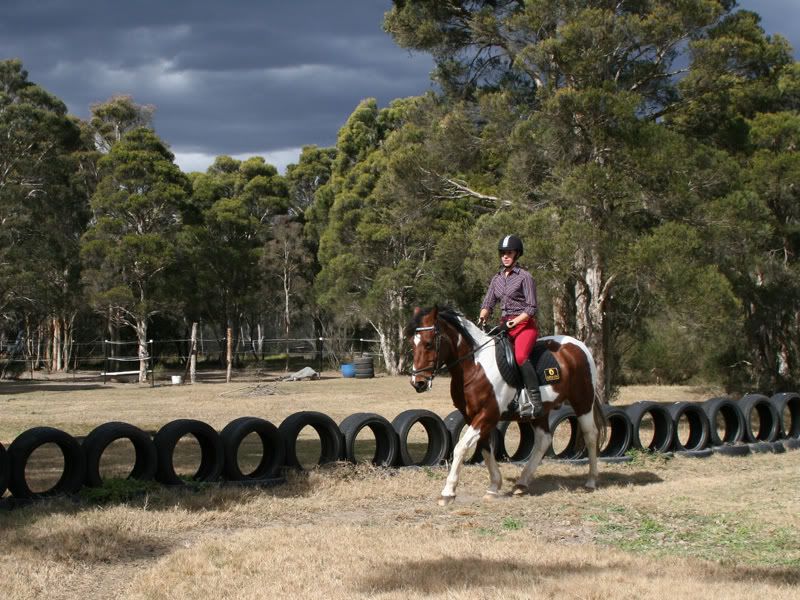 So we just do flat work, he is a spooker in the wind...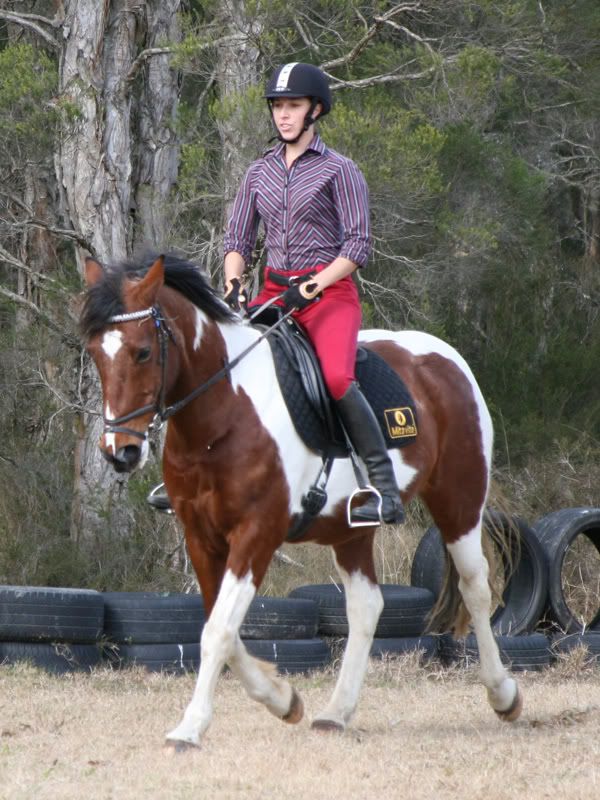 Nice forward trot today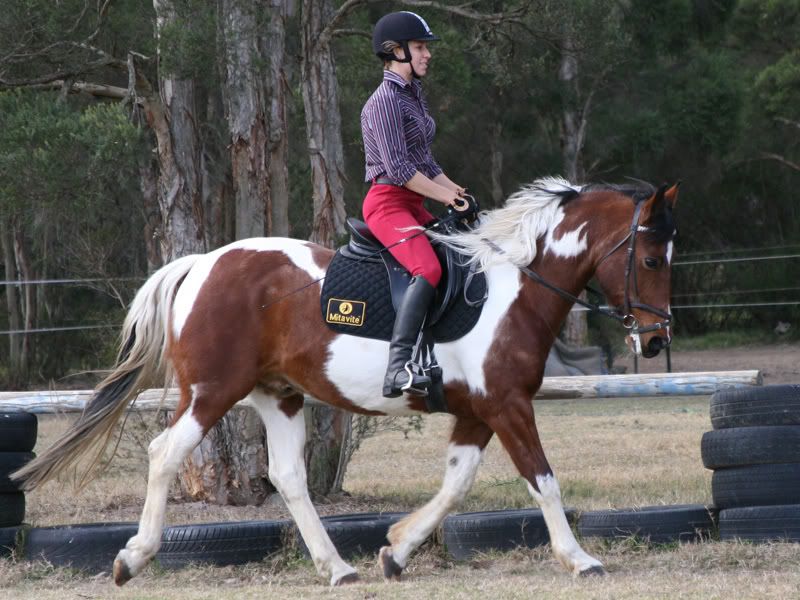 Canter, he was great on the long sides but a little wobbly on the circle
More trot
Other side canter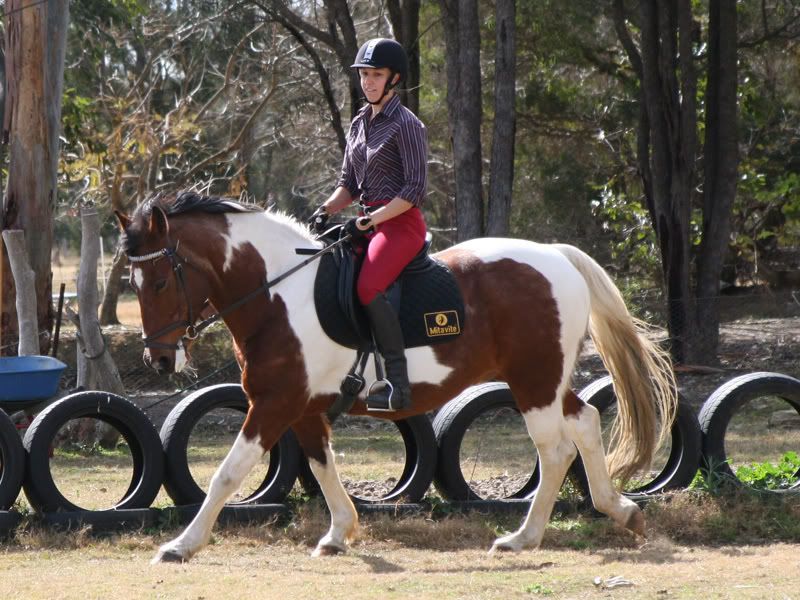 We practiced some square halts from trot, this was the best :S
We need to work on that back leg, any help???
Thanks for looking! Comments and feedback welcome!
11th August 2008
Started the riding with Kai today after I cleaned the yards and paddocks and rigged up some more jumps or improved old ones. Kai warmed up so slow and calm it was great but his jumping was terrible! We had refusals :( I was upset as we had been going so well! It seems I cursed myself by having a nice warm up instead of a crazy one meant a crazy jumping session. So onto Kai pics...
First jump we started with the itty barrel
He launched himself at the 85cm
Nice through the 75cm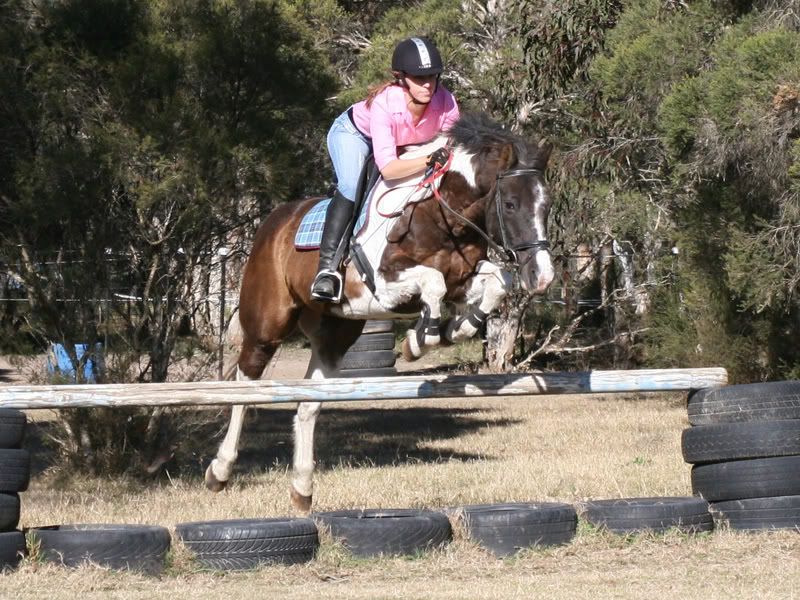 Then he bailed with me at this new jump, it is only 75cm!
But I got him over
Then I didn't like how he did this before so we try again and even worse!
So I really ride deep and over we go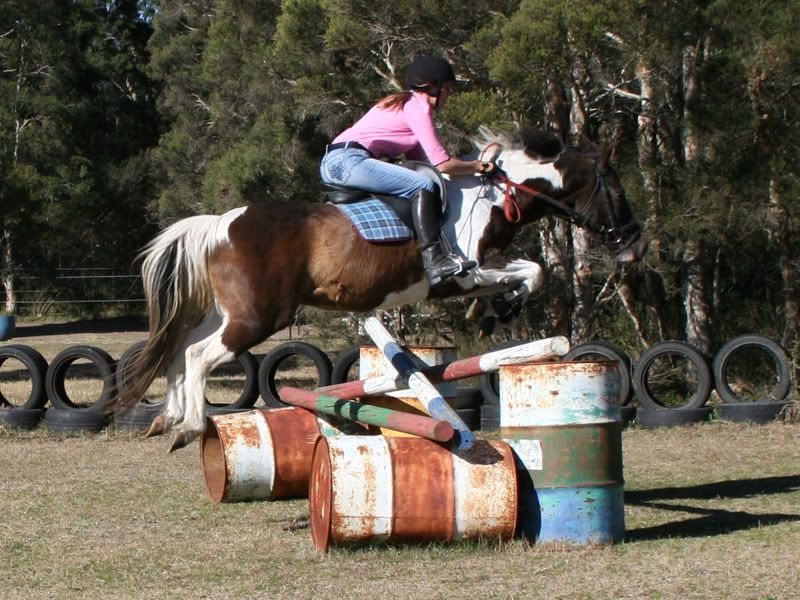 We had 3 refusals at the 1.05m that we had no problems with yesterday :(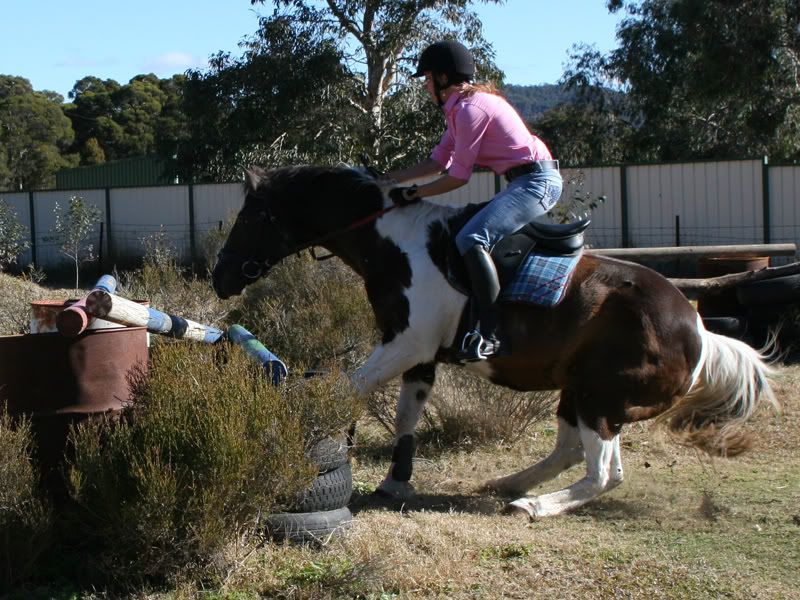 So with a tap of the whip and riding him deep we go oVEr...
And we go around some more
1.05m no problems!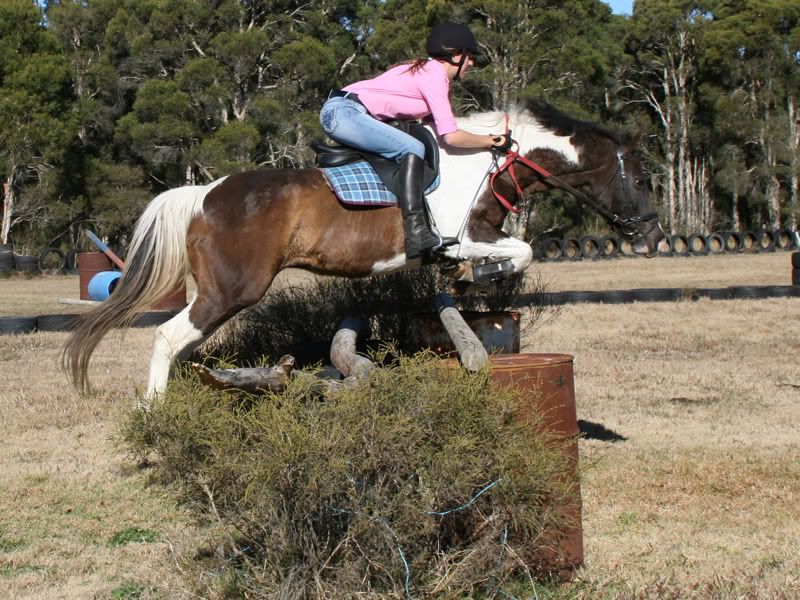 So we go one more time to finish on a good note..75cm
1.05m
And a pose in front of the jump and I am pulling a strange face :S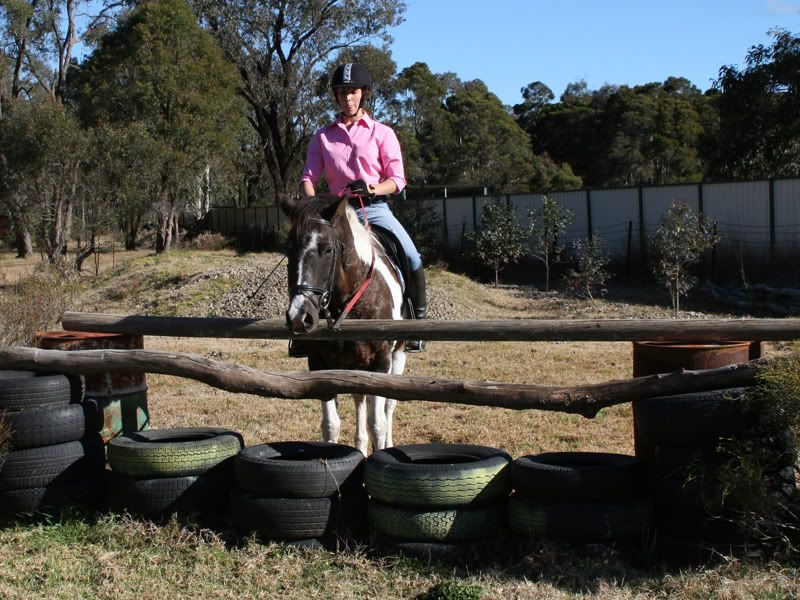 Com pics to come...
Saddled Com up for jumping and what a nice change to Kai. He was so nice and relaxed and just did as he was asked. The only issue we had was tripping at the canter on corners! His feet are nice and trim, he feels balanced but wham, he trips! Anyway onto his pics, the battery in the SLR died so mum ran and got the compact so we have a video too...
Started him over the itty barre too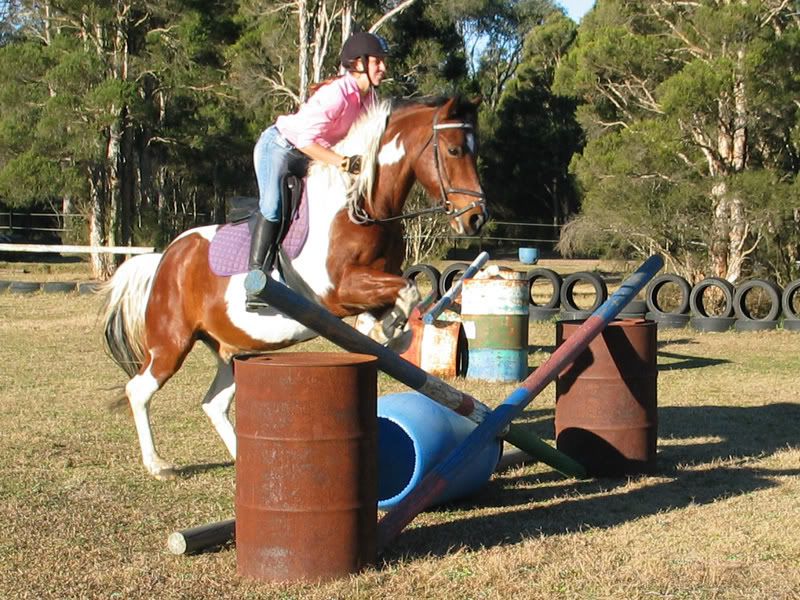 He was jumping so much smoother today so I wasn't too bad staying with him
Landing pic, the compact camera takes forever to write to the flash card...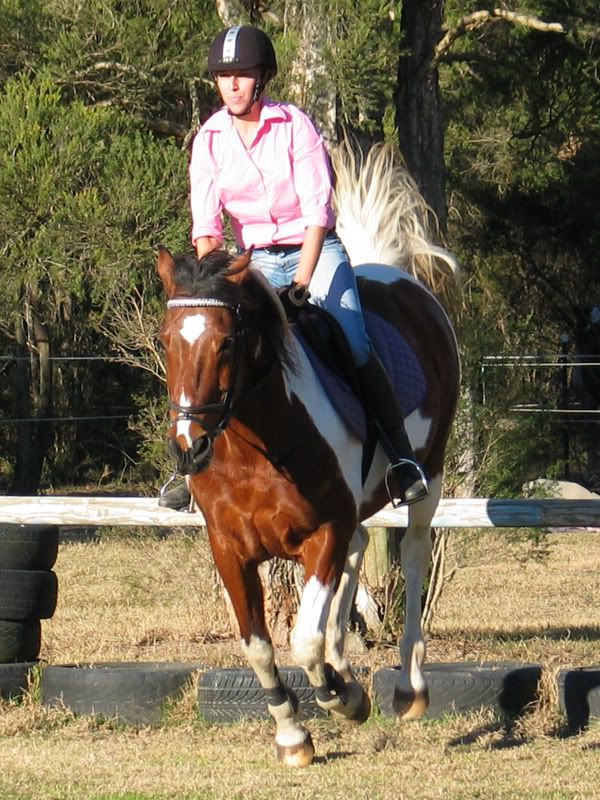 85cm
Video of our second and last time around a mini course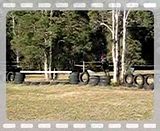 Ahhh then the fun doesn't stop there....
I cooled Com out then mum and I worked with Angel. We are teaching her to lunge and this was the third time we worked together and she went soooo well. She was responding to walk, trot and halt commands, the first time we tried she didn't respond to anything, so we were both really happy with her!
So no pics of Angel cause we were both working with her. I had a wonderful pinto pony powered afternoon.