Raina Ramblings
---
LOG 1, 09/16/2012
I supposed I should start blogging about Raina's progress to keep me in perspective for when I feel like things aren't going so well. I'll start with a little backstory.
Raina was born into a trail riding facility, out of a thoroughbred named Tuf Tami and by a Quarter Horse stud, Say Mr James. She was Say Mr Jame's last offspring. I never got a good look at her sire since he was the psycho stud in the stall that used to charge the entrance everytime anyone walked by. As a kids, we dared eachother to see how close anyone would go to his stall without running away.
Tuf Tami was a thoroughbred acquired by the BO so she could have an appendix foal. I'm not sure there was any other reason for her. I never saw her, and Raina's papers indicate that Tami was pretty old to start with. Anyways, she's no longer there.
I met Raina in 2009 when I had a little black appendix horse named Tawnie. I was training two horses in return for Tawnie's board and Raina was one of them. The BO (long since aquaintance) wanted Raina trained into a trail horse. I had a quick background on the mare before I started: Raina was spirited. She couldn't tie because she's rear up and flip over. She didn't canter because she'd buck. She didn't go out on trails because she reared. The BO was trying to sell her for $1200 I believe, after the training was done.
Raina reared up and broke 2 halters with me. The third time she reared up, I got after her with a cotton lead rope and she didn't do it again. I started arena work with Raina, getting her to soften and direct all of her extra energy into something positive. After a couple weeks in the arena, we hit the trails.
She was doing well as a trail horse. Every trail was better than the last until I felt I could trust her with my little sister. I took my black mare, Tawnie (who was barely green broke) out, and my sister took Raina. Everything ended well and there were no issues.
After a couple months, Raina was doing spins and rollbacks in the arena, and she was doing great on trails. She was still fiery though, and I cautioned that to the BO. It was time for me to leave the barn and so our training came to an end.
Two years later I recieved a text from my BO (who I hadn't trained or boarded with in about 2 years) telling me that Raina was back. She had sold her after I left, and whoever bought her, gave her back. She then tried to lease her out to no avail. She asked me if I wanted her since I always raved about what a great horse she was. I asked her the selling price. She said I could just have her for FREE.
I discussed that with my husband at the time, and he said yes. I could have her. I was extatic...it was decided that Raina would stay there until we could come and get her, and we would pay board before hauling her out. A couple weeks later, I had to disappear due to some domestic violence issues. My husband called the BO and asked if she knew where I was. She said no. My husband told the BO he would like to pay her board and move Raina. My BO said No. No one was moving Raina until she heard from me, personally.
Raina sat in the pasture from September 2011 until June 2012, while I lived in a domestic violence shelter or at a friend's house out of state. The BO wanted me to sign a bill of sale and I asked her if we could wait until the divorce went through, so my husband couldn't take her. She agreed.
I am back in the state now, divorced and happy. I see Raina about 2 or 3 times a week when I don't have my daughter with me, and about once a week when I do.
When I came back into state, Raina was fat and happy and ready to go. Though she did one thing that she never did before, she runs from me in the pasture. I have to wonder what happened to make her do that, since she was always happy to come down into the arena for work. She has gotten a bit herd sour. I learned this on our second ride, when she fought with me to go back to the gate.
I think this log has gotten long enough. I'll write another one shortly to try and get things up to date.
This is Raina, the day she was given to me. The BO sent a pic of her over text message:
---
And those who were seen dancing were thought to be insane by those who could not hear the music
---
Last edited by Copperhead; 09-16-2012 at

09:02 PM

.
Log 2, 09/16/2012
First ride on Raina happened 4 months after I was given her, Jan. 29, 2012. I moved back "into the area"...well, not so much. I was 4 hours away from the barn and I so desperately wanted to see her. So I drove the 4 hours to check up on her and see how she was.
When I got out to the barn, I found her laying in a bunch of hay, happy as could be.
She got up and started moving away when she realized I had a halter. She never used to run from people. I suppose she picked up the habit with the owner who gave her back.
I hooked her to the wall...and she stayed tied. Good girl. I saddled her with the saddle that was offered to me to use at the time, and used the bridle she had always been ridden in. The saddle itself was a touch too small for her, and the bit was tom thumb. But I figured she had always been ridden in it and I shouldn't be changing bits on her out of nowhere, so I went with it.
Surprisingly, we were on two legs from the barn until we got to the woods. We had trained out of that 2 years ago and I guess it was back. She was fine when we got to the woods and we had a rather high-speed trail ride. She power-walked the whole time. I could see her confidence was gone.
We made it through alright though and nothing else happened the entire visit. She stood queitly on the wall so I could untack her and she stopped for a drink after I set her loose in the pasture. I didn't get to see her again for another 5 months.
---
And those who were seen dancing were thought to be insane by those who could not hear the music
Log 3, 09/16/2012
I finally moved back into state. It was June 10th when I was able to go see Raina. I moved back into the area a day before, I believe.
The saddle I had before didn't fit her, so I had to go bareback until I sold it for another one. I switched Raina's bit to a simple snaffle which she liked a lot better. None of the head-tossing I was seeing back in Jan.
I rode her bareback for about 45 minutes and we worked on leg commands, and slowing and stopping from seat. She picked up on it wonderfully. All I had to do was sink my weight and she'd go from a trot to walk, and from a walk to trot without any rein aids. That was my first sign of hope that not everything I had done with her was lost.
Over the next few weeks, her hair-do would change, as well as her attire. The BO got in a new roundbale holder and Raina had rubbed off a chunk of her mane in the middle. The BO appologized and I asked "For what? She's a pasture horse, not a show mount". I did end up pulling the rest of her mane though so it didn't look so funky. She stood for it like a champ...partially because I don't think she knew what I was doing.
We were also cantering without bucking. Big progression! I had to buy a dressage whip and all it took were a couple taps, and we were back in business again.
Though the new saddle fit HER, it was KILLING me and my tailbone. The last draw was when I rode her for about an hour and literally couldn't sit the next day because of it.
Two years ago, Raina neckreined. Now she does it only occasionally. I believe this is a balance issue. While cantering, I have to use unilateral halfhalts to pick her up and rebalance her and the halfhalting rein depended on which side we were working on. The last time I worked her seriously, I was using bilateral halfhalts with my seat, and she responded to it very well since she is beginning to understand where her balance is.
With the unilateral halfhalts came neckreining again, and she's not as prevelant about it as she used to be. This is something we have to work on for the future. But again, I feel that once she gathers the correct balance and gait, neckreining won't be such a challenge anymore.
I do believe she's been ripped around by one rein though, since she would neckrein so well 3 years ago. Instead of using their legs to reinforce the turn, they just ripped on her face in the direction they wanted to go, causing her to fall into the turn.
The last time I cantered her in the arena, I was using one rein and halfhalting with my seat, and she'd listen. We are still working on things though.
There came a time where a friend of mine wanted to ride a horse. And Raina was going so well...so...I opted to put him on Raina.
She did VERY WELL for carting around a new beginner. She was a lot more patient than I thought she would be, and within 15 minutes, I set them free off the lungeline. Her patience lasted about 45 minutes and she was done with this newbie on her back, so thats when I got on and put her back into work. She kept balking at the gate and I wasn't about to let her get away with it the way she could with a beginner. After about 15 minutes, she settled down and we ended on a good note.
---
And those who were seen dancing were thought to be insane by those who could not hear the music
Log 4, 09/16/2012
September 4, 2012, I enrolled my 3 year old daughter in horseback riding lessons with my BO, who gave me my start when I was younger. This was not only to feed my daughter's growing obsession with horses, but to also secretly get me up at the barn to ride Raina. Its very hard for me to get to the barn when I have my daughter, so this gave me a baby-sitter who taught my daughter how to ride, as well as give me Raina time.
At this point in time, my new saddle came in the mail.
And I wanted so desperately to try it. While my BO was busy with my daughter, I caught Raina, tossed the saddle on her, and went to join my daughter in the arena. The saddle fit Raina perfectly and I was exctatic!
We didn't work on much that day. I was mainly just out to enjoy Raina and let my daughter have fun. We did work on our walk/halt transitions and our trot/walk transitions. At the end, I cantered her and that didn't go so well. Mainly because I didn't give her enough time to really warm up to work. The canter to the right was much better than the one to the left, much to my surprise.
And the saddle gave me enough room to actually ride instead of being smashed into the cantle, like the other one did. All in all, it was a pretty decent ride and one of the only times I got Raina out to actually just enjoy her, not work her.
No rearing on the wall.
No bucking at the canter.
Still herd sour. Her ears went up and she greeted me, but then she wanted to leave me behind.
---
And those who were seen dancing were thought to be insane by those who could not hear the music
Log 5, 09/16/2012
September 9, 2012... I lacked the money for a b-day gift, so I asked my BO if I could use one of her horses to take my sister on a trail ride. She said yes, and so we headed up to the barn.
I forgot my barrel saddle for my sister to use...I only had one saddle and two horses to equip, so I coughed up my new roping saddle for my sister and elected to go bareback on Raina.
We brought the horses in from the pasture. Once again, Raina ran from me. I'm getting a little frustrated with this, but I stayed calm. When we came into the barn, all but one wall-tie was taken, so I told my sister to tie her horse to the wall and I'll tie Raina to one of the empty stalls.
After about 5 minutes of being tied to the stall, Raina reared up, pulled the bar loose, and freed herself. I was a bit shocked. She hadn't done that in a long time. Why today? The last time she did that, I got on to her about it and she hadn't done it with me since. The only reason I didn't that day was because people were around and I didn't want any of them upset at the fact that I disciplined her.
I wonder if she did it because she didn't feel confident being tied in another location? But that seems unlikely, since I have tied her outside at the hitching post without a problem. That was a new location as well.
By this time, I had helped my sister tack up her horse so I put the bridle on Raina and away we went.
She wasn't upset at leaving the other horses. I'm guessing its because she had a friend with her this time. Though I did see her lack of confidence in the trail more than once. She wouldn't relax at all, even with a friend. We ended up in a small clearing deep within the woods. Once we got into the clearing, she tensed up some more and tried to run back into the woods. We stuck around until she finally calmed down a bit.
We also went into the water. She refused to go at first, but I worked with her (which included taking my boots off and going in too). She decided she'd go in for me, but she still didn't trust the idea at all.
We stayed a couple more minutes in the clearing, much to her dismay
And then we hit the trails back to the barn. On the way back we got lost...and a couple times Raina decided to take the lead. I allowed her to do that. About 5 minutes of leading, she's root her feet into the ground, prick her ears ahead, and decided that the trail was much too scary to go on infront anymore and my sister's horse would take up the lead.
I'm a bit concerned over her lack of confidence. She's somewhat the same horse she used to be, but she isn't. 3 years ago she was a working beast. She dove into work and loved it, and took on a lot of challenges with only some encouragement. Right now, she completely lacks any confidence and won't even confide in the rider for enouragement. I feel this is something she will get over with time when she realizes I am there to help her, and I won't direct her into any danger.
Playtime is over for now. The lesson and the trail ride were enough "playtime" to really show me all the holes that need to be filled in. She does so much better when her job is laid out infront of her and so thats how I will keep it until her confidence is gained enough to venture out again.
---
And those who were seen dancing were thought to be insane by those who could not hear the music
Log 6, 09/17/2012
I went out to the barn today after work to see Raina. She didn't run from me in the pasture! She didn't come up to me, either. But she knew I was there. I walked up to her, turned so I was facing the direction she was facing, and hooked my hand around her nose. She stood there for the halter. She also didn't bulk from coming in from the pasture either. She normally stops once or twice and I have to ask her to walk again. But she stayed with me in-step and didn't bulk once.
I tied her to the wall and she stood like a champ. I did the necessary grooming (and looked for swirls since we had a swilr discussion a couple days ago and I was curious). I only found the one on her forehead I knew about, and one under her throatlatch. I'll look that up later!
I wrapped her legs up in polos. Two diagonal turtle shells and two diagonal reds...representing the TMNT
She still doesn't like the polos, but she's getting used to them.
I started the session out with walk/halt transitions like normal. She does well with them and responds to the bit. There were 3 other horses in the arena with kids on them so I made sure to keep my distance. We stepped it up to some trotting and she trotted rather calmly and easily, and neck reined while doing so.
Then the kids left the arena and she became tense. The relaxation was gone and thus, so was the rhythm. We continued to work at the trot, but now I was focussing on trot/walk transitions to keep her attention. We did well neckreining and she was listening to my bilateral halfhalts fairly well.
I asked for the canter while neck reining and she just started to trot faster. So I brought her back down to an even trot, picked up both reins to rebalance her, and asked again. We cantered the arena 3 times before I brought her back down. She still wants to dive in with her inside shoulder, but there were times where she was holding herself properly so I let the support on the reins go.
It was about time to go in the other direction. She was doing well at the walk/trot transtions when the girls who were in the arena before brought their horses back out to put in the field. You have to travel through the outside arena to get into the field. Raina thought about having a meltdown, and I thought it was then or never to force her focus and make her concentrate on her job.
I had worked on softening with her before and she is much better going to the left. So I asked her to soften and instead, she was ducking her head up and down like a moron and running through my halfhalts and positioning rein, so I said "Sure, you wanna run through those? Lets canter"
So we cantered around for a bit and when a brought her down, she was more responsive to softening and flexing. Still upset that she couldn't go into the field, so I made her focus on something I haven't made her focus on...softening while at the trot. I insisted, she fought for a little bit, and then finally settled into a beautiful working trot, poll and jaw softened and stepping straight into the bit.
We got through her "meltdown" without actually having a meltdown. I was proud of her. I decided to stop for the day and just play with her in the inside arena to try and form that bond I feel we need. Unsaddled her, inwrapped the polos, took the bit out and lead her around by the halter. We worked on leading without any contact on the leadline. She stayed right by my side, her inside ear pointing in at me, her big eye watching my every move so she could respond to what I was doing.
We walked, stopped, turned away, turned in, and finally jogged. The leadline was slung over her back the entire time and she stayed right with me, her attention was glued.
I stopped her in the middle of the inside arena and swung myself onto her back. With just the leadline connecting to the bottom ring on the halter, we moved around the arena very sharply. Everything I asked, she responded to in a heartbeat. I put my leg on and touched her neck with the lead, we'd turn in an instant. We'd turn the other way without issue. I'd lean back and sink my seatbones in, and she'd stop or slow down. I was having MORE success directing her with a halter and leadline while bareback than I was having in a bridle, under saddle!
How does that work out?
While under saddle, if we were trotting and I'd put my leg on for the turn, she would speed up. Bareback, I put my leg on at the trot for the turn, and she would turn like an Ace.
??
I adored her then.
I decided enough was enough and I walked her over to the gate to open it while still on her back. This was going to be a test. Would she fight me? Would she figure it out? After we had the gate open, would she take off with me through the outside arena until we got to the field gate? Only one way to find out.
I walked her to the gate and made multiple attempts to lean over and open it. She was uncomfortable standing parallel to the gate and then have me lean over her, and kept walking off. She began to fight me about it until I finally stepped her up to the gate and just had her stand there. We slowly krept forward and I unhitched the gate and swing it in towards us. She moved out of the way.
And there we were. Open arena, field gate in sight. What did she do? She walked into the arena...towards the OPPOSITE side of the field gate. I was a little stunned. I directed her towards the field gate and we had another little confused bit. Again, she was unsure about having me lean down and unlatch the chain. But we did it, and I shoved the gate out of the way. While in the pasture, I dismounted, gave her a treat, and unhooked her.
She ran off towards the herd.
I was very, very pleased with today. But a little perplexed at the saddle-v-bareback thing. She will continue to perplex and surprise me until the day she dies, I think. She's an awesome little mare.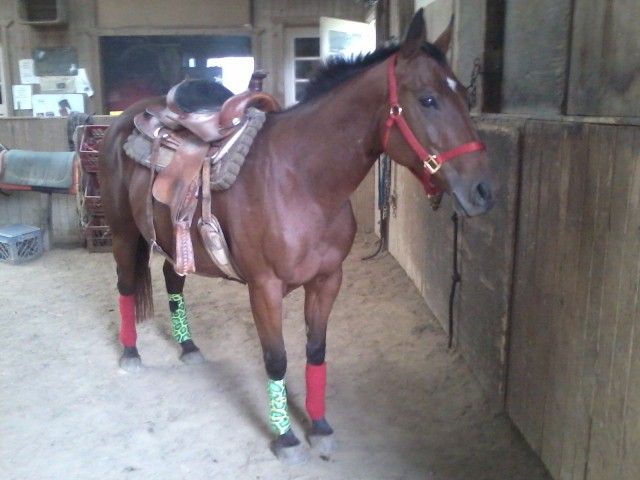 ---
And those who were seen dancing were thought to be insane by those who could not hear the music
Log 7, 09/18/2012

Today was a step forward in the place we used to be, and I'm happy with it.

Though Raina DID run from me again...something I wasn't happy with at all. Instead of chasing her, I pushed her. Everytime I came near her, I would push her out, and I wouldn't let her stop. Finally, I released the pressure and she allowed me to halter her. I didn't do this to tire her out. I just got tired of the chase game. Instead of "Haha, you can't catch me because I'm FAST!", it was "Ok...so you're the boss. Can I stop now?" I asked her to halt after some licking a chewing. Not quite sure if this is what breaks a horse who chronically runs, but it worked well for today.

Again, no bulking as I brought her into the pasture. No rearing while being tied. She stood better to be mounted (which is something she has developed with her other owner, I think. She didn't do that 3 years ago), but was still impatient to go after I got on and didn't want to stand.

I tacked her up and rode with the halter inside. She was responsive. I took her outside, she was less responsive. I changed to a bit, same thing. It makes me believe that this isn't a tack issue, its more of an attention span issue. She feels safer in the indoor arena because other horses are nearby. Outside, she is the only one there and her confidence lacks.

So, I put her to work. We worked the entire session. I guess you can say we always work during sessions, but I really drove her home today. I didn't care that she was alone, we were working and we will work until she pays attention to me. By the end of the session, she was turning a lot more sharply and halting a bit more crisp. I kept her busy with figure 8's, circles, direction changes and transitions. Keep that mind focussed.

I asked her to canter and she wasn't diving in with her shoulder! Holy Hannah! She STOOD UP off my leg and balanced herself through the turns!

Of course, there is a contributing factor that I had to adjust my leg position to get this as well. But I am very pleased with that stepping stone.

I picked the reins up today and asked her to step forward, into the bridle. I decided a couple weeks ago I wasn't going to make her do this, but it almost seems like an essential for her. We had worked on it off and on and she was doing well, but again, wasn't top priority. I made it top priority today and what do you know, neckreining came smoother and response to my legs was sharper.

After our ride, I untacked her and checked her for any soreness (I usually do). She appeared fine. No heat in the legs and her back was alright.

I am kind of torn a bit though. She needs this sort of work (which is why I fell in love with her 3 years ago) to ride well, but she runs in the pasture from anyone who has a halter. I don't feel like I am a contributing factor since she didn't do this 3 years ago when I trained her. Its a habit she picked up somewhere inbetween. I'd still like her to feel comfortable inside the barn, away from her herd.

This might come in time when her confidence in herself and her rider builds. We'll see.
---
And those who were seen dancing were thought to be insane by those who could not hear the music
Log 8, 09/19/2012
I LIVE for days like today!
Everything that we have been working for came together today, and Raina got some admiration from the BO!
I caught her easily today in the pasture. I gave her the option of me pushing her, or me catching her..and she chose the latter!
Hooked her to the wall, and she sighed and lowered her head in relaxation.
I got permission to ride during one of the lessons and one of the students said "Is that Raina? Oh, she doesn't canter". I just smiled.
Raina stood while being mounted and then literally told me "I'm with you right now. Lets do this!" and we had an amazing ride. She was eager to get started so I didn't fart around with transitions the way I have been. We got right to work and she softened beautifully at the trot. We cantered, and she picked up on it easily...and I thought today was as good as any other to neckrein her at the canter.
She was a champ today. Responsive and eager at the canter, happy to neckrein during it, and at the end, she softened back into a nice, easy-going trot.
At the end of the lesson, my BO said she looked great and asked if she could ride her next time I was up. Of course I said yes! What a compliment! This woman bred her and then gave her to me because she couldn't do much with her because of her attitude...and now she wants to ride her! She never rides! Ok, maybe she does. But in all the years I've known her, I've only seen her ride a handful of times.
I'm a bit cautious about it though because today...everything we were working for came together for the first time. She's not consistant though and everything I get, I still have to work really hard for. I'm not concerned that another rider would cause her to backpeddle because the BO is a capable rider. I'm just worried that Raina won't do as well for her as she does with me, and the BO might be a little disappointed.
We will see how it goes though. This is why I love training. I love those "lightbulb" moments when the horse finally understands and is with you every step of the way. I'm hoping this attitude will stay and her confidence will grow out of it.
This was taken after her ride...boy she's a chunker!
---
And those who were seen dancing were thought to be insane by those who could not hear the music
Log 9, 09/21/2012
Scooted my butt out to the barn today on a tight schedule (even though I shouldn't have, but I just can't help it). I ran out to grab Raina and she walked up to me! But then thought twice about it when I started untangling the halter and ran off. So I pushed her a bit and then asked her to stop. She let me catch her.
It was pretty windy today and we just got two gigantic flatbeds worth of hay in, which are chilling in the outside arena. The BO put a tarp ontop of it and it was flapping around in the breeze. Raina was pretty calm about it after we walked over the tail end of the tarp a couple times, so I took her in and hooked her to the wall. No relaxation while she was there. It would be a fun ride.
I tacked her up and took her outside, and she trotted with a good, even pace. The real problem began when I asked her to soften, and she then tried to use the tarp as an excuse. We ended up fighting eachother until I finally decided we weren't fighting anymore, we were just going to canter. So we cantered around the arena about 6 or 7 times before I brought her back down.
She was a bit more cooperative after that and we managed to get a couple good steps, though it wasn't like the last ride. She was still a bit testy about the whole thing and was really telling me about it today. Finally, the BO came out and I asked if she wanted to ride, since she asked about it the other day. She was totally unprepared but opted to hop on anyways.
They did pretty well and she asked me how to "get her head down". I guess in order to get her horse's heads down back when she trained, she used to tie them down. I told her to press on her inside leg and put some pressure on the inside rein. There is a lot more that goes into it, but that was the general idea. I also gave her a crash course in the pressure/release theory. After all that explaining, Raina softened for her and she was very happy. She was very impressed and said that Raina had come a long way, and was eager to see her do sliding stops. I told her that might not be for a while, but we are working towards it anyways.
This photo was taken Aug. 21, when it was all I could do to halfhalt Raina
And this was taken today:
She was a big pill today but we ended on a good note, so I'm happy. I rode her more in the contact today than I usually did because she was acting like a booger. Although I can see 1000 things I could be doing differently in these two photos, I'm happy to see what little progression we have made. One small thing is the fact that my calf is on her side instead of braced in the wind.
The BO noticed that Raina had trusted me today when we were heading back to the inside of the arena and there was a white grain bag. Raina looked at it but didn't startle, and she said that she always startled at stupid things like that. Also, one of the girls at the barn "awww"ed at the fact that Raina followed me without any contact on the reins or leadline. I do love that. She was taught to stick right by my side, and thats where she stays.
I could tell by this look in her eyes before our ride, that it was going to be a challenging day.
Mares ¬_¬
---
And those who were seen dancing were thought to be insane by those who could not hear the music
She definitely looks a lot better, and you look much more relaxed so to speak.
I understand your excitement on the progression though, I was elated when Indie was trotting a circle with inside bend and in a frame yesterday. I love the polo wraps, by the way!
Posted via Mobile Device