Lots of stuff happened while i was gone. I'll type more tomorrow, but the cliffsnotes version is:
Purchasing Dreamer this week, as well as the emaciated/abused Thoroughbred who I named "Admiral"
Husband took REALLY bad pictures.. only 1 was salvagable.. poor horse.... stupid husband...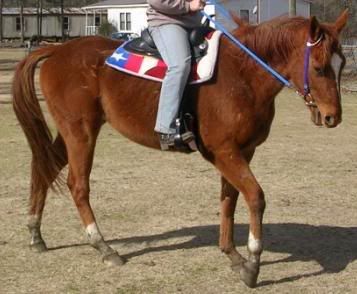 The Cremello horse is really pretty! That would be so cool if you could move onto that property! Maybe she would let you work for her and you could have a horsie job
General Update Post

This stuff has happened over the last two weeks while the internet was down:

My friend with the kids i am teaching (her name is Heather) has been taking me around all over the place to run all sorts of horsie chores.

She had a 20 year old Palomino Appy Gelding with a blown abcess on his lower girth area. He got it a while ago and the vet cleaned it and was waiting for it to heal.. but it started to heal INWARD.. so she took him to a specialist in NC (i rode along!) and we had come to find out that his STERNUM had an infection in it, and the infection had eaten away at the inside of his sternum. He had to go through surgery (a 2,000+ vet bill for Heather) and he is recouperating and healing very well. Heather takes GREAT care of her horses. SHe has been changing his bandage twice a day and buying lots of stuff to make sure everything is all covered up :) The horse's name is Lemon Drop, just for FYI purposes :)

Stopped by Bobby's place (the guy who i am buying Dreamer from) and saw the 3 year old thoroughbred in a 10x10 stall, covered in even more cuts and bruises, and an un-tended to cut on his fetlock that had dried blood on it.. and up to his lower fetlocks in mud. There were horses all around his stall from every side, and a huge feeder in the middle of his stall, so there was literally no place he could stand where he could eat. I asked his owner, Richard, if he was for sale, and he said yes.. so i wanted to come out and try him out.. and he was VERY well saddle broke (but not green broke) you can get on him but steering is very impared, lol. Im going to try to talk the price down.

Heather is allowing me to move all my horses on to her property and pay a fraction of the cost i was paying for the other property. I was getting shafted BAD there.. 220 a month (and 110 for every additional horse) and i had to buy my own feed and feed every night AND take care of the land (mow the yard, etc). THe guy is really anal about his stupid lawn and im thinking.. if you want "landscaping" then DONT LEASE TO HORSE PEOPLE.

I think this generally covers all what is going on x_x
Wednesday February 14th, 2007.
Bringing Admiral home... Happy Valentines Day!

Brought Admiral home today, somewhat unexpectedly. I went to Richard/Bobby's place with 400.00 in 20 dollar bills, and said that I had 400 cash if he would sell him to me today, otherwise i would need to wait to get my refund. He accepted, and was eager to get Admiral off of his property.. so he brought him to our place that same day, LOL. When he arrived and his old owner left, i noticed something running in the road from the property.. 3 horses got loose in the street and were running amuck. I managed to get them in the horse property, and with the help of my husband, get them corraled in one area. They were like.. VERY feral.. so there was not much we could do besides sit and gawk. My friend and owner of the property, Heather, came out and knew the horses and confirmed they were the horses from 3 houses away, and penned them in a smaller area for the neighbor to pick up. Apparently they get out allot.

My tax return card should be coming in tomorrow, and if this is the case, I will be buying and bringing home Dreamer before the week is out (I hope to have this horse home with Admiral no later than Sunday) I had to choose between the two, and i decided to bring Admiral home first since he was a bigger rescue than Dreamer.. but i was really considering bringing Dreamer home because Bobby had been waiting over a month for me to bring him home, and i am sure is getting impatient. Ultimately, my choice was decided when I realized if i weaned Dreamer, and put him in a pen by himself, there is no doubt in my mind he would freak out and jump the fence and try to get into the road. I told Richard what my reasoning was between picking which one to pay off first, and he seemed to generally agree. I also let him know i would be out later in the week to bring my Dreamer home.

I wonder how Dreamer will load o_o;;;

Going to spend the entire morning with my lovely new man tomorrow <3 I am so happy ;;!
Thursday, February 15th, 2007
Dreamer Comes Home!!!!!

Dreamer came home today!!! I finished paying him off this evening, and when it came time to load him.. wow. STUBBORN.. LOL! I hope this isnt a sign of things to come!! Well, considering he was still living with his mother, over a year old, and NEVER left the property before.. or loaded.. he did a darn good job! He is living with Admiral in the Round Ring now =)

We are going to be building pastures tomorrow, and then hopefully before the weekend is out, moving Joey and Rain out to the property where Dreamer and Admiral are.

I sat and took oodles of pictures with my man, Admiral. He looks so much like Skippy! in head structure/face its just rediculous!!

I also bought a boatload of stuff for the horses too, Everything from general tack stuff (a CUTE baby pad, black with baby blue trim!!!) to medicine.

Pictures of Admiral should come soon!! I actually took a little siesta with him in the hay.. what a cutie! He ate quietly over my head and put hay all over me, LOL
wow..you sure have alot going on! i just wanna get this clear...you now have all your horses ( or soon to have all of them) on one farm? and bought 1 new horse? wow...you'll be busy for a while
..good luck and keep us updated
englishcowgirl, I actually just finished moving all the horses onto one property!! =)!! I am so excited!! And now I own Admiral =) I need to update my signature banner, LOL we dont have Liberty anymore =(

Friday, February 16th, 2007
Rain and Joey come to their new home too!

I am BEAT! I woke up at 8:00 in the morning and went out and with the help of Heather's husband, my husband, and myself.. we constructed a 370 x 125 foot pasture for Joey, Rain, Dreamer and eventually Admiral to live on. It also has the option to open up into their arena for a bigger area.

All in all, we drove around 30 T posts, put up nearly 500 feet of bull wire, put 90 ties on the T posts to hold the fence on, and stretched electric fence ribbon around the top. It was completed at roughly 5:00 in the evening, sans the gate (it needed one more hinge on it) we doctored it up with a leadrope, and set out to pick up and trailer Joey and Rain. Rain took a little coaxing, but Joey led in like a dream. Once Rain put her front feet in, she was good. She loads very well for a horse that doesnt do it that often!! We dropped them off, lead them around the peramiter of the field and let them go. They had a blast! In the back corner, they have tall buffalo grass to munch on.

Tomorrow I will go help finish construction on the shelter and the field will be done!! Heather and Darrell were so kind to us.. they used all of their supplies to do this.. it would have cost me a FORTUNE to do that!!

All my horses are finally on one piece of property!! I am SO happy!!! =)

I didn't do much with Admiral and Dreamer today. I show sheened their manes, but not tails. Dreamer has such a thick full mane! Ooh La La!! I actually lead Dreamer out of his pen and walked him across the property to go see the new field we built, and he was very edgy, but never took off on me. Edgy is ok, we can settle that down.. but disrespect is unacceptable. Considering this was his first day on a farm other than the one he was born on.. and the first day away from his mother.. He did AWESOME.

Im very happy!!
congrads! we want lots of pictures!
i just looked at your pictures of joey,rain and dreamer?? when are the others ariving?
thats so awesome!!! How many horses do you have now???