I rode in the arena with my mommy yesterday and she was awesome the whole time! When we got to loping, she put her head up and wanted to fly, buuuuut I just sat down and gave two checks on the rein, and she settled right down into a nice headset and a slower lope... Its tough to describe though... I need it on videeeeo!
---
My camera quit before she got nice and relaxed to lope nicely! GAH. Just my luck. Anywho, you can see a little bit of it in the last clip.

And holy stretching at the trot at 0.53! WOOOOOOW.

---
She's really trying!! Well done! I loved the trotting before 0:53 most of all.. I could see her thinking really hard and testing the contact.

She's getting it!
---
"Strength is the ability to use a muscle without tension"

The gears are turning! YAY! It's about time, LOL
---
Went for a ride today and legitimately worked the barrel pattern w/with a teensie bit of trotting after doing a little work on her lope.

It went much better than I expected! WOW. She remembered all I taught her about barrels back in April. Still has a super-duper long way to go, but gotta take it one stride at a time.
---
Just copy and pasting this...

I was roping with Peanut at a rodeo, and decided to take Squiggy along for the ride. Before the roping slack, they had the barrels set up, so I quickly got on Squiggy and trotted her on the pattern a couple times, loped around a bit, and then rode around the rodeo grounds letting her see everything... like the Tarps of Death, Awnings of Terror, and the Screaming Demon Children. LOL... she handled it well. Just did a lot of stopping suddenly to look at something and whinny. We even hung out in the Open barrels line up and watched some horses spazz. She got a little excited with all of the horses running around, but she eventually stood calmly.

We went on a few bareback rides throughout the day too, no problems with that. In fact, we got lunch bareback :P

And, when I wasn't there, my dad met some people that train and race CCA (pro-ish rodeo) and somehow got them to take a look at my girl. They apparently really liked her, and when I met them and talked about how I'm going about training her, they said I was doing perfect and that next year I should go to some SBRA jackpots with her and just go at whatever pace because they are really inexpensive to enter.

After the rodeo, we went straight to a roping jackpot, (which I got 2nd in.) and after I was done roping and everyone was out of the arena, I worked Squiggy in the arena, just trotted around, did some bending, loped some nice circles, and even did a couple lead changes.
---
Well, I went for a ride in the now baled field, so it is rideable now. It's completely out in the open, so I thought it would be a nice place to work on her lope.
So, I warmed her up, did a few exercises at a trot, and loped off straight down the field. To my surprise, after we got over the wanting to run part, (it took about 30 seconds or less) her strides felt super relaxed and comfortable to ride (not short, hoppy choppy like I'm used to). I circled her a few times to wind her down and actually FELT HER SOFTEN THROUGH HER ENTIRE BODY. (poll through shoulders mostly) I did a happy dance on the inside.
And she HELD it while I dropped my rein to neckrein her for half of a circle before slowing into a trot.
PROGRESS?
I HAS IT.
---
Well, I was hoping to get a video of our last ride before my surgery, but the ride turned into having to get the longhorns in a branding a calf. Whoop! Squiggy did awesome, as she always does when she gets to chase cows and rope stuff, I think she was born programmed to handle a rope. :P
My surgery went well. It's been 4 days (I think) and I can walk. It's uncomfortable, but I can do it. I've also been able to move it a bit more every day. In a couple weeks I have my first Physio appointment and I'm gonna ask about riding.
Hopefully they'll let me!
Oh, and this is my wound: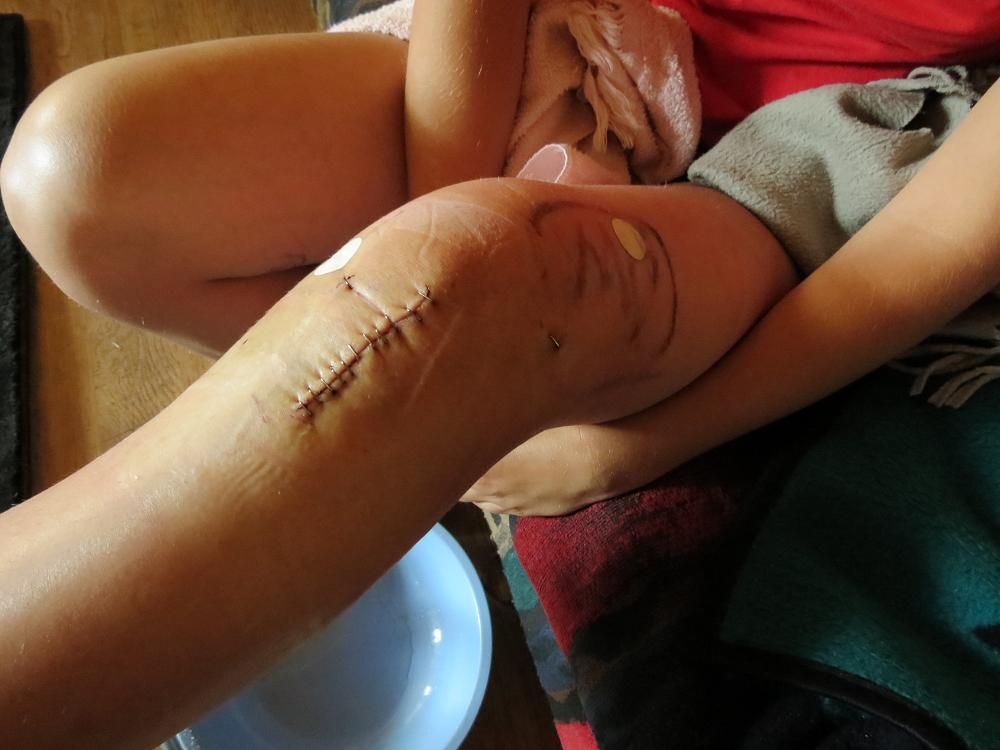 ---
That's intense!

I hope you heal nicely :)
---
"Strength is the ability to use a muscle without tension"

So. It looks like I might have to get a different pad and/or get a different saddle. My barrel saddle seems to not work for her very much.
---