I JUST remembered this video.

I rode her with a martengale that day, and it worked wonders by just being there.

I mean, her trot looks so relaxed and her lope isn't that bad either.

---
ALSO. This is what we'vve doing doing lately. I just bought a lunge whip, so it should make my life easier.


---
YOu did a good job lunging if that is your first time doing that with her.
Couple of things;

be careful not to be holding the lungeline in loops, in case horse pulls really hard and you get caught in a tightening loop.

pay attention to how you use the whip, so that you are not kind of "nagging" at her. So, when she is going correctly, you keep the tip lowered and quiet. only if she slows or breaks gait, or ignores a quiet "ask" do you increase the pressure from the whip, then as soon as you get it, put that whip right back in nuetral. I saw too much waving of it up and down, kind of meaninglessly.

Hold the lunge line just as you hold the rein in English style riding. you can tighten your hold on it (by firming up your hand and forearm) and even exhale and lower your body to assist in downward transitions, and preperations (like a half halt) for an upward transition, where in you raise up, inhale and open you hand slightly and ask her forward with voice, almost immediately backed up with whip.

When you lunge, imagine yourself riding, hold the line like the rein, and your body as if you are in the saddle.
Thank you tiny! You're always so helpful!

Any lunging I've done before this was all free lunging colts for a minute or two before riding.

I've kind of figured it out now, except what you said about holding the lunge line. What do you do with the excess?

We're now working on transitions (w/t) and working on staying in a slow or medium trot and being able to transition into a long trot and back down to a medium trot.
It's going pretty good.
---
like I said, for someone who has done so little of it, you are a born natural!

the excess? I hold it in the whip hand or let it trail on the ground if it's not too long to get tangled in.
Aw thanks!
Also, I have some AWESOMMMME news.
If I get the job I'm applying for, my parents said I can buy an English saddle after I make twice enough money to buy one.
I saw some really nice brand new Tekna saddles this weekend, and they were priced at $350-450, so if I can put away half or all of my tips, plus half of my pay checks towards one, hopefully I could get one by next Spring.
I would even be happy with a used Stubben or something along those lines.
I got to practice my polo wrapping skills this morning, I always ended up with a bunch of excess that just made it bulky at the end, (on her front legs) but her back legs were fine. It took me a few times to figure out how not to get baubles, but a few more practices and it will be just fine.
I tried to get a good picture, but she was trying to figure out what the h*ll was on her legs. She did the best walk ever after I put them on her back legs, lol.
LOOK AT THAT BELLY. UGH.
---
She looks so chubby nowadays....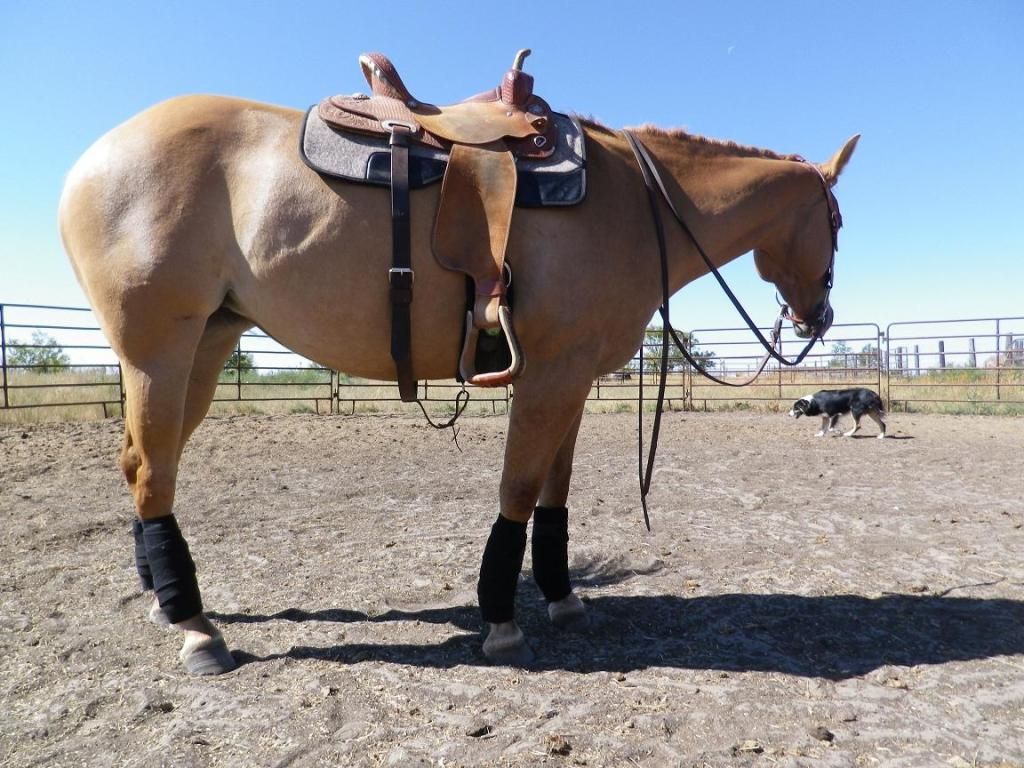 ---
Hey how is squiggy doing? seems like you stopped posting:/
---
http://www.horseforum.com/member-journals/sunnys-thread-160521/ << read about Sunny and I. Our journey
It's cause I havent been able to ride or do anything since school started and I got a real job!

Eeeeek!

I visited her today though, she was oddly cuddly, it was cute. Oh, and she's fluffy.
---
Alright, went for a ride today with Squiggy, after her 10 weeks off, I'm just trying to get her back into "work" mode, so just "trail" rides right now (i.e riding in the stubble field...). She was being a real turn when it came to mounting... always gotta be something I guess. She actually does a slow jog on loose rein, which is wierd to me still, I'm used to her just instantly lunging into a long trot with her head up in the air. So, we did quite a lot of trotting today, working on controlling her speed at a trot on as loose of a rein as possible (I dont have WP or reining dreams for her, so no big deal... but I still want her to be able to just kick it into a nice trot and make some MILES out in the pasture on loose rein, and then hopefully that will help with barrel racing next year.)Her lope though.... we did a little bit of that, but I wasn't helping her any, my stirrups were a bit too long for some reason O.o. I want to get a nice lope out of her, and I almost had one today, but she's always on the bit at a lope. I'm going to do a lot of downward transitions and half halts and such with her... anything else I can try?
---