Fritz?
---
Hi - just started to read these posts of yours, loved the journey - then a jump in two years, a wedding, purchasing a horse AND property? Do tell! And whatever happened to Fritz...?
Glad you updated! You've had a busy 2 years to put it mildly. Sounds like a nice piece of property-it is so nice to have your horse at home w/you, but remember they do best w/company-if you don't want 2 horses of your own,maybe a friend/riding buddy can board w/you?
wow rairainy! i really enjoyed reading your blog, and i am ao glad you updated recently. it gives me confidence and lets me imagine where i could be in 2 years. i am at the beginning stage now where i"ve been taking lessons for a few months and i"ve just switched barns. i am curious why did you switch disciplines again?
Posted via Mobile Device
Wow, I had no idea anyone was actually reading this, lol!

Fritz is just as happy as ever with his owner on Long Island, they really are a great match for each other.

It will be at least a few months before I buy Snazzy, and even longer before I bring her home. She's a funny horse, as she can't be put with another horse due to her being extremely dominant. If she is turned out in a paddock next to another horse, she runs and/or charges the fences. These are all behaviors that I want to work on with her, but it's hard when I don't get much say in her turnout as she's not mine yet. She'd be a good only horse, but I will get a second horse as I'm sure my husband will want to ride as well.

I didn't really switch disciplines, I just went back to the one I'm most comfortable with. I've been riding Western on and off since I was 9 years old, and it's the discipline I have had the most training with. It's also the discipline I enjoy the most :)
Thanks for the update! It's nice to read that you've found a horse you'll be buying - and your plans for bringing her home. My life is following a similar course...
My barn started a weekly ladies night. For $10, one of the more experienced riders will teach a clinic on groundwork or riding in a topic of her choosing. Last week, we worked on halter and showmanship. We had a ton of fun, and it gave me a good intro into showmanship, which is one of the classes I'll be focusing on this season. This week we're supposed to be riding, should be fun.

My husband surprised me and came to the barn with me on Sunday, he's very non-horsey. I was riding for a bit and decided to ask him when he'd want to try. I was shocked when he said yes! I gave him a quick intro on walk / stop cues and steering, and he walked her around for about ten minutes. As soon as he got off he started asking about when we're going to buy her, lol!

I have my first lesson with our barn trainer Friday night, I love her as a person but her instruction style doesn't really suit me (I've watched a lot of her lessons). I know I'll learn a ton from her and am looking forward to them, just hope our personalities don't get in the way. I just have to remember not to take anything she says too personal, we need a coach for show season and because I don't yet own my horse, she's my only option.
OK, so I had my lesson on Friday night, all that worrying was for nothing....it was amazing!!! We worked on getting our mares to be more pleasant around other horses, did a horsemanship pattern, and worked on showmanship. It was a lot of fun, and with a few tweaks, my position will be show-ready.

On a side note, Snazzy is being treated more and more like she's "mine". Some of the horses are being microchipped next week, and her owner asked if I wanted to have her done as well (with my info). Woo hoo!
We had our second show-prep lesson on Friday, and wow, what a difference. I'm still having a few issues getting her to collect in the trot, but we're slowly getting it. We loped during the lesson even though we're sticking to WT classes, and had the best lopes so far. I think I have finally learned to loosen my hips, as I am feeling so much more balanced. Also, my legs are finally in the right spot. I was so proud of us. Snazzy's current owner joined us with another horse, and said we really looked great.
Also, her dress sheet arrived on Friday, and wow, she looks amazing!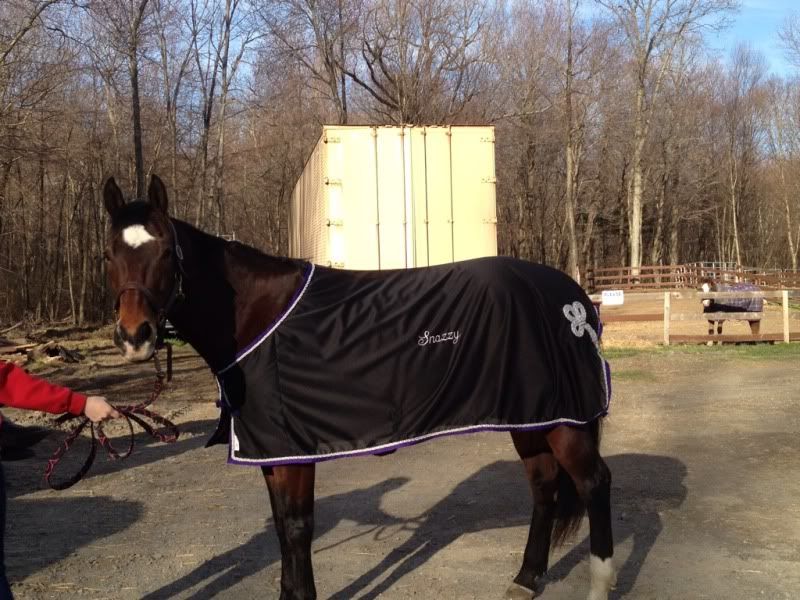 So....tomorrow I am signing the paperwork and will be her official new owner!!!! I can't explain the excitement, I've wanted a horse since I was 9 years old, and my dream is finally becoming a reality.
OK, I'm officially a horse owner. I've been dreaming about this day since I was 9 years old (our first Arizona ranch trip). I still can't believe it's true, I feel like I'm dreaming. I'm sending in the AQHA transfer papers today. Wow, did this really happen? I love her so much!!!