Thanks!!! I'm super excited. It was a very emotional sale. Her old owner (a good friend of mine) and I were both in tears.
I've been a horse owner for four months now, and it's finally sinking in that she's really mine. Her previous owner is a good friend of mine, and since we're all at the same barn, sometimes I feel as if shes not truly mine, even though she is.

We've had some really great rides lately, even though we had to end our show season early due to me needing wrist surgery. I can't pick out her feet or lift my saddle right now, but I have good barn friends that are helping me out, which is wonderful.

I never thought that I would love her as much as I do. She is truly my heart horse.
Congratulations! So happy to hear you've realized your girlhood dream of owning a horse! It's almost surreal, isn't it? Sometimes, when I'm in the barn, I'll hear my horses (yes, it's crept up to plural, already) snort, or whinny, and I freeze...unable to believe I HAVE HORSES. I love it!
I haven't updated in a long time, and it's been an eventful year. I have to stop showing last summer due to needing wrist surgery. Then, board fees increased as Snazzy cannot be turned out with other horses. Money was tight all around, and I made the tough decision to sell her back to her prior owner. I kept leasing her, and things were great.

My BO has grown her business, and the farm is now above capacity. The stable hand quit and BO has not hired anyone else. BO is also starting a special needs riding program, but rather than getting proper training, is just hoping things will magically fall into place. The facilities are looking rundown, and no one seems to be fixing anything. Fencing is inadequate in a few paddocks due to missing boards, etc.

I was still planning on staying, as my horse has my heart, and leaving her would be extremely difficult. Until this week.

Another leaser at the barn asked me to ride with her on Mondays, just so she could have someone there for support, as she's a beginner rider. There is no instruction going on, and no money passing hands, just two friends riding together. Trainer overheard our plans, and told the barn owner that I was giving lessons at her facility. I am not qualified to give lessons, and I state this on a fairly regular basis. I am helping my neighbors and keep suggesting they get a real trainer as I am not qualified.

After being at this barn for almost 3 years, I got a text accusing me of interfering with business. I politely asked for a specific instance, and BO replied that my friend had complained about me to trainer and stated I had offered to give her lessons. THIS NEVER HAPPENED. I trust my friend, I do not trust trainer. She is known for causing issues.

I replied that I had not offered to give lessons, and received a quick reply, stating that perhaps it was a misunderstanding, but that the complaint was correct. Not quite what I was looking for. My friend even sent an email (wanted to put it in writing) that she had no idea why trainer would think she complained about me, and that she enjoyed riding with me. No response after that.

I've been there almost 3 years. I spend most of my Saturdays getting horses from turn out, grooming, tacking lesson horses, and helping the kids. I often swept, watered, and fed when asked. I did this because we were supposed to be part of a community, and enjoyed spending time there. I also brought in a few new clients for lessons, and encouraged people to lease from the barn. I wrote this because I have always shown my support for her business, and would never do anything to interfere, and BO should have known that.

If there had been an apology about the conversations and accusations this week, I would have been upset, but I would have stayed. However, there wasn't, and I feel like the matter was handled extremely unprofessionally. The barn is my place to unwind, relieve stress, etc. I don't want to have to worry about every word I say being twisted or misconstrued, especially by the two people in charge (BO and trainer).

I'm now giving my notice, ending my lease of my heart horse, and moving on. It's breaking my heart to leave my horse, but I doubt I'll ever feel comfortable again. I'm going to try hard to focus on my neighbors horses, who need some work but I can ride them for free. I found a great new trainer with an excellent reputation, and should start twice monthly lessons with him soon. I'm trying to see the positive side of this, but all I can do is cry.
My last post was filled with drama, it took a long time to get over having to say goodbye to Snazzy. I started working with my neighbor's horses, but that also had a terrible ending. Their marriage had some issues, and the horses were the ones to suffer most, as they weren't being cared for or fenced, and ended up causing a big accident on the state road on which we live. One older mare lost her life, and 2 others were injured. Thankfully, they are now being cared for, properly, and off the property.
I reconnected with a friend I met when I first moved up here. She owns 5 horses and lots of other animals, but doesn't ride. She's always said I could ride her horses, so I took her up on it. I'm riding a 6yr old buckskin mare, and having the time of my life!
This horse has taught me so much in such a short time, and has helped me to get over so many of my fears. She's super smart, and very sweet, but also very manipulative. The first few times I lunged her, she tried to kill me, but I was determined to work with her, and we are getting to a good place now.
This fast little horse, who loves to run, is learning to slow down. I actually got her to walk in the round pen the other day, which is a huge success for us! She rides out alone, which forces me to be her leader, something I've always struggled with. I have learned that I have to trust her in order for her to trust me. I have learned to laugh at her antics, but to never give up, and that each small victory is a huge step in the right direction.
I have always believed that everything happens for a reason, and Amica proves that to me over and over again. If I hadn't had to sell Snazzy, I never would have bonded with Amica, and my riding would have been standing still instead of improving each time.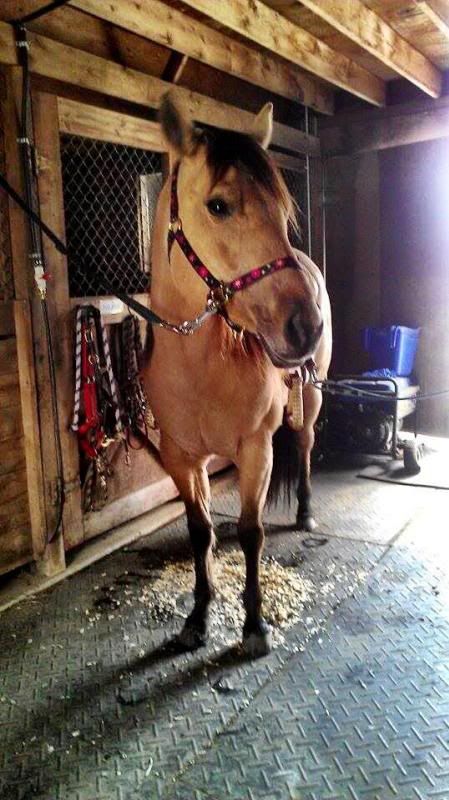 Amica was seriously hurt on Sunday. She challenged the lead mare of her herd and it didn't end well. She has 2 cracked ribs, and multiple cuts, bruises, skin missing, hoof marks, etc. She's in a stall by herself to heal, and in good spirits thankfully. Her owner thinks if they didn't hear the fight and go down and stop it, that she'd be dead. As of now, the plan is not to put them back together.

I guess I won't be riding again for quite some time. In the meantime, I'll work the unbroke 4yr old from the ground. We can do lots of work with lunging, voice commands, and showmanship training.

Ugh - horses!