Awesome!
---
There is one principle that should never be abandoned, namely, that the rider must first learn to control himself before he can control his horse. This is the basic, most important principle to be preserved in equitation - Alois Podhajsky
October 25, 2011
I went to the barn on Friday and once again I got there just as the trainer was taking Sun out of her stall and heading to the arena. I of course took a seat to observe.
Sunny was all tacked up. First, the trainer lunged her for awhile in both directions. Sunny was great.
Then the trainer began to ground drive her, and boy was I impressed! The trainer had her walking and trotting, going over ground pole set ups, turning, stopping, backing up, the works. She looked wonderful! I was very, very impressed.
Then, the trainer decided to get on. She walked Sunny around the arena a few times. Sunny was wonderful. She did balk and stop quite a few times, but she never tried to act up. The trainer could easily stop her and back her up under saddle.
The trainer has come off of her though. She said that Sunny has a serious buck.
So, the plan is for her to have a good walk/trot by the end of the month. I can't wait!
Posted via Mobile Device
This is the only photo I managed to catch from Friday.
The trainer ground driving Sunny!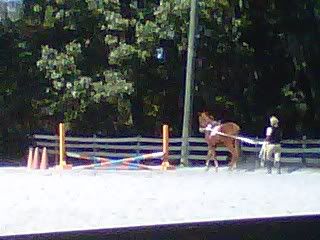 Posted via Mobile Device
October 28

What a wonderful, wonderful day! I've been housesitting for the BO, so it's been great to be right next door to the barn.
I went riding on some school horses this morning, and when I got back the trainer was there and ready to work with Sunny.

She took her to the round pen and lunged her, then ground drove her.
She then got on and walked her around a bit, and then trotted her! It was great to watch.
She threw one teeeeny buck, but other than that she was perfect.

After the trainer rode, I got on! I walked her around the round pen and changed directions a few times. What a doll! She was perfect. Her 'whoa' is wonderful.

'm so proud!
Posted via Mobile Device
November 27

Well, since Sunny's training is over I haven't been updating like I should.

Sadly, I've only had a chance to ride Sunny twice since her training has ended. She got sick and is just now feeling better. I actually intended to ride her today, but the weather isn't cooperating. Hopefully either Tuesday or Thursday I'll be able to ride.

Both times I've ridden her she has been a doll. Far from what I expected, she's a little on the lazy side! I had to REALLY work to keep her in a trot for more than four strides. I'm hoping that it's just because she's unbalanced and she'll eventually brighten up.

I've ridden her in the arena and the round pen, and she was great in each. She is a little rusty on turning, but I've never not been able to get her to go where I want her to go.
She has a pretty good stop, too!

Overall I am very happy with her. I just wish the weather would cheer up so I could ride!
Posted via Mobile Device
Monday December 5

I rode Sunny on Friday, and man. It was amazing.

It had been nearly three weeks since I had ridden her last, so I took her in the round pen to lunge her a little. She was responding very well and paying attention.

I got on and we made a few circles both directions, and a little trotting. She was a love.

But the real pride came after our ride in the arena.
Currently there is a small dressage arena set up inside the arena, so you can ride in that or on the perimeter.

First I took her in the dressage arena. We worked on turning and walking straight lines.

Then I took her to the perimeter and we walked both directions, working on stopping at different locations and then worked on some trotting.

She was staying in a trot for almost a full circuit with no extra encouragement! She was steady and consistent in her pace.

Then, another horse came in the arena. I was expecting a disaster.

But Sun proved me completely wrong! She was a little looky at first, but quickly settled right back into her work.

Probably my proudest moment was when she had a small spook passing the mirror. It was a proud moment because all she did was give a little jump and take a couple trot strides, and then she came right back to me as soon as I asked. No bolting, bucking, or post-spookiness!

I am so very proud of my red, raggedy filly. We'll make it to Rolex yet!
Posted via Mobile Device
May 18, 2012

Well, we're back! I finally revived this zombie of a thread since Sunny is officially green and now we're working on specifics to prepare for show season.

She had a second month of training from January to February in which she learned to canter. She has developed into quite a lovely trail horse, as long as cows aren't involved! That's a story for another day, though.

She is also slowly but surely learning to load on the trailer. She never refuses to load anymore, but she is still afraid of staying on for more than a few seconds. We'll get there one day, though! Hopefully soon so we can start going on off property rides and shows!

She is turning into the most wonderful, beautiful horse I've ever worked with. We still have our days, but she's an awesome horse and I am so grateful to be able to call myself her person.
---
"There's nothing more humbling on the planet than horses." --Sean Crocker