January 28th 2013
---
On Sunday night I took Thunder out for a short ride. We were doing ok, until about 3/4ths of the way through our ride when I noticed that he was panting pretty hard. I immediately hopped off, loosened the girth and walked the rest of the way home, keeping a close eye on his breathing. I was concerned at how long it took him to cool down (I don't have a stethoscope so have no way of tracking his pulse). As I put him up I was kicking myself. How could I have not seen that I was pushing him too hard? Afterwards I fed him his favorite treats and wrapped my arms around his neck and had a good cry. I love that darn pony so much. The last thing I want to do is hurt him. I ended up concluding I need to back off for a bit. There is a good possibility that he just isn't cut out for endurance. And if he isn't, that's ok. In the end, I just want what's best for him.
Today (Monday) my sister came out and we went riding. Since I had resolved to give Thunder some time off, I rode my 18 y/o Appendix QH, Wings. Wings is a good old boy. I have actually always thought he would be well suited for endurance, but never really pursued it. After today, however, I resolved to begin riding him again.
Seriously, that horse is a machine! He has been sitting in the pasture for at least 6 months and is out of shape, but he still did better than Duke (my 17h Hanoverian my sister was riding). Duke is being ridden (by my friend Mark) 2-3 times a week so he technically should be more fit, but even he had a hard time keeping up with Wings. He was huffing and puffing when Wings was barely breathing, despite that fact that Wings is older, slightly smaller (16.2h), lighter boned, and carrying almost twice the weight! I was seriously impressed. I don't have quite the same bond with Wings, but he shows serious potential as far as endurance riding goes and who knows? Maybe, with time, we will "get there".
-
Note: We stopped to check out an abandoned house and barn along the way. The barn was really neat...while the house was slightly creepy. It had a lot of gang related (Juggalos) graffiti inside. It was interesting, but definitely not somewhere I'd like to be on a dark night! ;)
(PS In the following images, I am the one on the gray horse:))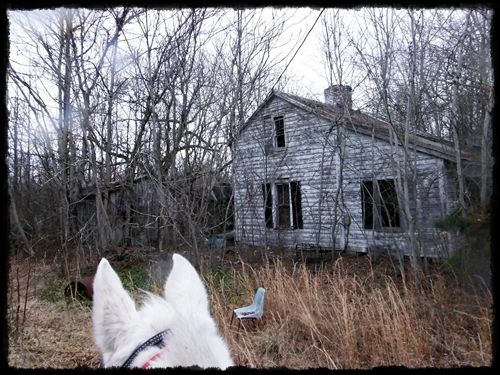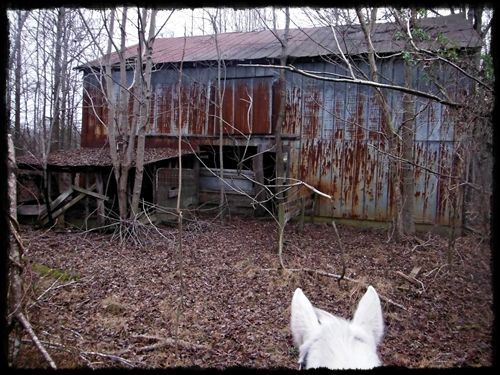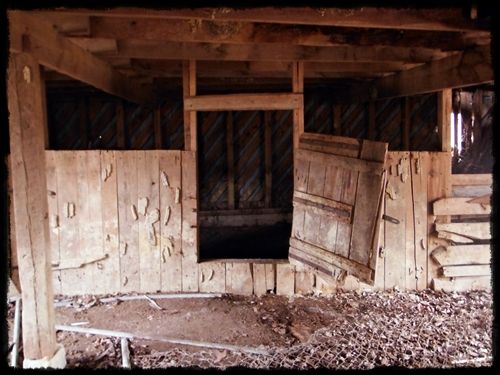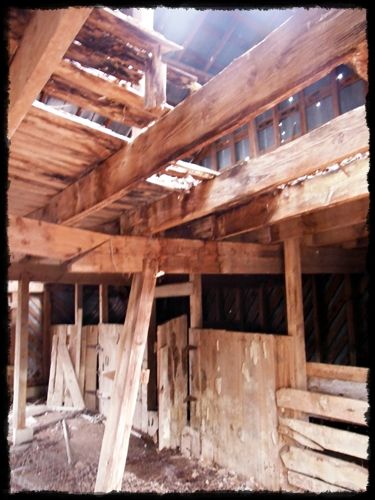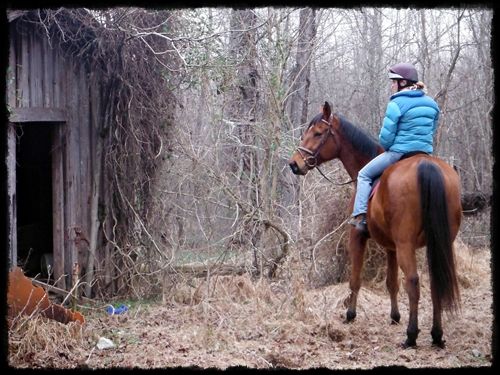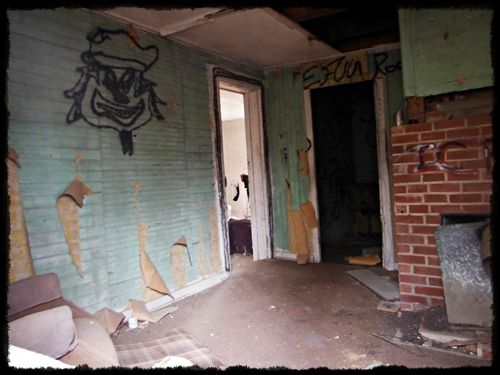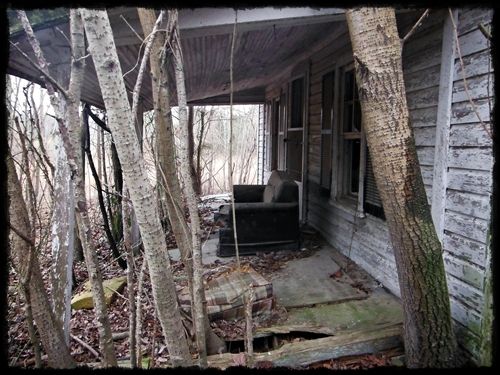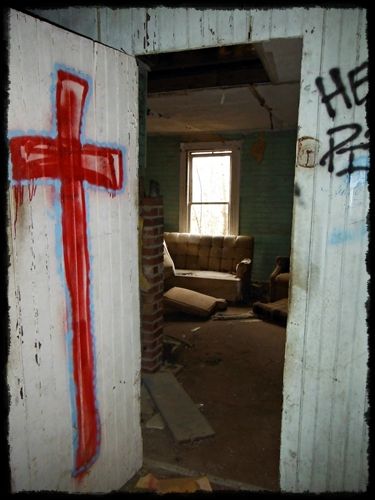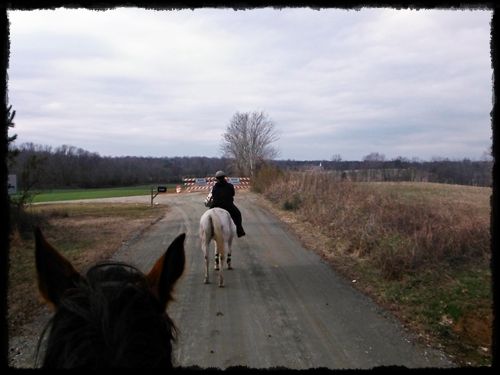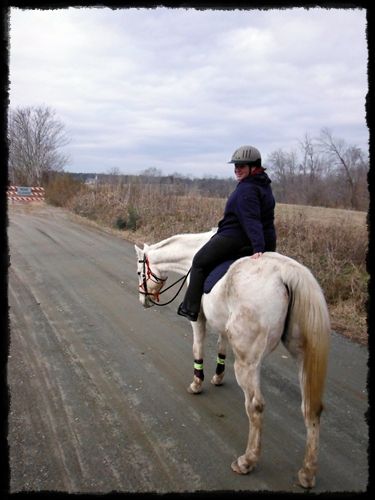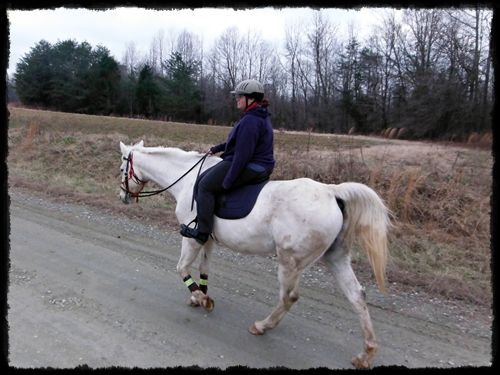 I admit to not riding much lately. About a month ago Thunder came up with a pulled muscle in his stifle area and has been out of commission for the past several weeks.
I have been riding Wings, intermittently. I took him over to my neighbor's on the 16th and we trailered the horses to a nearby park to ride. We had fun and I was very impressed with how quiet Wings was...crossing bridges, and passing bicycles and yellow caution tape without batting an eye. I really have been blessed to have such awesome mounts...I was amazed at how many other horses were petrified of the aforementioned objects!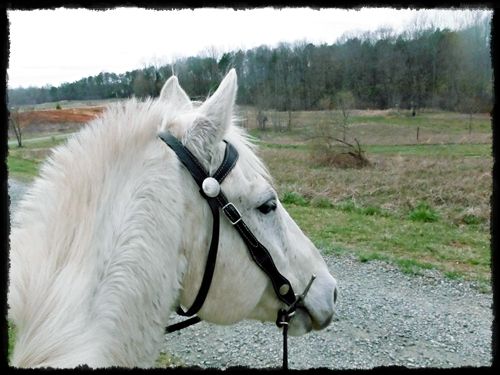 Meanwhile, Thunder has been getting into all sorts of trouble. He is just plain bored hanging out in the pasture. The last straw was when I realized that he had taken to bullying and chasing the other horses just for fun. I was afraid someone would get seriously hurt so I separated him and put him in the paddock by himself. He seems 100% recovered now so I took him out for a ride the other day. My mistake was putting him in the sidepull after not having ridden him in several weeks. He pulled HARD, and jigged the entire way! By the next morning my tailbone was so sore I could barely walk or sit down. As a result I didn't ride yesterday. I am not sure if I feel up to it today either but even if I don't I plan on doing some ground work with him. IF he stays sound we may give endurance riding another shot. Despite having been laid up for a couple weeks he seems to still be in fairly good shape. It would take a miracle, but Leatherwood isn't until May... Well, one can dream:)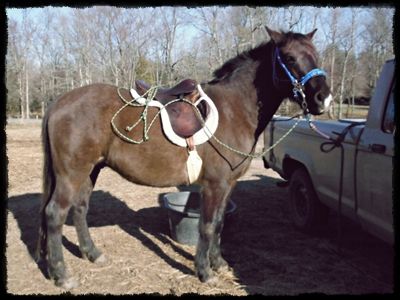 (Photo is from a couple weeks ago, when we were playing around with ground driving
)