Through thick & thin.
---
I am starting a journal about Gidget and I and our progress. We,as partners,have come so far from the first day I owned her and I'm so
very proud of her. Gidget isn't perfect by any means and I'm not sure
if people are truely intimidated by her or not but most people don't think
highly of her. No one rides her but me as she throws the biggest hissy fit and she ends up glaring at me(if horses can glare) for letting me have other's mount her for a ride.
I only know a little bit about Gidget. I will start off by saying she was known by the name Beth and owned by a little girl down in CA as a gaming horse. The girl wanted a faster horse so Gidget went up to OR to what people consider a horse trader(people usually take that as negative). Most likely Gidget would have found a new home and if not she would go to the Big Cat Park as food. Kids have tried her out during the summer.People don't like when people assume but I think that since she had a nasty,stubborn attitude they decided not to buy her. Gidget was a mean horse and defiently not meant for beginner riders and even intermidiates wouldn't put up with her.
Thats really all I know about her.
I tried on my own to help her out as well as trying to learn how to ride. I thought I knew how...piece of cake,right? Not at all! I transitioned to english and there is so much to learn. Gidget is also is learning english and english terms as she only knows western.
I had my first lesson with Gidget yesterday at my new trainer's stable. I worried she wouldn't like her because Gidget can be rude. She said she was so cute and she liked that she has meat on her bones
I guess she's a bit overweight but I prefer that than having her skin and bones.
We went into the olympic sized arena and right off Gidget started testing me and my trainer mentioned that Gidget doesn't find it a joy to move out when asked. She said she was an angry horse and asked if I knew that.I,of course said "yes,but I love her". She asked me if she could lunge her. She asked if she would try bucking,taking off,etc...I told her I can't promise anything but I usually free lunge her as it's hard for me to do lunge line work...well first thing was that Gidget took off out of the arena
Luckily my trainer wore gloves just incase. She got her to run backwards and Gidget never did it again. She doesn't understand what walk means but understands "easy" which I found out was a western term. My trainer also considers her a greenie.I always thought she was well trained but just had a nasty outlook on things. Gidget has a lot to learn so in the Fall Gidget is going to be boarded out at my trainer's and have a month of intensive training. She doesn't think Gidget is too far gone.
What made my day was that she could tell Gidget has really bonded with me and that it wasn't just "hey,you are suppose to be leading me around!".She wasn't confused on why I was walking away to sit down to watch her lunge line. She had a concerned look and had a hard time focusing on my trainer as she would always look back at me. When she was done being lunged I walked up and Gidget went up to me to be pet and was content when I was by her. Knowing that my horse has bonded with me and have someone notice is the greatest feeling in the world. I absolutely
ADORE & LOVE
this horse as if she was my kid.
If you made it to the end of this first entry kudos to you!
I welcome you to follow our progress.Our smiles and our tears.Failing and conquering. We are together through thick and thin on this.
My first day with Gidget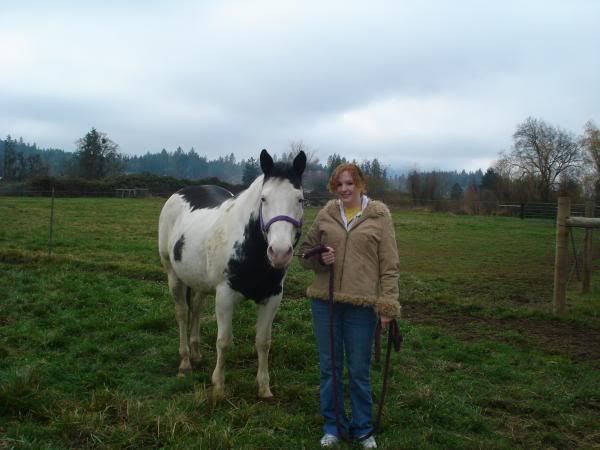 Aw, :). Happy for you. Still waiting to get that bond.
---
A ride a day keeps the worries away!
It comes with time...I took me what seemed like forever and sometimes I do not see it yet others do soooo maybe you don't see it but when other people see you and your horse they might :)

I went to work at the stable. It went pretty well.I helped my trainer out in the garden,fed the horses,and cleaned. There is so much to do there and tomorrow I will be learning how to feed in the morning so I will be there early :)...well what I consider early 9:30.

My husband and I headed out to the stable late.I worked with Stormy. She leads but she needs to work on keeping pace and not slow down. She will take a lot of patience and time.
I then tossed a lead rope around Gidget's neck and Brian(my husband) gave me a leg up as I royally suck at trying to mount bareback. She walked me up to the dirt lot and I was able to steer her with my legs which I was so proud of since she listened. I sat back some and told her to "hoa" and she stopped. I also asked for a trot and we trotted around which was pretty fun. I love summer nights.
Yesterday I had a lesson with Dennis aka:Noodle Neck. He is a TB ex jumper who is now a lesson horse. Apparently my wrists are very stiff and I am over flexing him at the corners which makes him fall in and I lose my contact with the horse. It's a lot of hard work learning dressage but I really enjoy the group lessons with the campers.

I was hoping to bring Gidge to a group lesson today but that isn't going to happen as our trailer lights are having issues and needs worked on. Wouldn'tbe too safe without them! Maybe this weekend :)
I haven't been on here in so long it seems.

Today was a great day. I went to the pasture to saddle up Gidget to go jump. We are jumping 1 ft right now and we aren't going any higher untill we make sure she does it perfectly each time and so I can make sure I can work on my posistion as well! It was a lot of fun. I had my husband and mom there helping Gidget and I out. I am hoping my mom will teach one of her horses how to jump. That would be so much fun.
Tomorrow I am going to the stable to work. I am cleaing two pastures as Pony Club is coming over and they are using that area to camp out in,I think. Also tomorrow is some of the campers last day so they have a game day which includes riding the horses. This should be a lot of fun to watch. I'm going to miss some of the girls. They are all so very sweet and you can really tell where their heart is. They love riding. I wonder how many people are doing camp at the stable this yr.

hmmm..
Naw! He's adorable!
You think he has meat? You should see my pony! :P
The day we met. (This was 2 years ago and he is not dangerously over-weight anymore but still fat!)
DSC00287.jpg
Aussie_&_kayley.jpg
Looking back on thoose photos make me laugh!
---
Horses give us the wings we lack...
Quote:
Naw! He's adorable!
You think he has meat? You should see my pony! :P
The day we met. (This was 2 years ago and he is not dangerously over-weight anymore but still fat!)
Attachment 67582
Attachment 67583
Looking back on thoose photos make me laugh!
what a fat pony!
This morning I had my dressage lesson. I found out riding is so much work with a horse( Gidget) that likes to resist unless she wants to do something. I was posting like there was no tomorrow and by the time I was finished my legs were BURNING! I felt like I just ran a marathon!
Gidget is short strided and my trainer is teaching me how to get her to really walk out and it's quite a bit of work as it's a small walk to jigging so we are trying to get her in the middle. While I'm doing that I am also trying to keep her on the rail of the arena since she likes to fall in and I end up losing contact on one rein >.<

I'm stiff in my wrists and I look like a chicken trying to fly away I found out so I have to remember to keeps my hands apart,relaxed( I break at my wrists)and elbows down....I have a lot of homework to do. I asked if I could work on a schooling horse so I can work on my posisition without worrying about Gidget at the same time and we agreed that would be a good idea since Gidget is considered green after all...maybe my trainer meant green in dressage..not sure...guess I should ask.
Gidget is still going to be trained and a girl there is going to help me warm her up since she has been riding since she was 6 yrs old now is 16 so she has some years in the saddle. She rode Gidget nicely. She kept on having to kick with her leg(lightly) to keep her on the rail and Gidget looked like a giraffe but she made her go and walk out which was awesome....there is a very long road ahead...I'm looking forward to becoming a better rider but training Gidget is a whooooole different story....it might be hell.
Gidget sounds like a typical horse green to a new disipline. It'll get better!
Dressage sounds like a lot of fun... I really want to try it with Baby Girl one day.
You think so?

It was very difficult yesterday. My trainer thinks this is very interesting and thinks she is such a brat,lol...she is one.

I just hope it gets better with her as it's very difficult. I have been practicing with my wrists and relaxing them at home today...I have lots of work to do but hopefully I can get better..I'm a total train wreck with Gidget and learning dressage with her..we are also learning jumping once we get Gidget trained enough to where I can do half seat with her.