Ursula's progress journal (discipline switch!)
---
I feel like starting a member journal for my horse, Ursula. She's is a 17 hand, Shire/TB cross.
Here's her back story...
I bought her in the spring of 2010, when she was 5. She had recently been rescued from a neglectful situation, and was putting weight on nicely. She was broke to ride, but green. She was very ear shy, and wary of strangers, but was otherwise sane. A prepurchase exam revealed an old hip injury, likely a puncture wound, and scaring on the underside of her neck, likely due to an encounter with a wire fence. Despite an uneven cadence I was assured her injury was healed and should cause no long-term lameness. Her way of going was then just a habit that she could be worked out of. I was looking for a well-trained hunter of more refined breeding, but Ursula was just too lovable to pass up, and I saw a lot of potential in her, so I pounced. I had only ever owned appaloosas before, so I was in for quite a different ride!
Here she was shortly after I purchased her: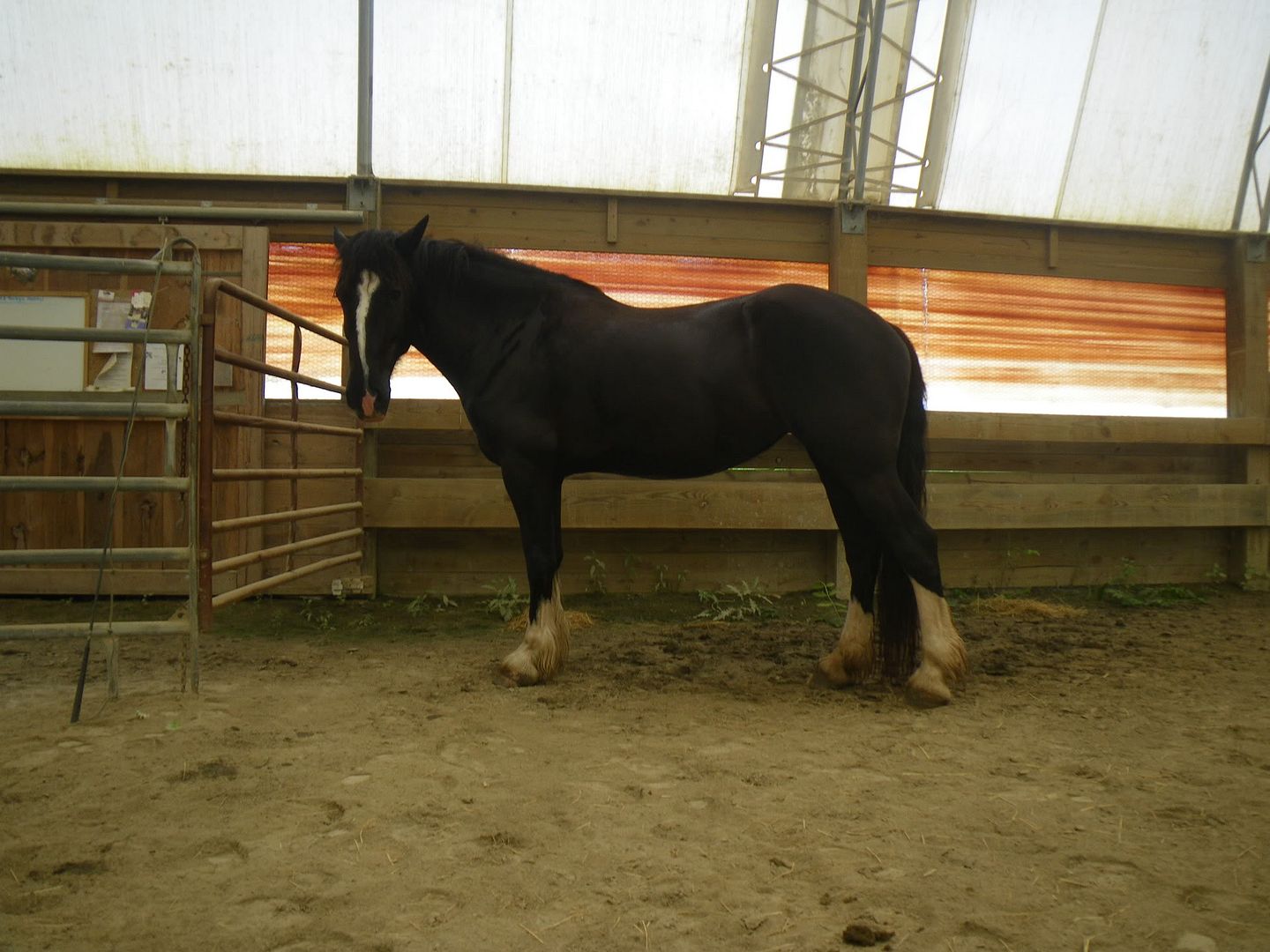 That summer I spent a lot of time with her, just getting to know her, and riding her around just to gain her exposure.
Here's a video compilation from that first summer:
I took her to her first show at the end of that summer, just to see how she'd handle it, and she did okay. We didn't place or anything, but we made it through walk/trot English pleasure class in one piece!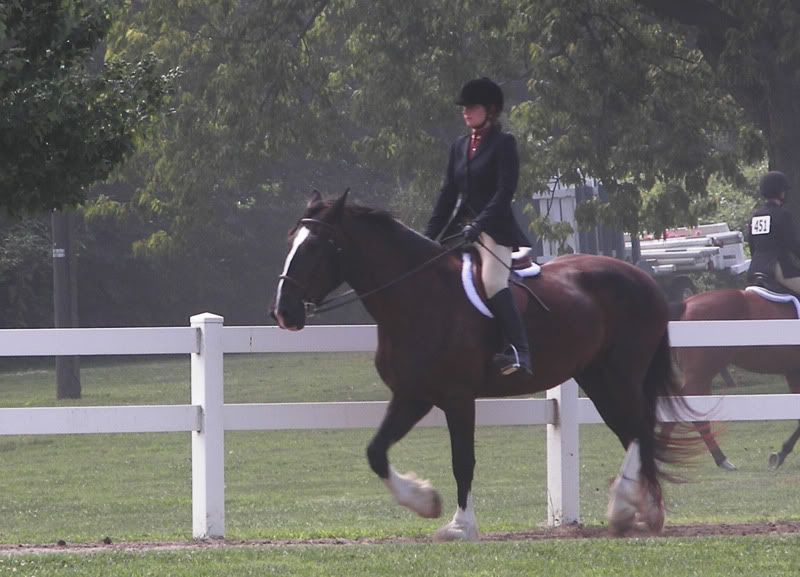 The following year was a little slow for us. I started a new job in the fall of 2010, moved that winter, and got engaged in the spring. I spent most of 2011 figuring out how to be an adult, and planning a wedding. I didn't ride Ursula more than once per week. We worked on gaining a consistent pace at the walk, trot and canter, getting some more immediate transitions and refining her response to leg aids. It went well. We finally achieved a consistent walk, trot, and canter, and I was able to ditch the spurs at the end of the season. We didn't show at all that year.
Here's a video from that fall:
2012 was pretty much a lost cause for progress. I got married in the spring, and moved again over the summer. In the fall, the horses moved to my grandfather's newly-built farm. I spent this year settling into married life, a new apartment, and establishing a routine on the family farm. The most we could do was maintain what we had already achieved with occasional rides.
Here's a photo from our first ride in the new arena:
Once spring of 2013 rolled around, we were ready to work! My older gelding was on lease to my riding instructor's daughter. In exchange for this I got free riding lessons, so I worked closely with the same instructor I had been since I was 12 years old. She's an all-around pleasure instructor. Ursula and I got into reasonable condition and did a series of fun shows at a local show grounds. We did actually manage to place a few times among all the well-trained, refined, Quarter Horse types.
Here's a video from our first time cantering in a crowd:
And some photos from 2013: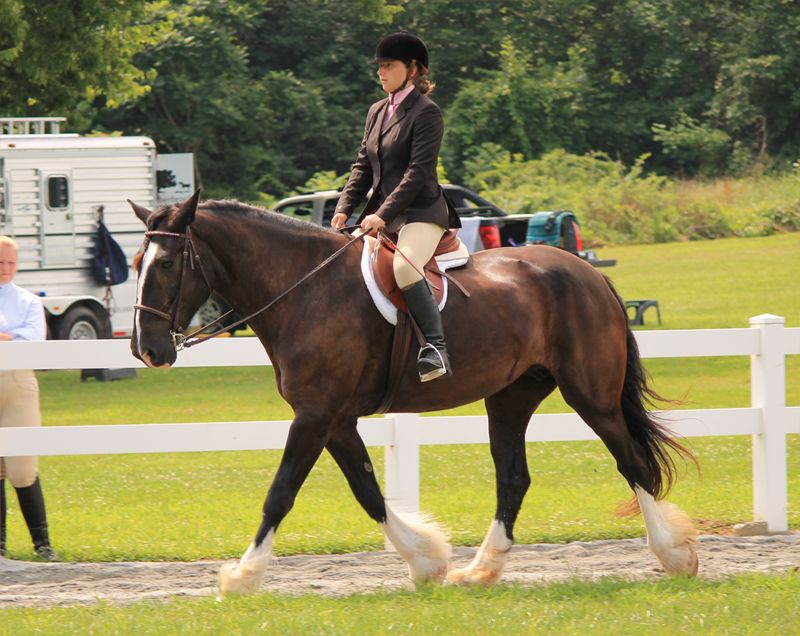 Near the end of the season, we got a new saddle professionally fitted, and got a start over fences.
This is when mega-winter struck. I rode twice in the span of time from November through mid-March due to poor footing. The first of which ended with my first fall off of this horse, due to an overly-dramatic spook. The second ride only lasted about ten minutes before I decided the footing in the arena was still too slippery to continue.
---------------------------------------
Over the last year, I've decided that the pleasure scene is not for us anymore. My horse is not a breed that fits in at the riding club we had been a part of, and her way of going is just so different. Due to her draft breeding, she is heavy on the forehand, and does not engage well. The long, low riding style of English pleasure, and stock-type hunters really doesn't help this. However, she is athletic and shows the potential to jump fairly high. She's also brave and willing on hacks outside the arena.
This drove me to find an instructor that teaches jumping and dressage and competes in eventing on her own horse. I am starting with dressage lessons to work on our collection, and engagement and refine our communication. We are shooting to attend our first dressage show in May. Keep in mind I have never been to a dressage show and know next to nothing about the discipline, so this will be a major adventure for me! I hope to work in some jumping by the end of this season, and continue to work on dressage concepts. It will be nice to get a fresh start and a good, solid foundation in jumping from an instructor with more experience in it.
Awesomely, the arena finally thawed this week, so I rode once on Friday, just so Urs and I could get reacquainted, and then we had our first lesson with the new instructor!
Here are photos from the lesson:
I am working on sitting back and getting out of my hunter's forward seat for dressage. I need to get off my pubic bone and onto my seat bones and encourage Ursula to ride out in front of me. I need to keep my thumbs on top, widen my hands, and maintain a straight line from elbow to bit. I also need to learn to use my body and not my line of sight to direct Ursula. I need to relax my left shoulder. She was having me ride with my hand in the air to stretch out that side of my body. I need to keep the weight off my inside hip, and open my inside rein to guide her back to the rail when she drifts off the rail in order to maintain an inside bend.
I practiced these concepts today on my own, and I felt some improvement, but I have a lot of work to do! I'll be taking weekly lessons, and will post periodic updates to this thread!
BTW, if you read this whole post, you deserve a cookie. :)
---
I had my second lesson with the new instructor last night. We worked further on achieving a balanced seat. I am still tense on my left side and leaning more weight into my left seat bone than my right one, but she said there has been improvement since the first lesson!

We started on 20 meter circles at the walk and trot, and shoulder fore. This stuff is a lot harder than it looks! I need to basically throw everything I've learned prior out the window. I've been taught to lift and ask for inside bend with my inside rein, support with the outside rein, and encourage the bend with my inside leg slightly forward and my outside leg slightly back. I am now being instructed to use my legs in a similar application but less of it. I am to use my seat and shoulders more to ask for a bend. My outside rein needs to maintain more contact and act as a cradle. My inside rein is now my supporting rein and needs to be my "open door" inviting an inside bend.

I would say I achieved a total of 3 strides in successful shoulder fore after many laps of instruction and failed attempts. My 20 meter circles are better at the trot than they are at the walk. I tend to either have rounded circles with a flat, unengaged horse, or a horse that is finding an inside bend but not consistently yet, and is falling in and out of a wobbly amoeba-shaped circle. LOL

I had been riding my horse in a kimberwick on and off. It's the bit I use when I think Urs might be strong, or might startle and need some better brakes. I had her in it for the first two lessons as we were just getting back into the swing of things and she tends to be nervous after some time off and I tend to be out of shape as a rider. I also was not trusting her after our accident over the winter. It was my "security blanket" but now that we're back under saddle and pursuing the dressage, we are going back to the D-ring snaffle for at least one lesson, just to check it out, see how she reacts and if we can start working on contact. I may be going bit shopping soon.

My instructor also wants to get on Ursula, to feel what I'm feeling and hopefully give me better instruction because of it. I'm interested to see how that goes. I'm the only one that's ridden Ursula since I've owned her. I've had others sit on her and walk around and it didn't always go well. She gets jumpy and tense with other people on her back. This instructor seems to be a talented rider (much more knowledgeable and experienced than I am for sure) and I trust her to know her own limits, so hopefully it will be a good experience for everyone.
---