Considered a mini?
---
One of my horses is a 10 hh. Shetland Pony cross. Many many people have called her a mini but she just seems big and fat to be a mini. I own a 11 hh. Welsh Pony who is not considered a mini, and there isn't a big difference except body shape and breed. I'm just curious. I show her through 4-H. She obviously shows in pony showmanship but for open class shows at fair she shows 30"-40" mares. She'll also be entering trail in hand class this year...and I'm currently training her to cart. Her name is Rain by the way, and she's 8 years old.
Here's some pictures so you can get an idea...
She definitely looks Shetland to me. 10hh is too big for registered minis to be, the cutoff is at 8hh I think, but she could technically still be a grade mini....or a Shetland/mini cross. Trust me, she's not too big to be a mini, my mini mare is fat as heck!
Ok, because I know she's like a mini, but she's bigger than a lot so that's why I'm like small pony or mini? Haha. Yeah I don't think she's pure we got no background history on her.
My mini mare is right at the actual cut off of 38 inches...which is 9.2 hands...so if she's a mini/shetland cross she'd be a shetland period unless she was under 38 then she'd be both. Here's some pics of my girl, she's 100% mini but looks much like an American shetland.
The American Shetland Pony is a breed determined by bloodlines, not simply size. Unless he or she also carries ASPC papers, a mini that goes oversize becomes a grade pony. Since AMHR no longer allows hardshipping, even those between 34-38 inches are grade unless they have papers. (AMHA for now still allows hardshipping, so under 34 inches can be registered as a mini with them.)

The height limit for AMHR is 38 inches measured at the last mane hair. A horse with prominent withers can measure 38 inches at the last mane hair AND 40 inches at the top of the withers. This is the case with my B-sized AMHR-registered mini. He is most likely Shetland by breeding, but he was rescued without papers, so I hardshipped him into AMHR (when they still allowed that).

ASPC Shetlands that mature 38 inches and under have become extremely popular double-registered with AMHR. They do extremely well in the breed show ring with their refinement, long legs and beautiful movement.

Your mare is very pretty and appears to likely be of Shetland descent, in type if not by papers.
Interesting, I never saw a horse that looked half mini, half pony. Cute though ;)
---
A ride a day keeps the worries away!
Arriving late to the thread here, but just wanted to comment on what a beautiful girl Rain is.
Let us know how she takes to driving!
---
Green Broke
Join Date: Dec 2010
Location: At The End Of That Rainbow To Yer Left
Posts: 3,171
• Horses:
4
rain is very pirdy, but in the 2nd pic she looks like a fat, furry mini
---
If you want a stable friendship, get a horse.
Foal
Join Date: Nov 2008
Location: scotland in the middle of nowhere
Posts: 50
• Horses: 0
are these any good he is our reg shetland pony ,he is not a mini ,although i notice your shetlands are a bit different to ours ,
father exported from shetland to our isle ,mother is island breed ,parents qualified for hoys ,
he is 3 and a half and expected to mature at 10 hands
his lines come from the lines exported to work down the coal mines,several mine owners set up own studs to improve the breed some on shetland ,his was one of the lines that came out of this so they had to do a days work and be powerfull for their size so where stocky ,be quick to train ,his lines are the berry and marshwood lines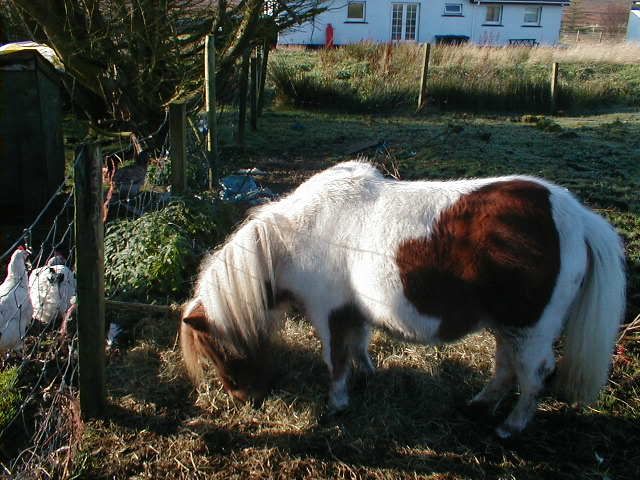 ---
Where in this wide world can man find
nobility without pride,
Friendship without envy,
---
Last edited by moorland; 01-31-2011 at

12:04 PM

.