Cremello Filly
---
I went to see the filly. Im on the fence. Im not sure what to do. Her feet were in bad shape but her overall confo didnt seem too bad.. what do you guys think?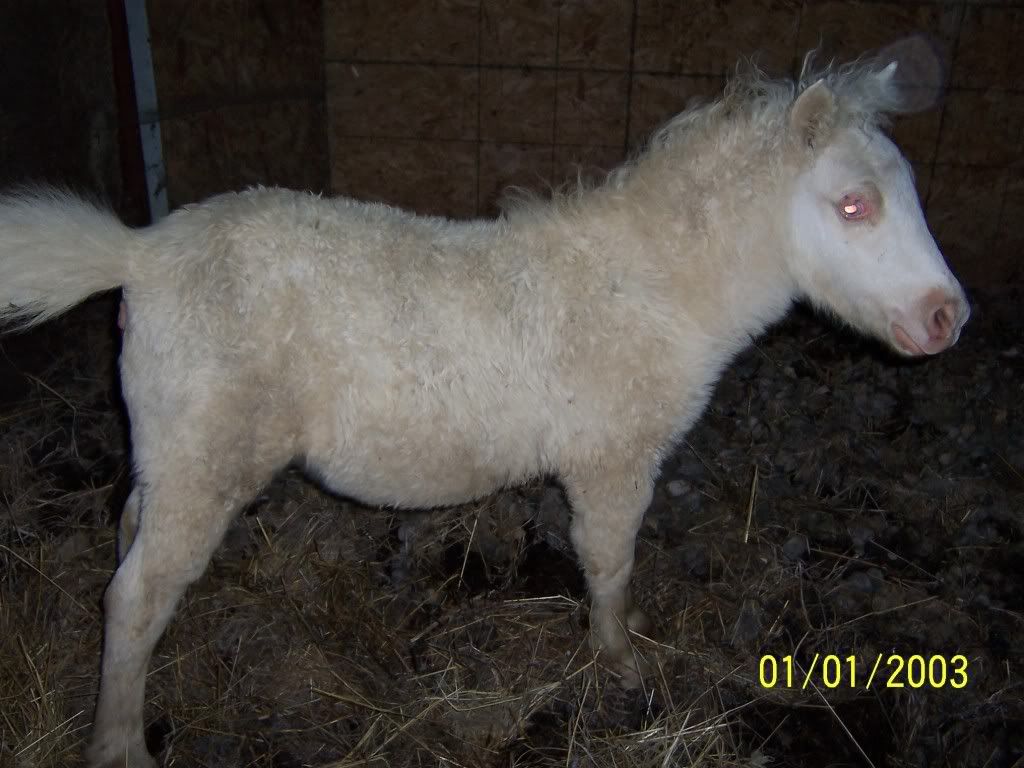 You've probably said, but what are your plans for her if you get her? What's her personality like?
Ok I read the other thread and saw you wanted a show prospect. Sorry, can't tell from those photos (didn't help that I had to look at them on my phone, darn work blocking most photos! :( ). Have her sire and dam been shown?
I can't tell from that photo what her feet are like but foals change considerably within days and weeks of being born
Well I was going to use her for show.. but she has a slight overbite and her eyelid had been injured recently and stitched back together. Her feet were pretty bad, as were the rest of them. After I inquired about them. She said that they had just been recently done "3 weeks ago" and wouldnt need to be done again for another 3 months. I wasnt able to get any info on the sire and dam but I know they were never shown. She didnt know what bloodlines they had or anything. Nor was she even halter or lead broke. I do feel sorry for her though. I thought about making her an offer of less money, without the papers.. just to see if she would consider it.
Personality, she seemed pretty easy going, but was skiddish at first. She definantly wasnt well socialized with people yet. Yes, I know the pics are bad. I couldnt get any good ones, since we were in a nasty stall.

Is it normal for their coats to look curly/wooly? That's what her's was like... it looked and felt like sheep's wool.
---
Last edited by mountainhorse44; 10-03-2009 at

04:09 AM

.
Aww. She is cute. Poor little thing, her stall looks extremely nasty. Personally if it was me and had the room, I would offer her something just to get her out of there. I know I know nothing about the people but she dosen't look or sound like she is well cared for.
---
Blue Eyed BLY~ 2/3/03
Calico Sonny Stockman x She's On Cloud Nine
I sent her an email today, asking her to consider an offer for 150 without papers. This is what I said..

I really enjoyed our visit yesterday. You have alot of nice horses on your property. I really like the filly and would love to take her but I feel that you are asking too much for her. I would give you 150 without papers at most. If you'll take that then I'll gladly take her but due to that fact that she needs her hooves trimmed, needs halter and lead training, needs wormed and due to her overbite can never be shown, I feel that your asking too high of a price, based only on her coat. You couldnt even tell me any horses behind her pedigree.. which most breeders would know. Training, breeding and appearance count for everything in this market but because she lacks all of that. To be fair for a pet quality horse, without or with papers, 200 would be the most you'd get in this market. I like her attitude and her spunk. She's funny. She seems like a real character. She would have a good home here and would get regular care and exercise. I'd like you to consider my offer.

Thankyou,

Ashleigh


After she got used to me I spent 20 minutes picking woven in burrs out of her coat. The poor thing. :( Her mother had a large patch strip of hair missing on her neck that looked pretty bad. She said that she had just done it. Father had a nasty scissor bite. She was dirty and yes the conditions were very deplorable... She couldnt tell me anything about background.. which tells me she didnt know..
Poor little girl. I hope the current owner is smart enough to take your offer, you offered more then I would though. But that is good. Hopefully she will be coming home with you and get the care she deserves and I think she would be very happy with Sarah. :) I just bought 4 mini's for $100 each. They aren't registered but can be (Found out the parent's were but the babies paper work was never done). And they are all fat and happy, halter broken and have been well cared for, the kids just lost interest. And their ages are two 5 month olds, 19 month old, and a 2 year old (who is possibly pregnant, I know that isn't good but she well be vetted and have a vet present if needed)..
---
Blue Eyed BLY~ 2/3/03
Calico Sonny Stockman x She's On Cloud Nine
Yeah, I thought her leg looked odd.. the way she had it position and when I lifted it up and took a look at her hoof. The bottom of the hoof was shifted, which would need a good amount of corrective trimming. I dont know what it is but my heart just goes out to her. I hope that she does take my offer. I hope that I didnt come off mean. I didnt try to but I strongly believe that she doesnt know what she is doing. Poor girl. She picked up her hoof well, no fighting. :) I felt based on her confo, training and current state.. 500 was too much money. I feel that that is a more fair offer. She said she had started breeding 5 years ago.. bought the two mares in their 20's. The filly's mom, 27 years old has had 4 foals and is in foal again to the stud. Other one she couldnt get pregnant. She bought them and just bought the first stud she saw, without thinking about breeding, temperment or show experience. She such a beautiful little thing. :(

100 each? Wow that was a good deal. :) Im sure they'll have a great home with you.