Dwarf Minis
---
Responsible breeders of miniature horses do not usually breed for "small." They breed for correct conformation, health, temperament, and soundness. Sometimes dwarf minis are born with horrible malformation, shortened legs, terrible mouths, crooked legs, large heads and roached backbones. Very often these do not live.

Others are born which are called "minimal dwarves." These have maybe one indicator of dwarfism, but do not have the entire malformations that others do. These can live with extra care.

Most breeders will not breed either the stallion or mare whose genetics produced the dwarf. They will have the stallion gelded and often give the mare to a pet home with the understanding she would never be bred.

Dwarves may NOT be registered.

Unfortunately, there are those who breed for small, small, small, and when a dwarf appears, they sell it as a curiosity, sometimes getting more money for it than a Mini foal with good conformation. Those people make me sick selling them as cute and strange little beings.

On the other hand, many responsible breeders, if and when they have a dwarf, they feel a responsibiltiy for its care and medical conditions for its lifetime. I know some very good farms have a dwarf which they care for with love and care because they produced it and care for the little animal. At times, a family might want a dwarf and do not mind the extra expense for medical care, but that is rare.

Dwarfism is unfortunate in minis, but it is a reality which breeders strive to keep from happening again. Studies and research are being done to isolate genes or gene markers for dwarfism. If that is done, genetic testing could be done to eliminate those with affected genes from the breeding herd.
Thank you for posting this! Anyone who thinks that dwarfism in minis is cute should have to listen to me rant about the 2 that were born on my grandpa's farm when I was growing up.

It was absolutely heartbreaking; the first was born out of a mare that my grandpa purchased already in foal. We struggled to keep it alive, but it died after 4 days. It had the sweetest, sweetest little spirit and to watch it suffer and die...well, people should hear that aspect of it.

The second lived, only after extensive leg braces and therapy. Even then, his quality of life was never that of a healthy horse. When my grandpa died my uncle took him in, and he died at only about 15-16 years of age, even under very good care.

Watching those heroic little things struggle to walk and live broke my heart.

Again, thanks for posting this. :)
Oh...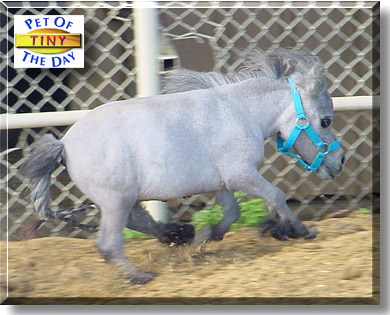 My GOD....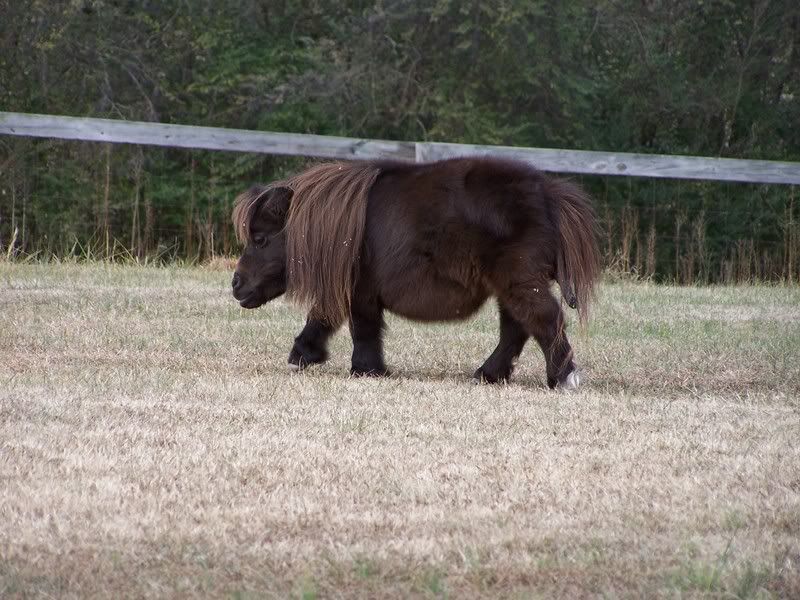 It's....what the hell
is
that THING!?
A HORSE? Are you SURE? Really...? They look like...well, they don't look how they should. That's for certain.
---
Last edited by masatisan; 07-18-2009 at

07:39 PM

.
Banned
Join Date: Dec 2008
Location: At my house, or stable, duh!(Michigan)
Posts: 2,479
• Horses:
3
Wow, how could anyone think that's cute ? It makes me cry inside just looking at it
Dwarfism is a big problem in miniatures. Fortunately we are getting very close to having a test to find the carriers. Keep in mind that 2 miniatures that show no signs of being a dwarf can produce a dwarf. This is why it is so important to get the test out to the public to know who the carriers are.

IMO Minimal expression dwarfs are the worst threat because people dont know its a dwarf. The minimal is only in the expression of the gene otherwise the horse is very much a dwarf. So they get bred ughh. Minimal traits are:

Upturned nostrils
Too domey of a head
Crooked legs
Long body

I just wish more would learn about conformation and then you can spot these horses right away. But as said too many people buy a mare and a stallion and start breeding without educating themselves at all
i think people who think these are 'cute' or 'adorable' are right in many ways as they do look cute and adorable. but many of them could be non horse owners/riders. if they are then they may not look deep into the breeding and structure of these little animals.

in my opinion i do think its really bad the way they breed them as i have seen many been born and died after birth. but if they do survive birth they only live for a max about 6-7 years :( i do feel for these little creatures tbh and just wish people could realise that they will be hurting them too aswell as people who really think it is bad to breed these.
---
Once a ride, forever a friend!!
Quote:
Oh...
It's....what the hell
is
that THING!?
A HORSE? Are you SURE? Really...? They look like...well, they don't look how they should. That's for certain.
That's the ever elusive Basset Horse... Wow.
Thanks for posting this thread. While dwarfs can be freakin' adorable and you want to carry them around like Chihuahuas, it is so sad knowing exactly what they are and why they are that way. I first read about dwarf horses a few years ago, and ever since have been appalled when I come across someone who purposely breeds them.