hi new to here but was going to say that in my looking around at different mini breeder i have noticed that all the places i have seen that have dwarfs born are breeders who practice inbreeding or as they call it "line breeding" i was wondering what anyone els thought on this i think it may be connected. as in not enough mixed blood lines. i have raised miniature horses in the past and still have a few and i have never had a dwarf born here or out of my stallion or mares but i try and keep the blood lines far enough apart to keep it healthy. i know a breeder that will breed son to mother to keep a concentrate of a certain blood line or head type. i have also seen breeders who clam there horse has a Arab type head and all i see is a big dome on there forehead and or eye sockets set higher than the forehead itself. it really bothers me making a name bad for mines and then even another breed.
Well... In doing a good deed trying to be informative I think you see by the responses you get from people like the first post and 30th... all people want to see is "a cute deformed animal, thanks for posting pictures!" This type of thing falls on deaf ears more often than not and these people have NO business owning any horse who has the ability to reproduce. I have seen many pregnant mares and forum members breeding stallions on this and other forums that have minimal dwarf characteristics but yet everyone replies with a congrats, hes cute, shes cute, what a nice color (Thats the only thing going for the animal breeding wise...) Its a complete shame.
i dont think there is anything wrong with dwarf minitures and in fact this also happens in human society. i have heard stories about these horses and their vet bills are massive but their owners would rather not part with them.
Dwarfism is a genetic mutation and also a flaw. Sounds harsh but it is true as if you have a form of dwarfism you are classed as disabled. These horses are deformed and unless they were an accident the breeders should be ashamed for afflicting horses with such horrendous disabilities.
---
Eagles may soar but weasels don't get sucked into jet engines.
Miniature horses are cute, Dwarf horses are poor deformed animals that have to suffer. Yeah, there's a whole bunch of medical bills, casue theres so much wrong with poor things! Do these people also carry them around in a large purse?

Their conformation is horrible! At least in mini's, they can have normal horse conformation. Those dwarf horses are ugly and suffering. It's a shame people can't see that. BREED RESPONSIBLE!
---
Lettin' the cat outta the bag is a whole lot easier than puttin' it back. -- Unkown

Hi
I'm new here and one of the 1st threads I have read here was this one.
The dwarf posted in first post belongs to my good friend. I have had a big part in her care and wellbeing.
Her name is Midgee Petite and she is 1 year old.
Midgee does NOT suffer with some of the health issues that other dwarfs suffer from so please do not put them all in the same basket. My friend bought a mare in foal and when Midgee was born, the decision was made that if she ever began to suffer, she would be PTS.
Midgee has straight legs, a good bite and has regular health checks. So far, she is a healthy and happy little horse. Funny looking, yes. Unhealthy and suffering, certainly not!
She plays hard, keeping up with all of the other mini horses. She is adored by so many people and has quite the fan base.
I agree that there are other minis out there who have had to have extensive surgery and live a life in pain and missery. That upsets me and Midgee's owners.
We love this little girl and she deserves the same 'respect' that any other horse has.
Here are some recent photos of her.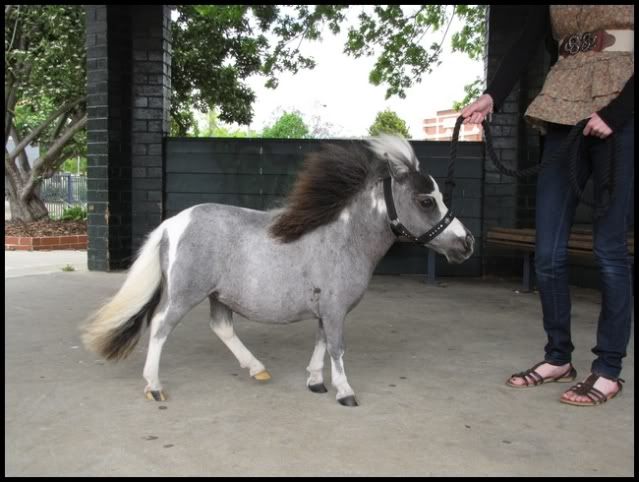 She visited the elderly in the nursing home. She loved all of the attention.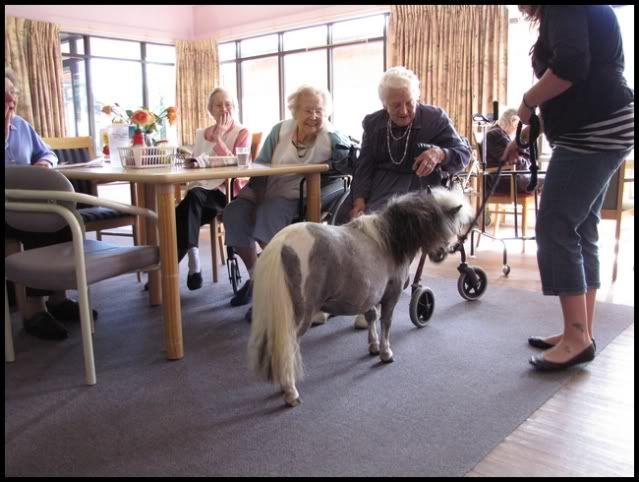 And here is a link to a youtube video of her playing. Don't tell me that because she is a dwarf she suffers. Judge for yourself.
http://
she iz a very lucky girl in the fact that all she has wrong is non equal parts but i have seen some come from the breeder i know that needed a lot more work and i have even bought a horse from him it was a weanling and looked normal whi the horse matured his neck was to short for his body nothing bat at all as far a health goes he was fine and happy i did not keep him as i was geting in to breeding and showing but i found a home for him were he would be cared for. but we see to may that are not teh lucky ones being kep alive becaus someone wants them to have a full life well if the life is full of pain and casting and surgerys and soforth then what type of life is it? she does look very happy playing with her buddys shes a healthey one. an di agree they should not all be lumped together becaus there are diffrent types of dwarfisem there not all the same!
Maplegum, please don't get offended by this, but dwarf miniature horses never show serious signs of progressing health problems as yearlings. She in fact won't start showing signs of joint softening, off bite, breathing problems(to develop) back distortion until she is 2 or 3.

I used to breed and show miniature horses and I've seen many dwarf miniature horses have full happy lives for the first couple years of their lives, before their bodies started to weaken to the point where they could no longer have a life sustaining quality of life.

These are real issues that will arise. This is sweet looking horse but she needs to be realistic with what she has on her hands.
Wow thats an old thread..Hope she still doin good...:)
Quote:
Originally Posted by
PonderosaMiniatures
View Post
Wow thats an old thread..Hope she still doin good...:)
I sure hope so. Nothing worst than having a mini who's sick, especially with this type of issue because mentally they are like any other horse, but physically you really have to decide when enough is enough and you have to put them down.
My prayers definitely goes out to them.