Growth in Minis.
---
I have a question about growth/growing rates in Minis. Do minis stop growing at 3 years old or do they continue to grow until 5 years? Im curious because Sarah is butthigh by about 2 inches. She's 32 inches in the front and 34 inches at the butt. She's 3 years old. Her breeding is good. She has alot of foundation stock and quite a few nice horses in her background. She's heavily Del Terras bred on her mothers side. So I dont think it's bad breeding.. but is her being butt high a conformational fault? or does she still have more growing to do? I heard that they can grow up until five years old. Her front legs are shorter then her back ones.. :P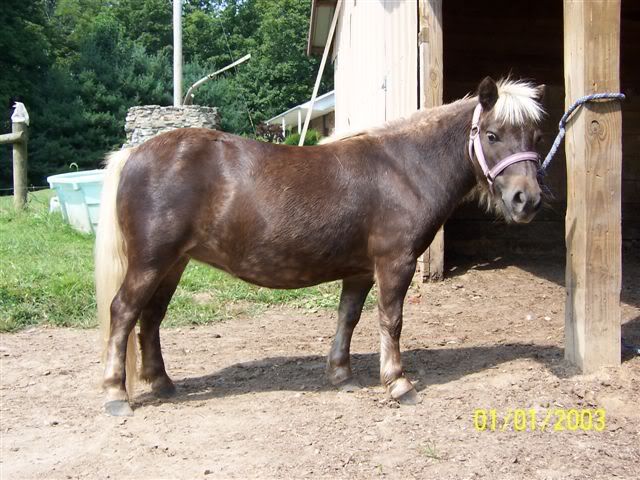 Here's her pedigree.
La Chocolot Princess Miniature
Your mare is very typical of Del Terra breeding. Shes really not "butt high" shes goose rumped and has a low tail set so yes this is a conformational fault. (keep in mind all horses have faults)

They can grow up to 5 years but most stop before then.

Shes just very much older style mini (heavier boned out of balance) and with the del terra breeding its easy to see where it came from.

Those old bloodlines can be good or bad depending on how they are crossed.
Yeah, I was just curious. I dont really plan on breeding or anything. I'd like to get one foal out of her in the future to keep for me and if I do it would be to a really good stallion to correct her faults. She's just a pet but I was just curious to see if she still had growing to do.
Yeah, but I was looking through a recent miniature horse world journal, and none of them have the style of your horse, or mine. Roscoe is 20 somethin' and has a thick body looking more like a 'pony' like your mare, but now they are looking like actual mini 'horses' But I noticed a lot of them didn't have well round butts, their withers were almost always higher....
---
Lettin' the cat outta the bag is a whole lot easier than puttin' it back. -- Unkown

Yeah, most of them nowadays are more lanky. Yeah, the newer body styled minis have the confo of a horse, be it good or bad. And even shetland ponies are looking more and more like horses too, conformationally. I remember when shetlands used to have short and stubby legs with the large head and big thick mane and tail. Now they are proportioned like a horse.
To answer the basic question in my experience many minis mature height wise 2.5 to 3 years old. They certainly aren't ones to take until 5 to top out.
Similar Threads
Thread
Thread Starter
Forum
Replies
Last Post
Riding the minis!

dynamite.

Horse Pictures

22

04-10-2009

08:11 AM

Growth on mare

Brumby

Horse Breeding

6

01-15-2009

02:57 PM

Shetlands & Minis

girl_on_black_pony

Horse Breeds

13

08-11-2008

05:12 PM

My Minis!

paintluver

Horse Pictures

4

06-25-2007

04:07 PM

minis

IHeartHorses

Horse Breeds

16

05-02-2007

06:51 PM