Thanks AspendaleFarm. (don't think you missed anything there
)
Serg5000, we do not do a lot of showing with our Miniatures.
But we do really enjoy training and driving them. (that's what they are built for)
Also do all of our local, and other close by, Parades.
As well as doing therapy type visits in the community.
Minis are really great for children and others who could not handle a full size horse! Most of them have very calm, loving temperaments...
They are very versatile little horses.
Just can't ride them, and that's okay, we have other horses to fill that bill!
Hi SLCS!
I have some pics to share!
The first one is when I went to see Boo, before I purchased him. He was living in a backyard of a suburban neighborhood, she had to keep him hidden, and he had no other horses around. Notice the tarp on the fence, that was to hide him! He looked kind of scrawny, and really needed a fly mask!
In her defense, he was just body clipped in this photo, and also, she kept him at her house because she felt like he was being picked on where she had her other horses boarded.
He did seem like a sad little soul, though.
Here he is, a few months later, in my front pasture (Bruno is in the background)
Here is Bruno, the day he got off the trailer and to my barn...
here he is a few months later...honestly, it is just lack of a winter coat, I think. Can't take much credit for this transformation!
and just for fun, here is Boo with his winter coat. This pic was taken just a month or so ago. I have since clipped him, because it is darn hot here! Just wanted to showcase the "many looks of Boo!"
Well HELLO Dirtymartini!
Where you been hid'in?
Quote:
Just wanted to showcase the "many looks of Boo!"
That comment made me laugh!
(he IS such a curly little thing!)
Okay, on a more serious note...
Boo sure did look horribly sad in that first pic, you can see it in his eyes.
Poor little fella!
I am sure it was not very fun to be kept as a "secret" like that, and to be all alone....
He always looks content in the pics you have posted, so he obviously is in a happier place now!
Bruno is so handsome.
I do think from other pics I've seen of him that he has gotten in better physical condition, a bit more toned-up I guess, since you've had him.
But yes, of course they always look like they have that big belly a'hangin when they have their winter woollies on.
Can't wait to get mine all shaved off in a few months!
And I thought my horses' winter coats were thick
---
Mount up and leave your troubles behind on the ground.
hey...what happened to my first pic of Boo? I don't see it on the first post. Weird! Here it is again...
Heather---isn't it CRAZY how thick his coat is??? he is all clipped up now.
Hi SLCS! I am here...always busy...between the boarder and the minis, and on my small piece of property, I feel like I am always picking up horse poop!
I love looking at the pics of minis. Yours are always so cute! I hope some others post some pics!!
Hmmm, now I see the pic! Oh well...sorry! That's weird!
My mom does pony rides. We got Lady (along with most of our other ponies) from a lady in the next state over who also does pony rides. She had just gotten Lady back from someone else who had attempted a pony riding business and failed. At the time she was named Sweetart (ew), and had been living in a pasture full of pine straw.
Before, on the day we took her home
And here she is about a year later. Who knew she was a Palomino?? In the summer she has a GORGEOUS dapple pattern on her.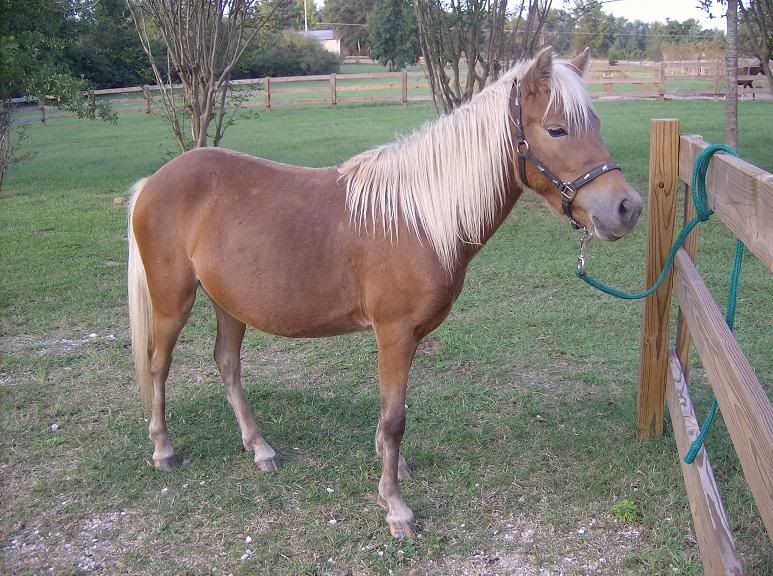 Again, I realize they all tend to look so much better with out the fuzz...
But Lady sure looks much healthier and happier in her "after" pic!
Just curious.
Is she still employed giving pony rides?