He is gorgeous!! Congratulations Stacy!!
Thank you! Taking him to a show Saturday and I'm so excited and nervous. I'll post pictures when we get back! =)
Good luck at the show!
---
Amanda
Horses lend us the wings we lack.
Thanks Amanda!
He did very well...3 reserve champion ribbons, five 2nd place ribbons and a 1st place ribbon =) I am very proud!

Stacy
can you post some pics from the show??? :) x
Of course I'd love to share some pictures
These are a couple I took with my camera. My camera isn't very good, plus he was doing "mule ears" LOL He is stubborn about putting his ears forward, so these are the ONLY two I got that his ears are somewhat forward haha.. The professional pictures should be up in a few days and I'll post them on here when I get them!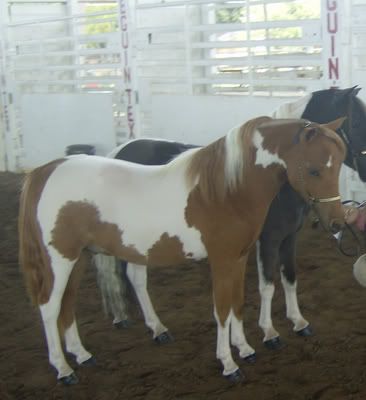 Yikes! Sorry about that. Didn't realize the first one was life sized! I'll see if I can resize it
Congrats! He is lovely!
---
Amanda
Horses lend us the wings we lack.
Congrats on some great wins. A great way to start your (and his) show career.

Lizzie