Hi yes a biscuit is a flake :) odd Americans!
Down here in kangaroo land mini ponies and horses are seen very differently.
Miniture ponies are like shrunken shetlands, mini horses however can resemble Arabs, tbs etc often Arabs. They are much finer boned animals and NOT suitable for riding or driving, they do amazing agility though. A miniature pony however can carry a small child.

What do you want the pony for?
I am aware of the difference between ponies and miniature horses and I think I as well as many many other will correct you that Miniature horses are not just like small arabs which you cant drive.
Those you are speaking about are kept for shows and often starved too much to keep that total miniature horse look. (sorry to those who do show and don't starve them, Im not suggesting that all showers do) Although I am aware a mini should defineltely not be over weight, I actually really don't like the ones that look like greyhounds either
I have spoken to many aussies over here who drive minis as well as know there are many more in America who do just that. Yes minis not ponies.
Anyhow, I am wanting the miniature to clicker train and as a pet, with driving maybe in the future when Ive had lessons. Cheers
---
Last edited by Tombo8; 12-10-2013 at

05:52 PM

.
Here are two I am thinking of purchasing. Miniature horses not ponies.
The 2nd one is over weight and needing to get some weight off, wondering how hard that would be to do.
Oh and they are both about 34.5 " tall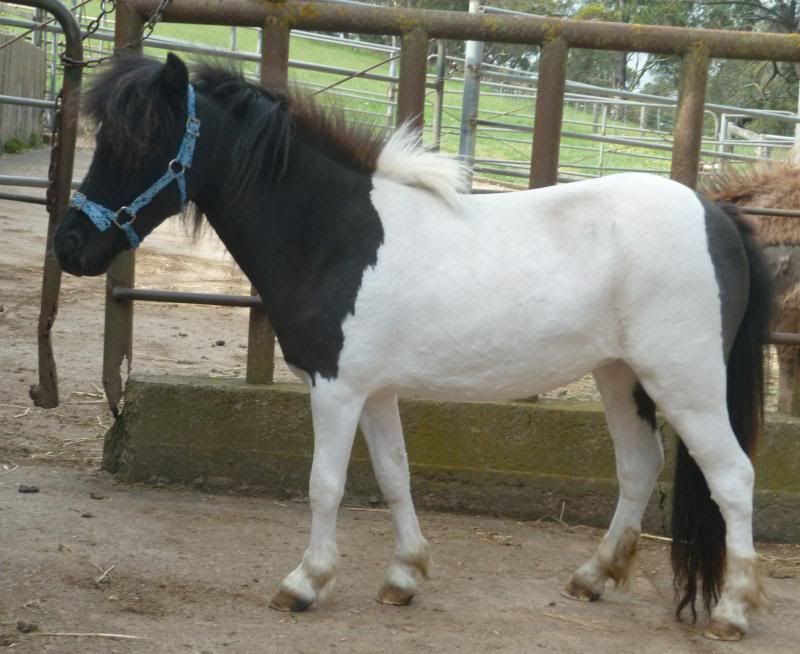 ---
Last edited by Tombo8; 12-10-2013 at

06:16 PM

.
Teen Forum Moderator
Join Date: Dec 2010
Location: South East Texas
Posts: 7,157
• Horses:
2
Miniature horses can absolutely be driven. I drove my mini multiple times a week and she had absolutely no trouble pulling me and an aluminum easy entry cart...and she loved it!

I'm not sure where the 'starving the show horses' comes from though. I kept my mare lean and fit even though she was not show quality or ever shown past local fun shows. I assure you she was not starved, she was very healthy. She is the chestnut miniature horse that I posted in my original post. Far from starving. It was when she was slightly fat and allowed to eat pasture grass that she foundered!

Tombo8- The first mini you posted is in perfect flesh- not too thin and not too thick. The second is a bit pudgy as you said. It IS harder to get weight off of minis than big horses since they can't be ridden, but ground driving, in-hand walking (obstacles, trails, etc), lunging, etc can all be used along with tailoring their diet to slim them down.
---
Everyone in your life is meant to
be in your journey, but not all of
them are meant to stay till the end.
Oops my bad
Just going off what I'd been told. Nice to know though!
as far as how much to feed them i have found that the 10L red buckets filled with hay is enough for them our two get one each in the morning and at night they get a bucket and some hard feed but ours aren't on grass unless we allow it as it goes right though them.

we have a purebred Shetland pony that is also mini pony due to size he is only 2 yo thats the pinto and the mini horse is the black one is 4 yo