Mini Van
---
Hi, first off I guess I should introduce myself! My name is Kim and I own
O So, a 2 year old mini! I have been lurking here for a while, but recently got involved in one of the threads where I shared a pic of my mini van (bus). I was asked for more pics, so I figured I would start a new thread to not take away from the other!
Here is a pic I took a while ago, we were just training O So to load into the bus! Hubby is holding the lead!
Here is one with the stall we built to go in the bus! I put a rubber mat down and then put pine shavings on top. I also made wood paneling for the bus's doors! Cleaned it up nicely!!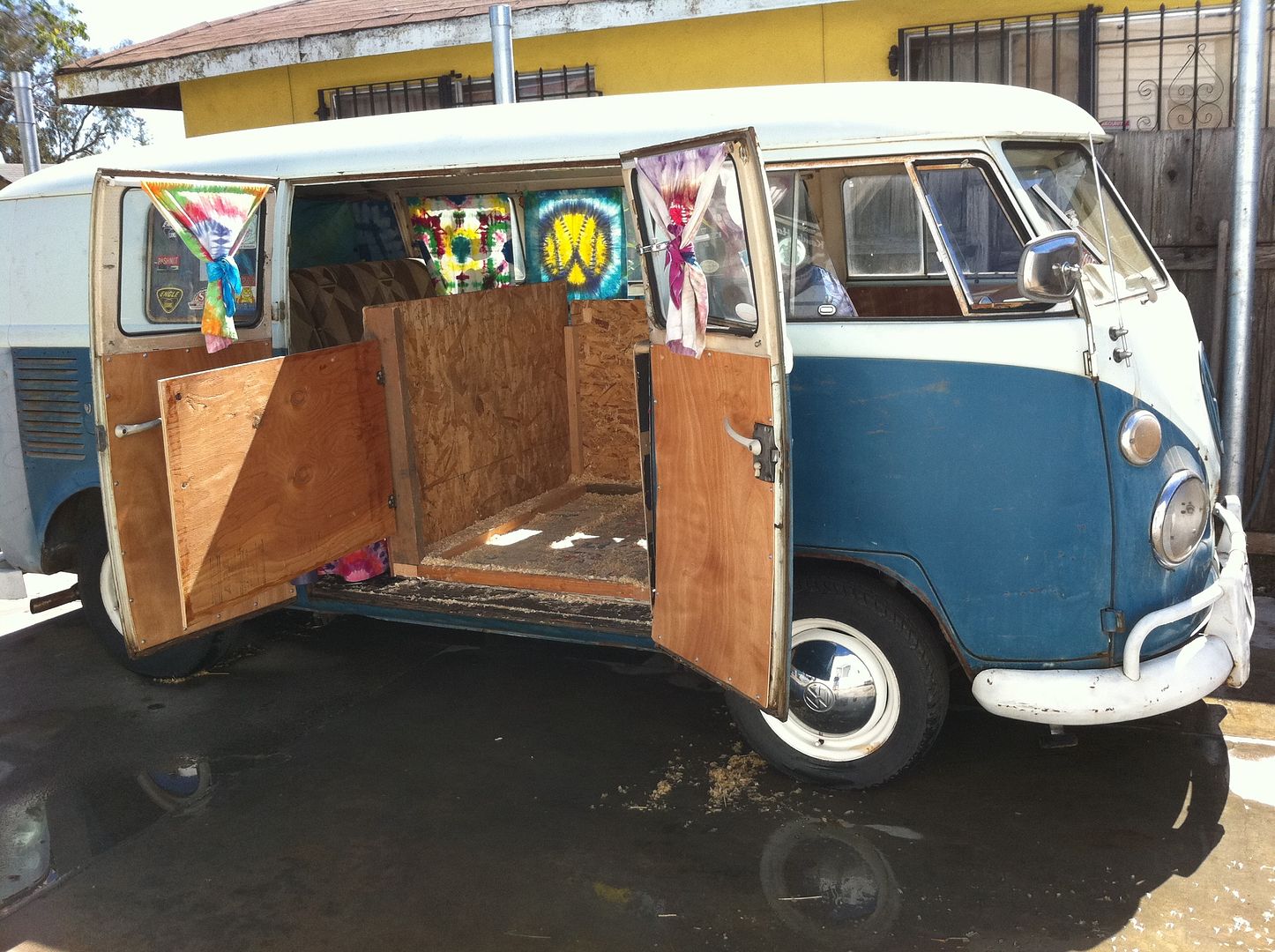 It isn't the best looking stall, but it works!
Here is a pic of the back window!!
When I first got O So, I didn't have a trailer at all. I was going to have hubby build me a small one, but then I thought about the bus! It would be perfect! Only thing is, you have to really love your horse to ride in the same space as him! LOL Put it this way, I consider him potty trained. I can be at the stables for a couple hours and he will not pee or poop, until he gets in the bus!!!!!
It's not bad once you get moving! LOL
Hey, thanks for the pics!
I think that is really great! Does the stall just slide in and out, or is it mounted permanently in there?
Do you just haul one mini then?

I should snap some pics of our mini van "in progress" so that I will have some before and after shots as well....

Looks like yours is low enough for them to step up into?
That is one problem I have, I need a permanent ramp that maybe folds up out of the way while we are in transit, but always there when needed.
But my hubby is very good at that kind of thing, just needs the time to work on it...

The stall slides in and out! That way if I want a normal bus, it isn't to hard to switch over!
My ramp is just a wheel chair ramp. I lucked out and it slides between the front seats and the stall. I wish O So could just step in, would be a lot easier!!
That's awesome. I like the van a lot.
Well that makes it really handy then!
When mine is all done it will pretty much be just for haul'in minis...

Do you haul a cart as well? If so how/where?
My hubby wants to make it really easy for me to be able to just load up a horse and cart and away I go!
That way I am not dependent on him to take me any where all the time.
(Although we do go driving a lot together as well)



OMG - I LOVELOVELOVE it! Could you imagine yourself pulling up into a nursing home parking lot with your mini as a therapy horse? Hehe, I bet the lil old ladies would get a kick out of that!
No, I don't haul a cart. I don't even have one "yet"! LOL O So isn't trained to do much more then run in a circle! LOL We will be doing all that other stuff as time progress's! Right now I need to save to have him gelded. He may be crypt ( will find out for sure tomorrow morning) If he is, I will need to save for that. If not, he will be getting gelded at the end of Oct.!! Then we can really start learning some new stuff!!

I wouldn't be able to haul a cart and him in the bus. I would have to put the cart on a trailer if I wanted to take one places!


Yah, people get a kick out of the mini van when they see him getting out or in it! It should be on facebook somewhere, lol, everyone takes pics and say's they are putting it on the page! LOL
Love the name too. "Minivan" Too awesome.

I brought my young mini home in a full size van. He was so small I just picked him up and put him in, no ramp needed. Not the case now LOL.

We had to stop and get fuel and he picked that moment to whinny very loudly while I was refueling. I got lots of funny looks to say the least.
How old is O So ?
Hope there are no problems getting him gelded... At least being October you should not have to worry about flies, Oh wait, you are in California, is it cool enough in Oct. there to not be bothered with flies?
I won't be able to put my cart inside either. Our plan is to have a simple system for loading it up onto the roof of the van.
My goal, besides being able to get around "independently", is to start doing more nursing home type visits with a couple of my minis.
My little Me Jo has the absolute perfect temperament and size for that. Actually I think three of my five would all do equally well, but Me Jo is the one I think I will really concentrate on first.
LittlemanRob, "quote"
We had to stop and get fuel and he picked that moment to whinny very loudly while I was refueling. I got lots of funny looks to say the least.
That had to worth a few looks and chuckles!
He is 2 and a half! Will be 3 in May.

I'm sure hoping it will be cooler by then! Here it is supposed to be Fall, and we are going to have 99 degrees for the next 5 days or so! Actually, by the end of Oct. it is cooling off pretty good. So I should be fine. The vet and some other horse people I talk to seem to think I picked a good time to do it!

I work for a grocery store, so trying to take vacations in Nov or Dec is pretty hard! Those are usually the busy months!! I want to be off for the week after he gets snipped. That way I can keep a close eye on him!!! I'm a worry wort!! LOL

Maybe you guy's can get one of those wheelchair lifts that go on the back of vans. You could load your cart on it with the bars ( the things that go around the horse, don't know the technical name for them) up in the air. Then just tie it down and make the lift do it's thing!!! Hmm, maybe I will have to do that when I get a cart!! LOL