New mini owner! Tips?
---
Ok so I am officially a mini horse owner! I'm the proud owner of to adorable weanlings. Anyways I was wondering what are you guys tips for the new mini owner. I was wondering how much hay do you feed your mini's, I gave them each a flake but I felt unsure about that lol. I don't want to over feed the little cuties. And it's winter here so do they need any different accommodations than their bigger counterparts? I'm sure I'll have more questions but that's all I can think of at the moment. Feel free to share things I may need to know. I've been reading up on mini care but sometimes people's personal experiences are better to learn from than from books and articles. Here's a few pics for you guys!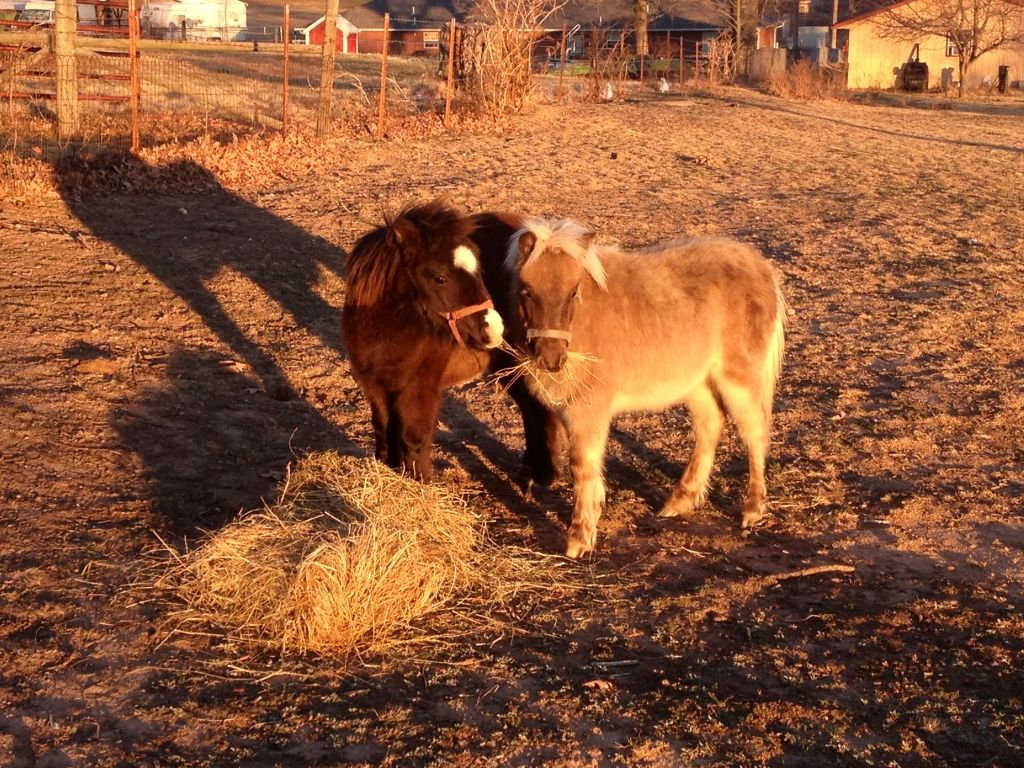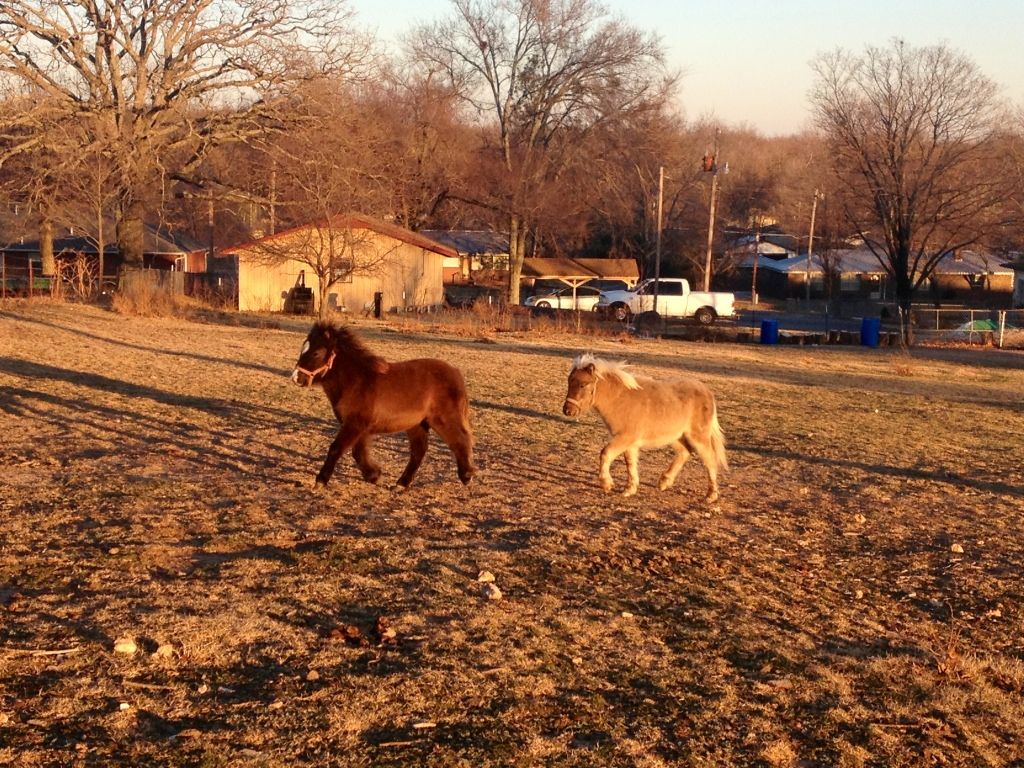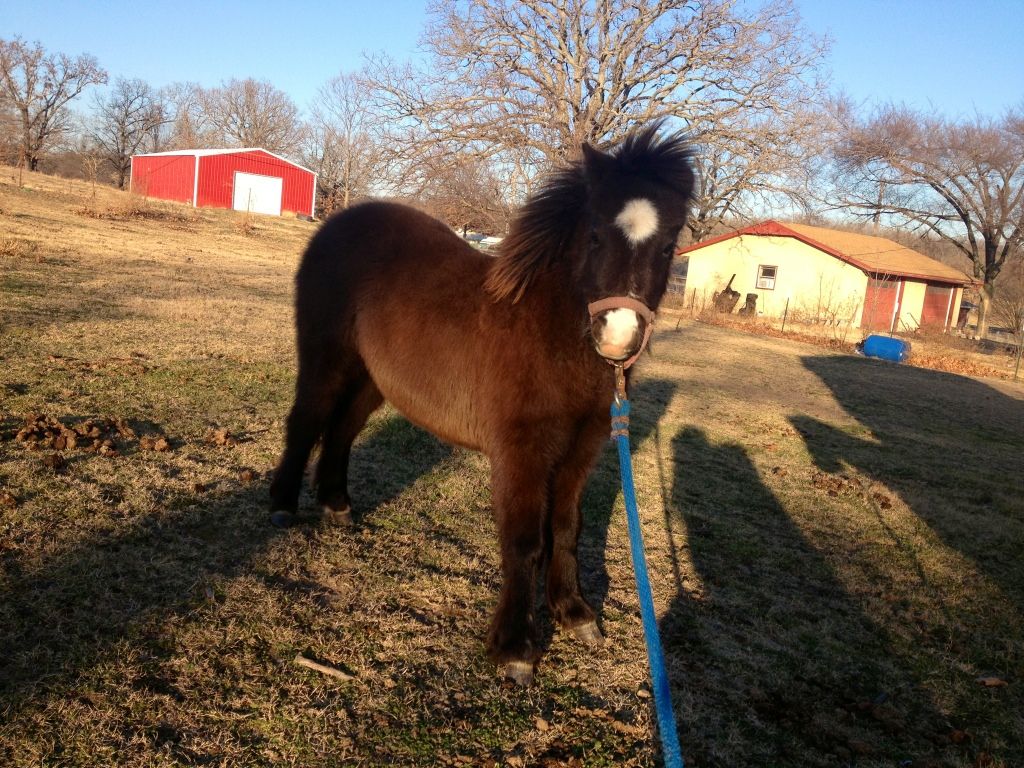 ---
Noey's Herd
Teen Forum Moderator
Join Date: Dec 2010
Location: South East Texas
Posts: 7,157
• Horses:
2
We feed ours anywhere from 1 flake to 2 flakes, depending on their activity level, age, growth, etc. I'd probably start out with 1 1/2 each since your two are growing, and make sure its fairly good quality. You don't want hay bellies!

My almost-weanling filly is eating about one flake herself (5 lbs) but is also drinking milk. Her dam eats two flakes and grain, but she's lactating for a very large baby (for her size) AND actively driving :)
---
Everyone in your life is meant to
be in your journey, but not all of
them are meant to stay till the end.
ADORABLE!!! They are so cute!! I am subbing because I would like to get mini's this year once I can get some land cleared. How many acres do you have for yours?
Well where they are now is on two acres but I'd like to eventually make an area for them at my 15 acre horse pasture so they can be near my big horses but safely in thier own little area.
Posted via Mobile Device
Well, the average horse should eat 2 pounds of hay per hundred pounds of horse (1000 pound horse between 20-25 pounds of hay a day).
so the simplest way would be to find out how much they weight and ration it accordingly. Keeping in mind that minis pack on the pounds very easily.
They also tend to founder easily, do be sure of what you are feeding & how much. No alfalfa would probably be best and regulated pasture hours.
As for any other advice, they are fantastic little escape artists so check your fences!
Apart from that they are a blast so have fun!!
---
"If a horse fails to do something that is because he was not trained to do it. If a horse fails to do something properly that is because he was not trained properly."
www.wildestheartart.com
Thanks! I went over my fence yesterday actually there was a high spot that they could get under so we had to block it off. I think they can't escape now. I think lol. I used to have a mini mule he could escape from anywhere. Lol.
Posted via Mobile Device
Congratulations, they are both just precious!
Are they both geldings, have you named them yet?
Quote:
Originally Posted by
SpiritedLittleCopperSpots
View Post
Congratulations, they are both just precious!
Are they both geldings, have you named them yet?
They are both fillies! The black one is Mini Pearl and the silver one is Mini Wheat!
---
Noey's Herd
Well I sure guessed wrong, LOL.
I LOVE their names, very cute.
Can't wait to see pics of them this summer once they shed their winter woolies!
They're adorable! :)

Congrats - be careful, you can't just have one... or two... ;)
---
Rhett | Fiona | Rockstar | Remington | Sierra | Savannah | Coal | Magic

TWH Gelding | IDH Cross Mare | SSH Gelding | Mini Yearling Gelding | Mini Driver | Mini Project | My Pony Trail Drive | The Rescue