our new mini.
---
we recently purchased a miniature horse.. and am just now getting pics up.. she's pretty fat.. and ive been trying to slim her down.
pedigree:
La Chocolot Princess Miniature
If any of you recognize any of the names on her ped let me know.. ive found out about a few names.. del terra and double o.. music land .. owsley fork..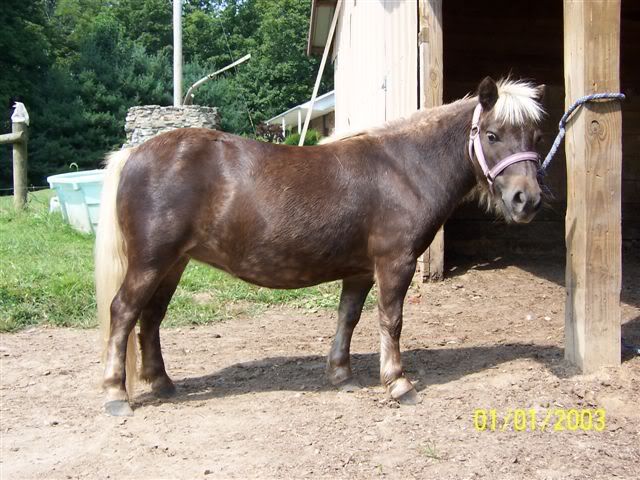 What a cutie! Congrats on the new addition.
Love those cute little legs!
What a cutie pie! She has the cutest munchkin face ever!
---
~Kait & Mark~
Aww so adorable! Is she in foal?
---
"If you can't see a thoroughbred has talent, you're probably too dumb to ride one anyway."

Oh my goodness! What a cutie patootie!! I ove her dark chocolate coloring and such a cute muzzle! Just wanna give her kisses on that face. What a doll.
---
In foal? I dont really know. She was big like that when we bought her. Im hoping she's just overweight.. The people we purchased her from did own a stud at one time, not sure when they sold him but they did own one.. I asked them if she had ever been exposed to a stud and they said she had not. Then again, they told me she was 34 inches tall when infact she's only 32.. they had measured her from her rump to the ground not her wither and thought that was her correct height.. they also told me she was registered when infact she wasnt registered at the time. It wasnt a registration, just an application paper.. so I had to do that stuff.. so yeah, I really dont know if she is or not.. it's possible their mini stallion could have gotten her and they either lied or dont know any better.. I guess we'll see.. I dont think she is.. but ya never know.
she does seem to have gotten bigger since we've had her.. we've had her for about 6 weeks and does seemed to have gained weight.. there's alittle bit of a difference between the side pic of her I took yesterday and the one I took when I bought her for registration... going to the vet today for our dog so.. i'll tell him about it and see what he says.. sad thing is.. if she is.. i wouldnt be able to get it registered because I dont know who the daddy is.. im assuming it was their miniature but dont know his name.. guess I would have to find their phone number.
she is so pretty! my old man would go crazy to meet a horse as small as he is! Mine is not registered either, he was a rescue.

Do you have any idea at how far along she could be? It's hard to tell on some horses if they're pregnant or not. We didn't think my colt was even developed then one day, boom! here he was. I know you can check under her belly for larger veins, but right now i think she just looks fat, but there could be a baby!