Roscoe P. Coltrene
---
I have had Roscoe for 5 years now. I traded him for a kid's pool. Roscoe was skin and bone. He had a blue halter really tight on his head, and when I took it off, his face had indentions, and his hair was all rubbed off. Now, his hair is back, but it's gray where the halter rubbed his face. He is also happy and probably fatter than he should be.
He was also claimed to be a gelding. But I noticed something wasn't right and I took him to the vet. The vet pulled Roscoe's male parts out of his buttox where the owners stuffed them to say he was a gelding! That was so sick! How could people do that?
Anyway, bless his little heart, we had him gelded so he never had to worry about anything like that ever happening again.
Roscoe to this day, hates being caught. I usually just catch him with a lead rope around his neck. He has never offered to bite, kick, rear, or do anything to harm me or anybody. He did buck off my lil bro when he got on his back. But it was a little crow hop deal. No biggie. Roscoe spends his time getting attention from little kids that come over and he gets fed lot's of yummy treats. I also taught him how to shake and turn in a circle. XD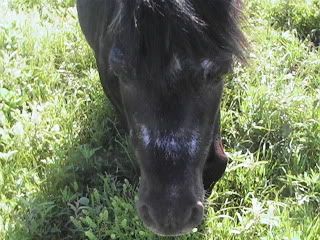 I also don't have any footage yet, but he will play with my 15.3 hh gelding. My gelding will get down on his front knees and they will play together! Roscoe is like a father to him, because we got my gelding when he was 2, and liked to play still. It's funny because he never hurts Roscoe, never. He must know that he's smaller and not as strong.
Aww he is so cute. :)
---
Blue Eyed BLY~ 2/3/03
Calico Sonny Stockman x She's On Cloud Nine
I'm trying to figure out HOW you can stuff testicles into their butt... seriously. The butt hole is pretty high up...?

Bumer, can't see the pics at work :( Hate that most are blocked here! But he sounds a lot of fun :) I admit I laughed when I read you traded him for a pool? I think you got the better end of the deal by far! :)
Quote:
I'm trying to figure out HOW you can stuff testicles into their butt... seriously. The butt hole is pretty high up...?
LOL thinking the same thing here. Is that a joke or ?
Anyway glad your happy with him and having fun
Kay
No, thats is what happened! I promise, they sold him as a gelding, because they did that to him. And he's an older horse, so you know, they were kinda long. But its true and its not funny.
I have a 25 year old stallion, and I still can NOT figure out how the heck that would work!
So glad Roscoe has a nice new home where he will be valued.

Love his name by the way.
Similar Threads
Thread
Thread Starter
Forum
Replies
Last Post
Roscoe and Sky :)

Bethhiee

Horse Pictures

13

04-23-2009

06:29 PM