whats it like to own a mini
---
What is it like to owning a mini compared to your average horse? I meaning by how they act,portions for feeding,health issues..anything like that. I've obviously never owned one.
Not really all that different. My mini will eat as much as my ponies if I let her. Are you looking for a mini?
---
100% Anti-Slaughter and PROUD of it!

I would say the only real big ( or small, lol ) difference is that you can't ride a mini. Not as an adult at least. Some minis shouldn't even be rode by children do to the size of the mini.
The only other thing I can think of is the food. You use less hay to keep a mini healthy.
Other then that, minis can drive like big horses, get colic like big horses, and have the same health problems as a big horse.
Now with all that said, I am somewhat new to minis, so I am just stating what I have learned since having him. I did have bigger horses when growing up so I have some idea on them too!
I can tell you one thing that you can do with a mini that you can't with a big horse. Take it in your car!! LOL Well, I guess that is actually something you can do with a big horse now to. Now that they have those huge Dodge Vans! LOL
OH, one more thing, I think you can keep a mini on less land then a big horse. I have about an acre, with a 1/2 acre that my mini can run on. I think a big horse is to big for that small of property! Just my opinion though!
OH, one more again! It is great to have a mini!!!! I love mine to death!
I LOVED my mini! He was so much fun (more like a dog than a horse lol). I picketed him on the lawn during the summer with a rope which he was great with & it cost SO much less to feed him during the winter than any large breed.
He had a bit of a spunky attitude but then again he was spoiled he he.
You really have to watch how much you feed them though, as they ususally dont get as much exercise as a larger horse would & they can be wonderful little escape artists! Low fences for these guys!
They're just alot of fun for a pet/lawn mower.
I remember one night i had Nestor picketed near the house & i heard a clunking outside the door.. opened it & the little bugger had climbed the front steps & was on the porch eating out of the grain tub!
---
"If a horse fails to do something that is because he was not trained to do it. If a horse fails to do something properly that is because he was not trained properly."
www.wildestheartart.com
Quote:
I remember one night i had Nestor picketed near the house & i heard a clunking outside the door.. opened it & the little bugger had climbed the front steps & was on the porch eating out of the grain tub!
LOL, I had to share this pic!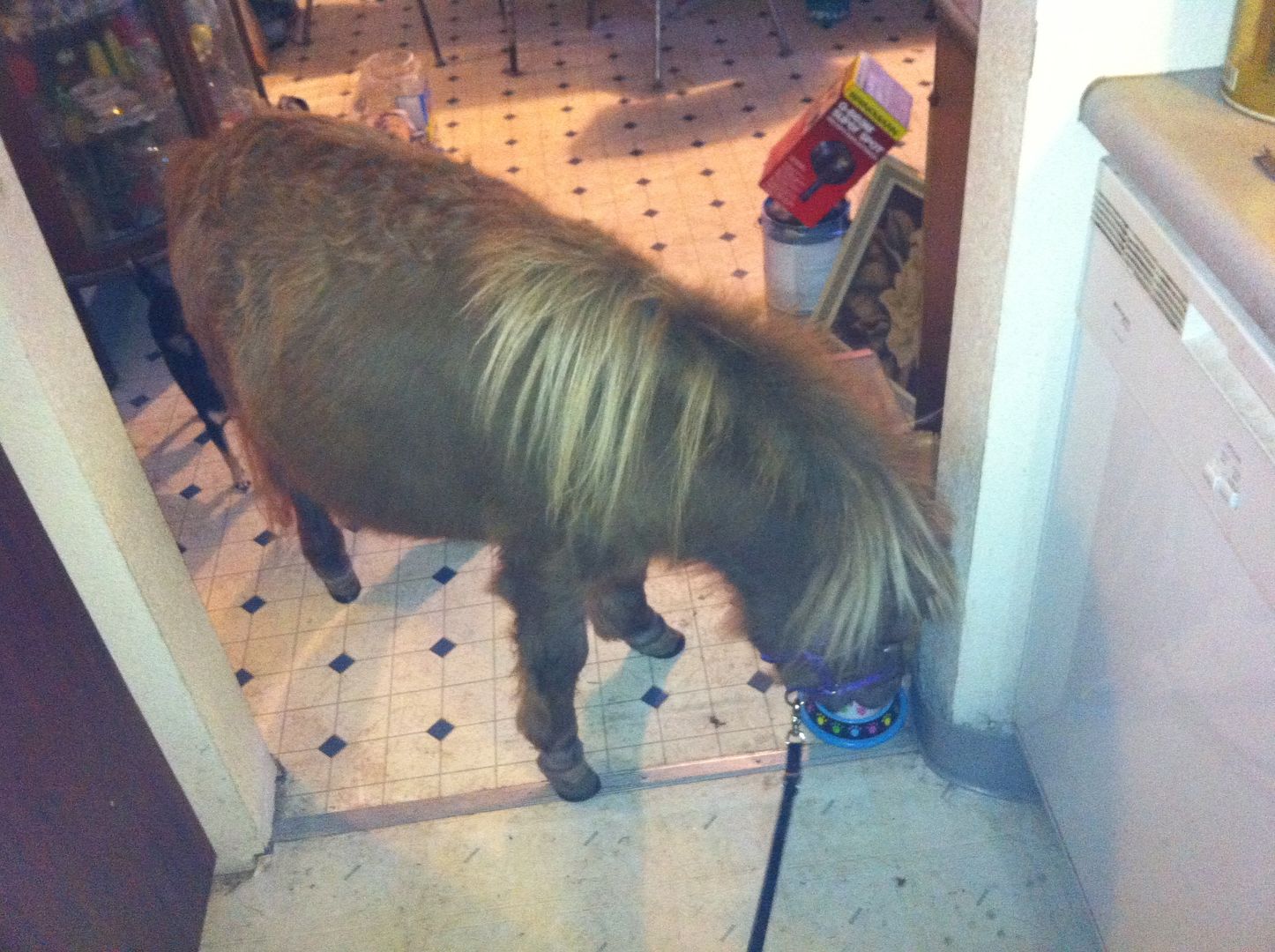 That is O So in the house!! LOL My house is in the middle of my property. I found it easier to take him through the house instead of through the gates, to get from one yard to the next. I have a dog that is very fast at getting out of the gates. So now with just going through the house, I don't have worry about the dog getting out!!
Only bad thing about this, is he now knows he can get up the steps to get to the back door! Sure hope he doesn't try to come through the screen door this summer! LOL
Yup, you can do everything with a mini that you do with other horses, other than the obvious, no riding...
You can lunge, jump, and do obstacles, all in hand. Show them in halter classes etc....
You can drive (which is just sooo much fun!) You can do driving obstacle classes too.
There are Combined Driving Events for VSE's (very small equines).
I have riding horses as well, and I have to admit that I actually do some things with my miniatures that I would never do with them.
Like parades, the minis are just so laid back and take every thing in stride, and they just seem to absolutely enjoy all the kids petting and kissing on them. Things that would make most full size horses a bit leery, you know?
And they are great for doing Nursing Home/Therapy type visits, the residents are not intimidated by them because of their small stature, and you don't have to worry about the safety issues.
Just those kind of things....
Yes, they cost less to feed, take less space, less de-wormer, etc. (although they do receive the same amount of vaccine as a big horse for some reason?) And the farrier still charges the same to trim them.
Ummm, I think that is pretty much the basics?
Oh, I do find personally that my miniatures seem easier to train, they've all picked things up very quickly.
Of course I have worked with some friend's minis, and come across a couple that I do not think would be a good driving candidate
ever.

They are all individuals just like all horses.
They do tend to put on extra weight easier than a full size horse, but if you watch your feed amounts, and keep them conditioned, they are easy keepers too. They have the same health issues as full size horses as well. I guess there are some irresponsible breeders out there who may contribute to the Dwarfism issue, but that is a whole other topic!
Which reminds me, because of their size, it does seem that you can have more problems with pregnancy, and c-section is a bit more common for deliveries.
Okay, I will now step away from the keyboard......
.
---
wow,thanks!

Darn though because I talked to my vet cause they have minis for sale and I was wanting on of theirs so Gidget would have a buddy and it can roam around and whatnot but they said no because Gidget doesn't need a buddy
:(