A closer walk with Patsy Cline
---
La Comedia dinner theater in Ohio put on a production of "A Closer Walk with Patsy Cline" last night.
It was very well done, I thought. The woman who played Patsy was a very good singer, and her costumes were gorgeous.
I have been to broadway, and seen Phantom twice off broadway.
I thought for a small dinner theater production they did an awesome job.
Did I mention the food was amazing?
Well worth it, we spent 129.00 for the tickets. Dinner and a show.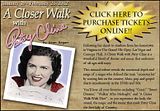 ---
Horses are proof that God love's us and wants us to be happy!