These photos are all great! I think the whole NH people don't ride thing Is that we see a lot of them that just lunge lunge lunge and ride for a short amount of time. Not all do, but I have seen a fair share of them.
I have always tried to do a little bit of everything with my boy. We started out western / trail riding got into Barrels and gymkhana, then moved into english / jumpers. We still have a long ways to go, but its a fun journey.
Trail riding a few years ago. Nice dirt road with trees for shade.
Barrel Practice
Flat work, ignore me, it was a year ago when I started to take my english riding seriously. He sure looks fab though <3
He is a rather powerful jumper.
Horsesdontlie - I am so in love with your boy's right hind leg! What a cool marking :)
---
Life is like a camera. Focus on what's important, Capture the good times, Develop from the negatives and if things don't work out, Take another shot.
Usandpets, I want to go riding in the Badlands so badly one day. I did once when I was about 13 on those trail rides they offer. Fun, but not nearly as much as it would be if I was adventuring through the park.

Anyway, my pictures! I'm not exactly NH either. I certainly don't follow any particular trainer, but I've read about different techniques and have done join-ups with my mare. These pictures are at the summer camp I work at. Unfortunately, it's over for the summer, so I don't have these pastures to ride in anymore. However, I'm not required to wear a helmet until next summer! (Not a fan, but we're not getting into that debate here.) These are also the only pictures I have of me riding Abby.
Abby's gorgeous!
---
So in lies the madness, the pursuit of the impossible in the face of the complete assurance that you will fail, and yet still you chase.
Thanks! Those pictures are at rather flattering angles, to be honest. She has zero topline and her hindend has less muscle than I would prefer.. I plan to start her on a muscle building supplement after I get the samples from SmartPak to see which she'll eat.
A post from one who is not in with the beautiful crowd here.
I was looking for a photo from my fear of camera years, I was on Pengie the nasty tempered Black & White mare in the pic below. It was of a line up of a lot of horses where we got 2nd place in barrels at a Fun Show:
I didn't find it.
But, I did find these from the following year, where I also got a second place but in Walk-Trot HUS and Equitation in a class of about 5 of the under-12 year old students.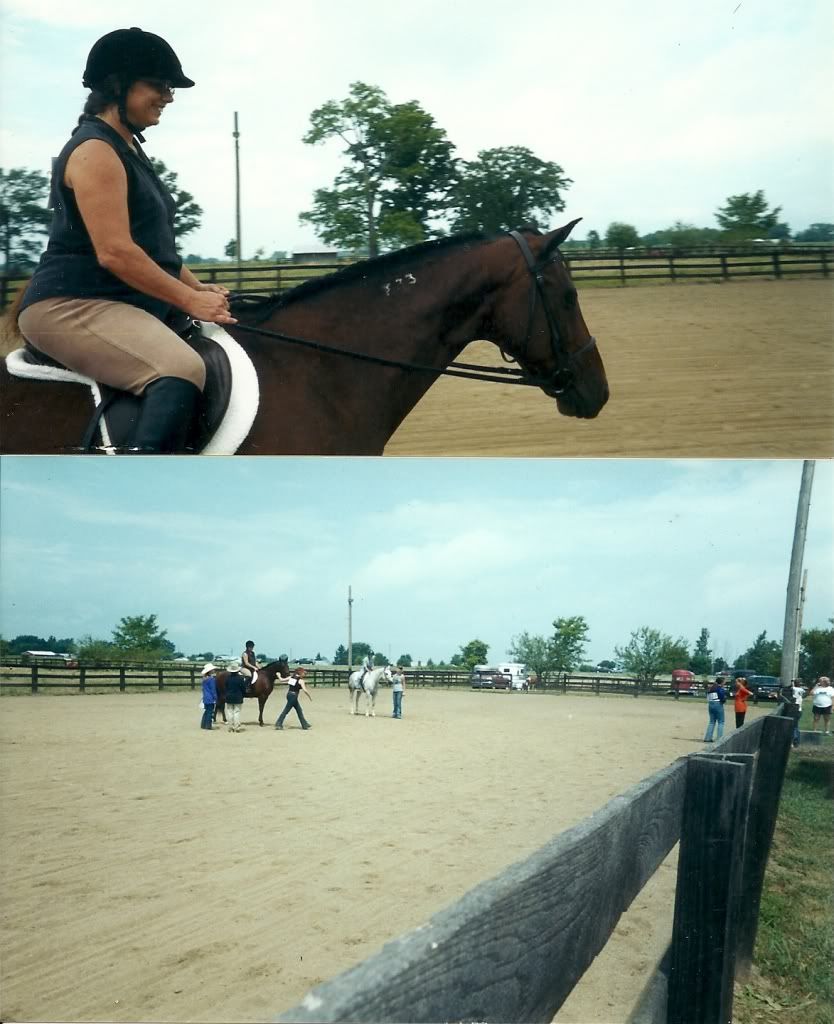 Frisco is a Standardbred I worked with for a year or more, he was unmanagable and his owner could not ride him. Then she went on a high risk maternity leave, and I babysat him until the baby was about 6 mo old.
She returned to the barn but still would not ride him, until this fun show which she came to watch. I gave her both the red ribbons, he did so well that she began again and has been going strong ever since.
A small victory.
---
So my birthday was last week and my sister asked if I had a pic I wanted her to do a 'painting' of (she is a photojournalist).
I sent her the pic I posted in the first post when I started this thread and asked if she could even take out the sagging breast strap.
She sent this back to me, looks like she took out a few other things that were sagging too !! I want a nice print out of this.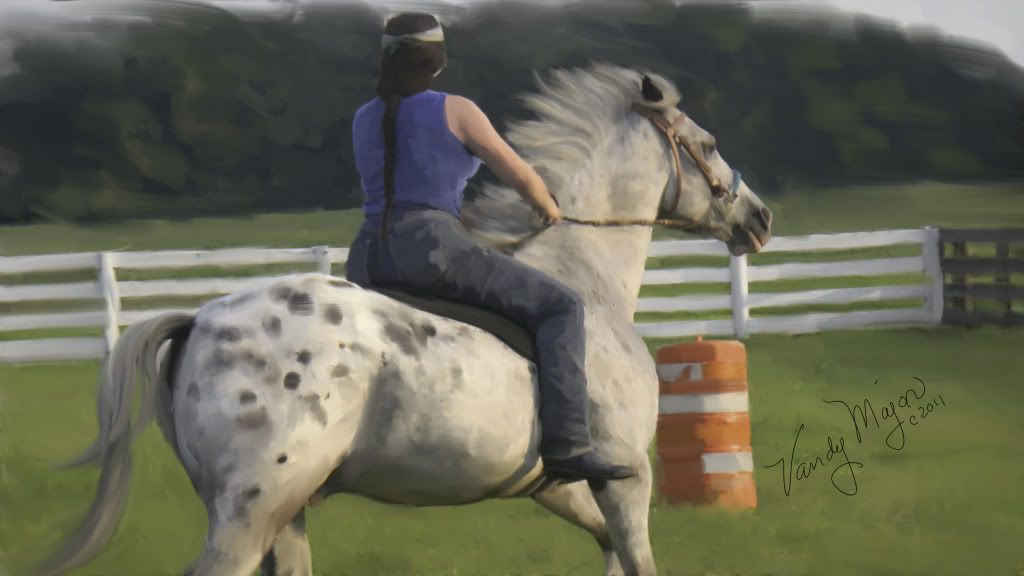 ---
Beautiful painting Ann!
---
Life is like a camera. Focus on what's important, Capture the good times, Develop from the negatives and if things don't work out, Take another shot.
Thanks, I was using the orig pic on my computer at work as a background, I'm gonna switch it to this and see if anyone says anything.
---
this is best i can do ;) this is me and slup and her ear shot...im always eather behind or alone conveniently avoiding the camera.... i just ride no special title just ride every moment i can....i have distinct advantage of having my horses on my property and the mountains in my backyard...
---
no time is wasted spent in the saddle