tell me about bitless
---
Hello all,
I have just recently got my horse, and I really would love to go with a bitless. Can anyone tell me about the different ones, and which ones may be better in your opinions.I have looked at a few and I think I like the look of the Nutural Bitless, has anyone used this? And is this a direction that I can go with my horse? I ride her, and she is getting better with her herd bound problems, which is the only problem I have, cuz she is great in every other way. Hoping someone can help.
I am new to the world of owning a horse, but not loving, so I really need some guidance!! Thanks!!
I use a $15 Indian bosal that I got off Ebay. Stiffler does VERY well with it. It attaches to a standard headstall and crosses under the chin with a very heavy duty diamond braid rope. I would suggest trying a cheaper indian bosal first just in case your horse doesn't respond well to bitless then at least you aren't out a lot of money.

Welcome to HF!
---
*Dreams are within reach, you just have to go that extra mile to catch them*
That is like a side pull right? What are the differences between side pulls and bitless bridles? Are side pulls always something that you attach to a headstall or bridle?
Rawhide Bosal:
I'm not familiar with the use of a rawhide bosal, but I believe it is used with neck reining. It can be very harmful to the horse in the wrong hands. Can be bought separately or part of a headstall
Indian Bosal: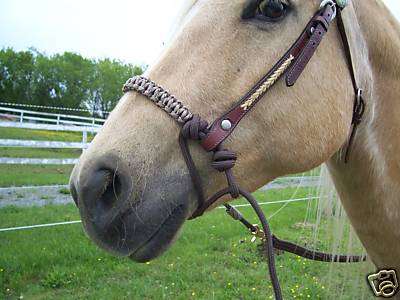 Not a side pull. It has rope that crosses under the chin so it puts pressure on the chin, nose and pulls side to side. Usually bought separately to attach to a normal headstall/bridle.
Dr. Cook bitless bridle:
The leather crosses under the chin(check the website, it shows that). Puts pressure on the poll and pulls side to side. Bought as a whole bridle.
Side pull:
Gives direct side to side pull. bough as a hole bridle.
Hackamore:
Puts pressure on the poll, the chin, the nose and gives side to side pulling. Can be bought as part of a bridle or separate.
To answer your question, a side pull is a type of bitless bridle, all of these are.
---
Last edited by SPhorsemanship; 08-27-2010 at

07:44 PM

.
The Indian bosal shown is from the exact seller that I use.
---
*Dreams are within reach, you just have to go that extra mile to catch them*
If you go with a bosal make sure you know how to use one. They are different then a hack or other type of bitless tack. They are designed to be a trainsition type things.
---
-I'm so busy... I don't know if I found a rope or lost my horse.
-An Armed Man is a Citizen an unarmed man is a subject.
-Where ever free speech is stifled Tyranny will reign.
I have Dr. Cook's bitless. I use it on my 18 hand, 2200 lbs. draft. Solon was the first big horse to use it! He does wonderful. I have had nothing but good come from using it. I'd absolutely recommend it.
---
Unless it weighs a ton... it's just a horse.
Draft horse motto.
Agree on the Bosal, you need to know how to use one first before you try to put a horse in it for the first time.

Whenever I want to go bitless, I just ride in a rope halter.
---
Always remember that feeling of looking at a big, open country over the ears of a good horse, seeing a new trail unwind ahead of you, and that ever-spectacular view from the top of the ridge!!! Follow my training blog:
http://robertsontraining.blogspot.com/
We have an old sidepull at the barn and its really nice if you want a change. Horses that have previously been bitted may not respond as crisply to a bitless at first. They come around though. Is there a reason for your decision to go bitless?
9 times out of 10 I just hop on with the halter and a couple of lead ropes for reins, but I'm sometimes lazy that way!
---
Unless it weighs a ton... it's just a horse.
Draft horse motto.
Similar Threads
Thread
Thread Starter
Forum
Replies
Last Post
Bitless ??

snazzydandy

Natural Horsemanship

63

07-31-2011

04:18 PM

Bitless ?

AztecBaby

Natural Horsemanship

97

02-17-2011

10:23 AM

Is bitless really better?

smrobs

Horse Tack and Equipment

30

11-24-2009

06:43 PM

Bitless??

Equuestriaan

Horse Tack and Equipment

24

11-27-2008

08:40 AM

Going Bitless....

Leggs Lady

Horse Tack and Equipment

24

03-26-2008

11:34 PM