I think you've come to where you have to take a deep breath, and get FIRM. You KNOW you're too soft. A horse doesn't think "soft"-- she thinks, "I'd better take the lead, because someone has to." My little one is just like yours, an angel when at home-- but what I realize is, she doesn't keep all her attention on me, she always has an ear cocked on The World.
My first and foremost goal: Get Her Attention. Keep that in your mind. Do whatever it takes, and don't think you're being "mean". I start with leading at a walk, then I take off running, and if she doesn't follow right away, I smack her with the rope (okay, I also smacked myself the first few times-- not too coordinated
) but I HAD to get her looking at me (at first wondering why I was hitting myself and laughing) and ONLY ME. It only took a few minutes. She thought it was pretty much fun, running and stopping and changing directions etc, all very sudden. As soon as her attention wandered, I'd take off, or jerk her around. You can't afford to be soft or subtle with this type of confident horse, I don't think.
One more note: when you start riding, even if she's perfect to lead, your "troubles" are not over. You obviously have a smart, take-control horse. Enjoy the journey of growing up with her, but don't expect it to be TOO smooth.
But I think when she does learn her tasks, she will work her heart out for you.
Green Broke
Join Date: Oct 2010
Location: Some times Llanelian - North wales, sometimes Hull in East Yorkshire (UK)
Posts: 3,679
• Horses:
5
I understand you dont want to smack her, but occasionaly you will have to do just that. Clicker trraining is brilliant for rewarding good behavior. However for dangerous bad behavior like kicking you need to come down hard and teach her that it is not acceptable in ANY situation. This will establish you as the alfa mare and will make her rewards all the more rewarding.

Reeco is also 3 1/2 and whilst sometimes he is a spooky plonker out on walks and can be an idiot about the smallest of things he would not DARE kick out at me. He did once, about 3 days after I got him home. I swear I made him think the world was ending! He got a hefty smack on the arse and a yelling at that sent him to the back of his stable. Then we made up, got on with what I was tring to do and have gone back to our usual rewarding good behavior.
If you make it a big discipline when they do it once, you dont often have to discipline for the same thing again. Makes lif much safer and happier for both of you.

I also had a horse that bit, He used to attack his owner when shown inhand and she used to come out of the ring with black bruises from shoulder to elbow on both arms, He tried it once with me in the show ring and he got a smack accross his chest with a crop that made him sit back in shock. He never bit me ever again in any situation, He and I are still the best of friends and he preforms beautifully for me in the show ring, he gives cuddles and kisses all the time, and he knows full well that aunty fay carries a permanat supply of polos in her pocket, but he doesnt dare bite me or anyone else. This has made this horse much safer and pleasenter to be around, Infact it quite possibly has saved his life asnow his owner is no longer going to sell him

I am NOT advocating beating a horse, however one short sharp shock can make the world of difference.
---
RIDE your horse FORWARDS and keep him STRAIGHT


---
Last edited by faye; 12-02-2010 at

04:32 PM

.
If you keep heading the direction you are going, you will have one spoiled, and pushy horse if not a dangerous one. And "No!" She does not feel apologetic and is not sorry that she misbehaved. She will simply learn that she can misbehave all of the time because there are no negative consequences to her actions.

What is wrong with just making her mind? What is wrong with giving her the strong discipline and leadership she needs to respect and trust you?

Trust comes from a horse having respect 100% of the time. They need a strong and decisive leader that they know they can trust. They need to know where they stand all of the time. They need 100% consistency.

I do not know where people get the idea that 'natural horsemanship' means that you do not make them behave and do not ever discipline them. Natural horsemanship simply means that you use the behaviors and instincts that a horse is 'hard wired' for to your advantage and to teach them the responses you want.

They are hard wired to learn their place in their herd by not challenging the herd leader and following that leader without question. They suffer grave consequences any time they step out of line. Have you not seen the big hunks of hide taken out of a horse's butt and the kick marks made by the lead horse [or any other horse above them in the pecking order] ? When they do the wrong thing or break any herd rule, they pay the consequences. That is natural horse behavior as real as it gets.

When we are training a horse that has not been badly spoiled, we do not have to put that much pressure on it to teach it to do the right thing, but we sure need to put more pressure on one than you are putting on this one. Badly spoiled horses are another matter. They need much more serious discipline to correct their bad behaviors and habits. You do not want yours getting like that, do you?

My suggestion is to make her mind and make her mind very quickly. She is not respectful if she only minds when she feels like it -- you know -- in the right mode. She is not respectful if she turns her butt to you let alone kicks at you. You are going to get a very dangerous horse pretty quickly.
Cherie, fine i will go hit my horse for every little thing as she is soooo spoilt and then she will end up with playdead nearves and will not listen to a think and will never be as light. ... not that she ever gets pushy ect. because she does have respect, it was just that one day and yes it was disrespectful and no i did not correct her little 'kick' as i had missed my opportunity to do so, so as she would assosiate it whick her kicking out, if i was too soft then she would be a little monster all the time not just then, okay.

ps.
One day a horse will challenge you back m'love.
---
Last edited by Rosalle X; 12-29-2010 at

05:48 PM

.
Green Broke
Join Date: Oct 2010
Location: Some times Llanelian - North wales, sometimes Hull in East Yorkshire (UK)
Posts: 3,679
• Horses:
5
Rosalie don't be rediculas, no one is advocating smacking a horse for every single thing however this whole never smacking a horse thing is dangerous and leads to dangerous behavior.
Reeco challenged me by attempting to kick me. I made him think the world was ending for about 30 seconds and smacked him accross the arse so hard that he probably felt it for hours afterwards. Yes he probably was terrified of me for a couple of seconds, however I have never ever had to do so again. He is still nice and sensitive to dicipline and is a lovely cuddley friendly horse who has a bright future ahead of him because he is so pleasent to deal with.
This pony certainly isnt terrified of me now but he has a healthy respect for me and minds his manners. He is comfortable with his place in the pecking order and comfortable with me as his leader.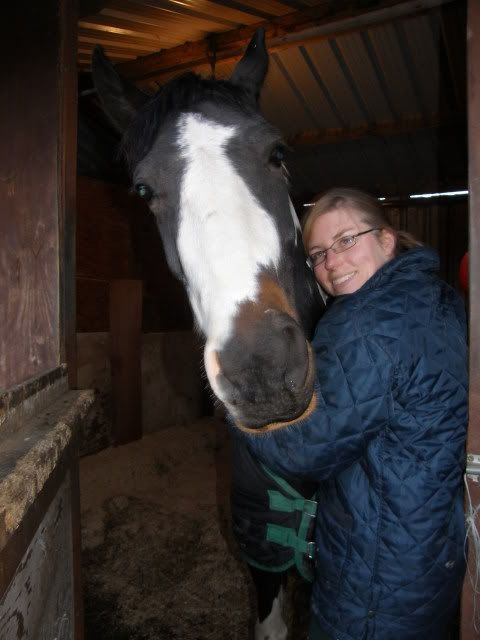 I've had horses challenge me back, I've delt with abused horses, horses who had been beaten black and blue with a yard brush. I deal with them all the same and I've rehabed one pony who I rescued from the meat man, he was there because he had been beaten untill he learnt to fight back and was concidered to be vicious.
He is certainly not a vicious pony now: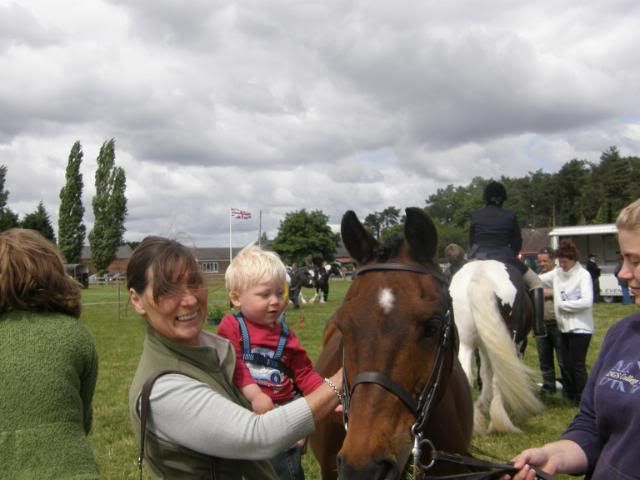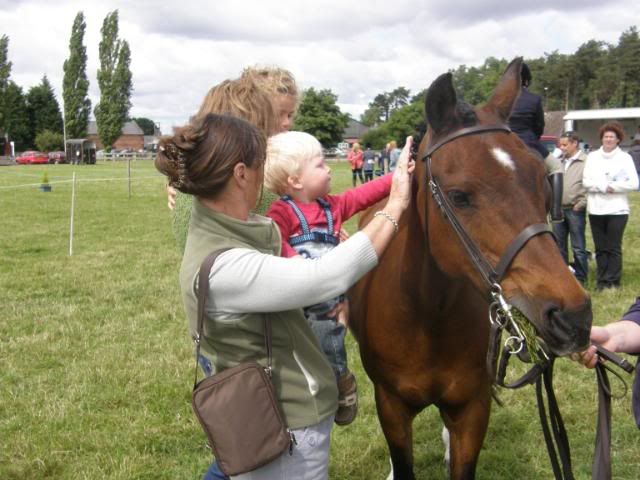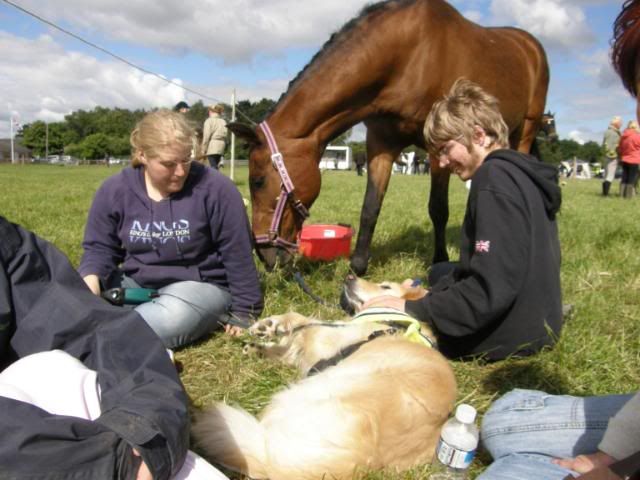 If you let a horse get away with something then the behavior WILL escalate and untill the horse is put in its place and feels secure in its place then you will have half a ton of confused, possibly angry horse on your hands. A horse who feels that you are not leading will try to take the leadership even if they are not an alfa horse.They will not be comfortable in that role, they will be confused but in horsey mentality a herd without a strong leader is a vulnerable herd so they will attempt to take leadership.
---
RIDE your horse FORWARDS and keep him STRAIGHT


---
Last edited by faye; 12-29-2010 at

06:22 PM

.
I'm not "m'love" to you, thank you.

I'm afraid you just do not understand anything about how horses think. "No!" I never advocated hitting any horse for every little thing. If you quickly interrupt and do not allow little things to get out of hand, you NEVER have to hit the horse. It is only when you let them get as disrespectful as your is that you have to:

a) Get rid of them. (This is how many horses end up on the slaughter truck -- people spoil them, nobody wants them and then have to get rid of them.)

b) Send them out so someone else has to clean up your 'dirty laundry'. I did that for about 40 years -- straightening out other people's spoiled horses for them.

c) Turn them out to be pasture pets because you are scared to death of them.

I used to do a lot of clinics. One of the things I repeated over and over to novice horse owners was that "The worst behavior or response you accept is the best response that you have any right to expect!" It is VERY true and you best remember it.
OP you did come here with your issue, so that tells me this was NOT the first time she'd ever done that to you; if it had been, you probably would have chocked it up to a 'bad day', but you were obviously desiring a different solution, and have considered her behavior something needing to be changed. Several people on here have given you very good places to start, and I will say it again, that she is NOT respecting you if she reacts that way in a new environment...a horse shouldn't lose his brains just because he is in a different area, if his training has been good from the start. No one is saying 'beat your horse', but we are admonishing you to start rethinking the way you are handling her, before you or the horse get's hurt. If you really weren't that concerned about her behavior, and the way she is being trained, you may have considered differently about posting in the training thread, because you got answers...even if they weren't the ones you might have been expecting or looking for.
---
"The ideal horseman has the courage of a lion, the patience of a saint, and the hands of a woman..."