I use both. I find people who are completly against bits just as painful to tolerate as the people wh are complelty against NH or bit less.

I have trained horses to an advanced level in dressage and I break in wild horses so feel I have a fairly good and well rounded experiance to draw upon.

There are problems and advantages to both, but really training in either transfer well. I can have my horse work in a collected frame just as easily in a bit as a halter, if anything I find the halter harsher.

It's not the tool it's how you use it.
I've been training my horses bitless. I have Beglians so not only are we riding, but we're driving bitless as well. We do work. We will be doing hayrides and logging bitless as well... It's not the "tool" you use but the training you put into the horse/s.
personally I prefer a rope halter but I have nothing against bits. It's just easier for me and my style of riding right now, because a) in -40 Celsius winters, I don't have to put a chunk of metal in her mouth, and b) when I'm out on the trail I can hop off, unclip the reins and lead her or tie her while I eat lunch or something like that. I like that I can use either with her and it's not an issue.
i have never ridden seriously in a rope halter. i am considering starting my next horse in a rope halter though.
---
Gypsy & Scout <3
Everybody is a genius. But if you judge a fish by its ability to climb a tree it will live its whole life believing that it is stupid. ~Albert Einstein
I *can* ride in a rope halter, my mare is trained to, but I usually ride in a headstall or bridle.
Most of the ones here are fine using the rope halter and fashioning the lead into a single rein we do it a lot. But our horses we start out like that then move to a side pull then side pull with bit then snaffle bit then refined shank bit. Somewhere in there we'll teach them to use a hackamore.

But the finished horses all neck and leg rein so riding with just a halter is no problem.

Starting with the halter as a hackamore is the least pressure on a mouth teaching them to yield to pressure and follow their nose.
I (and wife and daughter) ride our horses in halters on occasion - just to "change it up" for the horse and ourselves.

I also start my horses in a halter or hack...depends on the horse and then transition to a snaffle after a few days.

However, my horses are either rope horses, reining/cow work horses, or drill team horses....and although they can be ridden without a bit, it is not wise to do so -- no matter how well trained and "soft" the horse is....when you are working at a full run, chasing, going in and out of other horses in a figure 8 at full speed carrying a rope/flag etc. you better have a bit in case of emergency.

When you are riding one-handed you need to be able to fully control the horse with as little effort as possible. At times, even the most level headed horse will become excited --- ie - the cow won't turn on the fence and wants to run at the horse - you had better be able to move the horse asap, and in the right direction/angle, or you will not have a pleasant ending....or, when roping, the cow turns in front of your horse...you need an instant response(and, remember you only have a left hand for cues) to keep your horse from getting tripped by the cows back feet....

Now, having said that, if you can take your horse, have 500 folks in the stands, music blaring, flags flying, signs flapping and run your horse 5-10 feet from the fence turn him into the fence, stop him, and then circle him to the right and then take off again down the fence in the opposite direction(on the first stride away from the fence) using nothing but your left hand with a halter...then you might be able to do that after you insert the cow into the equation....but, I wouldn't want to have to rely on that.

And there are many other instances when riding in a halter would not be the "preferred" method.
The horse in my avatar you could ride in drill team or pivot with a neck rope, he's that broke.

normally i put him in a tender touch snaffle (has an o ring in it) because for as gentle calm cool and collected he is he has whoa problems.
I don't agree with using bits, for my own reasons. I just don't feel the need for them, if the horse has a good foundation.
I only ride in a rope halter, or sidepull style rope bridle.
After working with my auction mare on the ground for months, I recently went to under saddle (er. ah. bareback haha). She is perfect with a rope halter and lead. If she wasn't, I would see that as something to work on with groundwork, not use a bit.
I ride her in this halter and lead: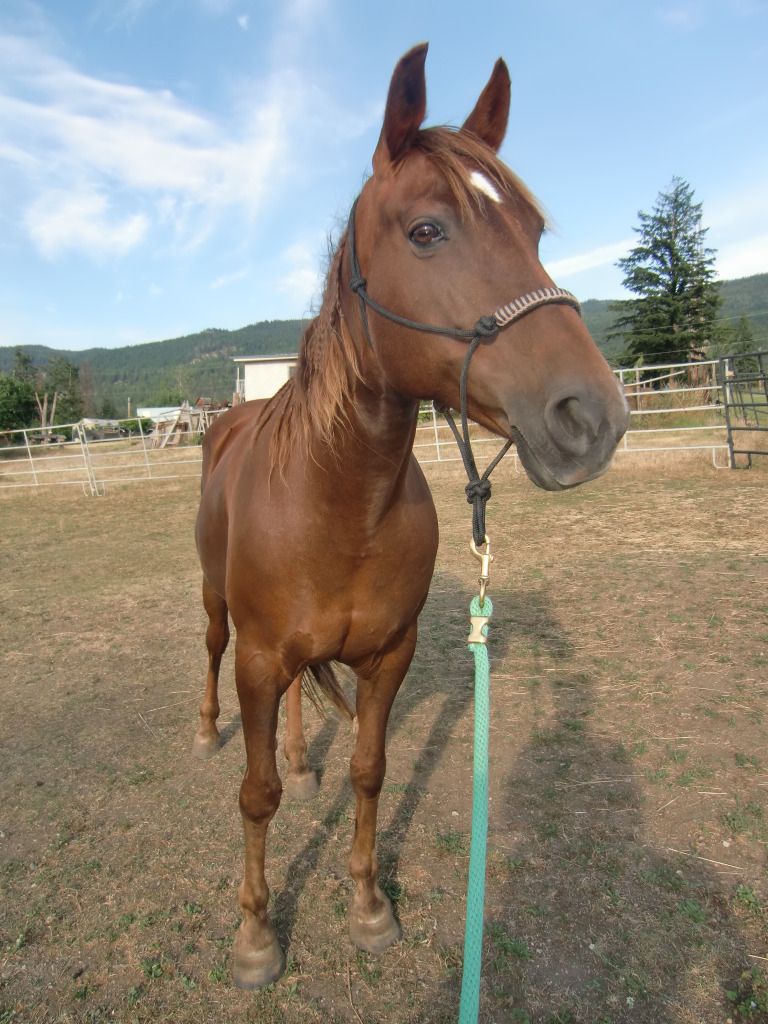 And, I recently made this bitless atachment for her, will try it one day here! :]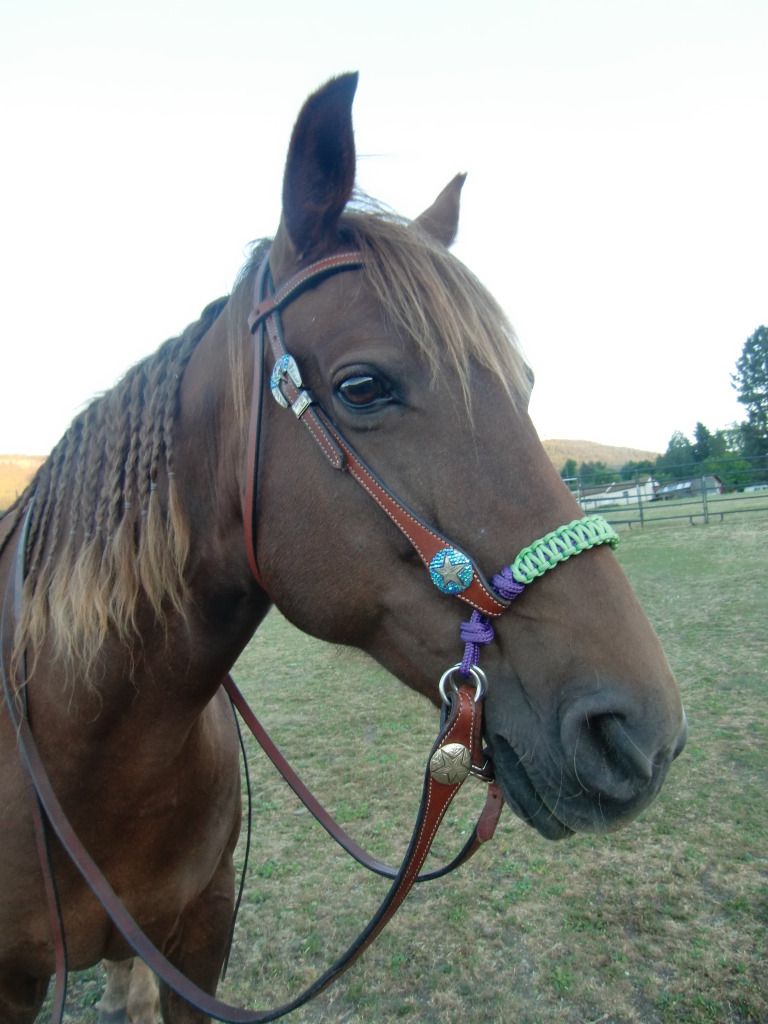 ---
He knows when you're
happy
He knows when you're
comfortable
He knows when you're
confident
And he
always
knows when you have carrots.
I know I posted at one point but I don't think I put pictures of my mare on here.
She rides in either a twisted o ring dogbone combination bit, billy allen 8'' shank, or a smooth snaffle depending on what we're doing. (Barrel racing, reining, roping, dressage, drill team, etc)
But, this is her without the bridle. She still stops, spins, changes leads, sidepasses, turns, changes speed fine...But, if she was to spook and panic, I'm not confident I could stop her in time before something bad happened. That is why I prefer a bit.
---
Pssh.I didn't pick up the wrong lead
It's called a counter canter...
...A very advanced maneuver.