Who here actually does Parelli with their horses?
---
Hey everyone just thought it would be good if anyone who actually does Parelli on here with their horses introduced themselves so we could get to know each other better.
I'll start :P
I'm Shauna, I'm fifteen years old and have been doing Parelli for a couple of months now. I have three horses of my own but I am playing with four horses right now. I am playing in level 2 with my mare Phoebe, she is 17 years old and 15hh. She is LBI on the ground and LBE/RBE when ridden. Here is the two of us playing on the beach on wednesday
I play in level 1/2 with my 2 and a half month old filly Dreamer. She is an extreme LBE. She is a handful but we have lots of fun together.
I am playing in level 1 with Patch my 11.3hh 15 year old piebald gelding. He is LBI all the time and takes a lot to get him motivated unless there is food involved then he is motivated straight away
All three of them are mine but I also play with my dad's three year old Gelding George. He is a TB and is about 15hh. Haven't really figured out his horsenality yet but he is doing really well. We are into level 2 and have just started doing some freestyle work. Before I was playing with him he had never had a saddle or rider on him and now we are doing well in freestyle walking trotting and cantering.
Well that's all about me so tell me about yourself Parelli people of the horse forum.
Shauna
---
Last edited by savvylover112; 06-04-2010 at

03:30 PM

.
I do Parelli! ;) lol! I'm sure eveyone knows my story already lol.
Haha I knew about you silly :P and you should come on the savvy forum more often.

Shauna
I literally don't have time right now lol! I'm moving in a week so I'm running around like mad right now packing and doing all the necessary things. I'm excited though! I'll finally be at a place where I can focus on advancing Arie and I at the pace I want and not be dictated by the weather :)
I am giving Parelli a go with all three of my horses at the moment. With high school graduation, college classes, and work, it is really hard to find the time! I do not have any of Parelli's DVDs or anything, but I do have one of his older books and I watch and read all that I can about Natural Horsemanship online. :)
I started playing around with Parelli back in 2007 when my gelding Scotch (now 15 years old) developed a nasty biting problem due to my lack of leadership. Since I've never been very consistent with his training/playing, we don't even have all 7 of the games down. :( That sidepass game is killer...he so doesn't get it, and I'm not sure how to teach him. I don't think I am being assertive enough with my teaching--I really need to work on that or I'm going to get hurt. Again. :P
I believe Scotch is a LBI, but can quickly turn RBE if there is something scary. He is the boss of the herd, which can make working with him difficult. I really wish I had some pictures of me playing with Scotch, but here is a picture of him with Kubie: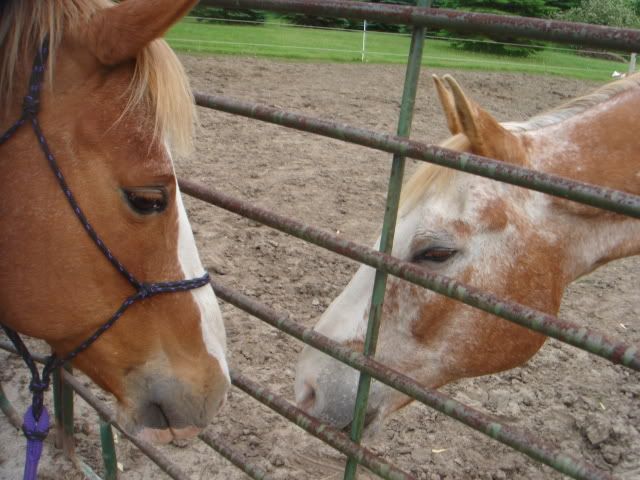 Kubie is my 27 year old appaloosa gelding who I introduced to Parelli methods just a few weeks ago. He seems to be taking to them well. Since he was a therapeutic riding horse and used for kick and pull trail rides, he wasn't very responsive to riding aids. Since working with him on the ground (he can play the 7 games--sideways game only from the saddle though), he will respect my legs and aids better. He doesn't always like to stop right away (he likes to keep moving), so again, I need to be more assertive. From what I have observed, he seems to be like a LBE pretty consistently. (Yes, in the picture he is borrowing Scotch's halter...I only have one, lol).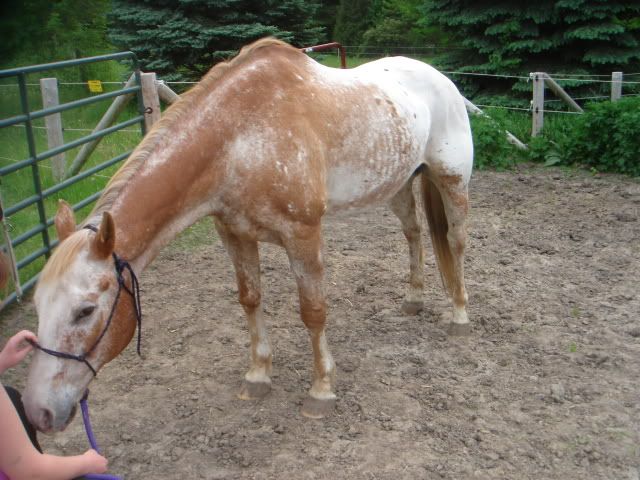 I'm actually trying to sell my third gelding Patches, so I haven't been working with him as much as the other two. He can play most of the 7 games, but is just too much horse for me to handle. He is a RBE, which is hard for me to work with...I can be a nervous and jumpy person around horses, and I think we scare each other. 0.0
---
Last edited by CharliGirl; 06-07-2010 at

05:55 PM

.
Cute horses! What exactly are you having trouble with in the Sideways Game?
Thanks! :) I am not a terribly coordinated person, and I think I am confusing them with the whole sideways idea. When I push away their hindquarters, they will usually try to face me (or back up), and ignore me when I try to push their front ends away (Kubie sometimes starts walking away once he has moved his front end away). Maybe I need to work more on moving the forequarters? Porcupine and driving games? I'm not sure...I just can't seem to get it right.
This is pretty easy to fix :) Here's the thing....the first 3 Games are your principle games, meaning that everything you do with your horse (including the other Games) steams from those first 3 Games. The other Games are your purpose games, which takes what the horse learned and then puts it to a purpose. So if we break down the Sideways Game (not sidePASS, but sideWAYS), the Games that make up the sideways game are your Friendly game and your Driving game (mostly Driving). So if your sideways is broken ask yourself "Which of my principle games (or combination of) is broken?" So you are correct, you need to solidify your Driving Game, especially with their front ends. Once that is good, then you can use a fence so the horse can't go forward and drive Zone 1, then Zone 4 in rhythm, or however feels good to you and makes sense to your horse to go sideways. I can't stress enough how good your Driving Game needs to be! If your drive isn't good, the horse won't yield to your suggestion. Hope this helps!
Wow, thanks so much for the information! I will definitely start working more on the driving game. I didn't realize the games were broken down into purpose and principle games...I've been doing some of them out of order. :/
You're welcome :) When you and your horse are starting out it's VERY important to do the Games in order. It makes more sense to both parties that way. Once the horse has the idea of all the Games, then you can do them out of order and use them however you want.