My 1st horse
---
I purchased my 1st horse, a 15h 8 year old appaloosa gelding, on 8/1/13. He was a very skinny underfed 5 year old when my instructor/trainer got him over 3 years ago. He has come a long way and is on 24/7 turnout but gets grain and hay in his stall. He is being boarded and getting more training for the next 2 months. The BO is my riding instructor. My DH takes riding lessons on him while I take lessons on Jazz, one of the lesson horses.
I go out 2 times a week groom him and take him out for a walk or for some exercise in the arena or round pen. Everyone spoiled him with treats and he is always looking for them. I never give him treats until he's ready to be turned back out into the pasture. The vet will be out to float his teeth, give vaccines and do a coggins test next week. He had his hoofs trimmed and was wormed on Tuesday of last week.
His name is Vegas and the reason why he's in training is because I want him ready to go on trail rides since that's basically all I'll be doing with him. The trainer took him on his 1st trail ride on Saturday and said he didn't spook at all. She's going to take him on a few more trail rides then have me ride him on the trails. I'll go on a couple of trail rides with her(the trainer) riding another horse while she ride Vegas.
Next month I'll be in training sessions with Vegas 3x per week. I requested this since I want to make sure I don't undo what she has done when I bring him home. The stable is less than 10 minutes from my house.
Here's Vegas trying to watch me while I take his picture.
Here's the 2 horse trailer I purchased over the weekend.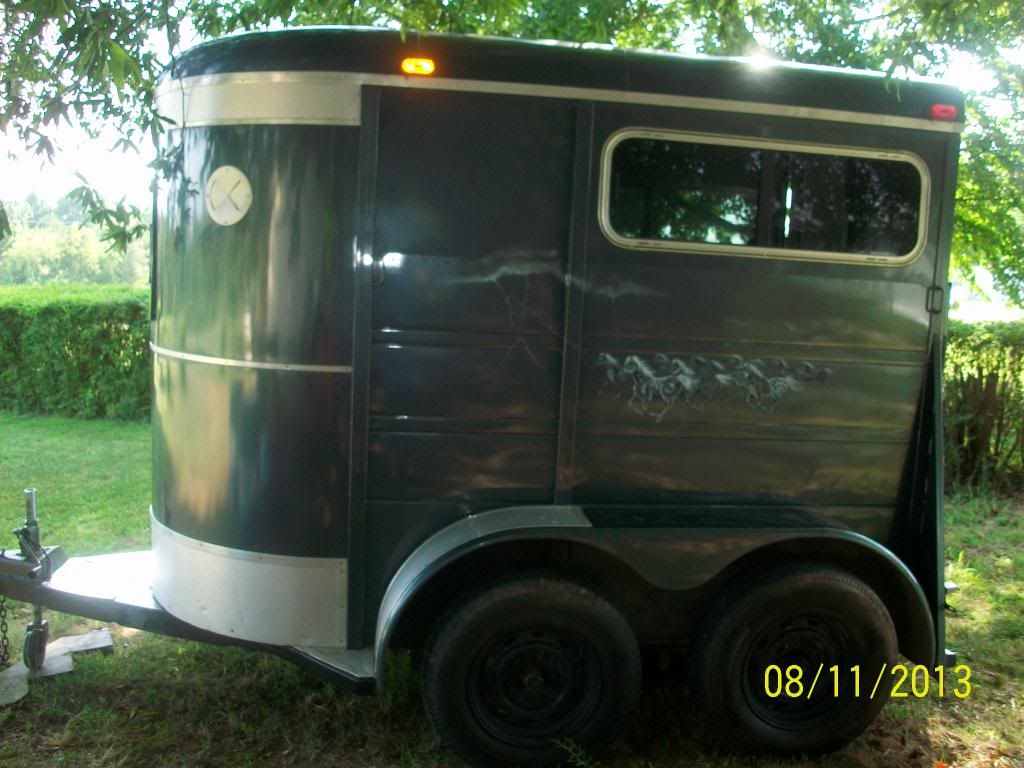 First horses are special!
I got my boy as a 50th Birthday present for myself.
---
Come join us at the 2017 World Standardbred Show Oct 13-15 at Eden Park Equestrian Complex in Sunbury Ohio. PM me for more info

Congratulations! Nice horse and nice trailer too.

You seem to take all the right steps to start on the right foot (hoof) with your new boy. First horse are special, and horse ownership comes with challenges and priceless rewards. Enjoy the adventure...
Congratulations. Sounds like a great start!
Thank you. He can be a little pushy at times especially when he want a treat. The trainer has not had him on a trailer since she brought him home. I'm taking our trailer over next week and we're going to be working on trailer loading.

I thought about changing his name, but he responds to "Vegas, come here" so well when we're in the arena that I think I'll stick with it for awhile. Now if I could get him to respond like that while in the pasture with other horses it would be great. He'll take a few steps toward me and stop. I just walk right up to him and put a rope halter on him. I just hope his transition to a new home goes well.
Congrats on the first horse! nothing changed my life more than to get my first horse when I was 13.
congrats! sounds like your doing a great job with having everything planned out. not many people do that.
Posted via Mobile Device
Planning some things out makes things easier for me. I learned a lot from my instructor, some of it I didn't understand until I started doing some research and ended up here at the Horse Forum. Everyone here has made me understand so much about horses. I wouldn't have 1 today if it wasn't for the vast amount of information I have acquired here. I love it when people post their differences of opinions on how something should be done. I realize that there's more than 1 way of doing things and everyone horse is not the same. What works for 1 horse may not work for another.

Even after I bring Vegas home, I'll continue to take my riding lessons. My riding instructor is only about 5 miles from my house and has agreed to give some of my lessons here when I bring him home.

I'm sure I'll have a lot of questions for everyone later. I'm confident that I'll get a lot of information here. Thank you so very much everyone. You have been very helpful.
Congratulations! I am new to the horse world too. I rode as a teenager, but just got my first two horses this year. It is so much fun and so much work but I love every minute of it...even the mucking.
Vegas looks like such a sweetie! You guys are going to have a lifetime of adventures, please keep us posted!