Congratz. He is SO adorable. Have fun with him :).
Thank you. Didn't get a chance to take the trailer over yet because of work. I'll take it on Sunday when we go for our riding lesson. The other day when I was brushing him, he lifted and moved his tail to the side when I got close to his butt. Is this a sign that he wanted his butt scratched?
You sound like a great owner with a great head on your shoulders.
First horses are very special and I trust that it won't take long for you to become obsessed with him. Plus, he's an appy. They love their owners once they've warmed up. It took mine all of about a month to realize. I'm not so lucky with my other LOL

Lucky you for getting a trailer!
Yes I was definately lucky to get the trailer. Sad part about the trailer is it gets to sit here for 2 months with no horse to ride in it. No worries, He should be a trained trail horse when I bring him home. My imagination has been working over-time planning places to take Vegas for trail rides, or to simply just take him for nature walks through the wooded fields and pastures in front of my house.
I would keep Vegas at your stable as long as possible. When you start riding him you will really appreciate having the BO and stable friends around for support when issues arise (and they will, practically nobody gets a new horse and never has a single issue to work through). Also, usually stables will have bigger/better facilites to work your horse in like an arena and/or roundpen to school and continue your building your relationship with your horse. Even though your goal is trail riding, you will have a stronger, safer relationship with your boy if you work in the arena just as much as you go on the trail at first. I have a great trail horse, but even in the height of trail riding season, we school in the arena at least once a week, more in the winter, and much more when I first got her.

Ideally, IMO, you need to be able to easily move all five body parts: atlas and axis (head, neck vertically and laterally), shoulder, middle and hiney quarters. You would want to be able to walk trot and canter as well as know your diagonals and leads. Also be able to back your horse quietly and correctly. That, in my mind would be the bare minimum, and there is all kinds of additional arena stuff to work on...you can always be a better rider and always build a better horse. It sounds like you are already well schooled taking lessons, but be sure to carry it over when you start riding Vegas.

Trail riding is my passion...I have done it for the past twenty years, but I really wish I had realized the benefits of continuing education for a trail horse in the arena earlier. I had to do it with my current mare if I wanted her to be well-rounded..., she was only four when I got her, and working with her made me realize how much better we got to know each other when schooling....it just made our trail rides all the better. I see many trail riders who have problems with their horses that would really improve if the just did some good schooling with a good instructor.

Good luck, keep us posted!
Thank you Kountry. I will still continue my lessons even after bringing him home. I won't have an arena at home, but plan on having a 60ft round pen.

I take lessons every week, sometimes twice a week. I have a 9:30-10:30 riding lesson on a schooling horse while DH takes his lesson on Vegas. Vegas get's a 30 minute rest period. Then I participate in a 1 hour ground schooling class with him at 11:00. I go there during the week and to groom and do a few minutes of ground schooling in the arena. So far everything is going great. As I mentioned before, the 2nd month of training is more for me to work with the trainer and Vegas 2-3 times per week doing ground schooling and some trail rides at the stables. She's less than 10 minutes and away and can do some of my lessons here. I also have a neighbor 2 houses away that is good with horses that is willing to help if I run into any problems. She will be my trail riding buddy most of the time.

I have already handled him several times, (grooming, riding, and ground schooling).

So far, he don't seem to have much spook in him that I have noticed. Even a deer coming out in front of him while the trainer was riding him on the trail didn't spook him.
Just an update.
Both of our horses have been home for almost 2 weeks and is doing great together so far. Right now they like following each other around. Well, Vegas follows Gilbert (AQHA name Robey Joe). They seem to be becoming too attached to each other and we're trying to work on this by taking 1 of them out alone and leaving the other by himself for awhile. When we take Gilbert out of the paddock, Vegas get a little agitated and run around trying to watch his every move. Once he's out of sight, he's fine. Riding 1 without the other is fine as long as the other is out of sight. When we ride them together, 1 tries to stay close to the other. We'll sometimes separate them and go our own way alone.
Gilbert will stand by the gate when Vegas is out without him until he get's distracted by something else.
Here's a picture of them in a round pen on the day we brought them home.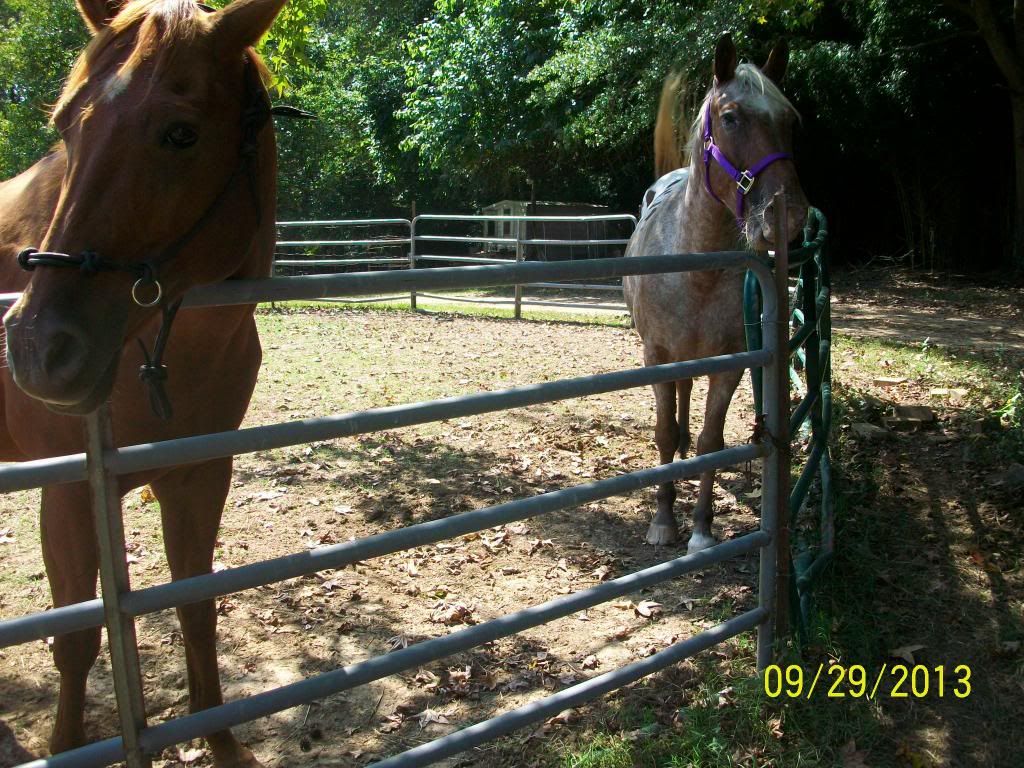 These were taken in our paddock. DH spending some time with them.
Just hanging out together, doing what they love to do.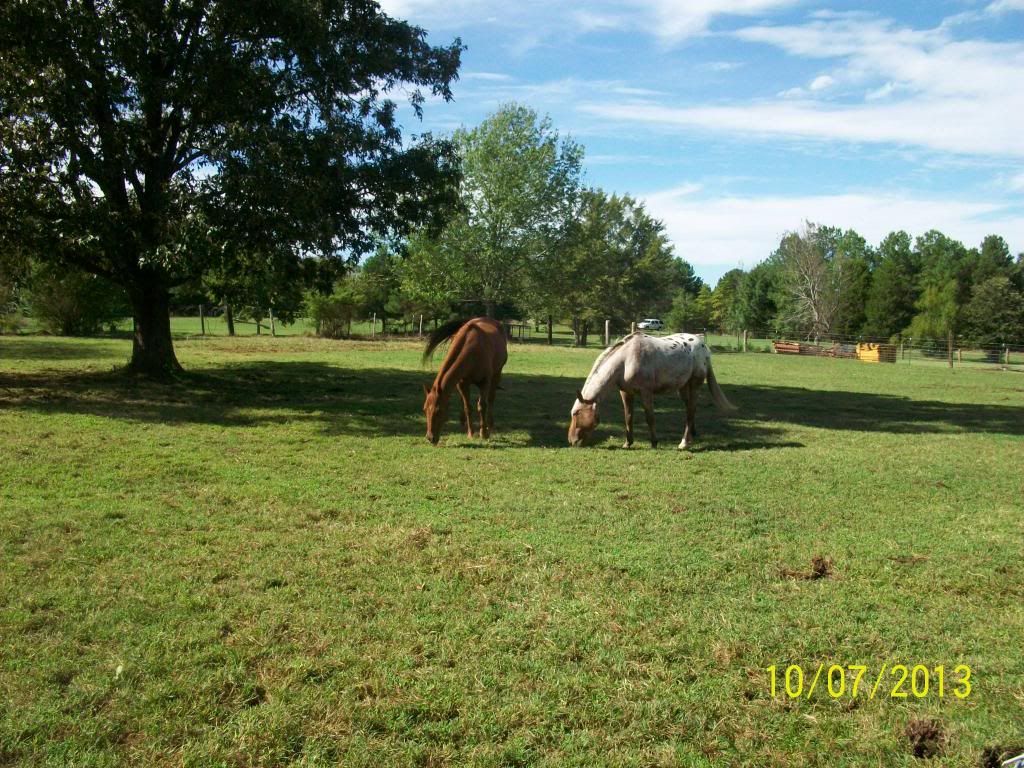 Quote:
............... I just hope his transition to a new home goes well.
You're going through a really fun process and creating priceless memories.... I hope it all goes wonderfully! Sounds like you are going about it in all of the right ways....
He's a good looking fella and it sounds like y'all have already begun to develop a really good bond!
I would recommend taking some notes as you go through it all. Later on down the road, you'll find the notes handy for future reference and it'll also be fun to read what you wrote and relive the memories of the process.
To me, the core of it all is the relationship you'll develop with Vegas. I can't even express how special/priceless that is.
Congratulations and I hope this is just the beginning of something wonderful and long lasting for the both of you!
Radiowaves
---
...so a horse walks into a bar and the bar tender says "why the long face?"...
Congratulations. I didn't get my first horse until age 22, but I had many years of riding lessons up until that point. Boy was I glad I had taken all those lessons by the time I got my own horse. It is SO challenging to have to figure everything out yourself without the advice of an instructor. Keep your patience and never stop learning.
---
"My riches do not clank and glitter. They gleam in the sun and whinny in the night."