Say hello to Fallone, my new lease horse!
---
Today I went to visit this pretty girl! She's a 9 year old, 16hh Friesian mare! She was bred in Holland and her owner lived in France before moving here to Canada 7 years ago, and she couldn't bear to part with her so Fallone hopped on the plane with her!
Now she's used as a trail horse and also for zootherapy, along with some dogs and bunnies and other critters. She was a total sweetheart, very relaxed, and absolutely loves being petted and snuggled!
Here's the pic from the ad: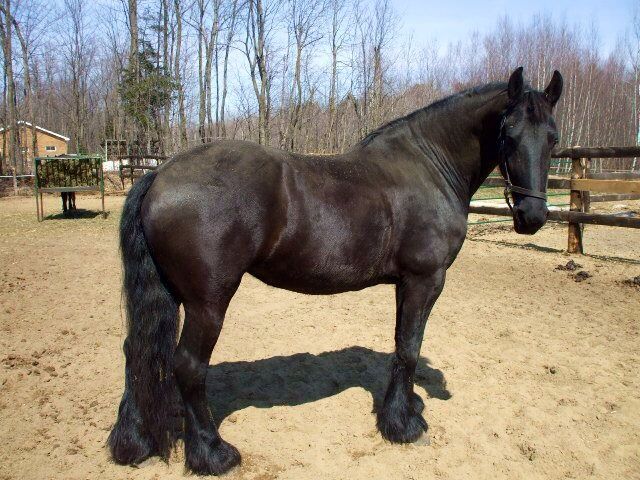 And a pic of me riding her this morning:
Anyways I just had to share because I'm absolutely in love with this mare!
Posted via Mobile Device
She looks very sweet :) Have fun leasing her!
---
"Strength is the ability to use a muscle without tension"

Beautiful!
---
A horse is a mirror to your soul. And sometimes you may not like what you see. - Buck Brannaman
Thanks guys, I definitely think I will! I'm going back to see her for a bit tomorrow after my lesson (which is conveniently very close to the barn where Fallone is!) and I can't wait to see her again!
One of my favourite breeds. She's gorgeous :).
Thanks all! I'm so thrilled with her, it's awesome to finally be able to get experience with friesian a rather than just dream of them!
Posted via Mobile Device
She is stunning!
Love the last photo with those beautiful fall colors.
Have fun with her!
What a cutie! Congratulations
---
"Thoroughbreds are the best. They're lighter, quicker and more
intelligent. The best of any breed is the Thoroughbred horse, the best
of that breed is better than any other breed." - George Morris
What a stunning horsey! Congratulations!
---
Palomino Dreams
http://palominodreamsblog.blogspot.com/