Are these okay treats?
---
I work at a holistic pet food store and we recently got this brand of dog cookies in (Wet Noses). They're completely organic, wheat free and meat free and come in tons of flavours. Long story short I noticed the carrot and apple flavour and thought the horse I lease might like them!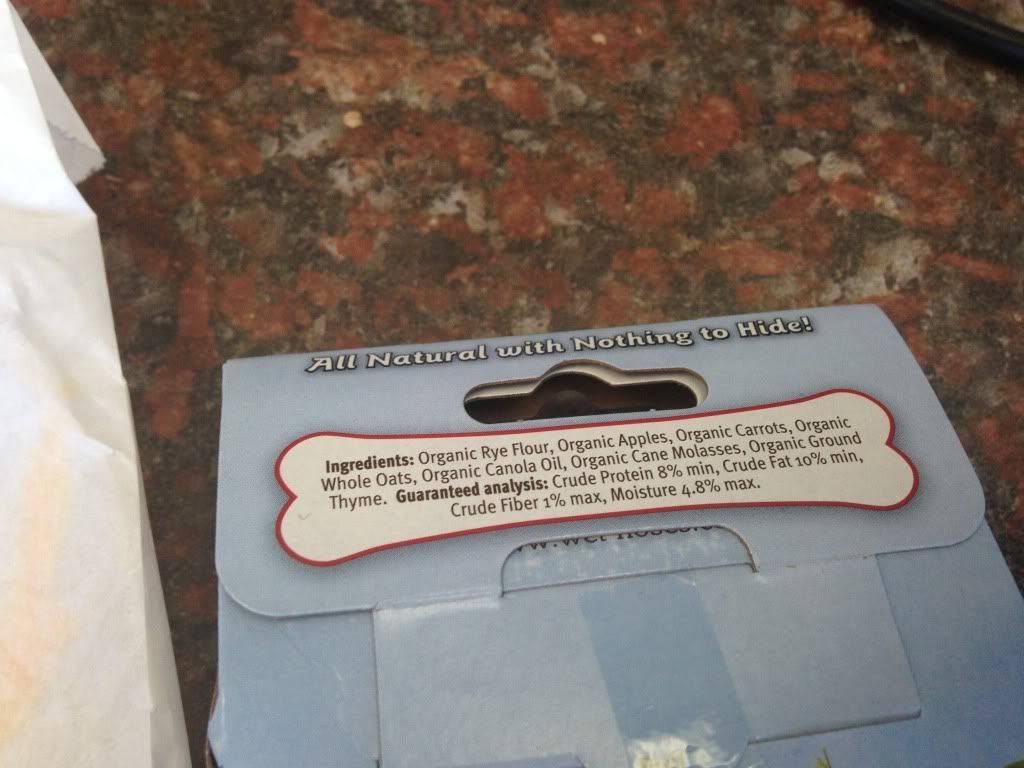 I don't really see why I couldn't give them, but I'm pretty new to the horse game so I just wanted to make sure they're alright beforehand!
Posted via Mobile Device
I don't see anything in the ingredient list that would be harmful. Heck you could give them to your kids those are better then the ingredients I have read on the cereal boxes.
Hahaha like I was saying to my coworker today, I'm probably better off snacking on these than regular granola bars.
Posted via Mobile Device
Pretty clean treats.

I don't see why you couldn't give them to your horses (or eat them yourself, haha).
---
∞•*˚ Βгįťţαňγ ˚*•∞
It is not enough to know how to ride; one must know how to fall.
I know people who will feed human food as treats! I think those treats are just fine.
Posted via Mobile Device
Many years ago my husband ate half a box of LivaSnaps dog treats before he found out they weren't for the humans.
I wondered why the bowl I dumped them in was getting empty fast. He did say they were kind of bland...but he is still kicking.
If your horses start sitting on the ground practicing "personal hygiene" I'd probably discontinue feeding them. : )
---
If you ever find yourself in a fair fight, it's because your tactics suck. ~ Marine 1SGT J. Reifinger
Awesome, thanks for the input guys! And haha my grandfather spent a whole day eating Whiskas Temptations until we caught him eating them and told him what they were xD
Posted via Mobile Device
Similar Threads
Thread
Thread Starter
Forum
Replies
Last Post
Treats!!

OnlySamwise

Horse Talk

0

05-10-2011

04:44 PM

Treats!

HorsesAreForever

Horse Training

52

11-14-2009

07:34 PM

Horse Treats - Natural Horse Treats

trident

Horse Tack and Equipment

1

06-28-2009

05:40 AM

Treats

twogeldings

Horse Training

17

11-30-2008

10:06 PM

treats

olivia

Horse Talk

2

05-25-2007

08:01 PM