Interesting color
---
First off, I'm not entirely sure what these two are, but they were in a thread about skewing on donkeys and mules on some other forum.
I just love the color, whatever it is- the body seems to be a reddish brown, with darker legs, yet a lighter face? Does anyone have any idea what color they are?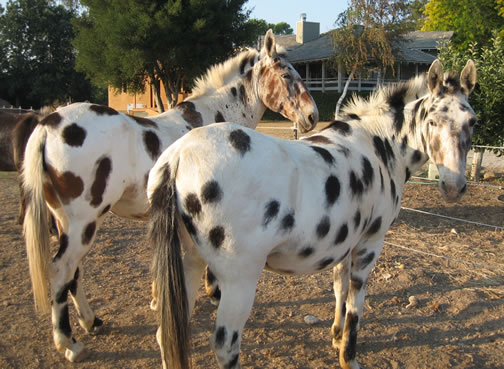 Donkey Spots? | Equine Color Genetics
So freakin' cute .. they look like bay or brown leopard appaloosa mules .. don't they?
Yeah :)

The nearest one has a definite mule-ey face, but some pretty small ears.
The thing that puzzles me is the one behind it has a dark brown neck and body, and a light, chestnut colored face :/
Awww, they're adorable. My friend had a bay leopard spot Appaloosa. I loved his coloring.
---
"And somewhere in the northwoods darkness a creature walks upright. And the best advice you may ever get is: Don't go out at night..."
Yeah, I wish they were both mine, then I could train them to pull a carriage together, and name one Pongo, and the other Perdy, and give one red tack, the other blue. See what those Budwiser guys think about that!
They are SO cute :). I would love to have a loud coloured one myself.
Look what I just found:
Too cute, and look at the heart on his bum!
OMG!!! I would love to have one of those!!! Hubby is giving me the "don't even think about it" glare. LOL
---
Cowgirl up!
Ya I've seen it before (not person), but around. Cute!