My new little girl!
---
This is Lily, my new baby donkey! She was born May 28th. Her mom gave birth to her next to the pond and when she tried to walk, she got stuck in the mud, so I had to pull her out. That's the reason her legs are muddy. Poor little girl. :(
She is very sweet. Since we moved them into a smaller paddock closer to our house, every time I go out there she comes to greet me.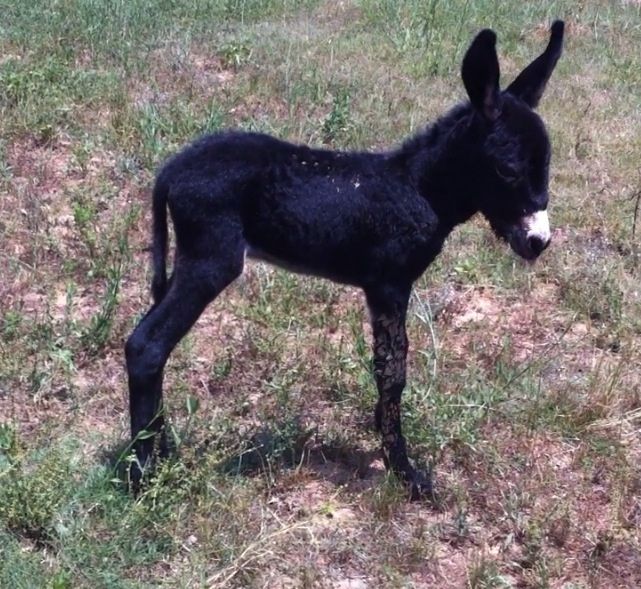 She is absolutely adorable. Those ears get me EVERY time!
So cute! Congrats on such a lovely little long eared cutie!
She is so adorable!! I love her ears and narrow muzzle :)
---
"Strength is the ability to use a muscle without tension"

Congratulations! I am a sucker for the ears.....
Adorable! Those ears are huge!
Awww those are some of the most adorable ears ever! I also like her narrow muzzle and her color.
---
Riding: The art of keeping a horse between you and the ground.
Aww! And what are her plans in life? Other than bein an adodable longear :)
---
~ When I Die, Remember Me By My Horses ~
* Because They Are Responsible *
.: For Letting Me Live :. (c) xJumperx
Similar Threads
Thread
Thread Starter
Forum
Replies
Last Post
Horse girl turned goat girl

ShinaKonga

Farm Animals

14

02-08-2013

01:12 PM

It's a girl!

HUSAngel

Horse Breeding

17

05-15-2011

01:55 PM

My New Girl

ShutUpJoe

Horse Pictures

11

09-06-2010

09:28 AM

My Rem Girl!

FGRanch

Horse Pictures

11

03-19-2010

11:36 AM

our new girl

FancyAppy

Draft Horses

20

10-14-2008

10:43 PM