It would be a lot easier to offer name suggestions if he were in my barn. : )
---
If you ever find yourself in a fair fight, it's because your tactics suck. ~ Marine 1SGT J. Reifinger
Wait until he's been home for a while then a name will come to you, one that suits his donkinality.
He's so cute!!!! :) I don't have any name suggestions though.
---
R.I.P Duke <3
No hour of life is wasted that is spent in the saddle.~Winston Churchill

Shrek, lol (since Donkey was Shrek's sidekick)
---
"To see the wind's power, the rain's cleansing and the sun's radiant life, one need only to look at the horse."
Showing
Join Date: Jun 2011
Location: Cariboo, British Columbia
Posts: 11,762
• Horses:
3
He looks like Burrito, Burt for short.
---
I am not here to promote anythingNo, that's not true, I am here to promote everything equestrian and everyone enjoying horses!
Alexander, because he reminds me of the boy who was turned into a donkey in Pinocchio. The boys name was Alexander. I would probably call him Alex for short.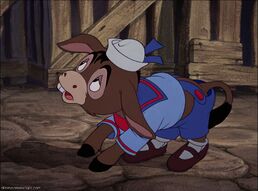 ---
Last edited by mrstorres2566; 08-29-2013 at

11:18 PM

.
Maybe you could name him after my donkey, Grady (pronounced like gr-AID-ee).