i work at a petstore, and guinea pigs do just fine alone. sure, its ideal to have a friend for them, but we (at petworld) only sell single piggies because they can get territoral and fight, and we got tired of having ones returned.
ive had guinea pigs myself for over 10 years and ive had up to 5 together in one cage, and as they pass away over time, ive been left with just one.
they do just fine alone, infact, alot of people have told me they come out of their shell and are more affectionate towards people when they are lone piggies.

i currently have one guinea pig of my own (her 2 daughters she lived with have died, one from cancer one from stroke, both were unhealthy to begin with) and her health has actually improved since they died.

your guinea pig will be fine. i wouldnt recommed getting her a new friend since they will probubly fight, and i wouldnt recommend getting rid of her bc you will miss her!lol

just spoil her with tons of apples, carrots, romaine lettuce and hay and she will be fine :)
Porkchop came into my life by accident.
I wanted a Guinea Pig so bad, but Hubby said no *he doesn't like them* and got me Pet Rats instead hoping that they'd fill that "Guinea pig void". So we needed to get more bedding and niblets for the 2 rats, so we were at PetSmart wandering through the isle way's looking at stuff.
There was a PetSmart employee walking around with this Guinea Pig in her arms, and I squeeled and asked to hold her.
She handed her to me and said "You can keep her if you want. Someone left her in the Woman's Washroom and we have no idea what to do with her. We can't keep her and sell her here because we have no legal rights to do so. So if you want her, she's yours for free"
My mouth dropped and Hubby said ok - so voila, she was mine :)
I had her for a couple of years. She was my Princess Porkchop. Her Royal Porkchoppiness. She was very spoiled!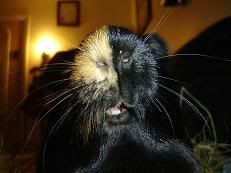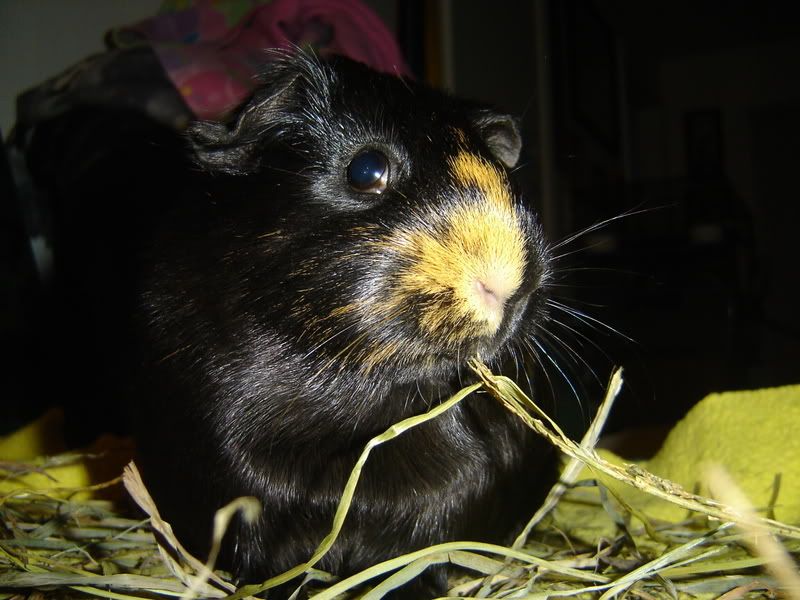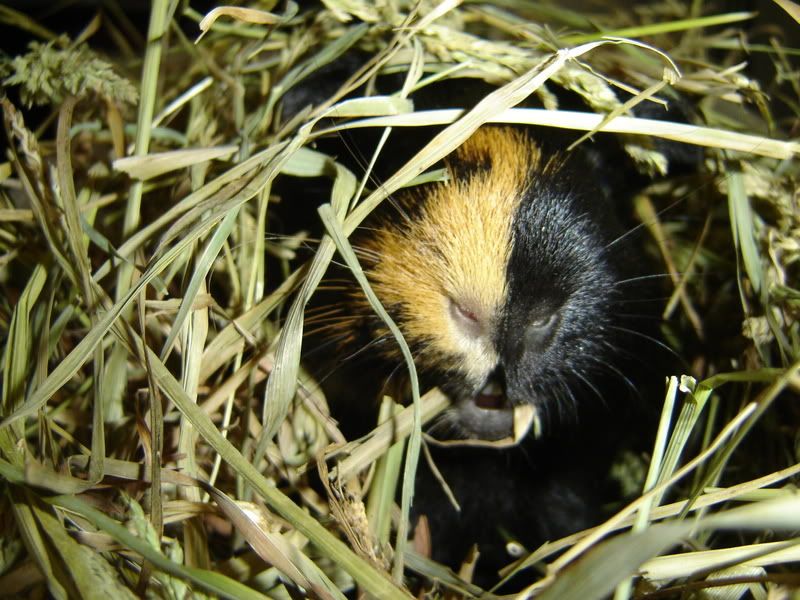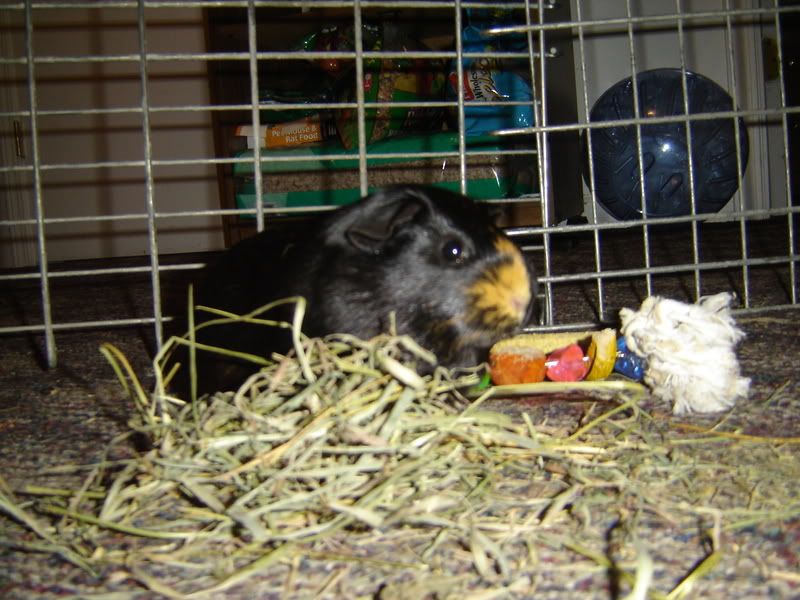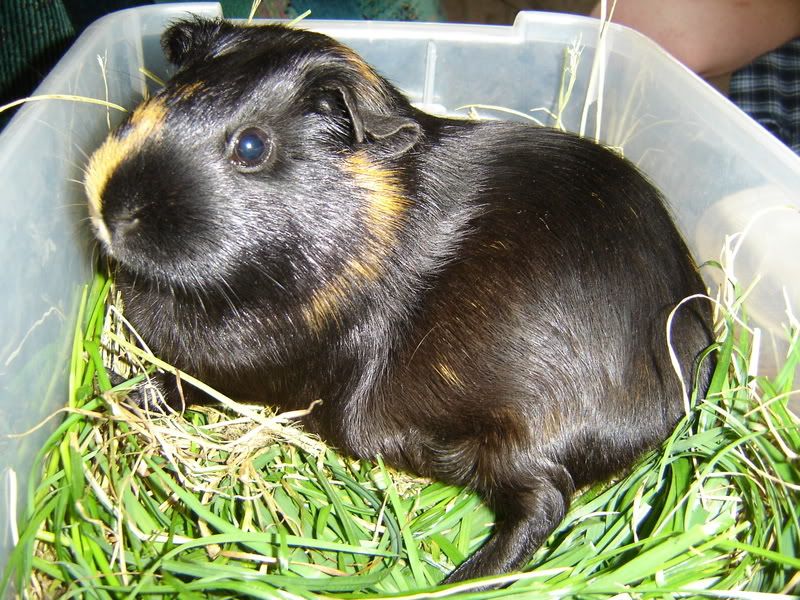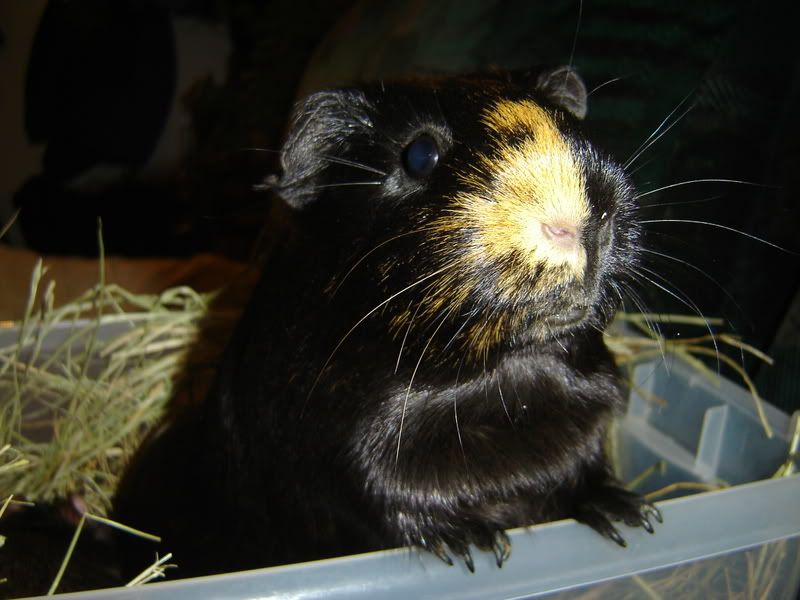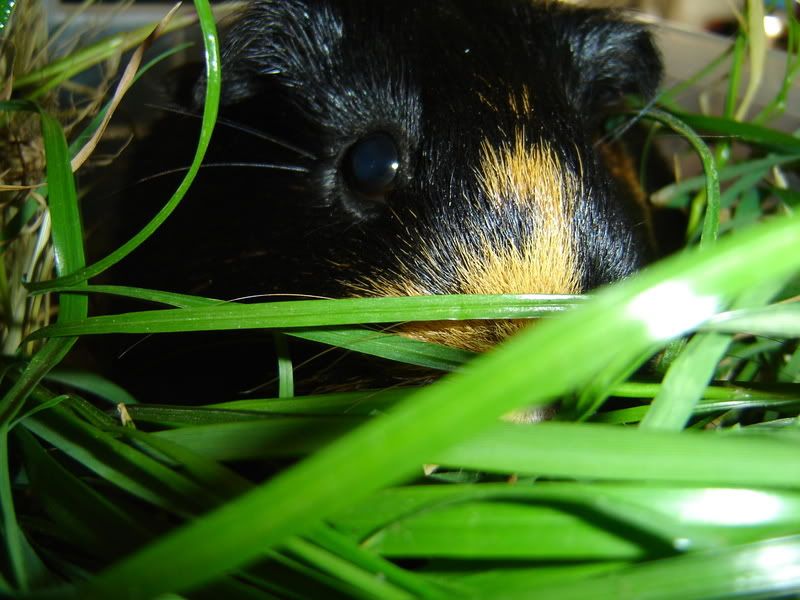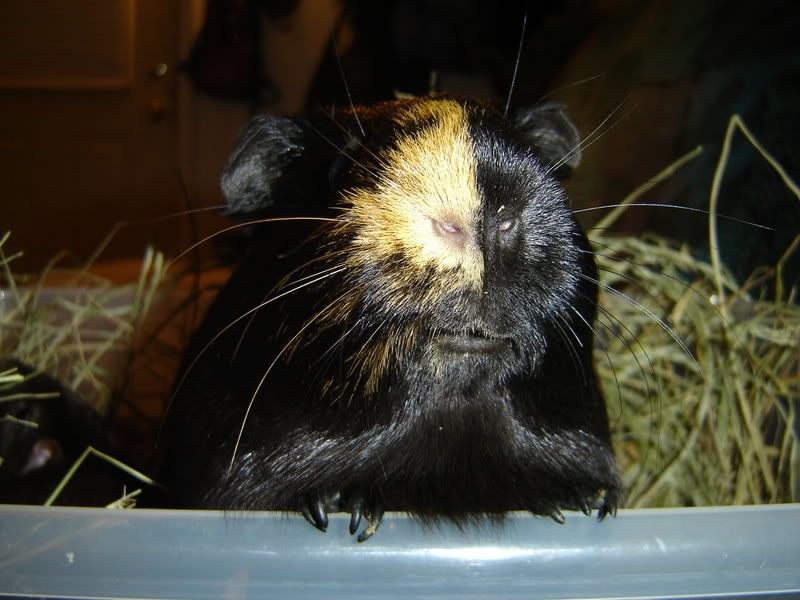 My Hubby grew her own patches of grass, just for "Her Royal Porkchoppiness"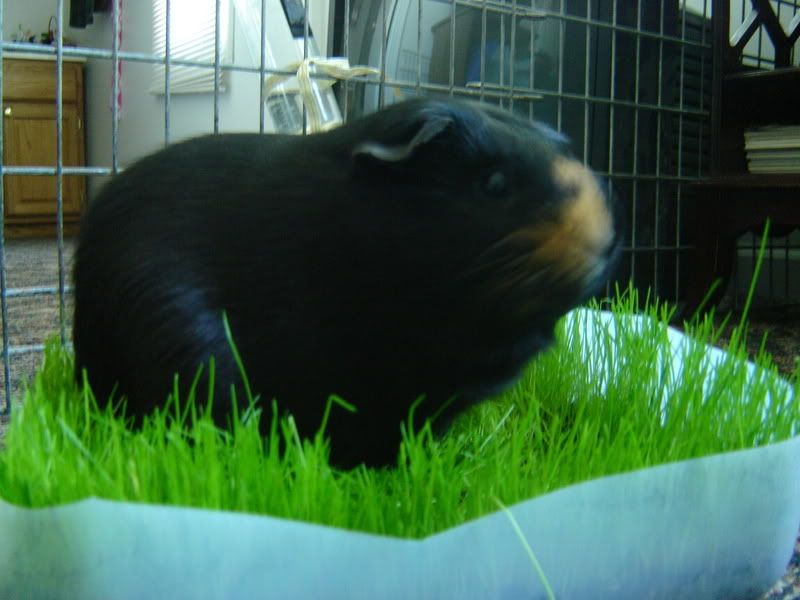 She was my Princess! She went everywhere with me. Hubby bought her a carrying case for me, and she went literally everywhere with me. I miss her terribly :(
---
Quote:
i wouldnt recommed getting her a new friend since they will probubly fight,
I got her first before the other two rescues came in. And with pigs you have to introduce them a certain way. I dont place the new pig in the cage right away.
Fisrt I have an area closed off like their floor time space. So there is plenty of room for one to run away and get out of the others space, the norm is a lot of grumbling,humping, bitting can happen..ect. Thats all a dominance dance. Usually they find out who is boss in minutes or it could take longer. Its also better if you dont remove a pig and put it back in with another, remove it..ect. Because if they are not already bonded they have to re-do the dominance dance all over again. Making it harder to bond.
Then while their in their floor space. I clean the original cage so there is no territorial smells from the original pig. So its like new territory for both pigs. Then the original pig doesnt feel like it has to protect its space.
If they dont get along after the intro. Id give them a buddy bath. You dont have to actually wash them. Just stick em in an inch of water, usually its enough of a scary experiance for both pigs that they bond from it. Ive done this a couple times and its worked really well.
If the buddy bath doesnt work you can always put up grids (if using a C&C cage) to seperate them until either pubirty has ended or they have gotten to know eachother, use to the others company through the grids.
Reasons why some intro's dont work is because the cage is to small (pet store cages)and they dont have enough space, causing pigs to fight. Or if they are younger pigs its hard to introduce them because of their hormons ect. (when they are in puberty)
Since pigs are herd animals thats why they do much better with others. Even 2 dominant pigs can get along in a bigger environment. Thats why I was worried about how she would do without a buddy.
Aslo, please dont feel like im giving a speach or anything. I just wanted to put up some examples incase someone down the line is looking for piggie advice :)
Oh! And it is ALWAYS a good thing to quarantine a new pig. Even if a pig looks healthy it might not be! Or it could bring in mites or w/e. I quarantine for 2 weeks before I do my intros. And a lot illnesses are air born so best to have the new pig in another room of the house.
MIEventer- Your girl is so cute! Thanks for sharing. I think thats funny how your hubby tried to get you rats first. I love rats but cmon piggies are soooooo darn cute! lol and when you first saw her in the pet store and squeeled. I bet he was thinking "Oh god! Now we have to get it!"
What kind of set up did you have for her?
---
From east to west a travlin gypsy found her prancing pony for now their hearts run as one...into the north
~Traveler
She actually lived with my pet rats.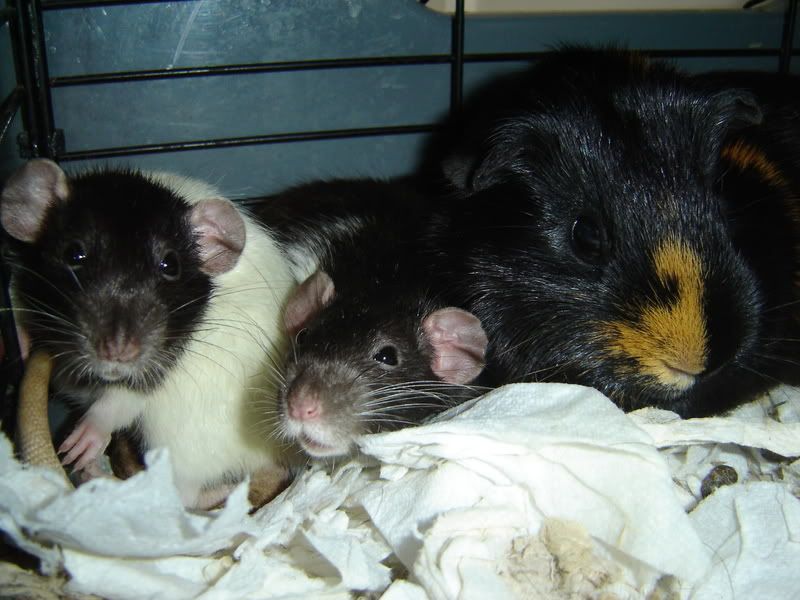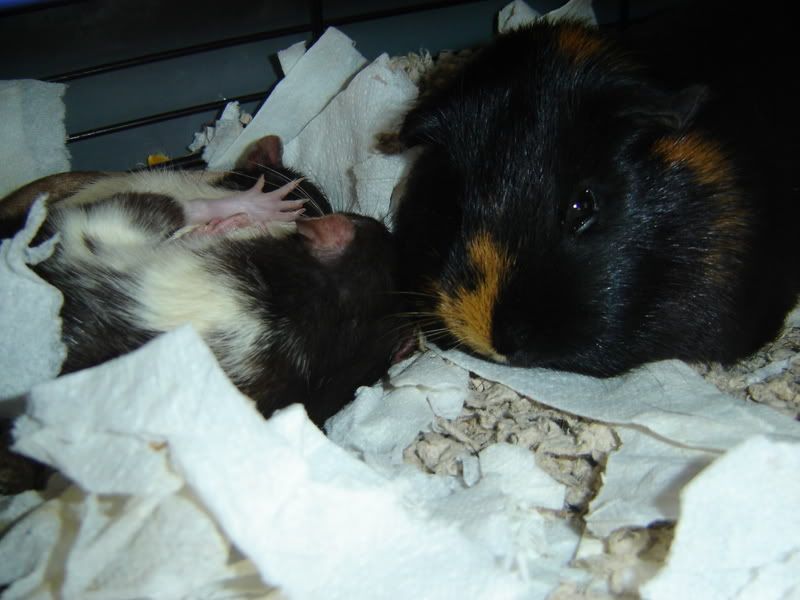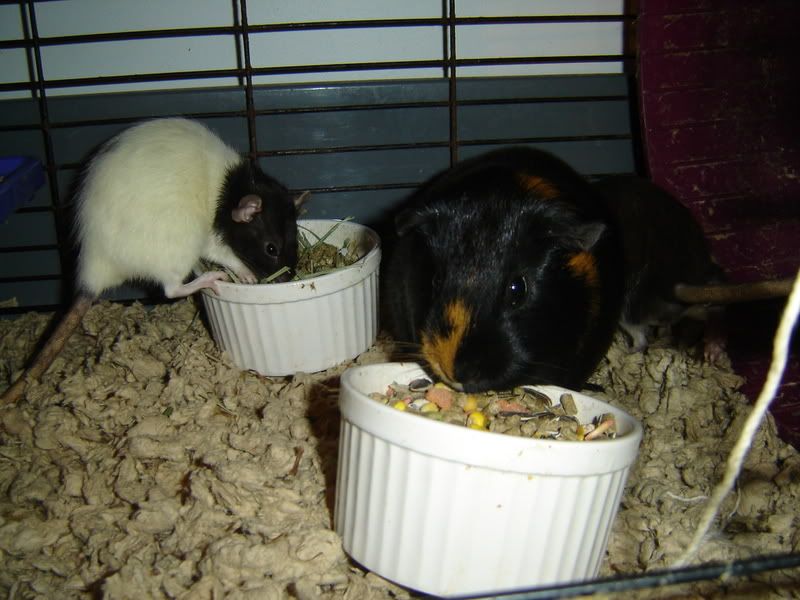 They got along just fine. There was no bickering or fighting, nothing overly stressful for either species.
Porkchop was out alot though, Hubby found a dog crate at a garage sale and took it all apart and changed it into a Pig Pen for Porkchop *no pun intended* and Porkchop loved it.
She would run and play and buck. She spent majority of her time in there, if not on my lap or my arms.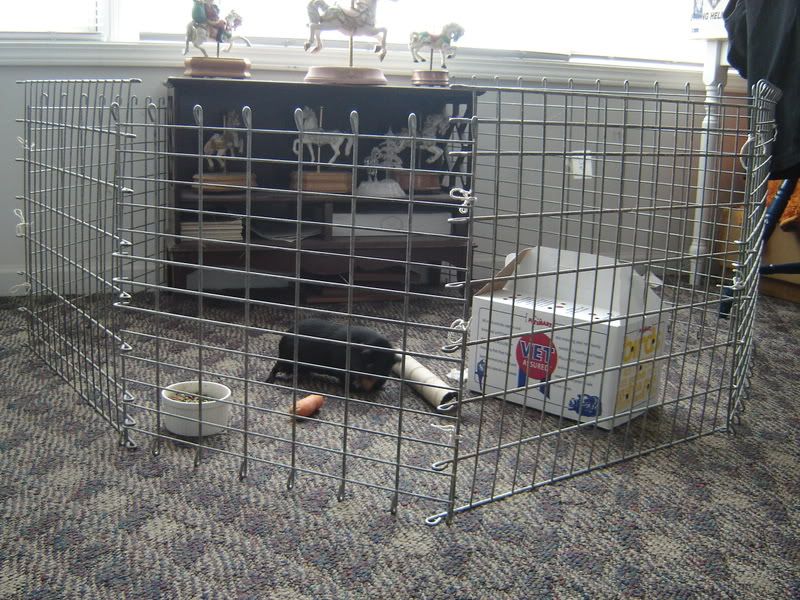 Here is a video:
My Videos :: Piggy and her run video by Laya01 - Photobucket
---
Once you move, could you get her a buddy?
When I had to rehome my 4 piggies I had great success finding them a loving home using this site:
Guinea Pig Home Listings - Main Index
(you could also use it to find her a buddy whenever you're ready). :) My four pigs were all older, the oldest was 5 and the youngest was barely 3, they found a great home together (with a C+C cage and "the right" food!), within a few months of being listed.
I miss them SOOO much but I know they're loved and the guys that adopted them (a gay couple) let me visit them whenever I want, which makes it better.
Just keep in mind that your piggy is a herd animal. She's not going to think of you as another piggy and therefore isn't going to be as happy as she could be with a buddy. I think, if you pay a lot of attention to her, she could do ok. But she won't be great.
I'm not trying to be a huge downer, but I have had some expierence with lone guinea pigs and it's never been fun. For instance, my male piggy, while we were waiting for him to be 6 months old so he could be nuetered (his mom happened to be preggo when I brought her home, so he was alone from 4 weeks to 7 months). He would talk 24/7 unless someone was holding him. I ended up making him a kind of sling so that we could carry him around all the time and keep him calm. He was never really happy unless we were carrying him. He had to be alone while everyone was out of the house, at work/school, and it was the saddest thing when we'd come home after being away for 5-6 hours and see him stretching his little body to get to us, wheeking like a wounded baby bird. It wasn't normal wheeking either, it was urgent "I neeeeeeeeeedddddd you!!!" wheeking. It was a lot of emotional turmoil too. It was like having a baby or child that needs constant attention, care, and emotional investment. There was never a moments break. It was hard leaving the house because he'd start wailing as soon as I'd put him down; it was hard coming home because I'd feel like a dang jerk if I just ignored his calls but it was extremely tiring holding him close continously.
Once he hit 6 months and was nuetered (it takes about a month for "the baddies" to die, hahaha), then introduced to my girls at 7 months, his personality brightened SO much. He just blossomed being around those of his own kind. He still loved me to death, but his ladies had a bigger hold on his heart than I ever could, and that was good! I had figured that he was probably just fine with just my family and I for companionship but once I saw him with his ladies, I knew I was wrong. Even though I was giving up every waking moment to be his friend and to keep him company, it still wasn't enough to fufill his needs.
*hugs* I know this is a hard decision, and I'm so sorry for your loss of your other little one. I'm not trying to make you feel bad, at all, I'm just trying to share my expierence. :) I'm sure you'll do what's best for her, after all, you know her, I don't! :)
---
Fabio - 13 year old Arabian/Lipizzan gelding

~
Rest peacefully, Lacey.

wow, you got lucky. I always read on the GP forum that they have a hard time with other species. But also on the forum they have oober strick rules about pig care and if you dont follow them, they will chew you out.
Cute video, my pigs never played in their floor time like that. They always just chilled.

One time I swear this is the cutest thing ever and why I fell inlove with pigs. I rescued a lil girl. She lived in a pet store cage for her whole life. And I actually got her from a BYB. I didnt know they bred other wise I wouldnt of gone. But the living conditions were really bad. And when I got her she had mites. Sooooo after lilly Evans (yeah they all had last names :p ) was treated and a clean bill of health. I was able to place her with my other pig. Who had half of my room for a cage. Well it was more then half I only had like a foot of walking space around my bed and the rest was cage. I just had the comforters and fleece on the floor (i had wood floors to) and grids as a wall. Anyways! The first night lilly was in her new home and after I went to bed. I heard this weird running foot step/pounding noise. I turned on the light and watched them. Lilly was freaking trotting,sorta and lifting her hind legs as high as they would go and then stomp them down! It was like her butt wanted to go! go! go! but her front end was just stumped. gah, it was so darn cute! I guess it was like a backwards hind end prance.

Wallaby- Im actually a member of those forums! Im not sure how long it would be until I could get another pig. I think im just going to wait it out and keep her. Then maybe a couple months after the move I could get more. Cause atm my mom wont let me get another pig. BUT i am moving into my own house! So I can do whatever I want FREEDOM!
---
From east to west a travlin gypsy found her prancing pony for now their hearts run as one...into the north
~Traveler
Weanling
Join Date: Aug 2008
Location: On the banks of the Red Cedar...
Posts: 494
• Horses: 0
I would keep her.

In May of 2008 (geez...almost two years) Pepsi's mate, Buddy, died. My parents wouldn't let me get another guinea pig and I really had no one to give him to, that would get another pig to keep him company. So I kept him as a single guinea pig. I got him a stuffed animal that I keep in his cage so he's not alone, and usually a cat or two naps on top of his cage. Plus, we moved the cage into the computer room because I'm allergic to Pepsi and couldn't have him in my room anymore. The move was good, cause now whenever I'm in here I can talk to Pepsi (I spend almost NO time in my room). Anyways....there was an adjustment period where Pepsi was kind of down and lethargic, but now he's used to life alone and I think he's quite happy :]
---
A dream you dream alone is only a dream. A dream you dream together is reality.
John Lennon

oh I'm so sorry to hear of your loss. I know how devastating it is to lose a pet. I have lost 3 chinchillas over the years to maloclussion and it hurts so much to have to say goodbye.

We used to have guinea pigs, they both died of 'the bumps'. They were very sweet little things and very noisy.

I think you should definitely keep her. If she seems a little bit down, maybe a guinea pig sized soft toy might help her.
OMG, just saw the pics of the rats with the piggie, that is too cute!! How lovely for them to live together!
lol Equine - I miss her so much. All 3 are actually gone now. All 3 died of pnemonia :( :(

It was so hard to lose each and every one of them.
---